Created by Matt Groening, 'Futurama' is an adult animated sitcom that follows the adventures of Philip J. Fry and the Planet Express crew as they experience life in the 31st century. The series first debuted in 1999 and has stood the test of time, being revived twice, with the latest revival set up at Hulu. If you are a new or old fan of the show who enjoys its irreverent and subversive satirical comedy and whimsical take on futuristic science fiction tropes, you must be looking for more such titles to stream. In that case, we have handpicked some similar shows we hope you will like. You can watch most of these shows, like 'Futurama' on Netflix, Amazon Prime, and Hulu!
10. Inside Job (2021–2022)
Netflix's 'Inside Job' is an adult animated sitcom created by Shion Takeuchi. Styled as a workplace comedy, the series takes place in a world where several conspiracy theories are real. It revolves around Reagan Ridley, a socially awkward robotics engineer working at the shadowy government organization Cognito Inc. Reagan attempts to use her genius-level skills to make the world a better place. While the series is aesthetically different from 'Futurama,' it features the same blend of science fiction and workplace comedy that are novel to former series. Moreover, Reagan and Fry from 'Futurama' share the same love for conspiracies and work well with robots.
9. Final Space (2018–2021)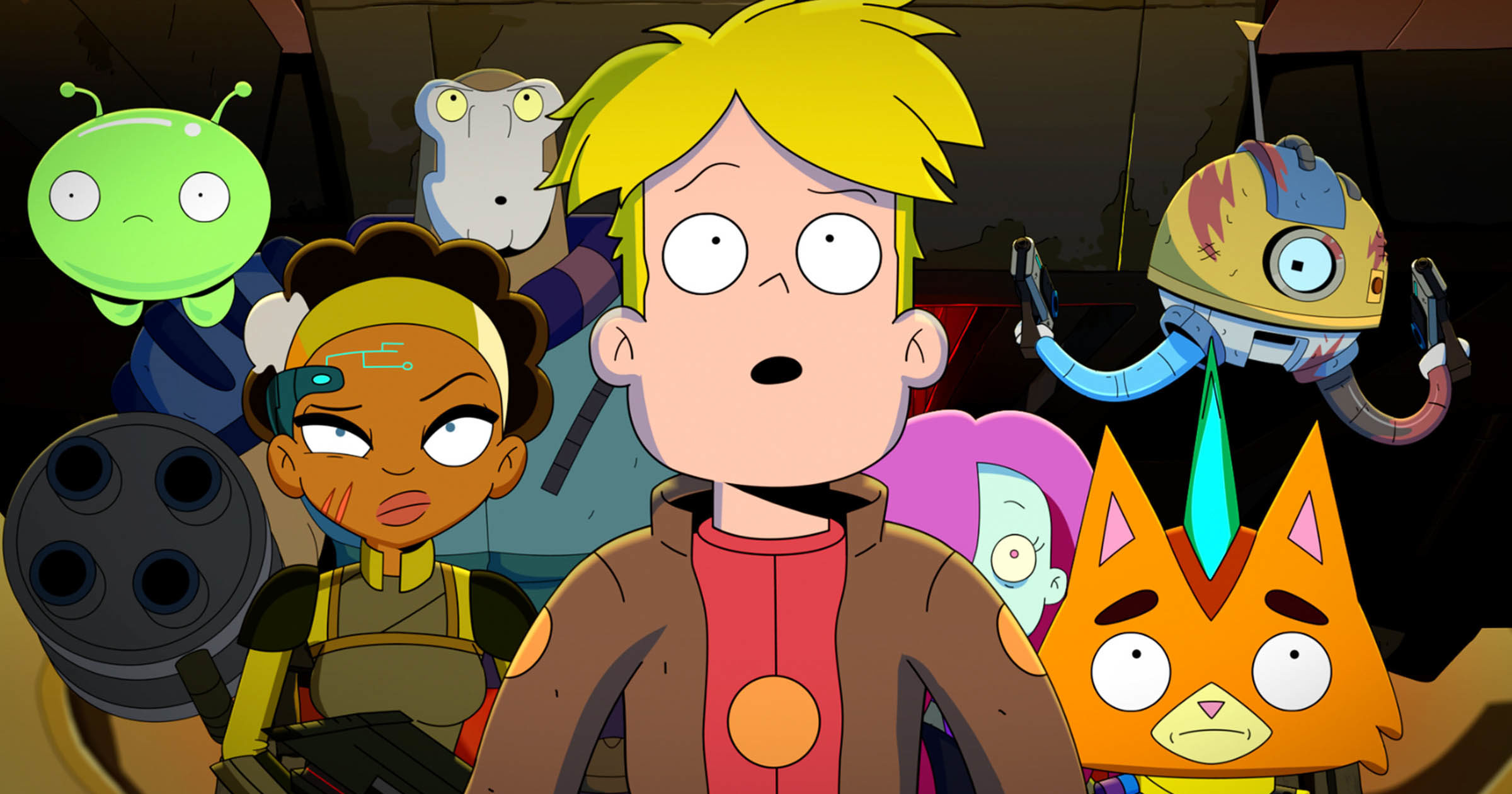 'Final Space' is an adult animated space opera series created by Olan Rogers and developed by Rogers and David Sacks. It follows Gary Goodspeed, an energetic yet dim-witted astronaut who is in the final days of his five-year sentence at the space prison Galaxy One. Gary encounters a mysterious planet-destroying alien and befriends it. 'Final Space' presents its characters in the same futuristic space-faring world that is a common aspect in 'Futurama.' Moreover, the protagonists of both shows are dimwitted, lack maturity, and fall in love with a much more competent female colleague, which forms the crux of their character arcs over their multi-season narratives.
8. Adventure Time (2010-2018)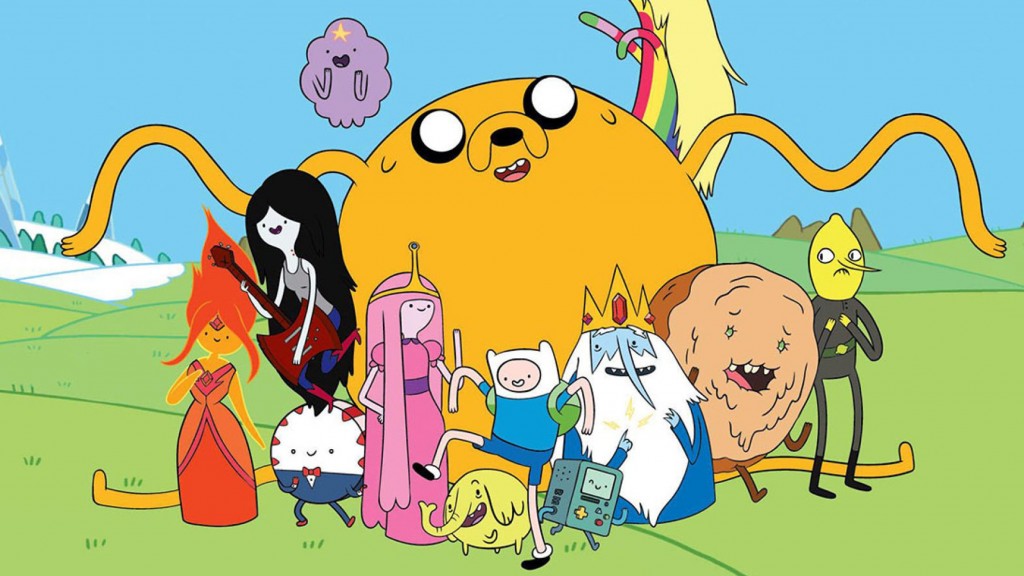 Created by Pendleton Ward, 'Adventure Time' is a fantasy animated television series set in the post-apocalyptic Land of Ooo, a world with magical medieval fantasy elements. The story follows Finn the Human, and his best friend and adoptive brother, Jake the Dog, as they embark on several adventures where they face off against forces of evil mainly perpetrated by the Ice King. 'Adventure Time' differs in animation style, setting, and tonality from 'Futurama.' However, 'Adventure Time' boasts a decent blend of episodic and canon storytelling that satirizes pop culture, making it similar to 'Futurama.' Both shows also feature the voice of John DiMaggio in pivotal roles.
7. The Adventures of Jimmy Neutron, Boy Genius (2002-2006)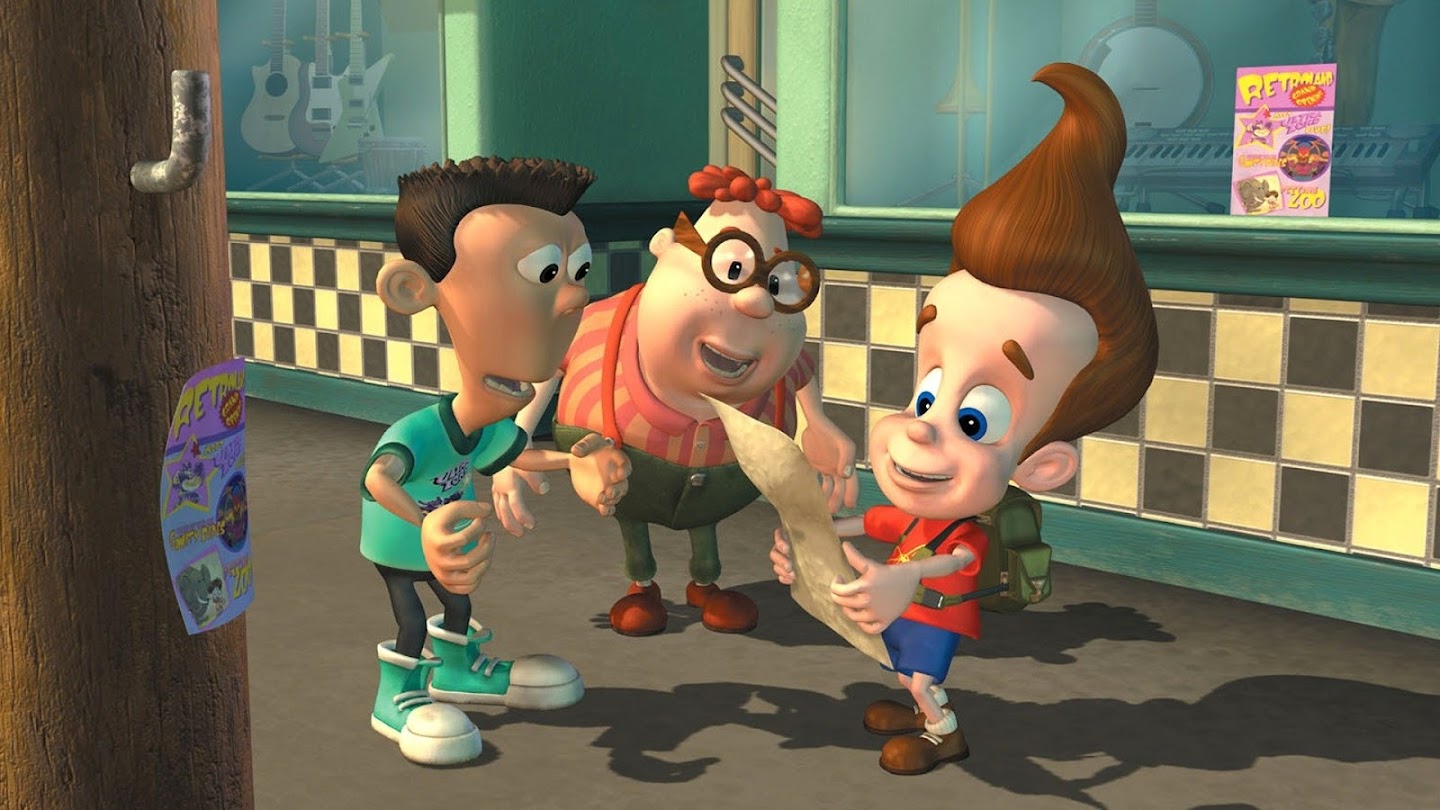 'The Adventures of Jimmy Neutron Boy Genius' (commonly known as 'Jimmy Neutron') is a CGI-animated television series created by John A. Davis. It is based on the 2001 Nickelodeon film 'Jimmy Neutron: Boy Genius' and follows the adventures of the titular genius inventor. The series follows the scientifically-minded Jimmy as he goes through the daily life of a fifth grader while his inventions often land him in trouble. While the series drastically differs from 'Futurama' in tone and theme, both shows are similar in their approach to science-fiction elements and blending of some mature themes through light-hearted stories. Viewers who enjoy animated shows with a more simplistic approach and lighter themes will like 'The Adventures of Jimmy Neutron Boy Genius.'
6. The Jetsons (1962-63/1985-1987)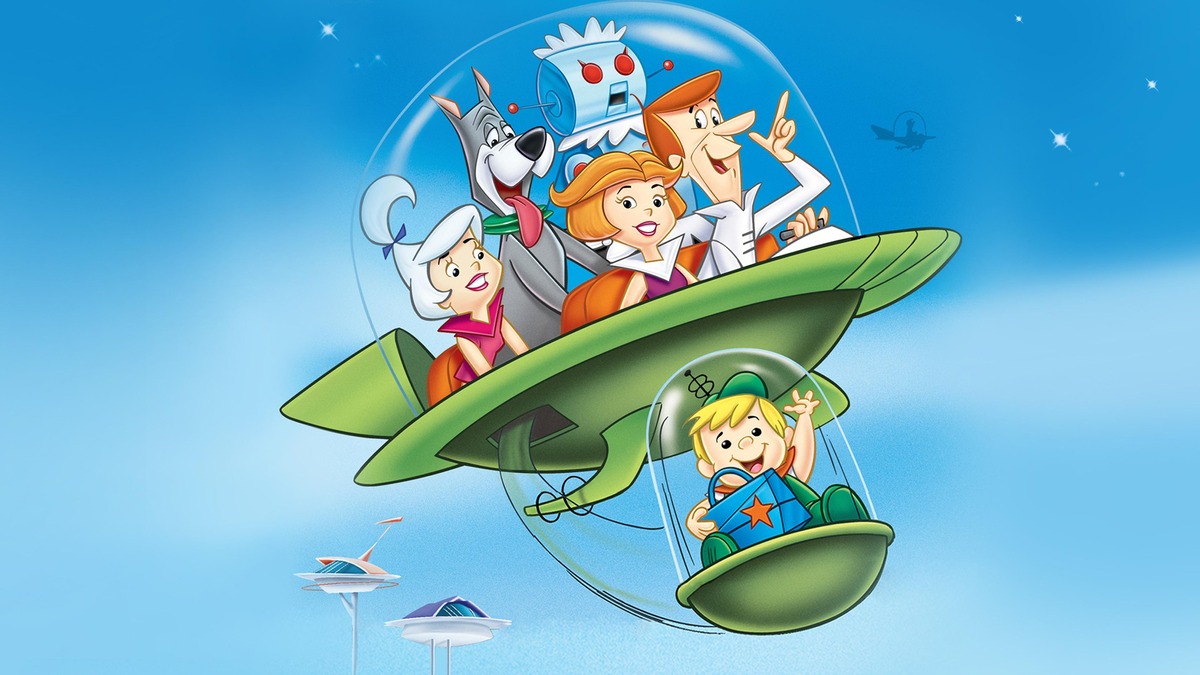 'The Jetsons' is an animated sitcom created by William Hanna and Joseph Barbera. The series first premiered in 1962 and revolves around the Jetsons, a family residing in the futuristic Orbit City. The family goes through day-to-day life while dealing with conflicts stemming from technological advancements and the luxuries of the Space Age era-inspired conveniences in Orbit City. The series is one of the first and most widely renowned depictions of a futuristic life (especially flying cars) that predates that of 'Futurama.' Although the series follows a simplistic formula compared to 'Futurama,' both shows were canceled before finding new life and achieving cult status.
5. Histeria! (1998-2000)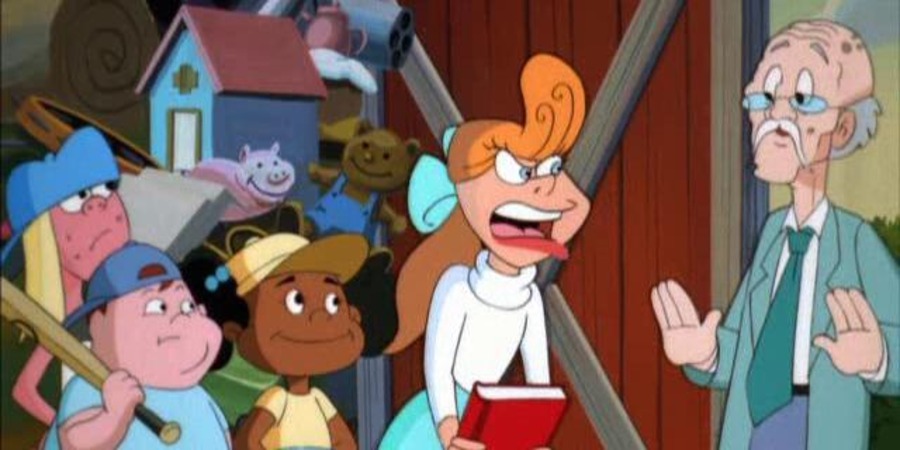 'Histeria!' is an animated series created by Tom Ruegger that revolves around a group of children who form a band and their adult mentors who guide the group through time as they encounter several historical figures. The series is similar to 'Futurama' as it uses historical events to generate slapstick humor and satirizes pop culture and famous figures through the use of time travel. However, the musical elements of 'Histeria!' and the edutainment format, which followed the guidelines for children's content, make it a unique viewing experience, especially for children. As a result, viewers looking for a child-friendly take on the elements that dominate 'Futurama' will enjoy the series.
4. Family Guy (1999-)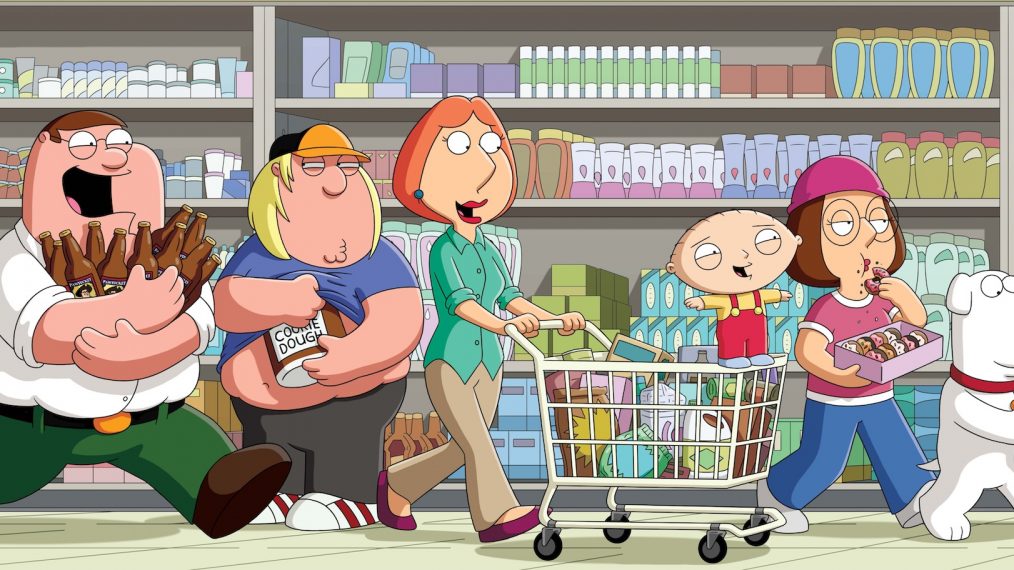 'Family Guy' is an animated sitcom created by Seth MacFarlane that first premiered in 1999. The series centers upon the dysfunctional Griffin family and primarily follows their story through the father, Peter Griffin, a clumsy blue-collar worker. The rest of the family comprises Peter's wife, Lois, their children, Meg, Chris, and Stewy, and their talking do, Brian. The series debuted in the same year as 'Futurama,' and both shows were canceled at one point before getting revived. Moreover, 'Futurama' and 'Family Guy' largely set the tone for the adult animated sitcoms of the 2000s that explore complex and nuanced themes such as existentialism through the prism of pop culture satire.
3. Samurai Jack (2001-2017)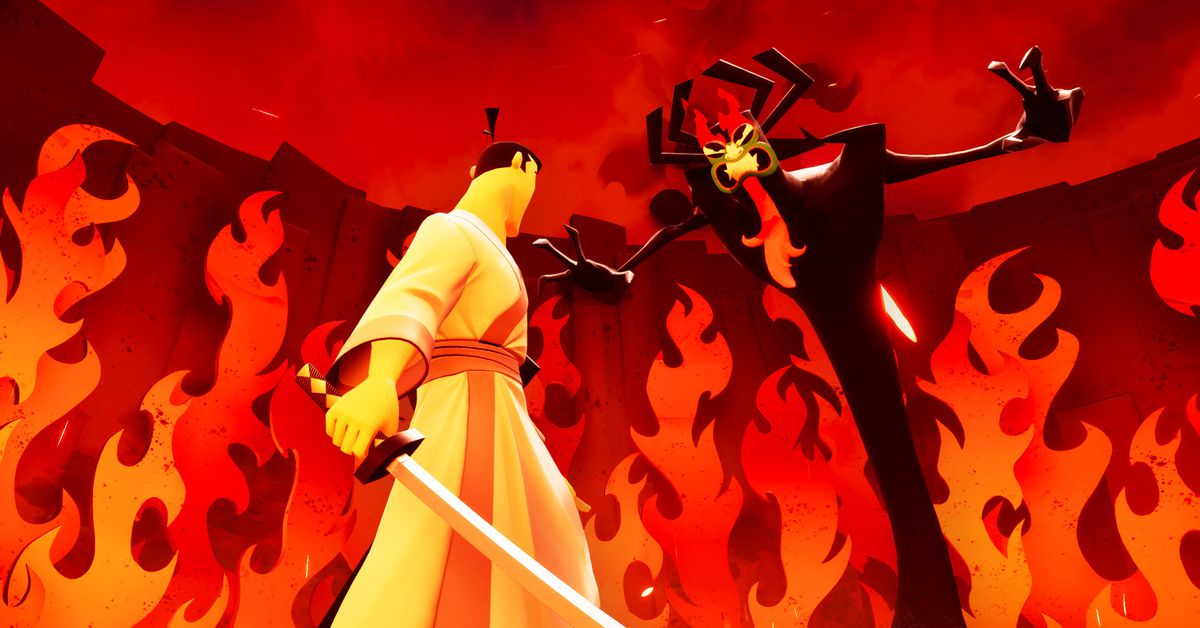 Created by Genndy Tartakovsky, 'Samurai Jack' is an animated action-adventure series that follows the titular unnamed Japanese samurai prince who embarks on a quest to free his kingdom from the evil shapeshifting demon lord known as Aku. However, in the process, the samurai is transported to a dystopian future, forcing him to find a way to return home and stop Aku once and for all. Although the show's basic premise, structure, and setting differ from 'Futurama,' both shows center upon an individual who thrust forward in time, essentially becoming a fish out of water. Additionally, no list of animated shows can be complete without a series created by Genndy Tartakovsky, and the weirdly fulfilling adventures of Jack in a dystopian future make the series an ideal fit for this list.
2. The Simpsons (1989-)
'The Simpsons' is arguably one of the most well-known adult animated sitcoms ever made and an important cornerstone of the modern pop culture zeitgeist. The series is known for its satirical depiction of American life and follows the whimsical and often pointless adventures of the titular family led by patriarch Homer as they experience everyday life in the town of Springfield. The animation style and narrative structure of 'The Simpsons' are very similar to 'Futurama' primarily because Matt Groening envisioned and created both shows. While the shows differ in subtext, both use satire to comment on American pop culture and feature overarching storylines that alter and update the show with time, adding to their longevity.
1. Rick and Morty (2013-)
'Rick and Morty' is an adult animated science fiction sitcom created by Justin Roiland and Dan Harmon. It follows the misadventures of the titular grandfather-grandson duo. In the series, Rick Sanchez, a cynical mad scientist, teams up with his timid grandson Morty Smith for several interdimensional adventures across infinite realities. The series is known for parodying and satirizing pop culture while tackling complex themes, and its use of science fiction elements in doing so will instantly remind viewers of 'Futurama.' In many ways, 'Futurama' can be viewed as a precursor to the boom of modern science fiction adult animated shows, which was started after the release of 'Rick and Morty.' For those reasons 'Rick and Morty' takes the top spot on this list!
Read More: Is Futurama 2023 a Reboot? When Does it Take Place?