'A Perfect Story' is a Netflix Spanish rom-com show directed by Chloé Wallace that revolves around two strangers who completely change each other's life after a chance meeting. As an heiress to a renowned hotel chain, running away from her own wedding is about the last thing that anyone expects Margarita Ortega Ortiz de Zárate, a.k.a. Margo, to do. On the other hand, when David, who lives on his best friend's sofa and has three jobs, gets dumped by his high-maintenance girlfriend, Idoia, no one is really surprised. However, when the two strangers cross paths, they come up with a plan to help each other get back with their respective exes. Nevertheless, their life complicates once Margo and David realize they fit together like puzzle pieces.
The show follows the trajectory of Margo and David's relationship, leaving the viewers wondering about their destiny until the very end. Therefore, if you're curious to see if things work out between the couple and where this relationship takes them, here is everything you need to know about the ending of 'A Perfect Story.' SPOILERS AHEAD!
A Perfect Story Plot Synopsis
Although Margo, a perfectionist with a controlling mother, finds an ideal partner in charming and dreamy Fillipo, her cold feet send her into a panic attack on her wedding day. Unable to go through the ceremony, Margo jumps out of her bridal suite and runs away while her family and groom-to-be try to follow behind. Meanwhile, David tries to hold his flaky girlfriend, Idoia, accountable for her actions. Instead, he finds himself getting dumped in a coffee shop with Idoia repeating the never-ending list of his shortcomings.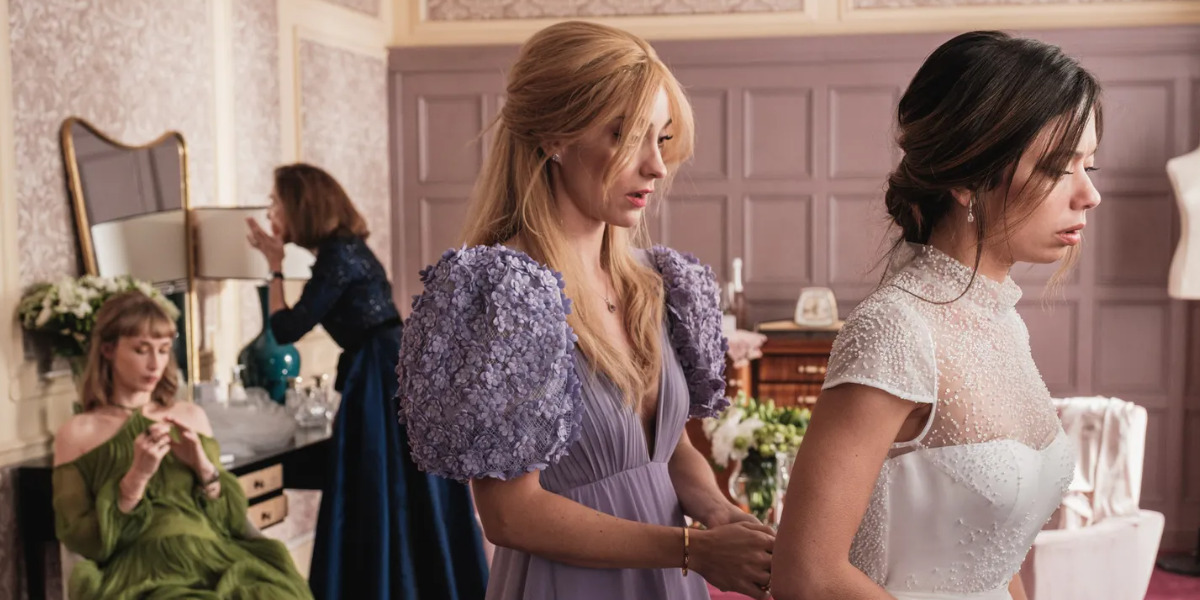 After their relationships spectacularly burn down, Margo and David accidentally run into each other at the bar where David works. Following their short meet-cute, David finds one of Margo's sisters, Patricia's phone, that she accidentally leaves behind. The same leads Margo to return to the bar the next morning. There, the pair runs into Idoia, a thinly veiled plan by David to make the latter jealous, and Margo plays along, pretending to be David's girlfriend. Afterward, the pair exchange numbers, realizing they like each other's easy company.
Shortly after, Margo sees a "sign from the universe" after she accidentally lands on a Greek vacation— something she made up while pretending to be David's girlfriend, and it encourages her to seek out David's company. The two start spending time together, discussing the similarity between their disastrous love lives. As such, they decide to help each other out by turning the other into the kind of person Idoia and Fillipo will want to take back.
Although Margo's sisters Patricia and Candela and David's friends Ivan and Domi believe they clearly like each other, the two adamantly deny any romantic attraction and insist they're only friends. As Margo and David spend more and more time together, the two advise each other on ways to become more appealing to their exes. Margo advises David to become more mature for fussy Idoia while David comes up with ways for Margo to become less high-strung and more laid-back.
Eventually, once Margo finalizes her vacation after her boss forces her to take time off, she spontaneously decides to invite David along, promising to pay for his flight. Margo's sisters, occupied as they are in figuring out if Patricia's husband is cheating on her, try to dissuade her from the idea. Nevertheless, Margo tricks her sisters and flies away to explore the Greek Islands with David. During the trip, Margo and David enjoy each other's company, isolated in their own worlds. Soon, their attraction to one another comes into the light, and although they try to fight it, they soon decide to give in.
After setting ground rules about their friends-with-benefits situation, including a firm expiration date on their affair, the two become sexually involved while still denying their romantic feelings. However, Idoia and Fillipo stay in both their orbits through text messages and phone calls, which complicates Margo and David's relationship with each other further. However, when their vacation comes to an end after their arrival in Spain, Margo and David find it hard to keep their hands off each other and end up hooking up again.
A Perfect Story Ending: Do Margo And David Part Ways After Greece?
Throughout the show, the couple's reluctance to leave the comfort of their previous partners and move on by admitting to their feelings for one another proposes the most crucial conflict in their relationship. David is the kind of person who would rather stay in an unpleasant situation than reach for something he wants if he believes it's above his pay grade. As such, even though Margo and David continue hooking up and borderline dating each other under the guise of friends-with-benefits, David's worldview changes once he finds out the truth about Margo's family.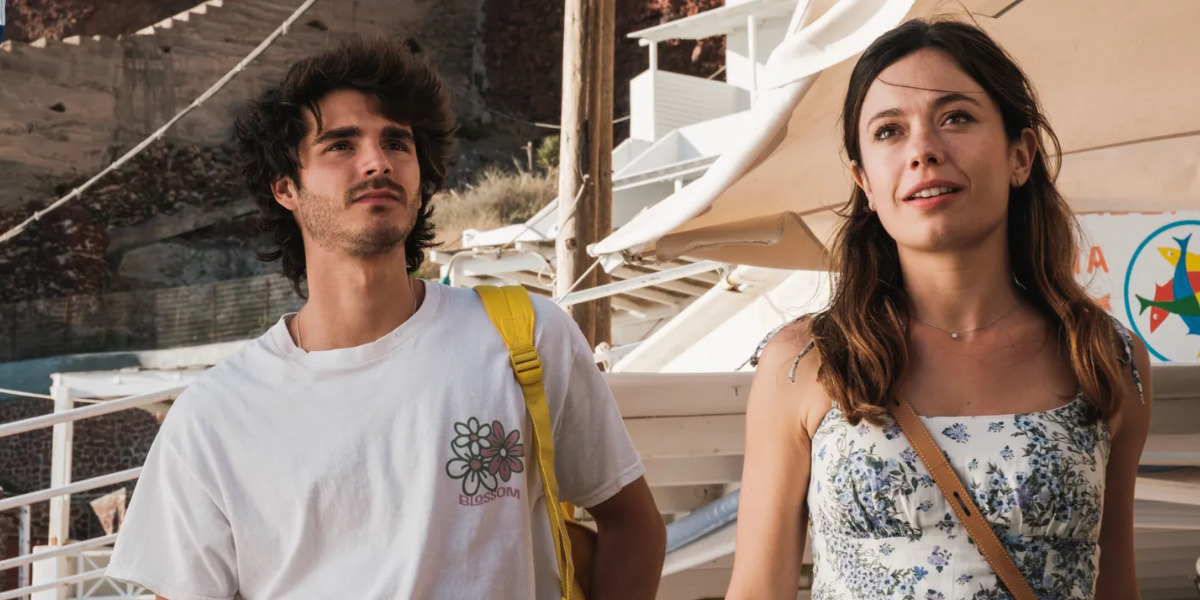 After discovering Margo's family owns the most influential hotel chain in the country, David feels like even more of an inadequate match for Margo. He always felt like he couldn't compete with Fillipo and his perfect charm, but now David is convinced he has nothing to offer Margo. Margo owns a ludicrous family business, and David is still working eclectic jobs as a babysitter, bartender, and dog walker while pursuing his actual calling: being a florist.
Therefore, the class divide between them makes David feel like he's not good enough for Margo. Toward the end, Margo finally finds the courage to drop the facade and asks David outright if he loves her. Although David admits to his feelings for her, he reinstates that they can't be together. As a result, Margo gives him one last chance to stop her while she gets in a taxi.
Following that, we see a montage of Margo's life without David. Instead of going back to Fillipo, Margo breaks things off with him and starts focusing on her career. She no longer lets her mother or elder co-workers control her and takes on a more authoritative role, hiring more female voices in the boardroom. Not long after, Margo moves to London for business and meets Barin, an English man, starting a new life with him.
Still, she holds onto a piece of David through the now-dried flower bouquet he once sent her. Three years later, she visits David, who now owns his own flower shop, to let him know she's with someone else so that he can start to move on as well. However, that reality soon reveals itself to be only a figment of David's imagination.
While Margo hails her cab, hoping for David to stop her, David tries to imagine a life where Margo won't have him by her side. He is under no illusion that Margo's life will stop without him and knows she will likely find someone else. Nevertheless, David knows her well enough to know that she will want to return to give David closure. However, David doesn't want any closure, and realizing the same, he makes up his mind and stops Margo from walking out of his life.
Do Margo And David End Up Together?
Even though David thinks everyone will assume he's a gold-digger for being with Margo due to their financial disparity, he'd be amiss to let the love of his life go because of such trivial problems. Likewise, Margo, who strives for perfection in all corners of life, knows David's chaos somehow balances everything out for her. Therefore, Margo and David decide to give their relationship a fair shot, finally admitting to themselves they were never really in love with Fillipo and Idoia.
Fillipo, as the picture-perfect man, made Margo put herself under added duress to be as perfect as he was. Moreover, everyone else in her life, especially her mother, passive-aggressively but repeatedly makes her feel like Fillipo's affection and attention are something to be grateful for. Similarly, Fillipo himself is often condescending and patronizing to her, which she fails to notice until David points it out.
Comparatively, David encourages her to let loose and live life by her own rules. With David, Margo doesn't have to evaluate her worth by someone else's perception of her because David only cares about her happiness and thinks she's spectacular as she is. In doing so, he allows her the space to grow without holding it as a pre-requisite.
In the same vein, unlike Idoia, Margo doesn't detest David for his eccentricities, like his graphic t-shirts, messy hair, and lack of a secure career path. Instead, she gently nudges him toward changes he can make to appear more put-together without making him feel bad about himself. In fact, she doesn't expect him to change at all and is pleasantly surprised whenever he makes an effort.
As such, the pair find their perfect ending with each other. During their relationship, David finally moves out of Ivan's house and gets his own apartment. In the end, the pair moves away to London, where Margo finds some respite from her nagging mother, and David opens up his own flower shop and names it "Vuelve, Margarita," loosely translating to "Come Back, Margarita."
Read More: Is Netflix's A Perfect Story Based on a True Story?