Netflix's 'Selling Sunset' is an exciting reality show that offers a sneak peek into the lives of several real estate agents belonging to the Oppenheim Group. The agents welcome the cameras into their personal life and showcase how they navigate professional and personal commitments while dealing with everyday issues related to love, friendship, and betrayal. Moreover, the show even brings on an essence of steamy romances and high-octane drama, which makes for exciting television.
Although realtor Emma Hernan has been on the show for a long time, she is known for her pacifist approach to most workplace altercations. She takes pride in her professionalism and often avoids the drama her colleagues create. However, in season 4, Emma built a wonderful friendship with Chrishell Stause, making viewers wonder if they still share that intimate bond. Well, fret not because we come bearing answers!
Emma and Chrishell's Selling Sunset Journey
When Emma Hernan joined the 'Selling Sunset' cast in season 4, her cast-mates took some time to open up to the newcomer. Besides, even before appearing on the show, she had an incredible reputation as a realtor and entrepreneur, and she also owned a private jet, which naturally indicated that she belonged to a different social status. However, Chrishell did not pay much heed to such differences and was among the first to extend a hand in friendship. From that moment onwards, she and Emma developed a special bond and were often spotted spending time with each other at the office or on vacation.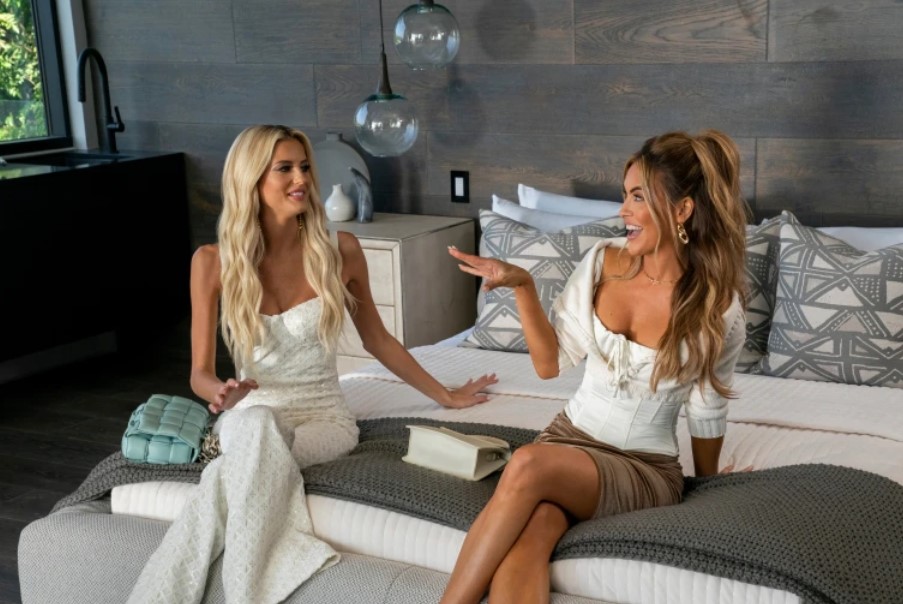 Interestingly, Chrishell and Emma came even closer in season 5 when they were united in their dislike for co-worker Christine Quinn. The latter was known for causing a lot of drama in the office, and in one instance, Emma discovered that her co-worker had bribed a client to stop working with her. Without wasting time, she confronted Christine about her behavior, and even though the latter denied all allegations, the office had differing stands on the issue.
Nevertheless, Chrishell supported Emma throughout it all, which even affected her friendship with Christine. Yet, the actress-turned-real estate agent refused to accept any betrayal against her friend and even asked Jason to look into the matter. Subsequently, he asked Christine for clarification, but she failed to turn up at the meeting before resigning.
In the meantime, viewers witnessed Emma and Chrishell's developing friendship as the two were spotted together at the former's birthday getaway in Cabo San Lucas, Mexico. They even feature heavily on each other's social media and often go out for meals and parties together. Besides, Emma surprised Chrishell with Super Bowl Tickets, and the two addressed each other by endearments, which made their connection quite apparent.
Are Emma Hernan and Chrishell Stause Still Friends?
Yes! We are happy to report that Emma and Chrishell are still friends and seem to enjoy their time together. While they call themselves each other's BFFs and love making memories together, the latter posted a wonderful tribute to her friend on her birthday. Chrishell said, " You are a natural caretaker, sweet, hilarious, such a hard worker & overall BOSS, and very lucky to call you my best friend. You deserve the world, and no one would be happier to see you get it than me – Happy birthday, beautiful."
On the other hand, Emma documented their trip to Cabo together and insisted that the vacation felt incredible with her "bestie" by her side. Interestingly, even though she was sad when Chrishell and Jason's relationship ended, she was highly excited after learning about her best friend and G Flip getting together. Apart from being close to Chrishell, Emma shares a warm bond with her best friend's partner, and it is heartwarming to witness the three of them get along together. Emma and Chrishell's friendship has always been extraordinary, and we hope happiness never eludes them in the future.
Read More: Are Chrishell Stause and Mary Fitzgerald Still Friends?