Peacock's 'Love Island USA' is a dating reality series based on the similarly named British series. The show gives participants a chance to find a perfect partner for themselves while spending some quality time on a beautiful island. In season 5 of the series, some of the couples genuinely caught the attention of the viewers, like Kenzo Nudo and Carmen Kocourek. Their time together has captivated the audience from the very start, and fans are eager to learn about the latest updates in their relationship. Well, we are here to explore the same!
Kenzo and Carmen's Love Island USA Journey
Having entered the Peacock show late on Day 1, Carmen Kocourek's initial struggle to find love caught the attention of the viewers. While she was paired up with Victor Gonzalez, she started to gravitate towards Carsten "Bergie" Bergersen. This led her to kiss the latter in one of the games while still paired with the former, something that Victor certainly did not like. All of this led to strained relations between the three, Victor's elimination, and Carmen's decision of not to pursue Bergie romantically anymore.
However, Carmen's time with love was far from done, given Kenzo Nudo's entry on Day 10. The latest arrival in the villa found himself attracted to her and did not hesitate in making his feelings clear. After kissing Carmen during one of the party games and then taking her on a date, Kenzo wasted no time choosing Carmen as his partner during the next recoupling ceremony. The relationship between the two progressed at a rapid rate, with the two falling for each other hard and fast.
The bond between Kenzo and Carmen was soon put to the test when the latter went to Casa Amor. Though they only spent about a week in each other's company, both of the reality TV stars started missing their partners. Kenzo, in particular, remained devoted to Carmen by not entertaining any romantic advances and always sleeping outside without a bed partner. While Carmen did seem interested in talking to Robert "Rob" Rausch, her mind remained focused on Kenzo. However, given the short tenure of their relationship and no mentions of exclusivity prior to their separation, both Kenzo and Carmen were anxious about the upcoming recoupling ceremony.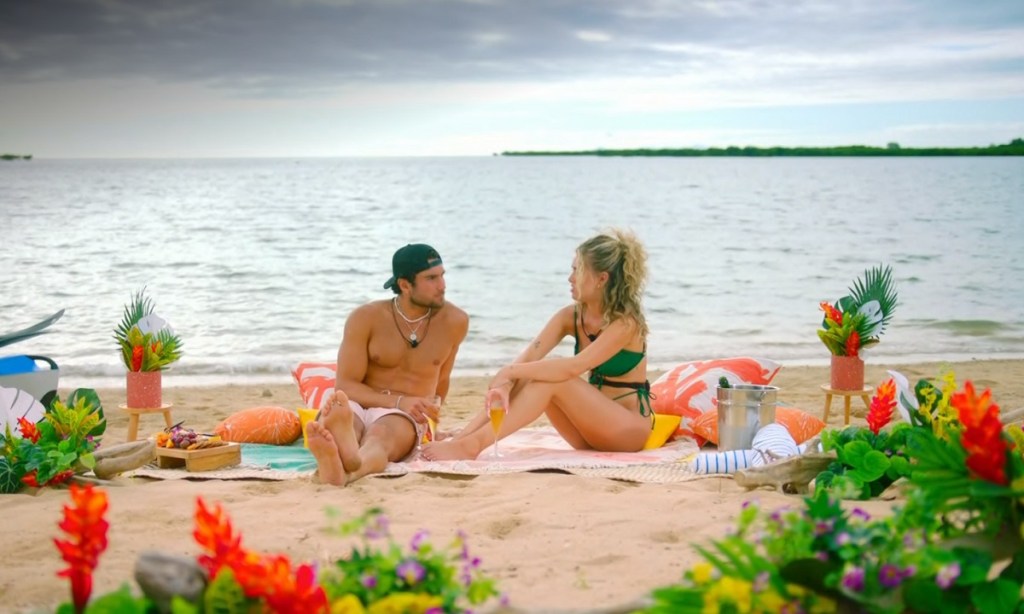 Much to the relief and joy of both parties involved, Kenzo and Carmen did not choose any new entries in the show to couple with and instead opted to go back to their respective partners. As one of the only two couples who made that decision, Kenzo and Carmen's relationship indeed rose as one of the stronger ones in the show. Both of them were delighted to reunite and spend time in each other's company, with Kenzo declaring that his time away from Carmen had been quite painful.
Not willing to waste any time, Kenzo decided to take full advantage of the date that the showrunners sent him and Carmen on. After the two talked about their respective experiences in Casa Amor and their feelings regarding the recent developments among the cast members, Kenzo confessed how much he cared for Carmen, referring to her as his "sunrise and sunset." Nervously, he asked her if she would like to be his girlfriend, to which Carmen happily said yes.
That said, the smooth sailing relationship between Kenzo and Carmen did hit the rocks once when the former had been unhappy about the latter being apparently too "physically close" with other male contestants during a task. However, they were able to weather the storm and resolve the issue. Getting the approval of their respective family members certainly was a big deal to the two, and the fact that they made it to the top four certainly made them appreciate their connection even more.
Are Kenzo and Carmen Still Together?
As of writing, Kenzo and Carmen have yet to share any details about the current status of their relationship. That said, the fact that they even went so far as to profess their love for each other during their last date on the show certainly proves that the two might be in it for the long haul and have no plans for separating anytime soon, something that their fans will likely be more than happy about!
Despite the newly exclusive couple's evident joy in the progress of their relationship, many of the viewers have been skeptical about the easy camaraderie between Kenzo and Carmen, especially given the latter's tumultuous on-screen journey prior to Kenzo's arrival. Another major reason that people believe that the two might have known each other beforehand is the fact that both of them are presently based in Scottsdale, Arizona.
In fact, the social media sleuthing done by some of the fans seems to indicate that Kenzo and Carmen might have been going to the same gym prior to coming to the Peacock series. Interestingly, Carmen did state on her date with Kenzo that it was weird that both of them had not crossed paths while living only about "10 minutes away." Additionally, Kenzo's brother, who has been running his social media, has also come out to clarify some of the rumors.
"Kenzo never knew Carmen prior to the show, and he stopped going to that gym months before, Kenzo also doesn't have a trainer," Kenzo's brother explained via the reality TV star's Instagram. He also claimed that Carmen following Kenzo on the social media platform was a new development and was done by the person in charge of her Instagram account at the time. Whether or not the two knew each other before, their present relationship seems to be going strong, and we hope they find happiness in their current partnership.
Read More: Are Emily and Harrison From Love Island USA Still Together?