If we are being honest, Netflix's 'The Circle' always delivers on its promise of light-hearted drama, friendship, and romance-filled entertainment, meaning its latest fifth installment is no different. However, the one aspect that intrigued us the most throughout this entire season was the will they or won't they connection between the beautiful Raven Sutton and the hunky Marvin Achi. So now, if you wish to learn more about the same — with a focus on their experiences together as well as their current possible relationship status — we've got all the essential details for you.
Raven and Marvin's The Circle Journey
As actual singles who'd stepped foot into this incredible production with the intent of having some harmless fun, Raven and Marvin were honestly both drawn to one another from the word go. It was initially just physical attraction considering the fact they only had their profiles to base their opinions on, yet it grew into more as they began noticing similar, positive energies in group chats. Moreover, while he later told the boys in a separate discussion he was interested in exploring a bond with the blue-haired disability advocate, she expressed the exact sentiment to the girls.
Raven's first proper interaction with personal trainer Marvin (a chemical engineer in reality) was in a short yet sweet chat alongside Chaz on day two itself, wherein they formed the Melanin alliance. Though this was all it took for him to state, "If I get to know Raven more, I can see us having something, you know," making it clear he wasn't kidding when he said pretty women were his weakness. It thus came as no surprise he did not hesitate to make his move upon being asked to send "🔥" to the person he liked during a game, driving her to slide into his DMs later in the evening.
Raven and Marvin's ensuing private conversations were honestly a blend of wholesome, hot, and steamy, within which he went as far as to deem her his "Queen" as well as his "Number One." This obviously implied he was all into their budding romance, just for everything to change the moment Tamira (aka Tasia Lesley) stepped foot into the game and asked Marvin to a "hangout date." The truth is the former was actually happy for him, thinking he'd be respectful while still building an alliance, but all he did was engage in explicit flirtation without a single mention of Raven.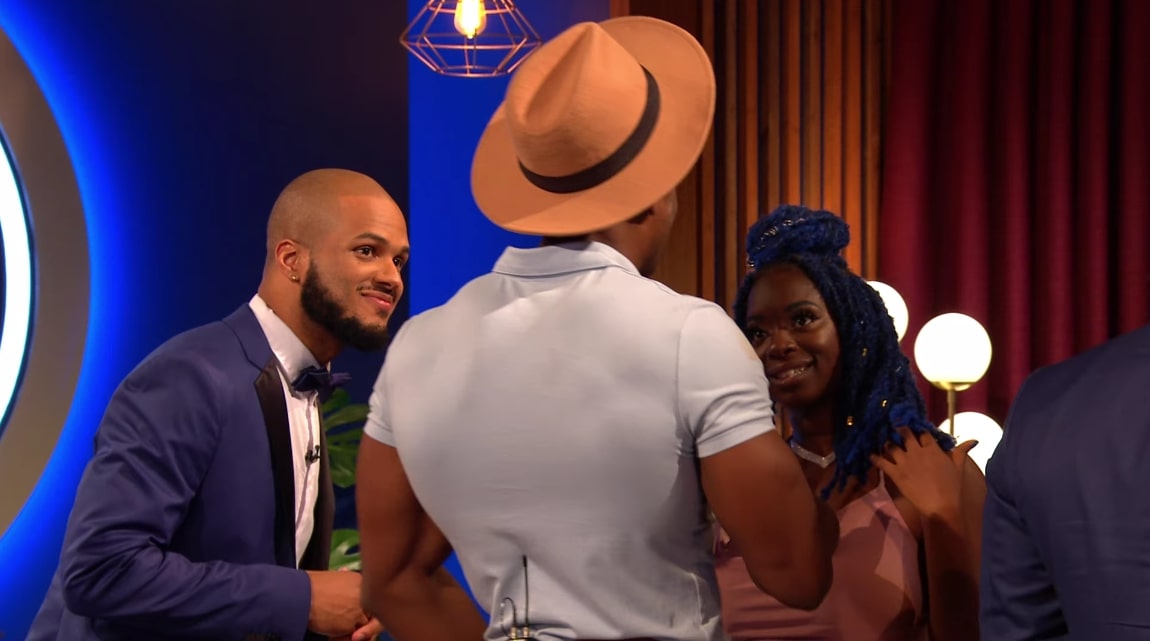 As if that's not enough, Marvin then called Tamira his queen, didn't even think about revealing anything to Raven, and ultimately bragged about this picture-exchanging date to Tom Houghton. What he forgot was that women talk; plus, Tom also approached Raven with the entire truth since he felt utterly uncomfortable with his fellow player's tactics, leaving Marvin in the doghouse. The buff Nigerian did apologize by owning up to his actions a short while later, but it was already too late because he had lost all of Raven's trust — that's why he was eliminated in the next round.
Are Raven Sutton and Marvin Achi Together?
Marvin was actually allowed to visit one fellow contestant face-to-face in 'The Circle' before he had to leave, and he obviously chose the woman he'd wronged the most, his continued muse, Raven. He then made use of the opportunity to explain himself better, apologize again, make it clear she was still his queen, and allude to the fact he wanted to make things okay in the real world. Then, during the finale, he approached her once more, saying he "f**ked up," to which she candidly replied, "You want to fix it? You can fix it," indicating she could potentially trust him again if he made efforts.
Nevertheless, from what we can tell through their public social media platforms, it does not appear as if Raven and Marvin are exclusively in a relationship or even dating at the moment. They do follow one another on their respective Instagram accounts and are on amicable terms, but there are no posts, stories, or feed interactions to suggest their connection is any deeper than that. Furthermore, while the disability advocate is based in the Washington DC-Baltimore Area, the chemical engineer/fitness entrepreneur reportedly resides in Texas, meaning long distance would also be an issue for them. Then finally, there's the fact the former's Facebook indicates she is in a relationship with an unspecified someone as of writing.
Read More: Where is The Circle Season 5 Runner-up Chaz Lawery Now?