Given just how important building connections in Netflix's 'The Circle' is, it is no surprise that we have seen some beautiful friendships emerging out of this competition. In season 5 of the reality show, we saw Sam Carmona and Chaz Lawery for a genuine bond that stood through multiple trials. Together, they foiled a hacker's plan and made it through to the finals. Naturally, the fans of the shows, particularly those who could not get enough of this duo, are eager to know if Sam and Chaz are still friends. Well, we are here to explore the same and find the answers you need!
Sam Carmona and Chaz Lawery's The Circle Journey
When 34-year-old Sam Carmona and 28-year-old Chaz Lawery entered the show, they had no idea just what their journey would be like. Out of two, only Chaz had any secrets to hide as he was pretending to be single and a nurse. This was to hide his identity as an entrepreneur and an engaged man. Right off the bat, the two developed a close bond and often shared their thoughts regarding other participants. While they also formed a genuine connection with some others, like Raven Sutton, the friendships between these two remained unshakeable.
In fact, when Sam found out Chaz was gay, she felt honored to have learned about a thing so close to his heart and was even more determined to make her friendship with him work. Soon enough, the two started calling each other "gusband/gubby" and "wife" out of affection, though they were secretive to not use these names in front of others. However, they did end up calling each other that during a group chat with "Jennifer," AKA Xanthi Perdikomatis and Brett Robinson.
Xanthi and Brett did try to take advantage of this knowledge when they were given the ability to impersonate a person for one conversation. They decided to act as Chaz and talk to Sam in hopes of the position of "Tamira," AKA Tasia Lesley. Trusting Chaz with all of her heart, Sam did not doubt the information given to her. However, when she came to know about the presence of a hacker, she talked to Chaz about the same, revealing that she had been duped.
Initially surprised by the turn of events, Sam and Chaz quickly figured out that Jennifer was the likely hacker as she knew about their nicknames. They decided to confront her about the same, which only ended up heightening their doubts. Despite everything, sam and Chaz remained close throughout the show. Their friendship was not strong but also powerful, as they were often among the top in the ratings, with Chaz having been an influencer for four turns. In the end, the two were the last ones standing, with Sam being declared the winner while Chaz was the runner-up.
Are Sam Carmona and Chaz Lawery Still Friends?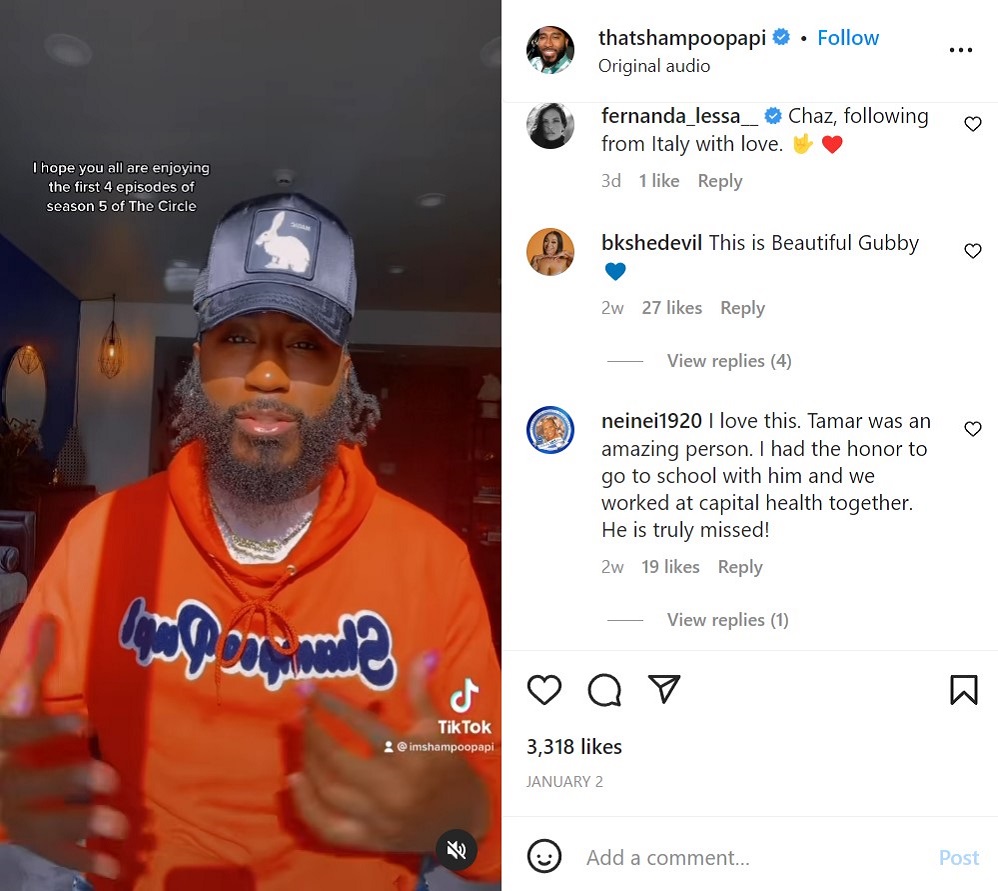 As of writing, Sam and Chaz do seem to be on amicable terms. The duo is following each other on social media and can often be seen hyping each other. In fact, in a recent Instagram post shared by Chaz, Sam used her on-screen nickname for him(as seen in the post above), indicating that they are still close. Though the duo lives on opposite sides of the USA, with Sam being in Brooklyn, New York, and Chaz living in Los Angeles, California, their bond seems to be as strong as ever.
Read More: Are Xanthi and Brett From The Circle Still Friends?