If you're here with the expectation of seeing 'That 70s Show' on the list, then profuse apologies. Jokes aside, the following list will include the very best of television in the 1970s. This was a decade of true change on the small screen, with massive numbers of people tuning in to watch their favourite shows. The decade redefined television ratings, and the shows themselves would go on to influence later efforts. There was a refreshing variety of shows as well, from variety shows, to alien conspiracies, to even puppets for children! Without further ado, here is the list of top TV shows of the 1970s:
Special Mention- Kolchak: The Night Stalker (1974-75)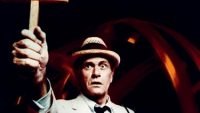 With the show spanning for just one season on ABC that comprised of 20 episodes, 'Kolchak' couldn't possibly make it onto a 'best of' list. This was because the television heavyweights of the 1970s all ran across several years, and had ample scope and history to build upon. Nevertheless, just like the relatively more recent space western drama 'Firefly' which also ran for a single season (2002-03), 'Kolchak' has proven to be incredibly influential, and is now a certified hidden gem.
It starred Darren McGavin as the eponymous Kolchak, an investigative reporter who probed into mysterious crimes that conventional law enforcement didn't bother with. The show dealt frequently with strange creatures, which bordered on science fiction and the supernatural. If this premise sounds familiar, that's because 'The X-Files' (1993-2002) cites this as its main influence. Overall, 'Kolchak' is woefully unknown and that should be rectified at the earliest chance.
Read More: Best TV Shows of the 60s
10. Happy Days (1974-1984)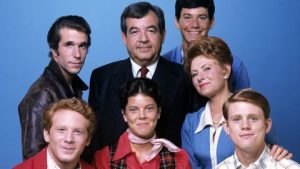 'Happy Days' would initially start out as a feel-good show that focused on the nostalgia and charm of adolescence but which would turn into a boisterous comedy. Following this change, the show would not only come back from its failing fortunes spectacularly but would also prove to be a blueprint for modern comedies that make for easy watching, such as 'Two and a Half Men' or '21 Jump Street.'
The show utilised nostalgia and memory impressively in forming a world that its audiences could identify with and characters they could relate to, with Arthur "Fonzie" Fonzarelli (Henry Winkler) in particular becoming a household name. Starring Ron Howard (yes, the filmmaker) as Ritchie Cunningham, and Marion Ross with Tom Bosley as his parents, Marion and Howard, 'Happy Days' is an important American cultural event of the 1970s and an essential case study in the changing nature of television over the years.
Read More: Best TV Shows of the 50s
9. Soap (1977-1981)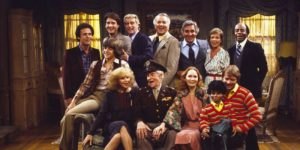 A show that started off vilifying middle-class values ended up celebrating them. ABC's 'Soap' aired during the night, and was initially created to mock the typical tropes of daytime soap operas and their exaggerated presentation, hence the name.
The initial reception was controversial, with protests happening even before the show aired, and even managed to unite both Democrats and Republicans in their dislike of the show. However, after its premiere, ABC received numerous calls, most of which were in its favour. The show's hard-hitting content, its emphasis on matters of sex and loyalty in relationships as well as racial bias would go on to be regarded as among the very best of American television of not just the 1970s but of all time.
Read More: Best TV Shows About Lesbians
8. Dallas (1978-1991)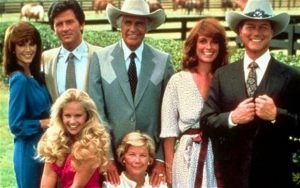 'Dallas' was a primetime soap opera that focused on the shenanigans of a dysfunctional Texas family, the Ewings, and their oil empire. It initially started off with a Romeo and Juliet vibe, with lovers Bobby Ewing (Patrick Duffy) and Pamela Barnes (Victoria Principal) whose families feuded with each other. With time, this plot line subsided into the background, and the show's focus on the sleazy tricks in the oil business through its breakout character J.R. Ewing (Larry Hagman) made it into a bona fide success.
To this day, 'Dallas' is a monumentally significant show in the annals of television, and its influence is palpable across pop culture, most evidently in the 'Who shot J.R.?' mystery. Its famous cliffhangers at the end of each season gave it a distinct vibe, which resulted in dizzying numbers of people tuning in. Its two-hour series finale 'Conundrum' remains one of the most watched series finales in history, with figures quoted at 33.3 million at the very least.
Read More: Best TV Shows of the 80s
7. The Mary Tyler Moore Show (1970-1977)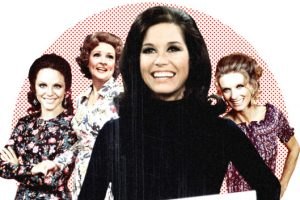 'The Mary Tyler Moore Show' was a rarity in American television during the 70s. It featured a never-married, independent career-driven woman as its protagonist, introduced crucial issues such as equal pay, homosexuality, premarital sex, infidelity and divorce in its comedic storylines, and is one of the most awarded shows of all time, with 29 Emmy wins for a plot-based show (as opposed to a variety show, such as the next entry on this list) to its name. This was a record unbroken over decades till 'Frasier' broke it in 2002.
In a time rife with greater pay for men doing the same work as anyone else, as well as sexual harassment, rampant misogyny and hostility towards the LGBTQ community, this show remains more relevant than ever.
Read More: Best TV Shows About Time Travel
6. Saturday Night Live (1975-present)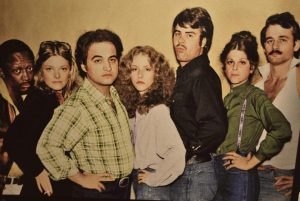 The only active show on the list, and arguably the largest comedic phenomenon in television history, 'Saturday Night Live' is synonymous with rip-roaring comic acts, ludicrous skits, and biting political satire, all performed live.
Created by Lorne Michaels, the show has always functioned as a remarkable parody of current cultural and political issues. It has employed a changing cast of performers over the years, most of whom have gone on to become famous performers in their own right, from Bill Murray and Eddie Murphy, to Amy Poehler and Kate McKinnon. 'Saturday Night Live' is undoubtedly one of the most enduring and important television programs in its history.
Read More: Most Overrated TV Shows of All Time
5. The Bob Newhart Show (1972-1978)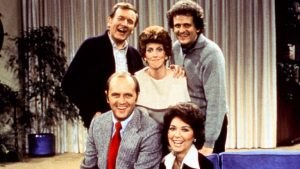 Bob Newhart was a somewhat established stand-up comedian by the time he got to star in his very own show. However, the jump from stand-up to television wasn't nearly as straightforward in the 1970s as it is now. Newhart took to the show like a duck to water, and 'The Bob Newhart Show' is considered by many to be a game-changer in comedy television.
The show focused on a psychologist, Dr. Robert Hartley (Newhart) and balanced between his domestic life and his work at the clinic. In both the situations, he was surrounded by wonderfully funny and well-drawn characters in his wife, Emily (Suzanne Pleshette), and his patients, such as Lillian Bakerman (Florida Freibus), and Eliot Carlin (Jack Riley). Newhart's quintessential deadpan comedy made its way gloriously onto the show, witnessing the chaos around him, and the show has captured many hearts since.
Read More: Best Detective TV Shows of All Time
4. Barney Miller (1975-1982)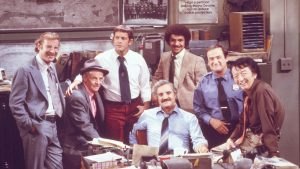 Fans of the much beloved 'Brooklyn Nine-Nine', which recently survived a cancellation scare, would do well to catch up on this acclaimed police sitcom of the 1970s. 'Barney Miller' is set almost entirely within the fictional 12th precinct of the New York Police Department.
The eponymous captain (Hal Linden) is the sensible force in the station, surrounded by naive and disgruntled detectives and sergeants bringing in complaints and dealing with their own crimes. Linden is ably supported by Abe Vigoda, Ron Glass, Max Gail, and Jack Soo, among others, to bring in a delightful cop comedy that redefined the vigour of a seemingly limited genre to an adroit conclusion.
Read More: Best Thriller TV Shows of All Time
3. The Muppet Show (1976-1981)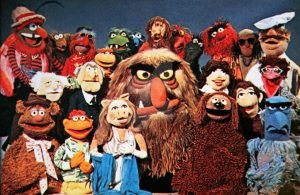 World-renowned puppeteer Jim Henson's most famous creation are undoubtedly the ragtag gang of adorable, intelligent, and uproariously funny Muppets. They were created by Jim and Jane Henson, and made their debut on 'Sam and Friends' before appearing on 'Sesame Street' in 1969. However, much of their present popularity and pop cultural prevalance is due to 'The Muppet Show.'
This was a primetime show that highlighted their kid-friendliness and the brand of self-aware, and burlesque comedy that they would come to be associated with, over the years. The show would go on to win 4 times at the Emmys, 3 at the BAFTAs, and also, a Grammy and Peabody Award, among others, during just 5 years. With the Muppets rightly on the rise and very much an integral part of modern culture with their sensible messages combined with witty comedy, 'The Muppet Show' will always remain one of the most crucial American comedy-variety shows of all time.
Read More: Best Indian TV Shows of All Time
2. All in the Family (1971-1979)
'All in the Family' focused on Archie Bunker (Carroll O'Connor), a blue-collar worker who pined for the days of the past when people shared his prejudices with aplomb. Yet, his decency shines through his unabashed bigotry, and the show puts him in a position where his arguments are turned over ably. The show broke new ground in portraying vital issues such as rape, religion, abortion, miscarriages, breast cancer, infidelity, racism, and even the Vietnam War.
Connor was fantastically supported by Jean Stapleton, Rob Reiner, and Sally Struthers, with his character Bunker being voted by 'Bravo' as the best television character of all time. The show paved the way for sitcoms to be more contemplative and include more dramatic clashes instead of resorting to thoughtless, easy humour. 'All in the Family' is rightly considered to be one of the greatest American shows of all time, and deserves to be watched more widely.
Read More: Best Superhero TV Shows of All Time
1. M*A*S*H (1972-1983)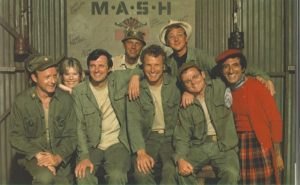 'M*A*S*H' is centred around a group of army doctors and support staff at the 4077th Mobile Army Surgical Hospital in South Korea during the Korean War that spanned from 1950 to 1953. The show had several prior influences, with its most immediate being the 1970 film by the same name, which in turn was based on the 1968 novel 'MASH: A Novel About Three Army Doctors' by Richard Hooker. However, it is this 1970s television version that has stood the test of time magnificently to go on and become one of the best shows in all of television history.
While the show was classified as a comedy-drama, its subject matter ensured that the tone of most of its episodes bordered on dark comedy. They were also heavily driven by plot and character, and the show was versatile enough to lend itself to varying narrative modes, from serious to comical within the span of a single episode. Since M*A*S*H aired during the time of the Vietnam War, there was an implication that it was expected to comment on it in a way that supported the government's stance and simultaneously not appearing to protest against it. The show's developers and writers tackled this conundrum wonderfully, using the guise of comedy and acerbic wit to oppose, question, and even struggle with America's involvement with the Vietnam War, and later, the Cold War.
Because of these reasons and more, M*A*S*H captured the attention of its audience like no other show before it, or even since. From the talented cast of Alan Alda, Loretta Swit, Jamie Farr, Wayne Rogers, and others, to its record-breaking finale "Goodbye, Farewell and Amen" that inspired countless urban myths, including how plumbing systems broke down across New York because countless people waited till the end of the 2.5 hour-long finale to go to the toilet, the show simply nailed every haplessly humorous and sombre aspect of a time rife with futile war.
Read More: Best 50s TV Shows