Time travel has always long fascinated physicists since time immemorial. Countless scientific pioneers have dabbled with time to see whether it can be manipulated according to our own desires. The wish to be transported to a whole other time and place while retaining our consciousness has been a powerful one. As has been the ability to change history, or influence the future.
Naturally, time travel has captured public imaginations like wildfire, and has crossed over to literature, cinema and television magnificently. It has fueled both breathtaking creative ventures where time travel has been utilised intelligently, and some others which got a bit too carried away by the idea. Nevertheless, the following list captures the best of time travel that television has to offer. Here is the list of top time travel TV shows ever. You can watch some of these best time travel tv shows on Netflix, Hulu, or Amazon Prime.
8. Quantum Leap (1989-1993)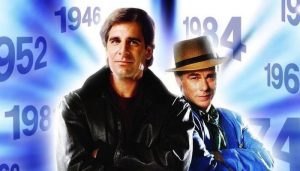 The premise of this NBC show was quite a novel one, with physicist Sam Beckett (Scott Bakula) experimenting with time, only to end up 'leaping' into the bodies of others, and being responsible to change history. Bakula's acting chops were on full flow as he inhabited varying roles spanning across gender, mental state, and even humane qualities, with Bakula portraying a chimpanzee at one point. The show tackled important events in history and postulated alternate outcomes, and remains important television.
Read More: Best Action TV Shows of All Time
7. Outlander (2014-present)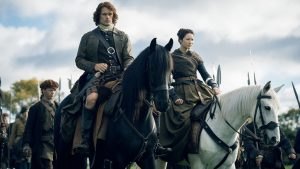 'Outlander' is a historical time travel series that started airing on Starz from 2014 and was based on the eponymous series of novels by Diana Gabaldon. The show stars Caitriona Belfe as a World War II nurse who gets transported to 18th century Scotland, and Sam Heugham as James Fraser, a swashbuckling Highland soldier. The show banks upon the smouldering chemistry of its two leads, a historically accurate setting, which leads to a truly genre-bending show of our times.
Read More: Best TV Shows of 2015
6. Frequency (2016-2017)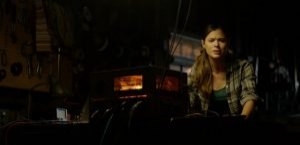 Although it ran for just a single season, 'Frequency' garnered favourable reviews from critics and its fresh premise propels it onto this list. An NYPD detective (Peyton List) who believed her father (Riley Smith) to be dead two decades ago due to undercover police work discovers that she can connect with his past self through an old HAM radio. The show depicts how her attempts to save her father's life result in some unprecedented changes in the present, due to the 'butterfly effect.' 'Frequency' was based on the eponymous 2000 Gregory Hoblit film, and lead actor List has also appeared on another acclaimed time travel show 'FlashForward', so this show also has serious time travel pedigree associated with it.
Read More: Best TV Shows of the 21st Century
5. Timeless (2016-present)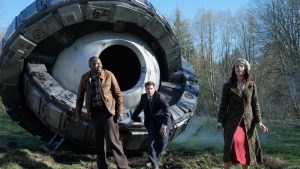 'Timeless' stars Abigail Spencer as a history professor, Malcolm Barrett as a scientist, and Matt Lanter as a soldier. These three talented individuals combine their unique skillsets to stop a criminal organisation from altering the course of American history through a stolen experimental time machine. The show is expertly packaged as a history lesson as it depicts important events such as the Lincoln assassination and the Watergate scandal in a suave and capable manner.
Read More: Best TV Shows of 2016
4. 12 Monkeys (2015-)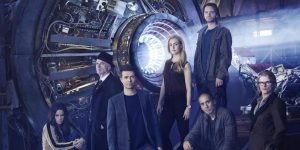 '12 Monkeys' is based on the 1995 acclaimed Terry Gilliam film, and retains the same stark atmosphere of both the film and Chris Marker's 'La Jetée', the short film that inspired both these adaptations. The show is a telling commentary on a destructive future, as an ensemble cast of Aaron Stanford, Amanda Schull, and Emily Hampshire, among others depict a bleak vision rife with death and crime. Themes of time and death are dealt with poignantly as James Cole (played by Stanford) goes back to 2015 from 2043 to prevent the release of a deadly virus by the shady organisation of the 12 Monkeys.
Read More: Best TV Shows Inspired From Movies
3. Travelers (2016-)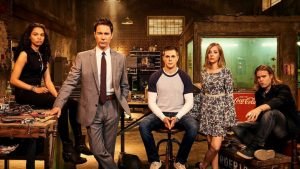 Series creator Brad Wright has had substantial science fiction expertise in the 'Stargate' series of shows, so its hardly surprising that 'Travelers' is much in the same vein with a more assured execution of its themes and premise. The show stars Eric McCormack, MacKenzie Porter, Nesta Cooper, and Jared Abrahamsson among others as the 'travelers' or special agents whose consciousness are sent back in time to prevent an apocalypse in the future. 'Travelers' adroitly combines sensible science fiction with relatable human issues and the result is a high-paced, fascinating time travel show.
Read More: Best TV Shows to Binge Watch
2. 11.22.63 (2016)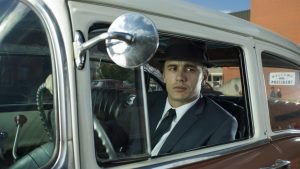 '11.22.63' is a miniseries based on master writer Stephen King's gargantuan work which deals with John F. Kennedy's assassination through a completely fresh lens. James Franco stars as Jake Epping, a disillusioned English teacher who is offered to take the opportunity of his life by his friend Al Templeton (Chris Cooper) to travel back in time to prevent the JFK assassination. However, he gets increasingly attached to his life there, which jeopardises the mission and twists the show into unexpected and exciting territory. The slice of 60s nostalgia offered by the show is powerful, with capable performances by Franco and Sarah Gadon, making this show a must-watch by any standards.
Read More: Best TV Shows of 2017
1. Doctor Who (1963-present)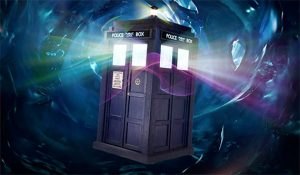 The show that started it all, and is still going as strong as ever. 'Doctor Who' was the original time travel show, one that ushered in the ludicrous idea in television, and pop culture overall, and made wonderful, informative and entertaining stories revolving around the idea, that have stuck in audiences' minds over several decades. The overall storyline, of course, follows the eponymous Doctor, a rogue Time Lord from the distant planet Gallifrey who escaped in a TARDIS (Time and Relative Dimension in Space), a time machine, and uses it on their adventures to vanquish evil forces, and keeping history intact. The figure of the Doctor is highly prominent in the history of television, and among the most influential characters given by the medium. The marvellous brand of humour coupled with historical fidelity, well-drawn characters, and fantastic world building make 'Doctor Who' count among the all-time great shows on TV.
Read More: Best Teen TV Shows