David Lean was, before Steven Spielberg, the great visual storyteller working in movies. It is no surprise the modern masters like Martin Scorsese and Spielberg revere him, have paid homage to his work in their own, and been active in preserving his films. David Lean began his career in film as an editor, which he often said was the best training a director could have. He spent the thirties cutting the work of others, before co-directing a film with playwright Noel Coward, the superb war film, 'In Which We Serve' (1942), which won the New York Film Critics Award as Best Picture, placing Lean on the map as a major director at once. Working in Britain he carved out a strong career for himself, breaking through with his masterful 'Brief Encounter' (1946). From there, two adaptations of Dickens work, 'Great Expectations' (1947) and 'Oliver Twist' (1948) caught the eye of Hollywood, and Lean was wooed by the studios.
Lean's 'Summertime' (1955) was a stunner, featuring a smashing performance from Katherine Hepburn, one of her finest. Hepburn adored Lean, calling him one of the best directors she had worked with. His formative film period began in 1957, running through 1984, which would see him direct just five films. During this period, Lean won two Academy Awards for Best Director, was nominated for two others, won two DGA Awards and created one of cinema's greatest works — the astonishing 'Lawrence of Arabia' (1962). Often hailed as one of the greatest movies ever made, the visually stunning flick is both an intimate biography and a character study.
'Dr. Zhivago' (1965) was a massive success when released in the mid-sixties, though suffered with one piece of major casting. Egyptian actor Omar Sharif, Oscar nominated for his debut in 'Lawrence of Arabia' (1962), was cast as the gentle Russian poet Yuri Zhivago, who falls under the spell of the mysterious Lara, portrayed by Julie Christie. Aside from the casting of Sharif, the film is a stunning, sweeping romance set against the backdrop of the Russian Revolution, beautifully shot, with a haunting musical score. Only the casting of Sharif keeps it from being a masterpiece; the actor is simply not convincing as a Russian.
Lean's meticulous nature caused more than one struggle with studio chiefs, though no one complained when they saw the films. Except once. Stung by the attack on his film 'Ryan's Daughter' (1970), Lean met with members of the National Society of Film Critics as to why they hated his films. He had been deeply hurt by the reviews and wanted to face his critics, but nothing prepared him for the poisonous attack he endured at that meeting. Attacked, bullied, hammered, punished, it was like a private verbal crucifixion that left the director deeply shaken. Had he truly failed so completely?
Lean did not direct another film for fourteen years, and when he did it would be his last, 'Passage to India' (1984). That film was gorgeous, plunging audiences into the beauty of exotic India, but again a casting choice would haunt him. He cast his long time collaborator Alec Guinness in a key supporting, as an Indian. Many complained it was akin to Griffith casting white actors in black face, and with a number of Indian actors available, one must question what he was thinking? It was a major flaw in an otherwise beautiful picture.
Martin Scorsese and Steven Spielberg cite Lean as a huge influence on their work, and perhaps it is better seen in the work of the latter. Each worked on the restoration of 'Lawrence of Arabia' (1962) in 1990, which allowed audiences to see the film as the director intended. Lean was among the masters of the classic era, emerging out of Britain, given a chance by Noel Coward to direct. He never looked back or forgot the gesture. He spent his life creating art, forging a legacy which would make him immortal. Lean understood, inherently film was first and foremost a visual art, and those visuals must appeal to the senses. His work was astonishing throughout his career, and as stated, inspired three generations of filmmakers. With all that said, here's the list of top David Lean movies.
1. Lawrence of Arabia (1962)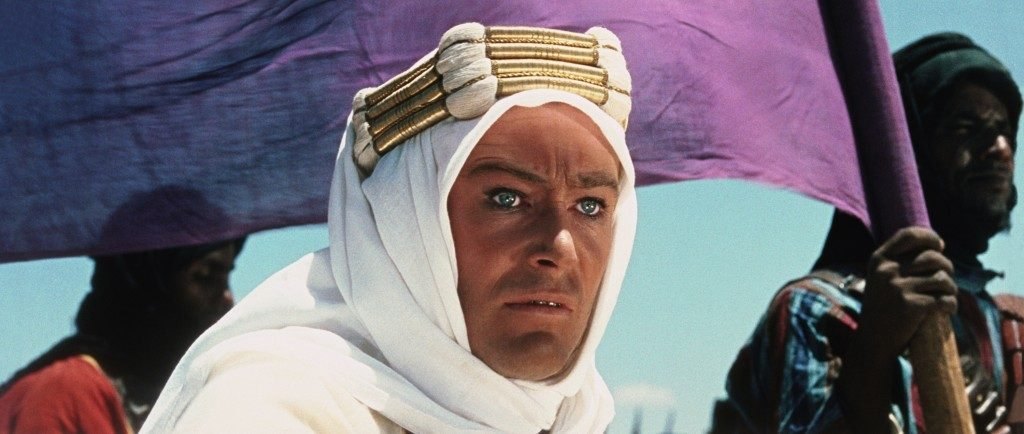 Have said it before – one of the most astounding films ever made, telling the story of T.E. Lawrence, a British officer sent to Arabia because the British army did not know what to do with him. He proved to be a natural leader and military genius, banding together the warring tribes in the desert and forging them into an army that quickly conquered the Turks. Peter O'Toole is superb as Lawrence, creating a man at war with himself, a masochist, a man who loved killing, who enjoyed pain. Lean captured the intensity of the desert sands. The intensity of the desert heat is seen through the eyes of Lawrence, like shimmering waves as he stares into the horizon, falling in love with the sand swept world. Anthony Quinn, Omar Sharif, Jack Hawking, and Alec Guinness are all sublime, offering profoundly great support to O'Toole and those magnificent vistas. The film won seven Academy Awards including Best Film and director. Never before had Lean's skill and artistry been as bold, this confident.
2. Dr. Zhivago (1965)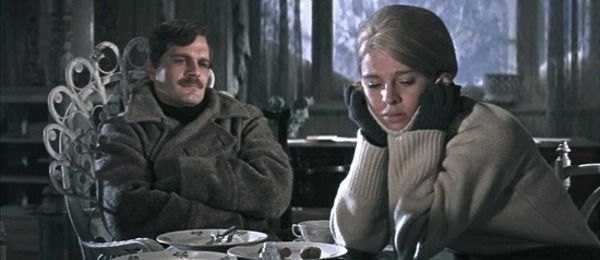 Though the film has a huge bit of miscasting, it is still a magnificent adaptation of the Pasternak novel, and the miscasting does not impact the work greatly. A love story set against the backdrop of the Russian Revolution in 1917, spanning a generation, populated with a strong international cast. It was Lean's greatest box office success, making a fortune despite mixed reviews, most citing the Omar Sharif performance as the film's weak link. The much needed chemistry between Sharif and Lara (Julie Christie) is hit and miss, though we understand, entirely his intense attraction to her. Great performances from Christie, Rod Steiger, Tom Courtenay, Geraldine Chaplin, and Alec Guinness. The icy land is haunting in its cold beauty. The score is magnificent, lush, romantic, the warmth of it directly contradicting the frozen wastelands we see.
3. Brief Encounter (1945)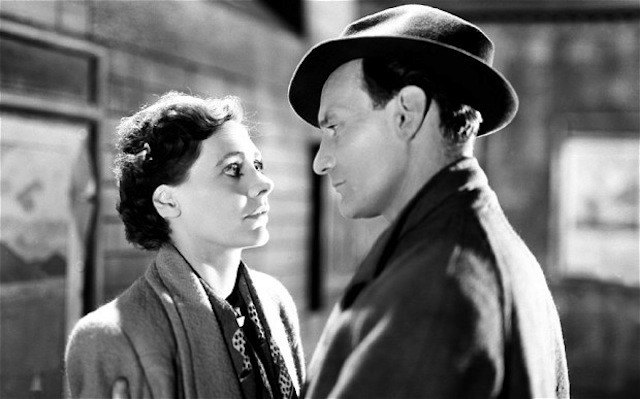 How many romantic films have felt the influence of this picture? More than one can name. The love story has always been about chemistry, that connection, that sense that two characters cannot bear to live their lives without the other in it, and every one of them, from 'Sleepless in Seattle' (1993), through 'Brokeback Mountain' (2005) through the exquisite 'Carol' (2016) owe their roots to this fine work. More than any of his work I think 'Brief Encounter' best displays his technical gifts as an editor, and artistic gifts with his actors. Noel Coward wrote the film, based on one of his one act plays, and Celia Johnson and Trevor Howard are magnificent as the lovers, their longing and hope the life blood of the film.
4. The Bridge on the River Kwai (1957)
Based on Pierre Boulle's great novel, the film is a powerful statement about honour during war time. Colonel Nicholson (Alec Guinness) is a prisoner of war, the highest ranking officer among the British, captives of the Japanese army. Ordered to build a bridge across Kwai, which will move Japanese to cross, Nicholson takes on the task as a point of honour; he will build the finest bridge they have seen, blind to what will happen. Only at the end as the Americans invade does Nicholson realize what he has done. The film won seven Academy Awards including Best Film and Director as well as Best Actor for Guinness. A classic in every sense of the word.
5. Summertime (1955)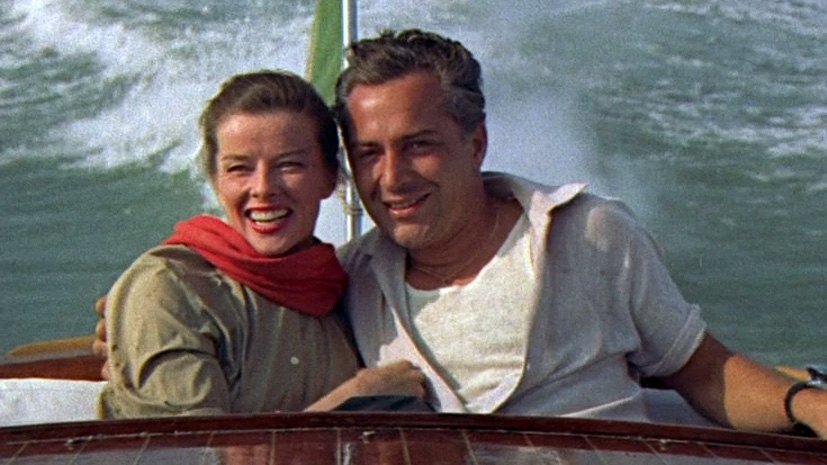 In one of her greatest performances, Katherine Hepburn shines as an American spinster who finds love for the first time while in Europe. Hepburn admitted working with Lean was one of the greatest artistic experiences of her life; she loved the man. A spinster in the making, lonely, having decided love might never find her, takes a trip to Europe and finds love in the summer heat. We watch the great Hepburn literally glow from within as she falls hard for this man, awakening something in her that has for too long been silent. That the actress walks among the beauty of Europe and we cannot take our eyes off her, speaks volumes to this great lady's screen presence.
6. A Passage to India (1984)
Something happens to an uptight, sexually repressed young woman while on a tour of the famous caves. She believes she has been assaulted, but the man accused, fiercely claims his innocence. Because he is an Indian he is guilty before tried, setting off a wave of racist attacks and comments when in fact, Dr. Aziz (Victor Banjeree) is innocent of the accusations. But what did happen in that cave? The fact he is accused of such a thing forever alters his feelings for the English, whom he had idealized. Was she so overcome with a British repression clashing with sexual longing she imagined an incident? Judy Davis is very good as the woman who believes she was assaulted, but the film belongs to Dame Peggy Ashcroft who won an Oscar. Alec Guinness is rather embarrassing as an Indian guru, a terrible casting choice, yet again. But the sheer beauty of the film, the images and colours of India bring us to forgive the decision to cast Guinness.
7. In Which We Serve (1942)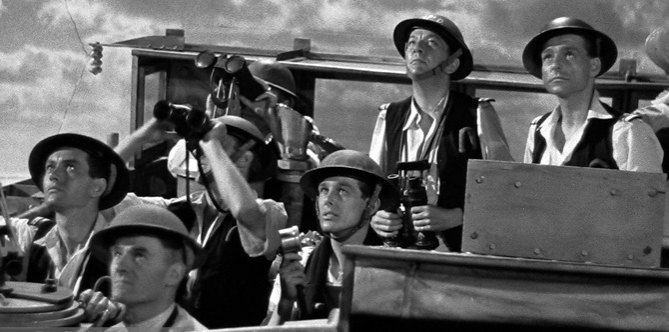 In his first work as a director, doing double duty as editor, a young Lean co-directed this powerful film with the great British playwright Noel Coward, who portrays the grave Captain on the ship within the film. The movie was celebrated by the British government for its startling realism, but also, quietly, for being a propaganda film that spoke in favour of the war against the hated Germans. The story of a ship, its Captain and crew, there is much to admire within the film, Coward especially as the Captain, and for his fine screenplay. The film won the New York Film Critics Award as Best Film, and established Lean as one of the emerging talents from the British film industry.
8. Great Expectations (1948)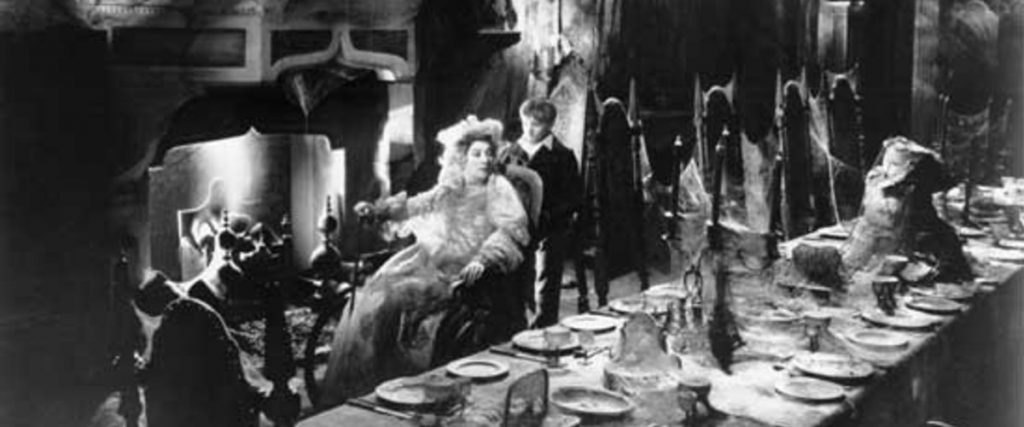 This is the definitive adaptation of Charles Dickens' great novel, and many historians believe this to be Lean's greatest work. I will not go that far, but it is as close to a perfect film adaptation of a great book you will ever see. The bringing to life of the city and outer city is perfection, and the performances by the cast equal to the images. John Mills, Bernard Miles, Jean Simmons and of course, Alec Guinness provide justice to their characters with their wonderfully nuanced performances. The sexual tension might be lacking, but nothing else is. Lean was nominated for an Academy Award as Best Director for the film, one of the five it received.
9. Oliver Twist (1947)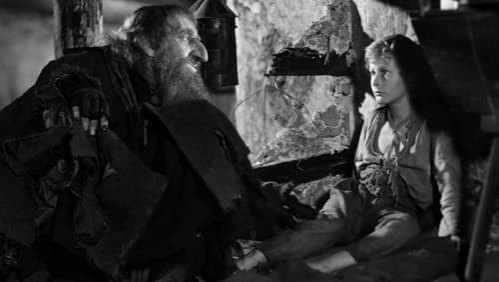 Arguably the most famous book ever written by Dickens, this film version is perhaps the definitive one. Alec Guinness is superb as Fagin, the crooked old man who takes in orphan boys and teaches them to pick the pockets of the wealthy walking the streets of London, or to steal blind the shop keepers. John Howard Davies is a perfect Oliver, a wide-eyed innocent taken by this gang of thieves, but miraculously being found by his family. Beautifully mounted, the streets of the old city brought back to life, teeming with energy, I am not sure the book ever got a finer adaptation. 'Sure Oliver!' (1968), the Academy Award winning musical, was more popular, but Lean's work brought to life the underbelly of the old city and those inhabiting it.
10. Ryan's Daughter (1970)
Surely, among his weaker efforts but hardly as bad as critics painted it in 1970. I think they were by then fond of attacking the masters of the fifties and sixties. There is much beauty in the film: the rugged landscapes, as well as some fine acting; but by then critics had come to expect a masterpiece from Lean each time out. Set in Ireland, a young woman, bored out of her mind, marries a chaste school teacher only to satisfy her lust with an affair with a wounded British soldier, bringing on terrible consequences. Sarah Miles, Robert Mitchum, John Mills (who won an Oscar for supporting actor) and the woefully miscast Christopher Jones make up the cast in this handsome but hollow picture.
Read More: David Lynch Movies