Lately Korean Horror films have provided a breath of fresh air for a genre which seems to be struggling with original and authentic ideas. Horror movies are always potential jackpots, and there has been a flurry of those which has done. But the art and quality of the genre has enormously been in question lately.
Upon a release of a horror film, there is always an uncertainty of whether it's going to be a hit or a terrible miss. Terrible misses have been way more frequent lately and that has proven to be a cause of concern for fans of the genre. Maybe its time for Hollywood to look towards the far east for some lessons in horror filmmaking.
Korean films, horror and thrillers to be precise have been hitting the ball out of the park consistently. While Hollywood horror has often been confined to a 'haunted house', Korean cinema is bold enough to play with different ideas and themes which is proving to be a huge success so far. Here's a list of the top Korean horror films ever. You can watch some of these movies on Netflix or Hulu or Amazon Prime.
10. R-Point (2004)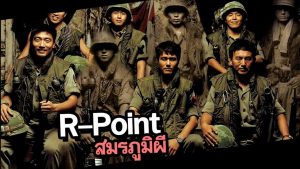 'R-Point' is a Korean Horror film set during the Vietnam War, where a South Korean base receives a radio transmission from a missing squad, presumed dead, and sends a platoon to rescue the lost squad from the R–Point. The film is a cross between a 'horror' and 'war' genre and it perfectly blends the horror of both. The pacing of the film is slow and unnerving which can be frustrating for some people. But at the end it proves to be a worthy build up for whats to come in the final acts.
Read More: Best Extreme Asian Movies of All Time
9. Three Extremes (2004)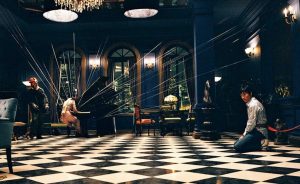 Three Extremes follows three different horrific stories which are directed by three different directors. The feature is divided into three different parts, each 40 minutes long. The first film is 'Dumplings' directed by Fruit Chan, the second 'Cut' by Park Chan Wook and lastly Takashi Miike's 'The Box'. This is not necessarily a Korean film, but due to its involvement of Park Chan Wook as well its brilliance, i couldn't leave it out. Three Extremes can be hard to watch. It is profoundly gruesome and creepy. But the cinematography and direction of the film will leave you breathless and in awe. The stories are unsettling and the film is sure to leave a big piece of itself in you mind.
Read More: Best Chinese Action Movies of All Time
8. Phone (2002)
Directed by the 'Horror specialist' Ahn Byeong-Ki, 'Phone' a disturbing love story about possessions and ghosts. The film follows a Journalist who investigates a series of pedophilia incidents. She begins to receive a number of unsettling calls which leaves her in fear. The more she discovers, she more mystery it unfolds as a mystery from the past is also unraveled. The film is not predictable and can be confusing at times with its time shifting. The humour is surprisingly decent in the film. Where 'Phone' lacks with its punch and gore, it sure does make up with its nervy suspense. Seo-woo Eun who plays the little girl is amazing in the film.
Read More: Best Korean Movies of All Time
7. I Saw the Devil (2010)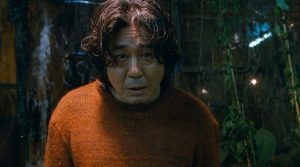 'I Saw the Devil' is a 2010 action horror film that follows a NIS agent Kim Soo-hyun (Byung-hun), who embarks on a quest of revenge when his fiancée is brutally murdered by a psychopathic murderer. Directed by the legendary Kim Jee-Woon, the film is nail biting, gut wrenching and i know its improper to say this but at times even 'satisfying.' Rolling Stone magazine put 'I Saw the Devil' in the top 20 of "the scariest movies you've never seen".
It is a bold and electrifying new breed of revenge film. From the opening scene the film explodes with intensity and violence. It is sadistic and feels inhumane but the film one can't deny is masterfully crafted. From the performance, to the stylishness of the film, you can't keep your eyes away even when the violence forces you to.
Read More: Best Korean Romantic Movies of All Time
6. The Host (2006)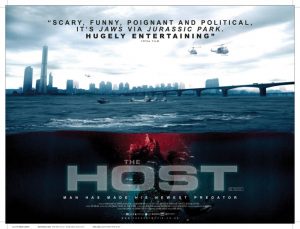 The Host is 2006 monster korean film directed by Bong Joon Ho. A monster appears from the Han River in Seoul, kills hundreds of people and also carries off a young girl. When her family learns that she is being held captive, they join forces to save her. The film is a horror thriller but touches the themes of political satire and even comedy. Bong Joon Ho for me is the best Asian director working today, closely followed by Park Chan Woo. The characters are rich in depth and every actor in the film delivers sincere performances.
Read More: Best Asian Action Movies of All Time
5. Thirst (2009)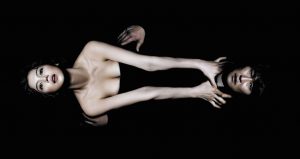 Thirst is a 2009 horror film directed by Park Chan Wook which premiered at the 'Cannes Film Festival' and won the jury prize. The film concerns a priest whose life takes a turn for the worst after he participates in a medical experiment to find a cure for a deadly disease. He is brought back to life as a 'Vampire'.
Firstly, the film is visually stunning. Every shot is beautiful, 'every frame is a painting'. Simply put, 'Thirst' is a dark love story that will scare the hell out of you. The film is intense as it keeps you from catching your breath, with scenes after scenes and content after content. Don't expect your cheap horror jump scares or cliché plot turns. Yes its about a vampire, but an artsy one.
Read More: Best Chinese Movies of All Time
4. A Tale of Two Sisters (2003)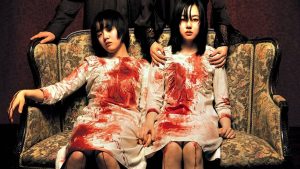 'A Tale Of Two Sisters' is a 2003 psychological horror film directed by Kim Jee Woon. The film focuses on a young from a mental institution who returns home with her sister, only to face disturbing events between her stepmother and the ghosts haunting their house- all of which are connected to a dark past in the family's history.
The film starts of slow and is not scared to take its own time. But once the wheel starts rolling, the film takes its twists and turns and will keep you guessing. The camera work in the film is beautiful and effective. The actors are very good in their performances. The musical score is appropriate used. This is one of those films that stays with you.
Read More: Best Korean Dramas of All Time
3. Bedeviled (2010)

Bedevilled is a 2010 South Korean psychological horror film about a woman who's subjected to mental, physical, and sexual abuse on a remote island. The film premiered as an official selection of International Critics' Week at the 2010 Cannes film festival and was warmly received. The film is a rollercoaster ride. It is intense and perpetually unsettling. Sometimes it can be extremely frustrating, especially a character in the film which you will notice when you watch it. But besides that film manages to be harsh but compelling, and yes it can be very scary and horrific.
Read More: Best Korean Movies You Can Watch Online
2. Train to Busan (2016)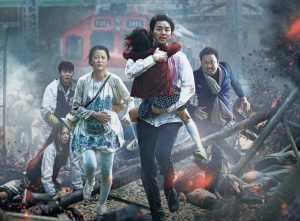 Train to Busan is a 2016 South Korean zombie apocalypse Horror action thriller film directed by Yeon Sang-ho. Yes, it is all that. As a zombie outbreak sweeps the country, a dad and his daughter take a harrowing train journey in an attempt to reach the only city that's still safe. Train to Busan has been a big commercial & critical success, later going on to be the 8th highest grossing Korean film of all time.
The film keeps you at the edge of your seat and makes you constantly wonder what's going to happen next. Everything is in chaos and the only thing to fight for is survival. The cinematography is impressive, especially in a film that feels claustrophobic. The character development in the film is quality and every actor's performance is beyond credible. Overall Train to Busan doesn't invent anything new for the genre, but it simply borrows elements from past films and does it better. It's a treat from start to finish.
Read More: Best Korean Thriller Movies of All Time
1. The Wailing (2016)
For me 'The Wailing' is the best horror film I've seen in the last decade. And i personally think it was the best film of 2016 as well. The Wailing is a 2016 horror film that follows a policeman who investigates a series of mysterious killings and illnesses. A strange Japanese man as arrived to the village at the same time and has been the subject of all gossip and suspicion.
The film is long with a runtime of 156 minutes. But every second of the film is worth watching and will keep you glued. The film perfects every genre that it touches, and boy does it have a lot of elements from different genres. I never thought i would say this but the comedy in the film is ridiculously hilarious. When the film wants to be funny, it quiet easily manages to be funnier than most comedies out there. But when it decides to be otherwise, you better buckle yourself. From zombies to demons to black magic to shamans… You're going to see everything in this horror masterpiece. After the success of The Wailing, it is safe to say that now director Na Hong Jin can stand shoulder to shoulder with the likes of Bong Joon Ho and Park Chan Woo. The film has an almost perfect rotten tomatoes score of 99%.
Read More: Best Korean Dramas of 2017