Korean movies have forever been known for their soulfulness and the convincing performances of the actors, among other salient characteristics. While we have figured out the "Best Korean Movies of All Time," by the means of this list, we will showcase which Korean romance dramas are our favorites, the ones which you should watch at your first leisure before any other movie. Having said that, another salient feature of many Korean movies is the element of crudeness – be it gritty violence, rib-tickling comedy, fast-paced action, or heartwarming romance. Rest assured, if it is a Korean movie, you're witnessing things as is, and there's no added layer of ambiguity on top of it.
No matter how cynical we turn, something inside us makes us such desperate suckers for romance and melodrama. We all have our favorite Hollywood rom-com guilty pleasures, but even they can get tiring after a bit. And this is where Korean cinema comes as a savior. Korean romantic movies are noted for their universally resonant stories and strong use of melodrama. The narratives are often very simple and impeccably crafted, with performances just flowing in like notes of a beautifully composed piece of melody.
Romantic Korean films often get stomped down by the gargantuan amount of thrillers the Korean film industry produces every year, and hence, we thought that it's time we cover some of these delightful romantic gems you might have missed. So, here's the list of top Korean romance movies ever. You can stream some of these best Korean romantic movies on Netflix or Amazon Prime, or Hulu. Also, beware of the spoilers that might come your way!
20. Pained (2011)
'Pained' was a massive tonal shift for director Kwak Kyung-taek who was previously known for his gangster/thriller flicks. Starring Kwon Sang-woo and Jung Ryeo-won, this heart-wrenching romantic drama tells the story of a lonely, emotionally wrecked man who cannot feel any physical pain after a traumatic accident during his youth. He falls in love with a chronically ill woman, and together they develop a deeply intimate bond, embracing each other in all their sorrows, pain, and anguish. It's a deeply personal love story, and Kyung-taek's surprisingly masterful control over the film's melodramatic elements comes off as a pleasant surprise. Watch it if you're rooting for a lot of tears but want to be surprised by some fresh elements of romantic cinema.
Read More: Best Korean Movies of All Time
19. My Little Bride (2004)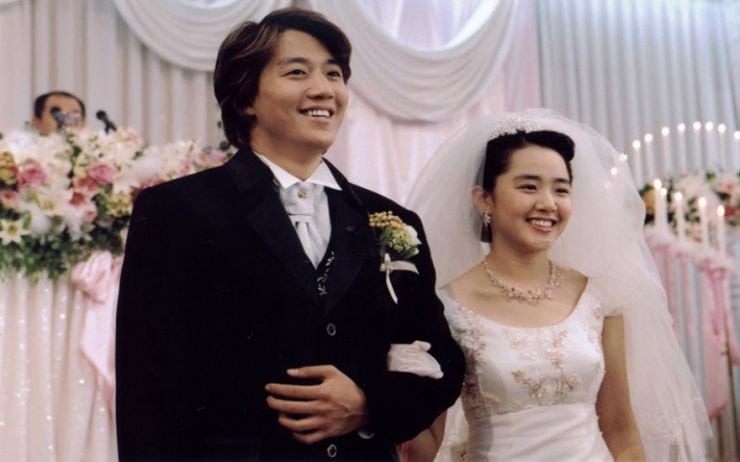 A typical high school teenage romance drama, 'My Little Bride' is the narrative of Bo-eun, a teenage girl who has a secret crush on her school's heartthrob and baseball ace Jung-woo. To her astonishment, Bo-eun's grandpa asks her to marry Sang-min, owing to an agreement he's had with the latter's grandfather during the Korean War. Later, Bo-eun reluctantly agrees to marry Sang-min, while it is shown that Sang-min is also in love with Bo-eun but is unable to confess. After their marriage, Bo-eun still secretly roots for Jung-woo and continues to date the latter without her husband and parents getting to know of the arrangement. Things take a sharp turn when Sang-min is appointed as a teacher at Bo-eun's school, thus spelling trouble for his wife. A recipient of multiple awards, including and notably "The Best Actress" award across multiple forums, 'My Little Bride' is the typical "good thing" that comes in a "small package."
Read More: Best Asian Action Movies of All Time
18. Time (2006)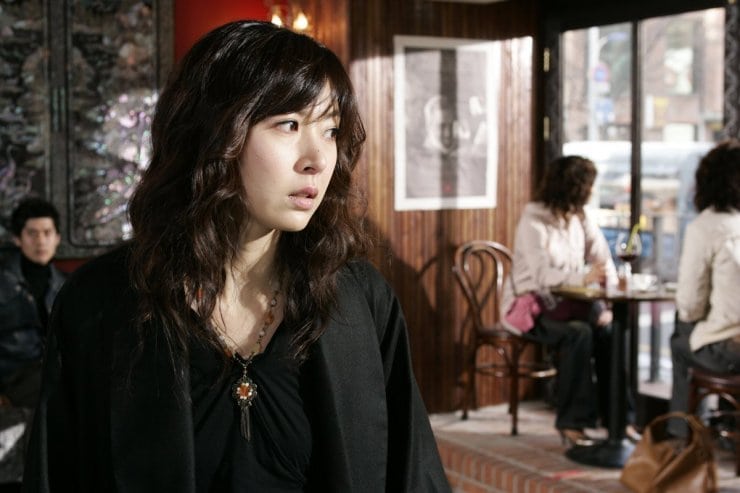 Another Kim Ki-duk masterpiece on this list, 'Time' tells the time-tested story of a woman who has undergone surgery for a new face. Before her surgery, her lover deeply misses her but falls in love with the new face, not knowing that it's the same woman. It's a profoundly intellectual character study that takes the form of a romantic drama, and Kim Ki-duk's exploration of universal themes seamlessly transcends the barriers of culture, which makes for a thoroughly involving and moving experience. Like most of his other films, 'Time' demands attention from its viewers, both emotionally and intellectually, but with overwhelming rewards.
Read More: Upcoming Korean Dramas We Are Excited About
17. Windstruck (2004)
I have a soft spot for romcoms. There's something so charming in them that despite their inherent silliness and naivety, I find myself drawn into the world of its characters. Whilst I tend to prefer the sweeter charm and affectionate tone of Hollywood romcoms, there are a few Korean romcoms that I genuinely love, and 'Windstruck' is probably right up there on my list. It follows a female cop Yeo Kyung-jin and a physics teacher Myung-woo who fall in love with each other, but their relationship takes a tragic turn when Myung-woo dies, leaving Kyung-jin devastated and in a state of depression, with suicidal tendencies. 'Windstruck' moves into the fantasy genre afterward, with Myung-woo sensing the "presence" of her lover around her for the remaining of the film. 'Windstruck' is an endearingly emotional and endlessly entertaining flick that you could probably watch anytime regardless of the mood you're in.
Read More: Best Korean Movies You Can Watch Online
16. Architecture 101 (2012)
'Architecture 101' is a delightful blend of romance and melodrama. The film chronicles the love story between two people who first meet as students in an introductory architecture class and end up falling in love with each other. There's a certain charm attached to it that makes it such an immensely satisfying viewing experience, and it's sure to strike a chord in you, for we've all been in love at some point of time in our lives, and it's just the kind of film that would remind us of the one person that has a special place in our hearts. It's lovely, charming, nostalgic, and endlessly fulfilling on an emotional level. The movie was widely praised for its strong character-driven approach and its sense of style and was one of the highest opening flicks at the time of its release, grossing more than $20 million in revenues.
Read More: Best Korean Dramas of All Time
15. A Millionaire's First Love (2006)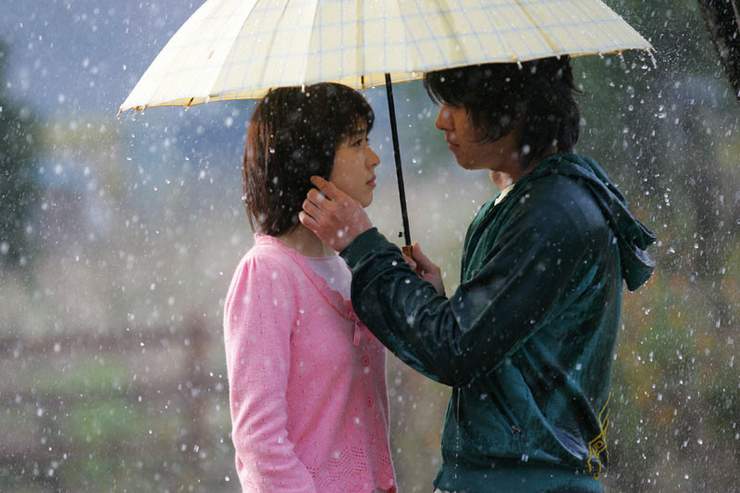 A rich spoilt brat Jae-kyung is on the cusp of becoming a millionaire at the turn of 19 by inheriting his deceased grandfather's fortune. His family lawyer informs him of a will his grandfather had written, according to which, Jae-kyung is required to study at and graduate from Boram High School, a country school with no amenities and luxuries of being a millionaire. Additionally, should he fail or drop out of school, he will forfeit any claim to the wealth. Left with no choice, Jae-kyung enrolls in school. His world changes when he meets Eun-hwan, a pretty high school girl, and falls deeply in love with her. With the theme of love that has a higher place than wealth or riches, 'A Millionaire's First Love' is a fresher outlook on love without any inhibitions of money or fame.
Read More: Best Chinese Movies of All Time
14. A Werewolf Boy (2012)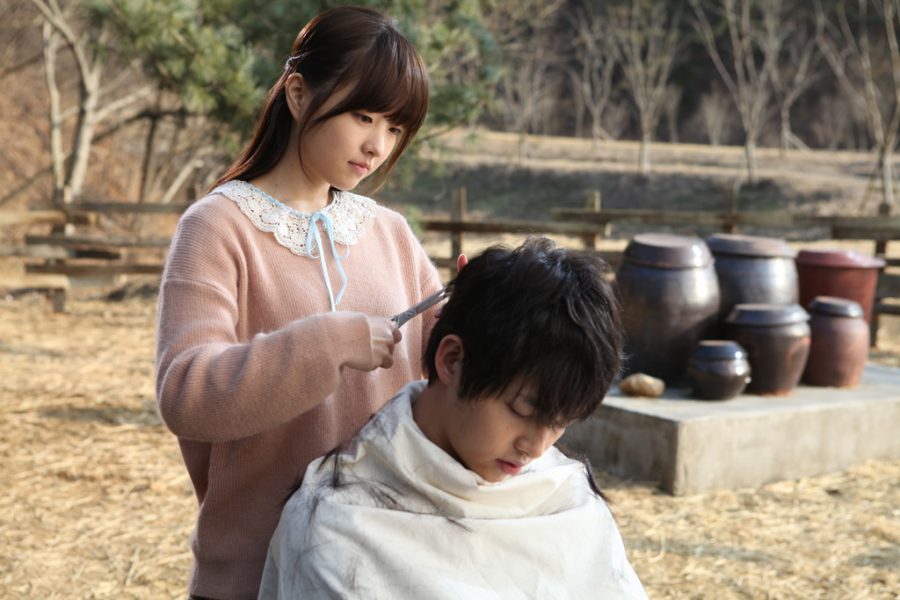 Arguably one of the finest Korean movies of this century, 'A Werewolf Boy' is just the perfect blend of fantasy, romance, and melodrama. It depicts the story of an elderly woman Sun-yi who is narrating one of the visits to a cottage she used to visit during her childhood and helps an orphan boy. She names him Chul-soo and nurtures him as her own. The boy depicts remarkable resemblances to a werewolf, like a higher than normal body temperature, agility, and an unidentifiable blood type. Chul-soo and Sun-yi soon fall for each other, but they have never spoken till the present day, 47 years hence. Director Jo Sung-hee's vision is remarkably authoritative and polished, and it's astonishing how a single film could manage to evoke so many emotions in you. Melodrama is rarely intoxicating, but this is one of those rarest of rare instances where it played a significant part that drives the narrative.
Read More: Best Korean Thriller Movies of All Time
13. The Beauty Inside (2015)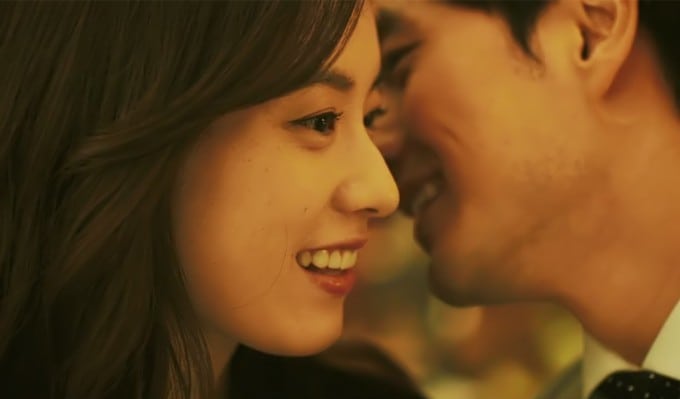 This high-concept rom-com, based on the 2012 social film developed by Intel and Toshiba, 'The Beauty Inside' tells the story of a man who wakes up in a different body and assumes changed physiologies every day – like an old woman, a child, a middle-aged man, a foreigner but the only thing that remains constant in his life is the woman he loves. Despite the changing personas he is depicting on a daily basis, deep inside, he is still the same and has the same consciousness. His secret is known to no one else except for himself and the woman he loves, who also loves him back despite what he is. The fantasy element in the film works out brilliantly, and it just shows how we as humans love the people for who they are and that their physicality does not matter. 'The Beauty Inside' is delightfully charming and surprisingly effective, and the overall lighthearted tone feels genuinely refreshing.
Read More: Best Asian Action Movies of All Time
12. More Than Blue (2009)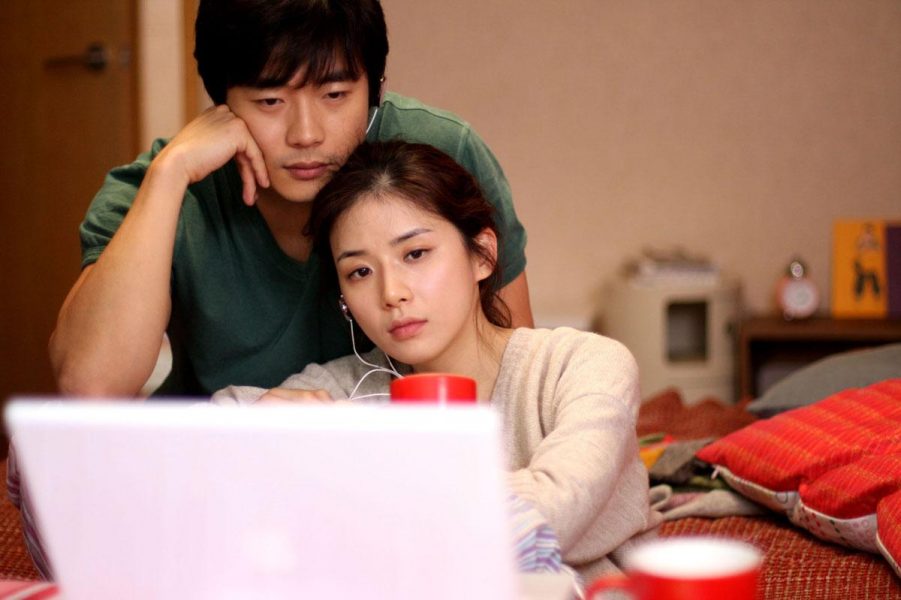 'More Than Blue' is the narrative of a terminally ill man named K who deeply loves his childhood sweetheart Cream but keeps it a secret and continues to look for a suitable husband for her so that she won't be alone after his death. As it turns out, he never reveals his feelings for her until the end when she's about to be married to Joo-hwan, with whom Cream has fallen in love (apparently) to appease K. As K and Cream confess their love to each other after which Cream gets married to Joo-hwan, it is later revealed that after K's death, Cream has committed suicide to be with her lover. The central performances are richly nuanced and thoroughly convincing, and whilst most melodramas tend to go overboard, this one comes off as surprisingly affecting. It's a beautifully poignant and heartbreakingly delicate piece of intimate romance that is sure to strike a chord in you.
Read More: Best Chinese Action Movies of All Time
11. Be With You (2018)
One of the latest K Dramas on this list, 'Be With You' is an official remake of a Japanese film bearing the same name. Featuring Son Ye-jin, one of the top South Korean actresses working today, 'Be With You' is an absurd narrative of Soo-ah, who, on her deathbed, makes a promise to her husband Woo-jin to return (after her death) to him a year later on a rainy day. A year later, while Woo-jin has not forgotten her promise, he still needs to take care of their son Ji-ho and follow his mundane life. As was the promise, Soo-ah returns to her family but hardly remembers anything about them, which is both tragic and questionable. 'Be With You' has more fantasy elements than romance, but fortunately, it doesn't rely on the fantasy element for long and moves forward quickly. A perfect blend of Japanese narrative and Korean style of filmmaking.
Read More: Best Korean Dramas of All Time
10. Maundy Thursday (2006)
'Maundy Thursday' tells a beautiful story of a convict Yun-soo who is awaiting execution. He forms a deeply intimate bond with a young suicidal woman Yu-jeong who is on a prison visit along with her aunt Sister Monica. Given that both Yun-soo and Yu-jeong share a traumatic childhood and a tormented past, it becomes but natural for them to connect and share an emotional bond with each other. It's the raw emotional power of the story that drives the film's immaculately constructed narrative forward, and the manner in which director Song Hae-sung gets to his viewers using simplistic ways without excessive emotional manipulation is truly remarkable. The characters are extremely layered, and emotions form the centerpiece of this gem of a film. It's a film that must be watched for its astonishing simplicity and heartbreaking honesty.
Read More: Best Korean Dramas of 2017
9. Failan (2001)
'Failan' is a resident of China who, after losing her parents, moves to Korea to look for her relatives in the country. Alas, she finds out that her relatives have emigrated to Canada, and in order to make a living in Korea, she decides to enlist for a match-making agency that matches her with a petty thief and a former gangster Kang. While even Kang is looking to settle in life owing to lack of money and privileges, things take a U-turn when Kang is asked by his boss to take the blame for a murder he did not commit, while his to-be wife Failan has been writing innumerate letters expressing her feelings for Kang, only to never hand them over. A captivating and a heartbreaking experience, 'Failan' takes you on a journey different from regular romcoms or chick flicks. The recipient of multiple national and international awards, notably for performances and direction, 'Failan' will sweep you right off your feet.
Read More: Best Korean Movies You Can Watch Online
8. Il Mare (2000)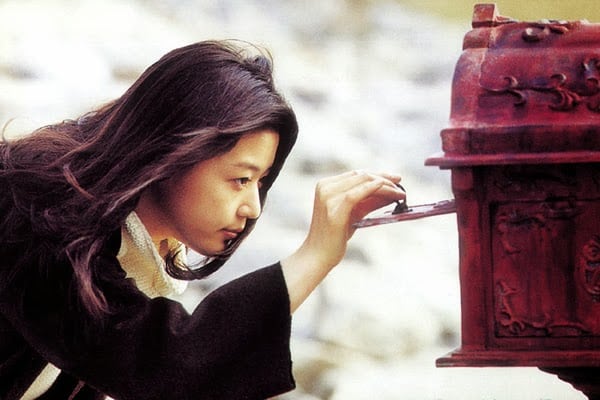 A film that was remade in English featuring Sandra Bullock and Keanu Reeves as 'The Lake House,' along with a bunch of other languages, 'Il Mare' is the story of a young woman Eun-joo who lives at a house by the sea called "Il Mare," but has to leave soon and move to another place. She leaves a Christmas card in her mailbox and asks the next tenant of the house to forward all communications to her. The next resident, Sung-hyun, an architectural student, is taken by surprise to see the letter dated in the future. Later, it is revealed that Eun-joo and Sung-hyun are living lives two years apart and that the mailbox is some sort of a time portal that enables them to send and receive letters and stuff across time. Although 'Il Mare' was not very popular at the time of its release, this time-travel romance drama has gained a cult following over the years.
Read More: Best Korean Thriller Movies of All Time
7. Christmas in August (1998)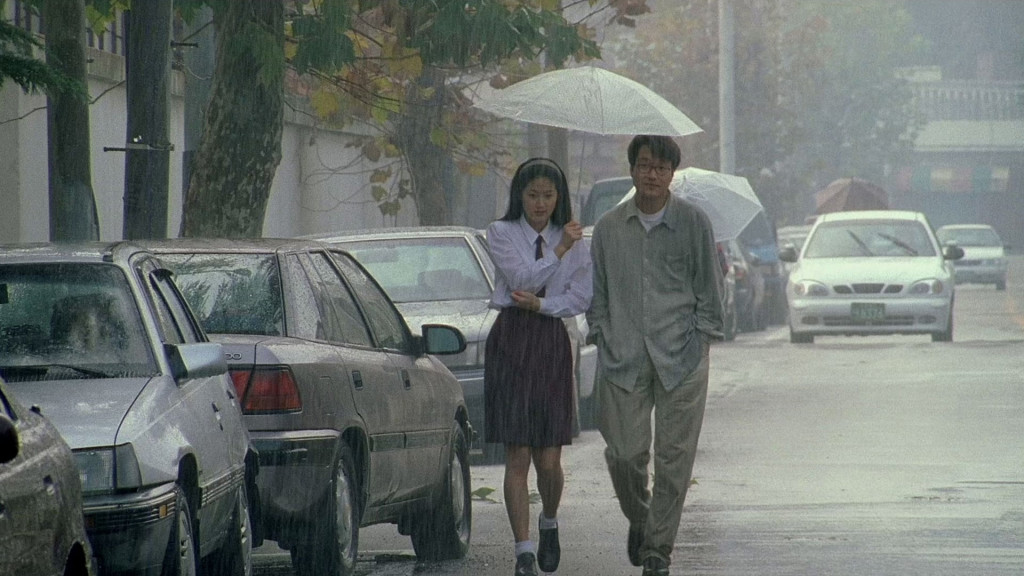 Profoundly heartbreaking and devastatingly honest, 'Christmas in August' is a film that is sure to move you in ways you've never been before. It tells the story of a photographer and a parking agent who fall in love with each other, but their desires never get fulfilled as the photographer is suffering from a terminal illness and has only a few years left to live. The story is impeccable, and the performances are astonishingly believable. Hur Jin-ho's well-focused direction ensures that there's not a single dull moment in the film. 'Christmas in August' features strong overtones of Korean melodrama, and Jin-ho makes use of various motifs in order to convey the themes of the film effectively.
Read More: Best Chinese Movies of All Time
6. Always (2011)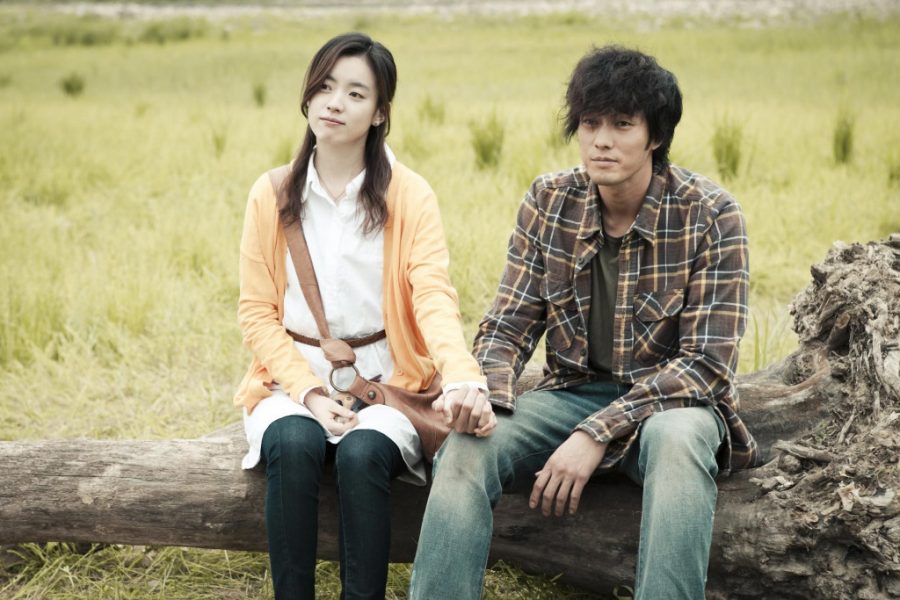 'Always' is a deeply touching love story between a self-isolated ex-boxer, now working as a parking lot attendant, and a blind telemarketer. They first meet when the woman mistakes the man for the parking attendant who worked there previously, and since then, their lives never remained the same. Like many other films on the list, 'Always' features the strong use of Korean melodrama, and the storyline ensures that we remain completely invested in the characters and their plight. It's a must-watch if you're a sucker for sad romantic dramas.
Read More: Best Extreme Asian Movies of All Time
5. The Classic (2003)
Set across two different timelines, Son Ye-jin plays Joo-hee, the mother and Ji-hye, the daughter and their respective stints at love and relationships. As Ji-hye goes through the letters of her mother and her own experience with love and relationships decades ago, she also experiences similar things that happen with her under the exact same circumstances and in similar places. While the consequences are different, everything leads to the same endpoint in which Ji-hye falls in love with Joon-ha's son, where Joon-ha is the ex-lover of Joo-hee. A complicated yet relatable narrative of entwining love stories, 'The Classic' boasts of remarkable performances (especially that of Son Ye-jin in dual roles) and an unforgettable experience.
Read More: Best Korean Dramas of 2017
4. Oasis (2002)
A heartwarming love story of two misfits, Jong-du is an ex-convict who has been recently released from prison after three years for a hit and run case. As he seeks refuge with his reluctant family and finds a job as a delivery boy, he also looks forward to reconciling with the hit and run victim's family, a man who had died three years ago. At the victim's house, he finds Gong-ju, who has cerebral palsy and is at the mercy of her neighbors because her brother wants to move to a new apartment using her privileges but without her. Initially reluctant, Gong-ju soon connects with Jong-du, and they share an emotional bond no one would relate to. A winner of multiple awards across many national and international film festivals, 'Oasis' is nothing short of a masterpiece that stays in your memories for a long time.
Read More: Best Korean Horror Movies of All Time
3. My Sassy Girl (2001)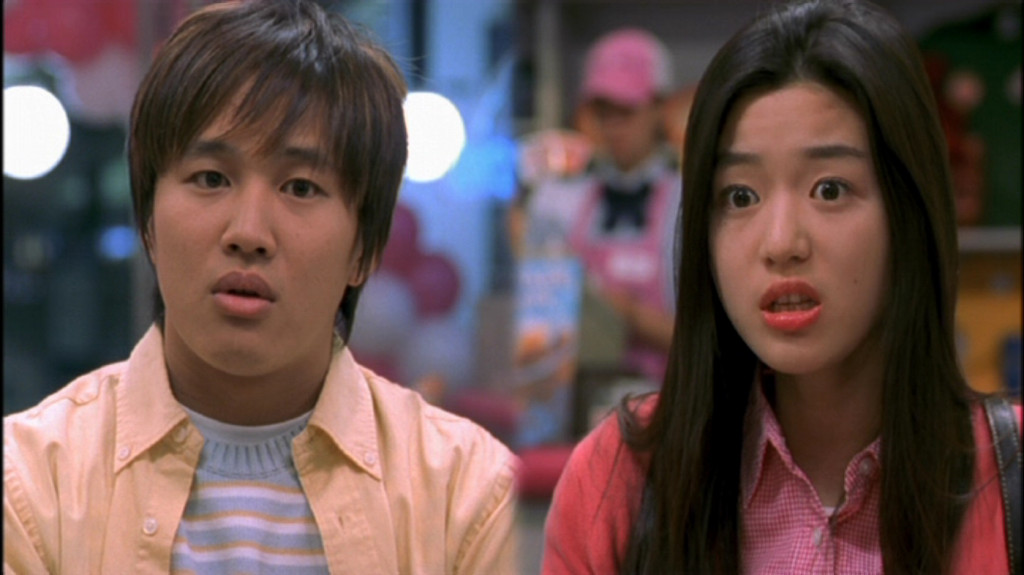 And now to one of the best Korean movies ever made, 'My Sassy Girl' also went on to become Korea's highest-grossing film of all time. Touted to be based on true stories, 'My Sassy Girl' starts with Gyeon-woo, a college student who spends his time flirting with girls, drinking, and partying. One day on a subway, he finds a young girl who is in an inebriated state and is seen vomiting on an older guy. The girl then leans over Gyeon-woo, leading to everyone's assumption that she is his girlfriend, something that even Gyeon-woo couldn't have imagined. And there begins a love story one would witness once in a lifetime. A recipient of multiple awards, primarily for the performances and having remade in more than ten different geographies and a countless number of languages, 'My Sassy Girl' is a timeless classic.
Read More: Best Korean Comedy Movies
2. 3-Iron (2004)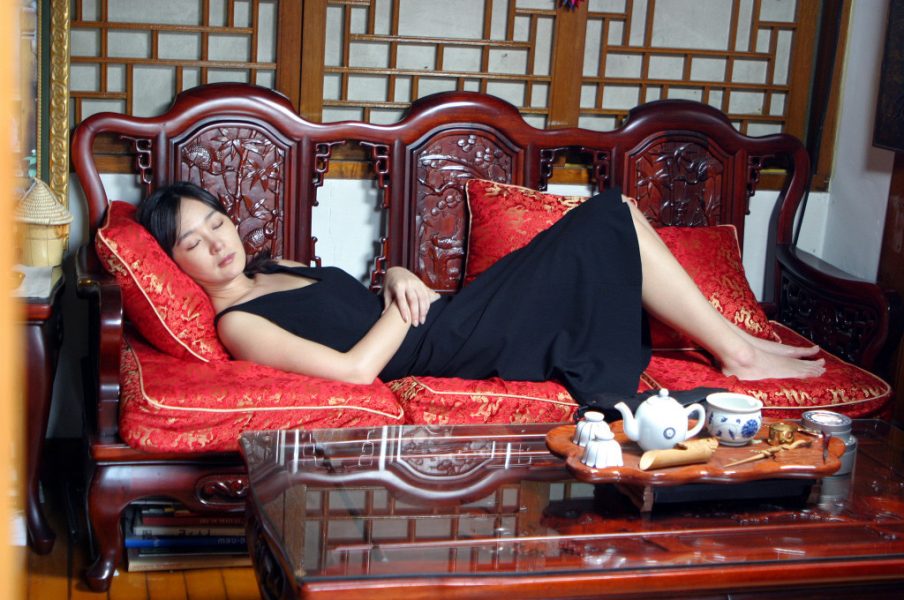 Kim Ki-duk is one of those rare filmmakers who understand the visuality of cinema better than most directors. 'Spring, Summer, Fall, Winter…And Spring', his undisputed masterpiece, takes visual storytelling to new heights while engaging and challenging his viewers on an intellectual and emotional level. His 2004 romance drama, '3-Iron' further displays these characteristics but in a more relaxed, free-flowing style. The film tells the story of a young man, a drifter, who falls in love with a woman who's looking to escape from her unhappy marriage. In typical Kim ki-duk fashion, there are no dialogues between the two main characters, but there's a lot of intensity between the couple, which makes for a defining cinematic experience.
Read More: Best Korean Comedy Movies
1. A Moment to Remember (2004)
The epitome of Korean romance movies and also one of the best Korean movies to date, 'A Moment to Remember' is a deeply touching love story surrounding Su-jin, a fashion designer and the daughter of the CEO of a construction company, and Chul-soo, a construction worker who works at Su-jin's father's company as a contract laborer. While Chul-soo aspires to be an architect one day, Su-jin is smitten by his masculinity, and they get married. Su-jin's post-marital forgetfulness transpires into Alzheimer's, and Chul-soo's world comes crashing down, for the woman he loves can't even remember him anymore. It's a simple story told with heart, and John H. Lee's direction is endearingly simple yet profoundly impactful. John Woo-sung and Son Ye-jin are truly brilliant in their roles and deliver their performances with astonishing depth and emotional complexity. The film was based on a Japanese television drama named 'Pure Soul' and has inspired numerous remakes ever since.
Read More: Best Korean Horror Movies of All Time