In India, the number of stars trumps the number of actors but only a handful of few falls into the intersection and one among those highly talented superstars is 'Aishwarya Rai'. Here is the list of top Aishwarya Rai Movies selected from her vast filmography that prove her mettle as one of the great actresses ever to have adorned the big screens in India. You can watch some of these best Aishwarya Rai movies on Netflix, Hulu, or Amazon Prime.
10. Hum Dil De Chuke Sanam (1999)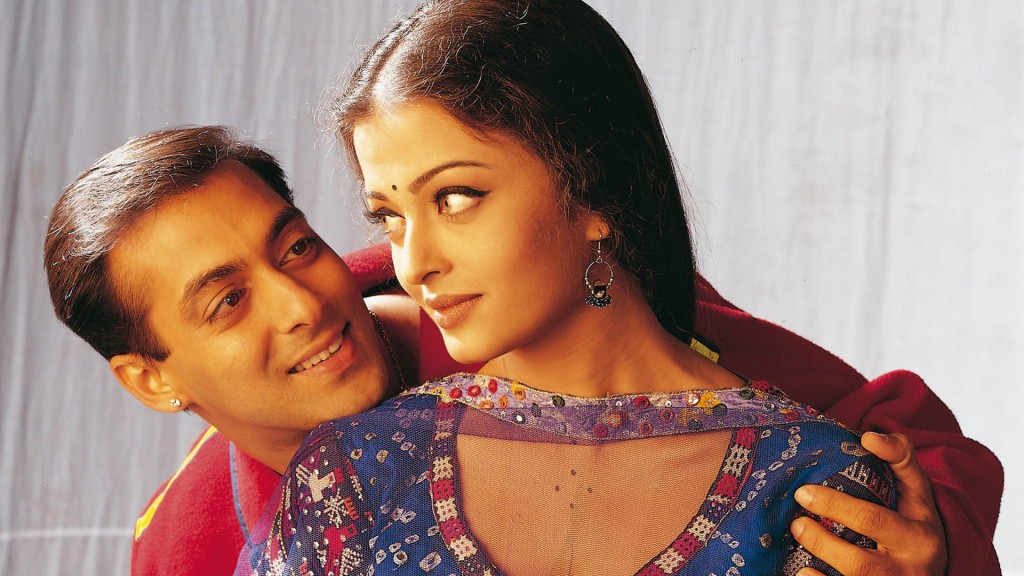 Whirlwind romantic affairs of the lead actors to the heavy downfall of symphonies is a widely celebrated success formula in Bollywood. The grandiosity of 'Hum Dil De Chuke Sanam' perfectly coincides with the expectation of the mass audience in India. Aishwarya Rai plays the graceful Nandini, daughter of a classical music maestro. Her life couldn't be more content with her father's charming music recitals but the abrupt entry of Sameer (played by Salman Khan) disrupts Nandini. She is forced to give up her room to Sameer and she starts to develop a sense of unidentified attraction towards which consists of both of them playing pranks on each other and eventually ends up falling in love. Sanjay Leela Bhansali bloats their new-found romance in the backdrop of grand occasions such as weddings and festivals. The second disruption in the story line comes as Nandini's father disapproves of her relationship with Sameer as he has already fixed her marriage with Varnraj (played by Ajay Devgan). 'Hum Dil De Chuke Sanam' might be a conglomeration of all essential Bollywood elements such as family relationships, emotional conflicts and melodious songs. Aishwarya Rai also won a Filmfare Award along with many other accolades for her performance in this movie.
Read More: Best Olivia Munn Movies
9. Taal (1999)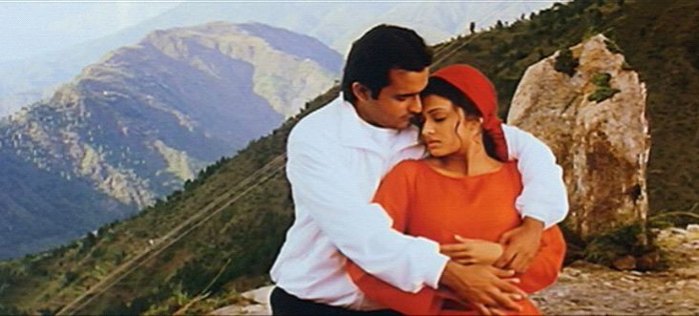 This is another movie in the list where Aishwarya Rai plays the daughter of a singer but here she is from a family of low social status in the eyes of her love interest's father. Aishwarya Rai plays Mansi, who falls in love with Manav (played by the handsome Akshaye Khanna). Director Subhash Ghai has done an impeccable job in casting both the lead actor as their romance doesn't fall into cliche but succeeds in building an emotional bonding with the audience. Manav's father is quite distressed to accept the fact that his son is in love with a girl who is from a low social status as per his norms and decides to take his family to Mumbai. A sequence of events involving insulting and rift between two families results in Mansi abandoning her relationship with Manav. The plot takes an interesting turn when Mansi meets Vikrant Kapoor (played by Anil Kapoor), a popular music composer and a huger fan of her father's work. What follows next is the rise of Mansi as a popular singer and how Manav's cloud of guilt thickens for losing her.
Read More: Best Jonathan Rhys Meyers Movies
8. Kandu Kondein Kandu Kondein (2000)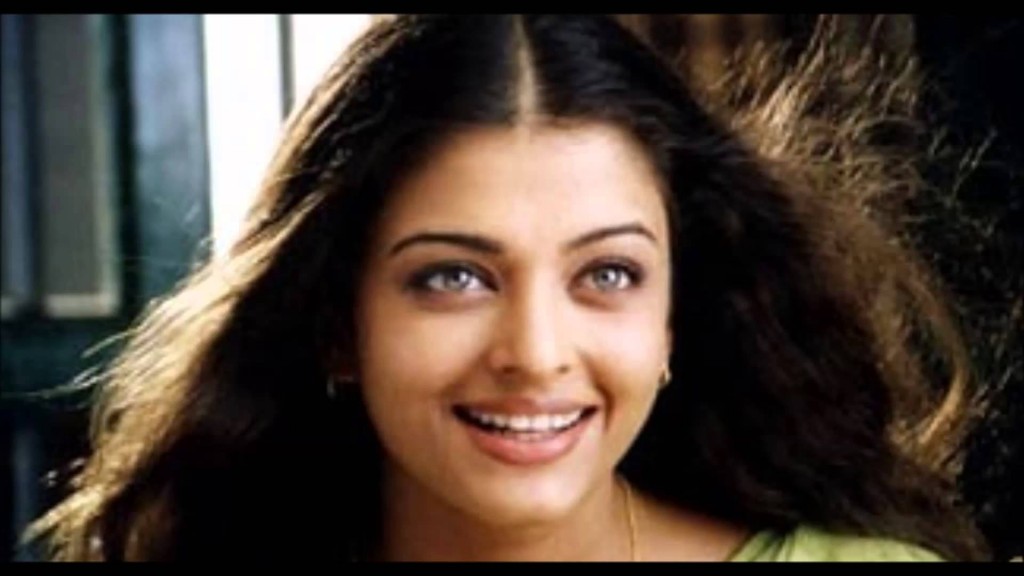 You can't expect anything short of magic when Mani Ratnam's frequent collaborator Rajiv Menon assembles Mamootty, Tabu, Ajith, Abbas and Aishwarya Rai in a single movie. Aishwarya Rai plays Meenu, one of the two daughters of Pathma and the other being Soumya (played by Tabu). This movie tells three love stories and out of it two belongs to Meenu. Meenu is a passionate artist who wishes to live life to its fullest, she caresses her fantasies and explodes with happiness when she falls in love with Srikanth (played by Abbas). Does this love blossoms or perish forms the rest of Meenu's story. Mamootty pulls off a brilliant performance in playing a veteran military man who lost his legs in a grenade explosion. Ajith plays Manohar, a director who comes to shoot a movie in Path's house. Manohar and Soumya fall for each other but a rift erupts between them and they part their ways. The second half of 'Kandu Kondein Kandu Kondein' is Rajiv Menon's affinity towards exploring complex relationships between couples. He widens the border of the romantic genre through this movie.
Read More: Best Rob Lowe Movies
7. Iruvar (1997)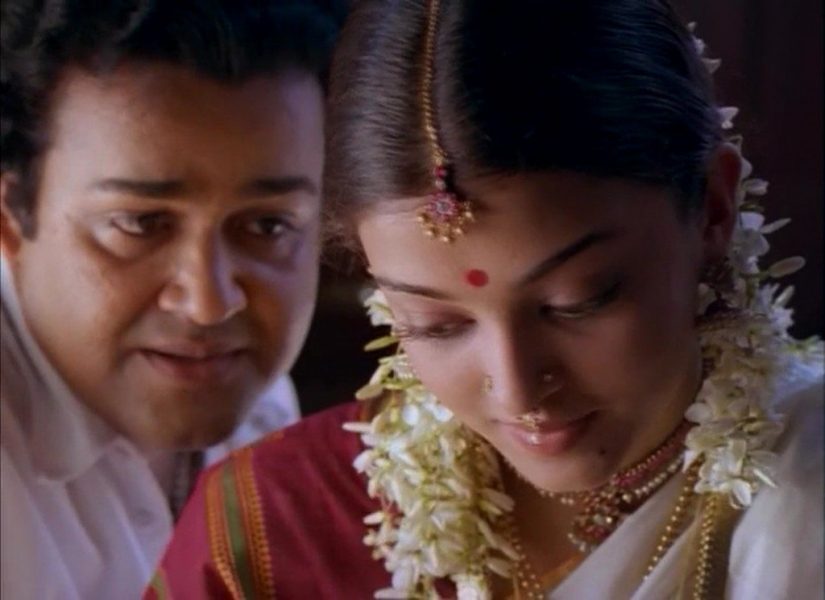 Mani Ratnam's magnum opus was Aishwarya Rai's film debut. She plays two roles which might look easy on the exterior but demands great acting skills to pull off. Aishwarya Rai made her role of Pushpa invincible as she performed with solid conviction and charm. Pushpa is Anandan's wife, a struggling actor. There are only a couple of scenes for Pushpa and one of the most memorable is her wedding scene with Anandan. It is not an easy task to match with Mohanlal's (who plays Anandan) genius but Aishwarya Rai presents Pushpa as a peaceful pure soul who emits a graceful radiance which attracts Anandan's eyes. Santhosh Sivan moves his camera to capture Pushpa's soul and Aishwarya Rai's brilliance is explicitly evident in the way she has maintained that classic concern of a young girl who would get married within a few minutes to a stranger and couples it with a slight smile engraved in her lips. Kalpana is the second role played by Aishwarya Rai in the film and is a complete contradiction to Pushpa. Kalpana makes her entry in a jazz song and gets hired to play the female lead in Anandan's movie. It is beyond words to describe the way Mani Ratnam has handles both these roles and asserts the fact that both roles couldn't be played by anyone else.
Read More: Best Mohanlal Movies
6. Devdas (2002)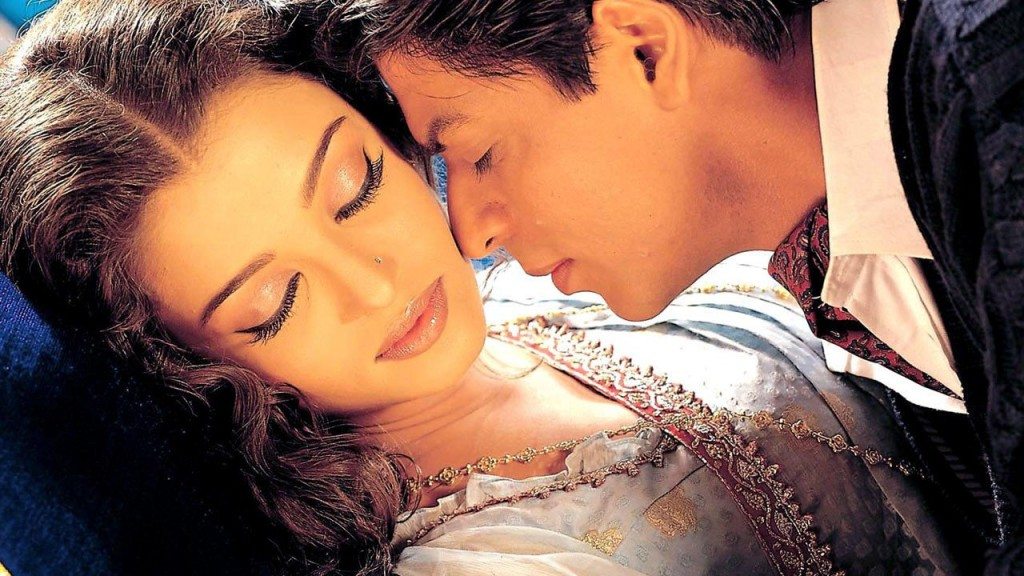 Perhaps, this could be one of the most celebrated story in Indian Cinema. Sanjay Leela Bhansali's version of Sharat Chandra Chattopadhyay's 1917 novel is the third visual reprisal of this epic story. Dev (played by Shahrukh Khan), returns from London to marry his childhood sweetheart Paro (played by Aishwarya Rai). Destiny had other plans for him. Dev's mother took an adamant stance and refused to let Dev marry Paro. This tragedy causes a havoc in Dev's life and it multiplies when Paro gets married to an elder man. There are many usual typical Sanjay Leela Bhansali elements in 'Devdas' but what keeps it moving is the overwhelming poetic beauty with which characters are given life. Be it Shahrukh Khan as Dev or Jackie Shroff as Chunnilal, the way all of the characters has been fleshed out by the ensemble cast makes 'Devdas' an unforgettable experience. Devdas attained critical appreciation in the International Film Festival circuit as it was screened in Cannes along with many other famous film festivals all around the globe. It would be a sin to not mention Binod Pradhan's enchanting cinematography, the lights, the grand sets, the beautiful actors, everything fits into his frame with a sense of spending aesthetic beauty.
Read More: Vin Diesel Movies
5. Guzaarish (2010)
Sanjay Leela Bhansali has carved a niche for himself when it comes to creating bold and independent characters in Bollywood, his frequent collaboration with Aishwarya Rai reiterates this fact. In 'Guzaarish', he tells the story of Ethan (played by Hrithik Roshan), a paralysed former magician who is now spreading hope and love through his radio show. Aishwarya Rai plays Sofia, a nurse who has been accompanying Ethan for the past 12 years. Sending a chill down the spine of everyone who cared for him, Ethan files a petition to the court for mercy killing. The positive vibe spread by Ethan couldn't be replaced by anyone, so it turned out to be quite a shock for everyone around him. What forms rest of the plot is Ethan's legal war for his own death and his encounter with Omar (played by Aditya Roy Kapur), a student of magic who idolises Ethan as the greatest magician. 'Guzaarish' is not the regular Bollywood drama, it has a painful story constantly trying to appear happy. With Hrithik Roshan and Aishwarya Rai's impeccable performance, 'Guzaarish' becomes a unique cinematic experience.
Read More: Best Hrithik Roshan Movies
4. Raincoat (2004)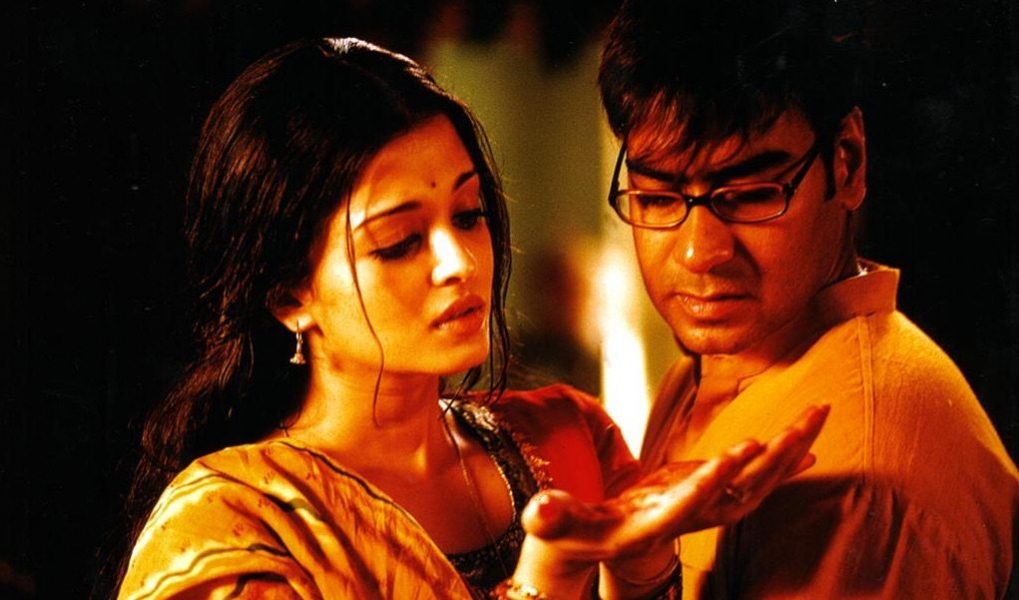 Romance is not always beautiful as mainstream cinema portrays it to be, it could be painful especially when dealing with separation. Rituparna Ghosh's 'Raincoat' is an excruciating love story of a couple who is separated due to unforeseen events and they meet again one day. This film has Aishwarya Rai playing Neeru, former love interest of Manu (played by Ajay Devgan). He accidentally meets Neeru at Calcutta when he is on a look out to finance his new business as he lost his earlier job. Ghosh sets this meeting in a cruel rain where both of them sit down to reminisce and reveals to each other about how it has been to move on in life after their separation before 6 years. 'Raincoat' is primarily driven through conversations between Neeru and Manu and intermittently occurring flashback scenes. The magic kicks in when Neeru's pretentious image crumbles and Manu is exposed to the reality of her happy and prosperous life. This is an all-time classic and one of the best interpretation of love and destiny.
Read More: Best Rituporno Ghosh Movies
3. Jodhaa Akbar (2008)
There have been several movies based on Mughal Empire in Bollywood but Ashutosh Gowariker's 'Jodhaa Akbar' portrays the period with an alarmingly intense story of a fearless woman. Mughal Emperor Akbar marries Jodhaa (played by Aishwarya Rai), a Rajput Princess due to a political arrangement. Jodhaa is not the usual princess who is engaged in a constant adventure to lure the handsome Akbar instead strongly resents her father's decision to make her a pawn to fulfil his political fantasies. Jodhaa was deeply in love with another Rajput King to whom she was rightfully betrothed to before Akbar's entry. It is exciting to watch how Ashutosh Gowariker makes Akbar pursuing true love to strengthen his ties with Rajputs. This is one of the highly recommended period dramas in Bollywood.
Read More: Best Rob Lowe Movies
2. Chokher Bali (2003)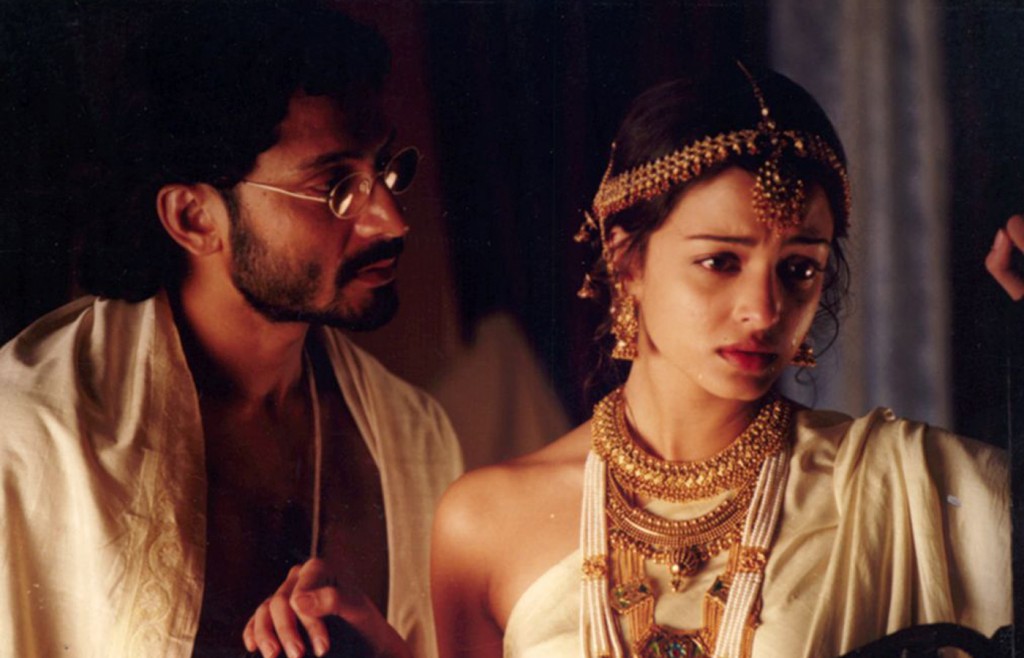 Aishwarya Rai is one of the few mainstream actresses in Bollywood who never shied away from acting in offbeat movies such as this one. Bengali filmmaker Rituparna Ghosh decided to adapt Rabindranath Tagore's Chokher Bali with Aishwarya Rai playing the lead role of Binodini along with Raima Sen as Ashalata. Binodini is a young girl who is left on her own when her husband dies soon after marriage. She returns to her village and proceeds with her unfortunate life alone. This sad state of loneliness is disrupted when her aunt and her two sons welcome Binodini to live with them. One of her aunt's sons is Mahendra, he had refused to marry Binodini citing his unpreparedness for a marriage when she was presented to him as a prospective bride. Mahendra is now married to another woman. What happens in that household forms rest of the plot. 'Chokher Bali' ambushes the traditional norms of a widow who is expected to live by suppressing her sexual desires for her entire life. Rituparna Ghosh's storytelling is powerful and bold. The stellar performance of the whole cast has aided the director in translating Tagore's words into spending and enriching visuals.
Read More: Best Olga Kurylenko Movies
1. Provoked (2007)
As the title suggests, this movie is the biography of Kiranjit Ahluwalia, a woman who murdered her abusive husband. The film was entirely shot in London and has a soundtrack by AR.Rahman. In the beginning of the movie Kiranjit Ahluwalia (played by Aishwarya Rai) is a Punjabi Women who found her husband in Deepak Ahluwalia through arranged marriage. As time passes Deepak sheds his image of a caring and loving husband and starts to mentally and physically abuse Kiranjit. Deepak is not the regular practitioner of domestic violence, he has a scary dark beast inside him and shows recurring symptoms of a sociopath. The strong Kiranjit endures his acts for over ten years before finally taking matters into her own hand and she sets fire to her husband's feet unknowingly murdering him. The rest of the plot revolves around Kiranjit's life as a prisoner in English jail and the relationships she acquires. This is one of the most powerful performances of Aishwarya Rai and proves her versatility in handling intense roles.
Read More: Russel Crowe Movies