Standup comedian and actor Bill Burr turns director with Netflix's 'Old Dads,' a comedy movie about three best friends who became fathers at a later stage in life. In the movie, Burr stars alongside Bokeem Woodbine and Bobby Cannavale, and the trio plays lifelong best friends Jack, Mike, and Connor, and their bromance forms some of the most hilarious and emotionally riveting moments. Given the close-knit bond the film's main characters share, viewers must be curious to learn if that relationship stretches off-screen. If you are wondering whether Bill Burr, Bokeem Woodbine, and Bobby Cannavale are as good friends in real life as their characters in 'Old Dads,' here is everything you need to know!
Reel vs Real
Bill Burr stars in 'Old Dads' as Jack Kelly, who runs a sports jerseys business with his friends Connor Brody and Mike Richards. Actors Bokeem Woodbine ('Spider-Man: Homecoming') and Bobby Cannavale ('The Irishman') play the roles of Connor and Mike, and their camaraderie with Burr's character is an important aspect of the film. In the movie, Jack, Connor, and Mike are lifelong friends, and it is implied they have known each other since high school. Later, the trio became partners in a throwback sports jerseys business, which likely only strengthened their friendship. Over the film's course, Jack, Connor, and Mike go through several ups and downs but stick by each other's side despite setbacks.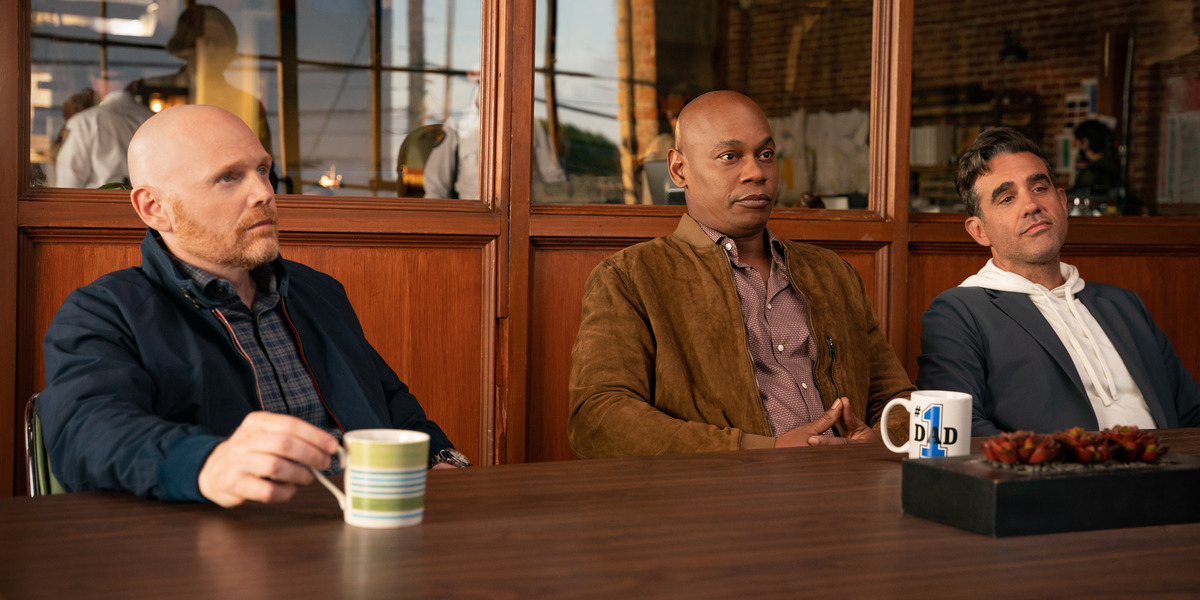 In reality, Bill Burr, Bokeem Woodbine, and Bobby Cannavale almost certainly do not share the same dynamic. Burr hails from Canton, Massachusetts, while Woodbine is from Harlem, New York City, and Cannavale was born and raised in Union City, New Jersey. Hence, it is safe to say that the trio met each other quite late in life to have the exact friendship their characters share in the movie. Moreover, there is little evidence to suggest that the actors are indeed friends on a personal level. Firstly, 'Old Dads' marks the first onscreen collaboration between Burr, Woodbine, and Cannavale. The actors are not known to have been involved in each other's personal lives and have made limited public appearances together outside of work.
Burr, Woodbine, and Cannavale have also not posted about each other's personal lives on their respective social media handles. The trio is also represented by different talent agencies, and given their busy schedules. As a result, there appears to be little scope for them to spend time outside of work. In an interview, Burr explained how he approached the casting for his directorial debut. Citing comedian Jerry Seinfeld, Burr explained that he wanted to surround himself with better actors as he is primarily a standup comedian and has limited acting experience. Thus, it is understandable that versatile actors such as Woodbine and Cannavale, who can effortlessly transition between comedic and dramatic moments, were cast in the role of Burr's onscreen best friends.
The friendship between the movie's main characters is a common trope of comedies, and films such as 'Grown Ups' and 'Hangover' also utilize the lifelong best friends trope to great effect. Thus, it is likely that the characters were written to showcase the movie's central theme of fatherhood and self-identity in an everchanging world from the perspectives of three different friends. Despite the lack of evidence, it is not entirely unlikely that Burr, Woodbine, and Cannavale. are friends in real life, at least on some level. The trio has spoken fondly of their experience working together and playing onscreen friends, which may have sparked friendship in real life. Irrespective, it seems Burr, Woodbine, and Cannavale had a blast working with each other in the film.
Read More: Old Dads: Shooting Location Details