Tense. Taut. Deafeningly silent. Precisely the three terms that came into my mind watching the teaser trailer of 'Bombshell', this year's much awaited feature on the Fox News-Roger Ailes fiasco that shook the entertainment and media industry back in 2016, when the #MeToo movement that gripped the globe was still germinating.
Not that one doesn't reminisce on those terms when looking at other trailers, but if you can do that with a background score of a woman ruefully vocalising, outlining a scene with three women framed only inside an office elevator for the entire duration of the teaser, and glumly minimal dialogue, you just raise the bar several notches. It's almost as if the women want to convey something so badly; an ocean of emotions flushing across their faces. The uneasiness and the restlessness is brought to an abrupt halt as Nicole Kidman (who plays Gretchen Carlson) remarks about the heat in the elevator. Needless to say, 'Bombshell' just shot up in my list of the year's most awaited films, courtesy of this wonderfully ideated 95 second segment.
At the turn of the year, back when I was doting on my predicted Oscar nominees for the big race in 2020, I had 'Bombshell' right in there since the beginning. However, the prediction then was solely derived from the relevance and true to the times real life subject matter, owing to how successful and impactful such films have been with the Academy voters in the previous years. The teaser just tells me that the film is going to stay true to its name too. "What started with a whisper, will end with a Bombshell". While we cannot wait, writing all that we know about this film is almost therapeutic in a manner. Read on.
Bombshell Plot: What Is It About?
The film dates back to three years ago, when allegations of misogyny, sexual misconduct and unsolicited sexual advances by no less than two dozen female employees brought down media mogul Roger Ailes, who was, in capacity, the chairman and CEO of the Fox News network. Chronologically, the media house shakedown can be pre-dated to the #MeToo movement before it became a global phenomenon, making this event, and the solidarity of the women who stood together to bring a man of immense power and resources down, even the more important. Through the film's narrative and the dramatization of the horrific real life events, it is imperative that the film tends to correct or atleast allude to the already deteriorated work culture and the toxic masculinity that still ravages modern workplaces.
Coming to the perpetrator, manipulating public opinion in favour of particular governments to perpetuate a certain political ideology and other such claims surrounded his name even before allegations of sexual misconduct and harassment surfaced. The movement at Fox that inspired more than twenty women to call out Ailes' problematic and unacceptable behaviour, including asking anchors to wear form-fitting dresses on air, unwarranted sexual advances, and extorting sexual favours from producers and women in the workplace, was spearheaded and ignited by Gretchen Carlson, an employee at the news network, accusing Ailes of the same inappropriate behaviour, thus filing a lawsuit against him.
As the lawsuit and the publicity around it picked up, a number of other women employees of the news network came forward to accuse him of the same, significant among them being Megyn Kelly, who also became the face of the campaign. Mounting pressure led to Ailes stepping down from the post in mid-2017, albeit with a $40 Million severance package and later being appointed as an advisor to the Trump Electoral campaign. Roger Ailes passed away in 2017 owing to his longstanding haemophilia.
The incident became widely reported in the media, all the while being completely disregarded by Fox News Network and Ailes and his family, the latter citing it as an attempt to persecute his image in media circles. This entire account of events is what is going to form the crux of this much talked about 2019 feature film, a venture that I believe is going to hugely escalated by virtue of its standout performances. The 'Bombshell' here refers to all the Gretchen Carlson's accusations that led to the downfall of Ailes.
'Bombshell' Cast: Who Is In It?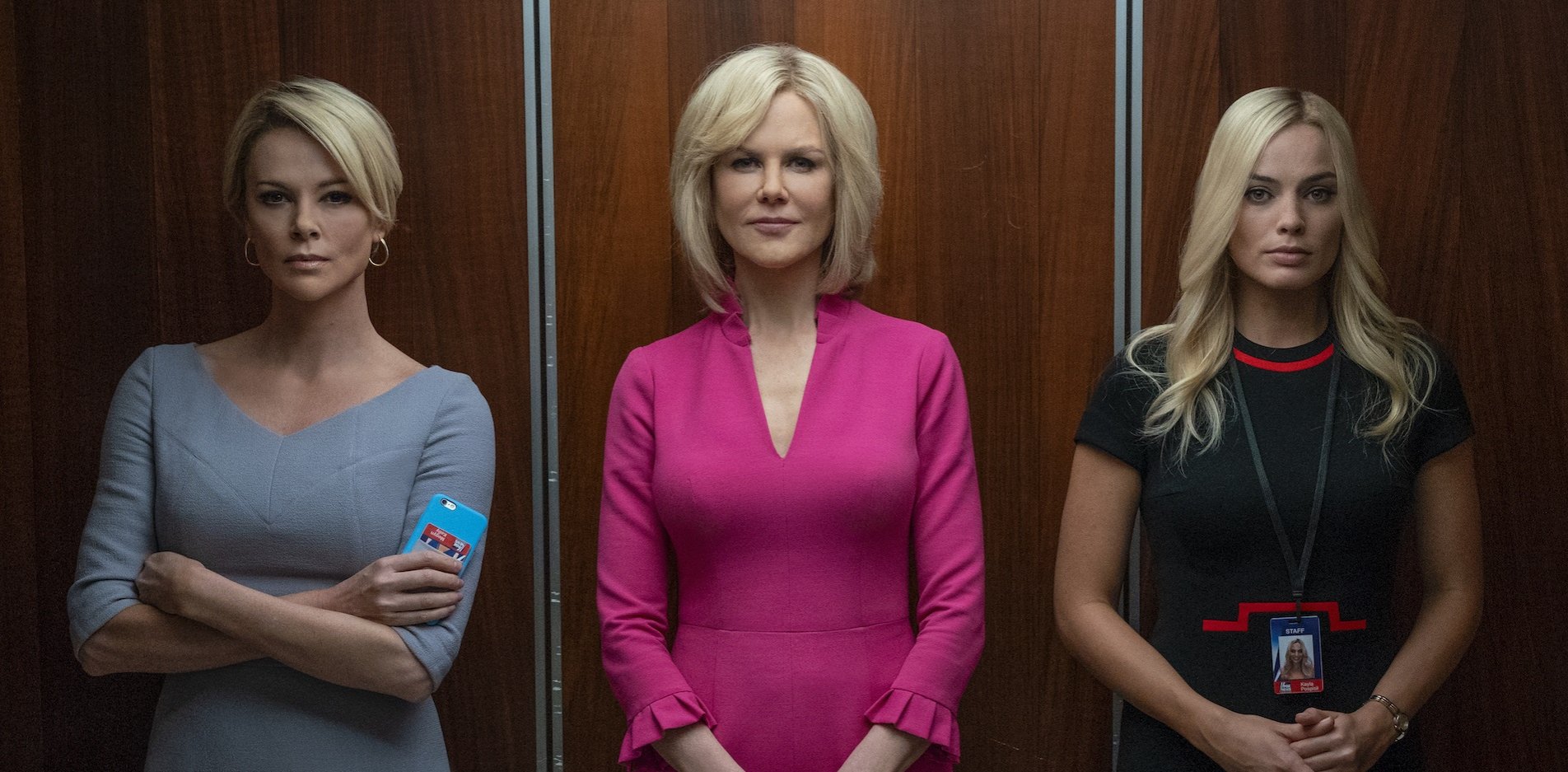 Half the reason it is already being predicted that 'Bombshell' will be highly prioritised in the award circuits come February 2020 is its nothing short of explosive cast. Charlize Theron plays Megyn Kelly, and proves why she is cited as the chameleon of an actress that she is. Getting Kelly's looks bang on is one thing, but embodying the kind of confidence that the character demands, with just the right kind of intensity is what Theron specialises in and brings to the table. Nicole Kidman stars as Gretchen Carlson, while Margot Robbie plays Kayla Pospisil, a fictional character created for the film. Roger Ailes is being portrayed by John Lithgow, and while he is a fantastic actor, the resemblance is uncanny.
Other than the primary cast members, a legion of powerful actresses and actors will be joining the film, including Kate McKinnon, Connie Britton as Beth Ailes, Mark Duplass as Douglas Brunt, Rob Delaney, Malcolm McDowell as Rupert Murdoch, Allison Janney as Susan Estrich, Alice Eve as Ainsley Earhardt, Brigette Lundy-Paine as Julia Clarke, Liv Hewson as Lily, Alanna Ubach as Jeanine Pirro, Elisabeth Röhm as Martha MacCallum, Spencer Garrett as Sean Hannity, Ashley Greene as Abby Huntsman, Brooke Smith as Irena Brigante, Michael Buie as Bret Baier, Nazanin Boniadi as Rudi Bakhtiar, Bree Condon as Kimberly Guilfoyle, Ahna O'Reilly as Julie Roginsky, Stephen Root as Neil Mullen, Madeline Zima as Edie, P. J. Byrne as Neil Cavuto, Andy Buckley, Ben Lawson as Lachlan Murdoch, Josh Lawson as James Murdoch, Doc Farrow as Lucas, Robin Weigert, and Marc Evan Jackson as Chris Wallace.
'Bombshell' Crew: Who Is Behind It?
Jay Roach ('Austin Powers', 'The Campaign', 'Trumbo') is directing the film, that has been written by Charles Randolph. Theodore Shapiro has written the score of the film.
'Bombshell' Release Date: When Will It Premiere?
'Bombshell' will have a wide theatrical release by Lionsgate on December 20, 2019.
'Bombshell' Trailer
Check out the tantalising teaser of 'Bombshell' below.
Read More in Previews: Jojo Rabbit | A Beautiful Day in the Neighorhood