For those who don't know, "Dagashi" basically refers to old school candy which is something like the cheap American penny candies. Now getting to the show, remember the first time you walked inside a candy store when you were a kid? Remember the joy you felt when you were surrounded by all those sweet treats and the moment you knew that the world may never run out of candy? The same feeling will find its way back to you while watching 'Dagashi Kashi'. The anime may at times feel like a long candy commercial, while at other times, it'll feel like a wave of nostalgia taking you back to the gold old childhood days. And it's just crazy to see how many funny things the anime is actually able to do with just candy.
'Dagashi Kashi' follows more of an episodic format with no actual overarching story. It heavily relies on situation-based comedy which is mostly about…Well, Candy! In retrospect, the anime spends more time on selling its basic premise instead of actually focusing on a plot that revolves around it. It keeps introducing convincing ideas through innovative lectures, expressive dialogues, and strange games only to express its vast knowledge about candy.
Even when it comes to the relationships between the characters, the anime's emphasis goes more on comedy and not on any dramatic build up. So don't go around expecting any complex love triangles or cheesy slice-of-life moments. In essence, 'Dagashi Kashi' is all into one genre and that is, a comedy, where pretty much all the jokes heavily rely on its main theme. No wonder why so many anime viewers are starting to call it a 4 hour long TV commercial.
Studio Feel always manages to do a decent job with most anime shows it is involved with and even in this case, the quality of characters, backgrounds and overall production is appreciable. It has an old school countryside vibe to it that never really drifts too far away from the main candy store. What really stands out about the animation is the designing of the character. All of them have unique features and have some really distinguished expressions which make the comedy a lot more hilarious. It also has a little bit of fan-service here and there, but it never goes overboard and is subtly introduced to bring in some satire.
Overall, 'Dagashi Kashi' is pure comedy, so don't let the "slice-of-life" genre listing on MAL fool you. It's the kind of show that can be really enjoyable if you keep realistic expectations out of it and only watch it for its humor. Apart from that, 'Dagashi Kashi' will bring back some great childhood memories and will make you crave for some candy while you sit there watching it. I would definitely recommend this to someone who is looking for a lighthearted comedy show that offers nothing more and for others who expect a deeper overarching story, you might want to give this one a pass.
Dagashi Kashi Season 3 Release Date: When will it premiere?
'Dagashi Kashi' season 1 premiered on January 8, 2016 and came to an end on April 1, 2016. This was followed by season 2 which was aired from January 12, 2018 to March 30, 2018. Since then, 'Dagashi Kashi' hasn't really left the minds of anime viewers but is that good enough for the creators to come up with a new season? Let's find out…
Considering the source material of the anime, 'Dagashi Kashi' covers a few random chapters of the manga instead of following a chronological format. So the silver lining here is that if the anime chooses to do the same again, then it has a whole lot of source material to cover. And since the focus of the show has never really been on the history/trivia of candies and is more on character development, it does not really matter if it follows the order of the manga or not. Close to 60 chapters of the manga can still be adapted, so it's only a matter of time till the studio will announce another season. Our best guess is that 'Dagashi Kashi' season 3 release date could be sometime in 2021. We will update this section as soon as we hear more.
Dagashi Kashi English Dub:
The English Dubbed version of 'Dagashi Kashi' is available on Funimation and Amazon Prime for all those who prefer watching their anime in English and for others who prefer subtitles, you can stream the anime on Crunchyroll.
Dagashi Kashi Plot:
Somewhere in the countryside, there stands a small candy shop named the Shikada Dagashi that has been selling the Dagashi for over nine generations now. Kokonotsu Shikada comes next in the family line and will be inheriting the family business but his heart lies in writing manga and that's why despite his father's constant pleas, he refuses to take over the family business.
But a ray of hope shines on Kokonotsu when father Hotaru Shidare comes looking for him. Hotaru offers Kokonotsu's father the opportunity of working at a world-famous sweets manufacturing company because he knows very well that the company would be able to benefit from his work experience. Initially, Kokonotsu's father rejects the offer but later makes a deal with Hotaru which states that if he is somehow able to convince his son to take over the business, then he will unanimously join his international sweets manufacturing company. Hotaru accepts the challenge and that's when he starts to introduce Kokonotsu to the true joy of the tasty and nostalgic traditional Japanese Candy.
The second season continues the story and sugar coats it a little more by introducing a few more interesting characters. Season 2 shows a lot more improvement compared to the first one, especially when it comes to character development and that's one big reason why we're waiting for a new season.
Dagashi Kashi Characters:
Hotaru Shidare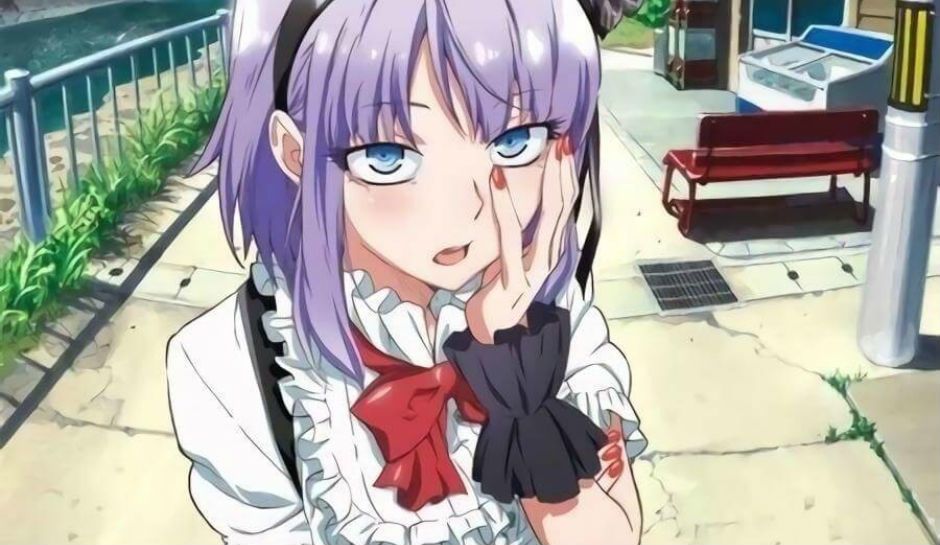 Hotaru Shidare is the main female protagonist of the show, who is very passionate about Dagashi. Her father owns a world-famous sweet manufacturing company and unlike Kokonotsu, she is happily willing to inherit her father's business. She has purple colored hair that she accessorizes with a black flowered hairband and strange deep blue eyes.
Hotaru moves to the countryside with the sole purpose of convincing Kokonotsu to take over his father's business but she fails every single time. Traditional Japanese Candy really excites her and to somehow channel her excitement onto Kokonotsu, she forces him to participate in weird candy-related games. She is like a walking candy database and has immense knowledge of all types of candy. She also seems to have no problem with being nude ("cough" fan service).
Kokonotsu Shikada
Kokonotsu "Coconut" Shikada is the main protagonist of the 'Dagashi Kashi' series who dreams of becoming a famous manga writer someday. He has straight black hair with really long fringes and dead fish eyes that give off the impression that he is not interested in anything. He is a very simple and ordinary boy with nothing special about him that would make him stand out from the rest of the characters. That's one big reason why he wants to be popular. Apart from all that, he is quite ambitious and is very determined to be known as a manga writer in the future.
When his father asks him to take over the family candy shop business, he bluntly says no and makes him cry. Out of curiosity, his father questions him on what he wants to do in the future, but he feels too embarrassed to tell him that he wants to be a mangaka. Later, when Kokonotsu starts giving his father some advice on how he could run his shop in a better way, his father realizes that he is quite a genius when it comes to running a business.
Read More in Anime Preview: Suisei No Gargantia Season 2 | Mayo Chiki Season 2