In general, there are two ways of telling a story: one can either go for an episodic format, something like 'Love Death & Robots', where each episode has its own story and a viewer can jump in whenever he/she wants to or it could have a more continuous format where every single thing, right from the scratch, builds up to an overarching story. The good thing about an episodic format is that it does not matter how good the entire show is; as long as most of the episodes have a decent story, the entire series can be considered pretty good. Compared to this, a continuous story has to be well calculated and every single detail should have at least some relationship with the overarching plot. If one fails to execute this correctly, then the show is destined to be doomed. 'Darker Than Black' adopts both of these formats in a very unique way. While the first half is more of an episodic format that helps with the world-building, the second half is where characters are built and dots are connected.
In the beginning, this approach may seem a little risky because you're not too sure if the end will be any more rewarding than the individual episodes. And another big downfall of the first half's format is that it often leaves the development of certain characters somewhere in the middle. But all of these flaws that I'm talking about are made up for in the second half in the best way possible. Almost every loose end, incomplete character and left behind elements of the story are connected to the overarching plot and that's where everything makes sense.
'Darker Than Black' is clearly not the kind of show that'll have you hooked on to it right from the start. But with a little patience, you will eventually realize that its writing and characters are truly remarkable. And as the name suggests, 'Darker Than Black' is dark and has a very serious, intense tone throughout. There are a few funny episodes, but I'm sure they're only for lightening the dark set up for a while as a distraction. I wouldn't recommend it to someone who is new to the world of anime, because only an experienced anime viewer will be able to fully get into the experience that this series is trying to offer. Some might say that it has commitment issues because of the unsettling formats but only if you watch all the 22 episodes you will realize that it has been done on purpose.
'Darker Than Black' is more of an acquired taste that not everyone will be able to get to but once you do, you get addicted to it. Speaking of which, two seasons have not really been enough for me and I'm sure that the ones who were able to understand its true brilliance, feel exactly the same. So is there a slight possibility that we might have another season of this after all this while? Let's find out…
Darker Than Black Season 3 Release Date: When Will it Premiere?
'Darker Than Black' season 1 premiered on April 6, 2007 and ended on September 28, 2007, featuring a total of 25 episodes. Two years after this, a season 2 was released on October 9, 2009 and ended on December 25, 2009. This was followed by a 4-episode OVA that was released on January 27, 2010 and finished airing on July 21, 2010. The OVA here is very important because it acts more like a prequel of season 2 and bridges the gap between the first two seasons.
The end of season 2 did not leave too many loose ends and the few unanswered questions that were left behind have been very well answered by the OVA. So if you consider this aspect of the anime, then a new season seems less of a possibility. However, just last year, the Reddit community was optimistically speculative about the possibility of a new season. The community suggested that the 'Darker Than Black' staff had scheduled a meeting, possibly to discuss a season 3. But then again, we can't be too sure about what we read on the internet. So unless there is a confirmation from the studio's end, we cannot really say anything. At this point 'Darker Than Black' season 3 release date of 2021 or 2022 seems like a distant dream. We will update this section as soon as we learn more.
Darker Than Black English Dub:
The English Dub of 'Darker Than Black' is available on Hulu and Amazon Prime.
Darker Than Black Plot:
About 10 years ago, a Heaven's Gate had mysteriously appeared over South America and a similar Hell's Gate also appeared in Japan. With the colors of the skies now starting to change, the purpose of these gates is yet to be known and anyone who has been near them knows that the laws of physics hold no value anywhere near them. The time when these gates were starting to appear, they brought in contractors as well, who are humans with supernatural abilities but these abilities come with the price of their own humanity.
But unlike all the contractors, it's the main protagonist Hei who has both supernatural abilities and his humanity and never really had to pay the price that everyone else did. He is often referred to as the "Black Reaper" in the underworld. Hei works for the Syndicate and along with his associates, he is determined to unravel the mysteries behind the Hell's Gate which may potentially be a threat to the very existence of the contractors. With so much going on, Tokyo becomes quite a dangerous place to be in and slowly, a shadowy war starts to wage in with its own twists and turns.
The sequel of this series centers around a new character named Suou, who stays the same even after her brother is transformed into a contractor post the events of a meteor shower. Suou continues to live her normal life and attends school just like any other teenager, but one day, all of it changes. Her home is invaded by a masked man who changes what she knew about her. It is revealed that deep down, even Suou possesses the traits of a contractor and now, just like most other contractors out there, she has to live in a ruthless world where the very existence of all the contractors is being threatened.
Meanwhile, Hell's Gate in Tokyo has suddenly collapsed and an investigation surrounding this strange event is on. Initially, during its release, season 2 was followed by a 4-episode OVA that acts more like a prequel to the second season and fills in the gap between season 1 and 2. Even though it is only a "special", it is something you would not want to miss out on.
Darker Than Black Characters:
Hei
The word "Hei" translates to "Black" in Chinese and it remains unknown if Hei is the real name of this character or not because he keeps adapting new names and identities throughout the series. But Hei is the name that is most commonly used compared to the other ones, so it might just be his real name. To most people, Hei is known as Li Shengshun, who is a foreign exchange student from China. He is polite and prefers to be left alone most of the time. Also, he has a freakishly huge appetite. Along with this, he also has a parallel identity in the underworld where he is commonly known as the "The Black Reaper". He is a contractor with the ability to emit electricity from all over his body and is very skilled when it comes to assassinations.
Huang
Huang is just a normal human being who is forced to work alongside Contractors. He often expresses his hate for the Contractors but still keeps working with them. Though he is an ordinary man with no supernatural abilities, his strategic skills are quite commendable. Huang's hate for Contractors goes way back in the past where he had some of his own personal tragedies with one of them.
Misaki Kirihara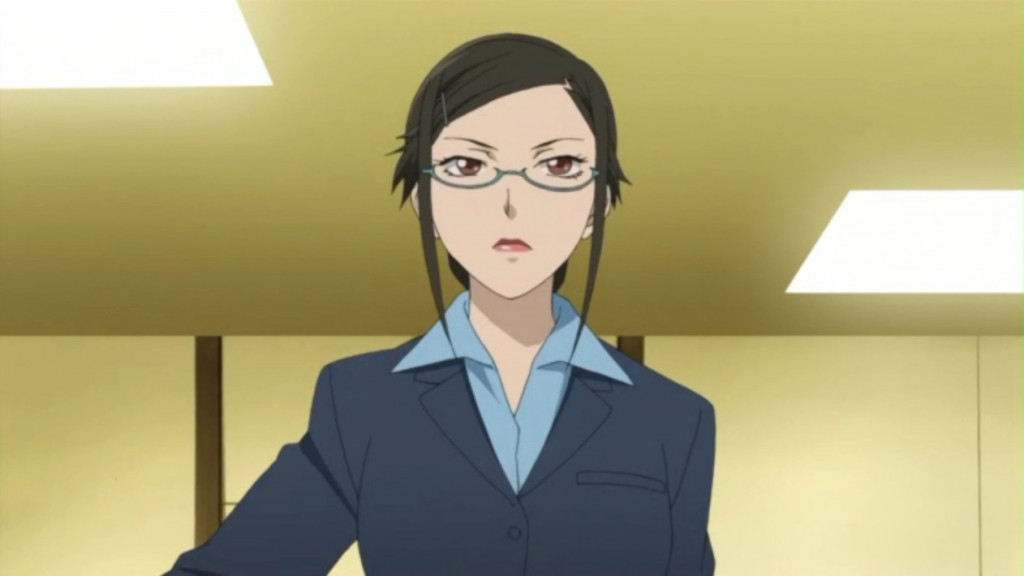 Misaki has an attractive face with long sharp brown hair and blue glasses. She is rarely seen with a smile on her face and is extremely dedicated to working as a section-chief of the Foreign Affairs that mostly deals with any matters related to the Contractors. She holds a strong sense of justice and believes in looking out for those who are weak and cannot protect themselves. She is often found hogging on greasy foods but contrary to that, she preaches about being fit because of her job conditions.
Read More in Anime Preview: Prison School Season 2 | One Punch Man Season 2