Even though farming games have been around for decades, Farmville revolutionized the genre and got millions of people interested in it. Farming games are usually very simple, and there are tons of players who enjoy playing them. At first sight, it might seem like it's just a monotonous grind that does not seem remotely fun or interesting, but once you get into a game like Stardew Valley or Farmville, you slowly realize why they manage to attract such a large number of players.
While developers have tried to put their own twist to the genre, the core gameplay remains the same across all titles. You simply start off in a small farm and have nothing at your disposal. You slowly start learning all of the mechanics of the games and then find out how you can expand your farm. This sums up almost every farming game out there and while this might sound like they are boring, they actually happen to be oddly therapeutic and are not meant to be taken too seriously. Sometimes it's better to just relax and have fun instead of stressing over a number of objectives. If you are looking to explore this genre, then we've got some really good recommendations for you. You can play these top farming simulator games on Xbox One, PS4, Xbox 360, PC, iPhone, Android or even online.
11. Story of Seasons: Trio of Towns (2016)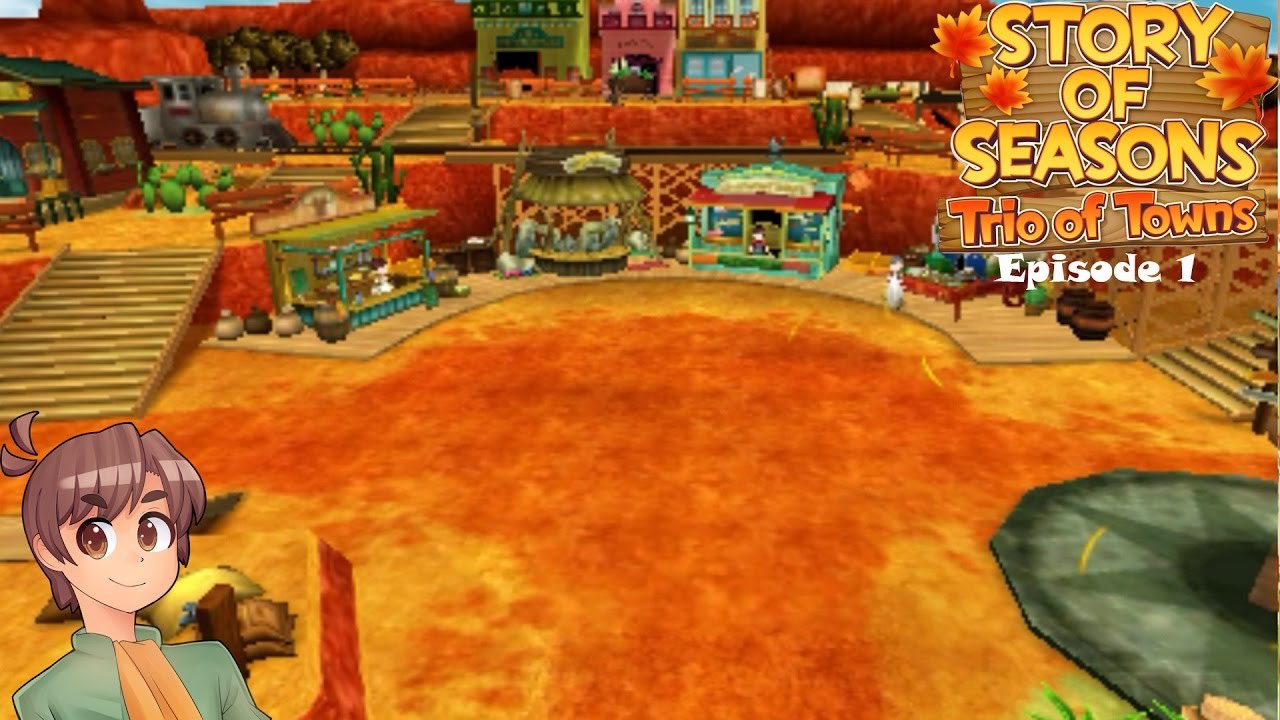 While the core gameplay of Story of Seasons is limited to farming, there are hundreds of other activities that you can engage in, which makes the game a whole lot more engaging in case you get bored of farming. You get to develop your own town through agriculture and also co-exist with other towns in the area by building healthy relationships with them. The game does not force you into anything, and you can take things at your own pace which makes this one of the most casual and fun games on Nintendo 3DS. The only things that you need to keep a tab on constantly are crops and livestock. If you do not tend to them frequently, you will end up losing your resources, and it affects your progress adversely. You can visit your towns to stock up on supplies and ensure everything is in order and as you progress through the story, you will be able to get new crops and items.
The best thing about Story of Seasons is the progression system which allows you to unlock a bunch of different items, recipes, buildings and more. Space comes at a premium, so you need to be careful about not wasting any precious space and being efficient with your item placements. Collecting resources can feel like a chore but that's the very nature of this game, and it's all about putting in your time and effort to build things just like in real life. Some of the recipes could do with slight reworks to make them easier to get as their resources are often spread across multiple cities. The travel time is not the real problem here; it's the fact that some of the towns operate in different time zones which can make items inaccessible and you are expected to wait things out a little before being able to get what you need. The game is definitely engaging and keeps your mind occupied even when you are not playing. If you are looking for a game that keeps you invested, Story of Seasons: Trio of Towns is definitely a solid title worth picking up.
10. Harvest Moon: Light of Hope (2017)
Light of Hope is the latest game in the Harvest Moon franchise, and it is a different take on the popular genre. Harvest Moon originally started out as a title for the older Nintendo systems, but Light of Hope seeks to bring as many players to the franchise as possible by bringing the experience to iOS and Android players. It is also one of the few Harvest Moon titles to make it outside the Nintendo family of consoles. Unlike other simple farming games, you need to get accustomed to a number of cool farming mechanics. You also need to explore the map as most of the areas are inaccessible at the start and it requires you to go around looking for new farms to invest your time into. The NPC design is something that took us by surprise as you don't normally see developers put in this much time into character design on farming game characters. Interacting with these NPCs lets you find out more about the game world, and you can even form romantic relationships with them, which is something that took us off guard.
However, when it comes to the actual farming side of things, Harvest Moon is quite possibly one of the grindiest games you will ever see from the genre. You have to put in a lot of time and effort if you want to progress and it does not help that digging for resources is really time-consuming. When it comes to the visuals, the game is decent, but if you want prettier visuals, you are better off checking out other Harvest Moon titles that were not designed for mobile users. However, the music is where the game shines and it makes you forget about the grind. The progression system in Harvest Moon is really good, and you can work towards a number of great upgrades that will make the farming experience much simpler. Even though Light of Hope is slow-paced, it does not ruin the experience, and it definitely does not test your patience.
9. Terraria (2011)
Terraria is the perfect mix of a farming game and an RPG. Even though the game has been around for over 8 years, it manages to blend multiple genres more beautifully than most titles that have tried to do the same. You have the perfect mix of a dungeon crawler, farming sim, and combat built into one. However, Terraria does not forget its roots, and it sticks to being an enjoyable farming simulator with the other gameplay elements being classified as side activities. Farming for resources is much more fun than most other titles out there, and you start off with barely any resources or weaponry.
As you progress through the game, you will get access to new items, and you will be able to unlock farming tools, resources and more. There are hundreds of mechanics that might seem overwhelming at first, but once you get a hold of things, you will have no trouble making sense of the deep mechanics. Player freedom is something the developers put a lot of weight on, and you will love how you get to choose your priorities when farming or building things in-game. While many other games from the genre try to stick to realism, Terraria wants to break the rules and make things more fun for players. What keeps most players away from this gem of a game is its age and the graphics. If you get past the notion that graphics define gameplay, there is a beautiful farming sim waiting for you.
8. Graveyard Keeper (2018)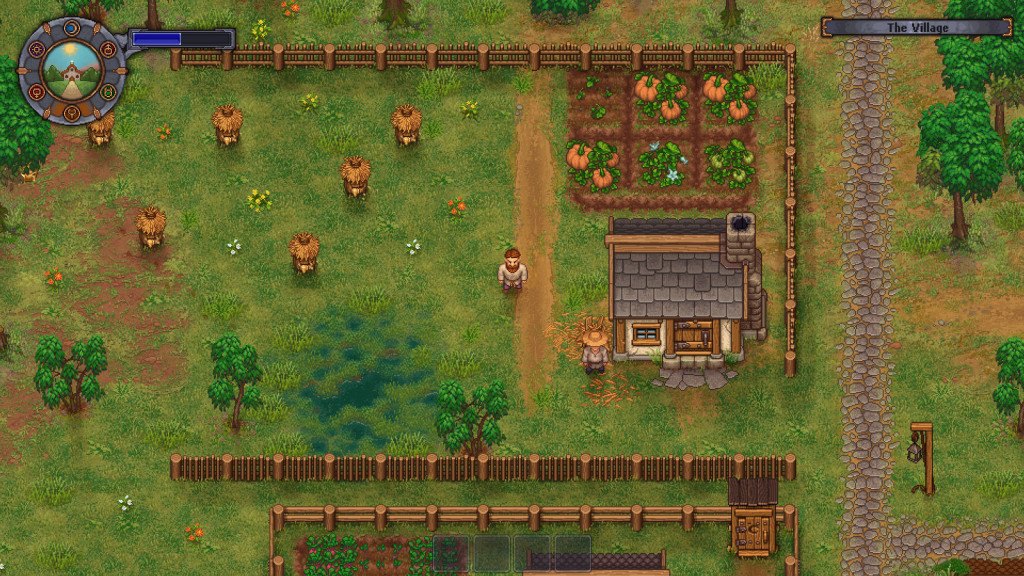 We have all seen games where we are supposed to take care of farms but what about graveyards? The premise of the game revolves around the protagonist being hit by a car, and instead of dying, he finds himself floating in the air. He is informed that he is now the new graveyard keeper and it seems like the other undead beings are not even bothered by his presence. There is not much else to the story, and it essentially indicates that you are a ghost and you will be spending your time maintaining the graveyard.
The best thing about the title is that you have day and night shifts that affect gameplay and certain NPCs are accessible only during certain times of the day. Once you get the hang of things, you realize that Graveyard Keeper is a farming simulator in a different kind of setting, but the mechanics essentially remain the same. While many may argue that Graveyard Keeper is just a Stardew Valley clone, it is so much more with its beautiful visual design and great gameplay. Even though Graveyard Keeper has the same type of pixelated graphics we are used to from other farming games, it makes the title stand out from the crowd. LazyBearGames did a fantastic job with the gameplay, and even though fans always compare farming games with each other, the visual appeal is what makes Graveyard Keeper so special. The heavily detailed presentation and the rewarding gameplay is definitely something you won't find in too many games from the genre.
7. Farmville 2 (2014)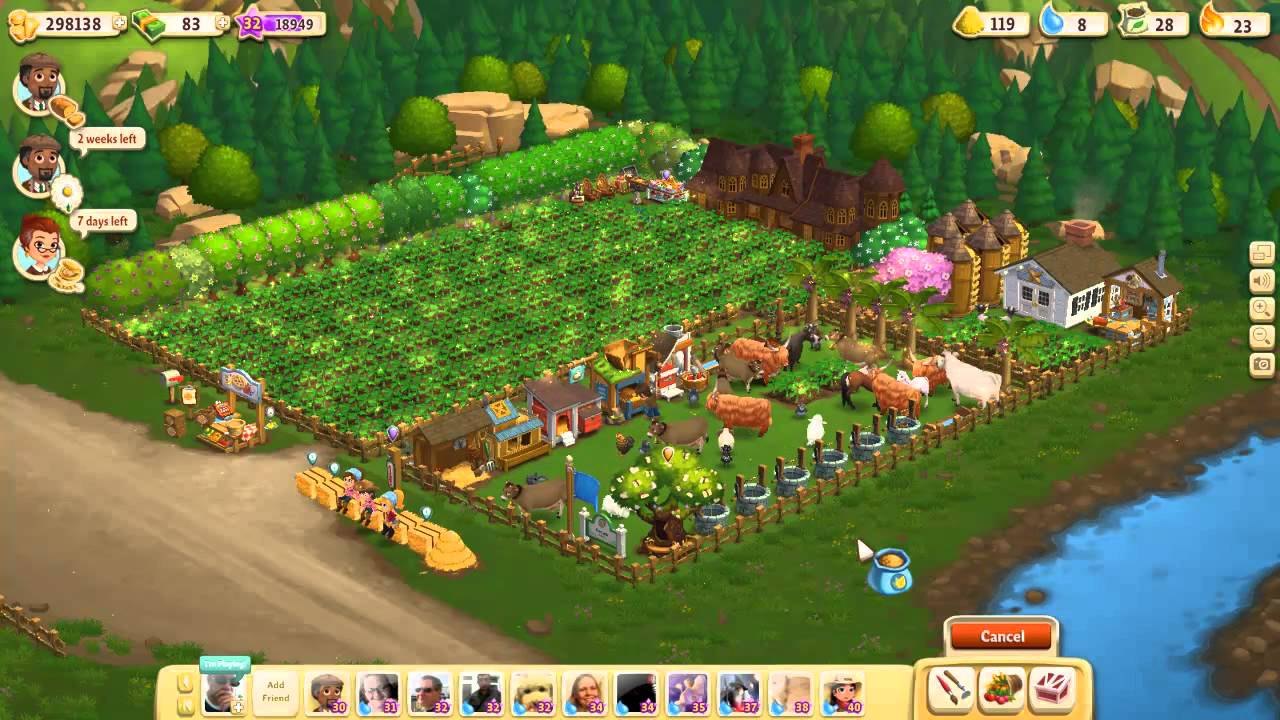 Farmville 2 is the successor to the wildly popular title Farmville which made its debut on Facebook. There is no doubt that development studio Zynga knows how to make great games and they have done a brilliant job with Farmville 2. Unlike the original Farmville which was initially launched for web browsers, Farmville 2 was built keeping the mobile audience in mind. As soon as you boot into the game, you get to play as a farmer who grows crops and harvests resources. There is a good variety of plants and animals to extract resources from, and you can use the materials to create commercial products for sale. As you keep selling more products, you will be able to make a lot of money from your sales. You not only have the usual farming activity but also multi-part quests to help you get accustomed to the gameplay.
The controls are fairly simple considering the game was built keeping a mobile audience in mind. If you compare it to the original Farmville, there are quite a few improvements and the resource management is fairly simple. The gameplay has a nice rhythm to it, and it never feels monotonous. Players have also been given free expansions since release to expand upon the content and introduced new playable areas. When it comes to monetization, there is definitely the trademark Zynga microtransaction system that lets you progress faster if you pay. However, you do not need to pay a single cent and you can take the game casually if you are not interested in paying. While better farming games have come along since the days of the original Farmville, Zynga's offering is definitely no joke, and it is one of the best farming sims out there.
6. My Time at Portia (2014)
My Time at Portia is not just a farming simulator; it's a life simulator. You play as a craftsman who has to farm resources and build various things in his workshop. One of the best things about My Time at Portia is that you do not have to follow a given path to progress and you get to build whatever you want. The rarer a resource is, the harder it is going to be. Unlike other farming games where you can just go and farm any resource you want as long as you discover or unlock it first, you need to go through dungeons and fight bad guys to get a hold of the resources. Combat is not the only solution though; you can talk to other NPCs and try to convince them into trading with you. The game is not without its flaws, and you will find that the loading screens take a tad too long at times, which can be quite annoying. There are players who have clocked dozens of hours in-game and do not get bored of the gameplay because of its engaging soundtrack and casual level design which keeps you coming back for more. The game world just sucks you in and refuses to let you go, which is the trademark of any addictive farming sim.
5. Hay Day (2012)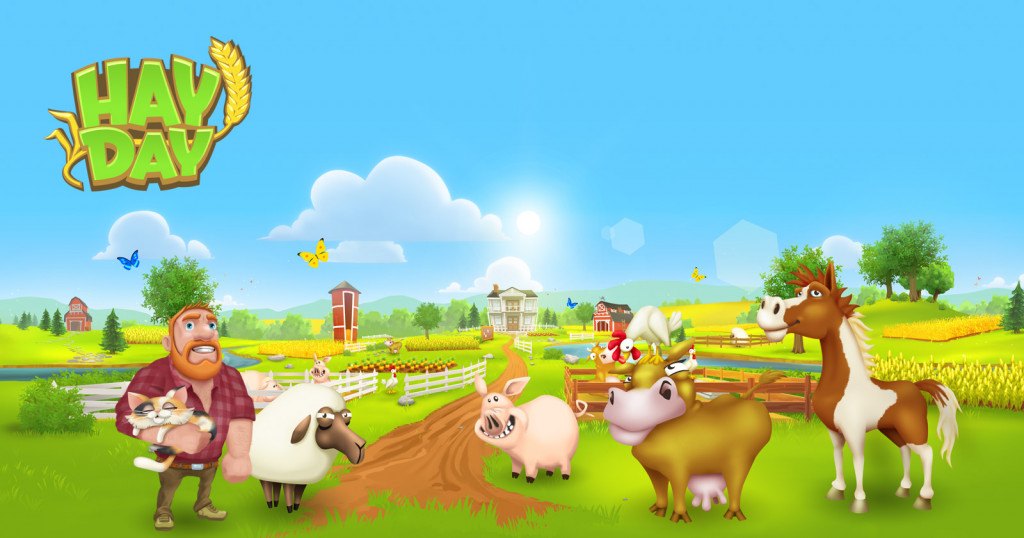 Hay Day is one of the best farming games available for Android and iOS, and it has retained a cult following over the years with thousands of gamers still playing the game to this day. It's one of those farming sims that let you micromanage every little detail, from gathering resources to selling milk and crops, which might seem a little simplistic at first but it definitely is a lot of fun. The story itself isn't that strong — it has a protagonist inheriting a farm that he needs to manage. You start off by growing simple crops like wheat and corn, and over time, you will get access to a ton of upgrades. To help you out, you will often have visitors from other towns who will come looking for items that you can sell them.
When it comes to the visuals, Hay Day is definitely one of the better-looking farming simulators out there, and you will get drawn into it because of the cartoonish aesthetics and a brilliant soundtrack. It is perfect for touchscreens and offers gesture controls which make playing extremely easy. The online component of Hay Day is what makes the game appealing with the ability to visit other players' farms. You can connect your Facebook account to Hay Day to check out what your friends are up to, which adds a social element to the gameplay. For a free-to-play title, Hay Day is definitely something you do not want to miss out on if you love farming games and a must-play for any gamer out there.
4. Farming Simulator 19 (2018)
When it comes to farming games, Farming Simulator 2019 is the go-to title for everyone. It has such highly impressive gameplay and in-depth mechanics. While titles that were launched before Farming Simulator 2019 have followed the same formula for years, the latest title in the franchise has a number of changes to the gameplay. There is absolutely no handholding, and you are left to figure things out for yourself.
While the title might be great for players who have been playing other Farming Simulator games as they do not have to be bothered by dozens of popups telling them what to do, it definitely makes things difficult for new players. There is also a lot of trial-and-error involved, which makes things complicated and the only help you get is from a helper NPC. Despite the steep learning curve, Farming Simulator 19 is definitely one of the most fun farming sims out there, and we strongly recommend checking it out. You have to put in a lot of time and effort if you want to excel at the game and the rewards are definitely worth it.
Read More: Best Survival Games For PS4/Xbox One
3. Farm Story (2010)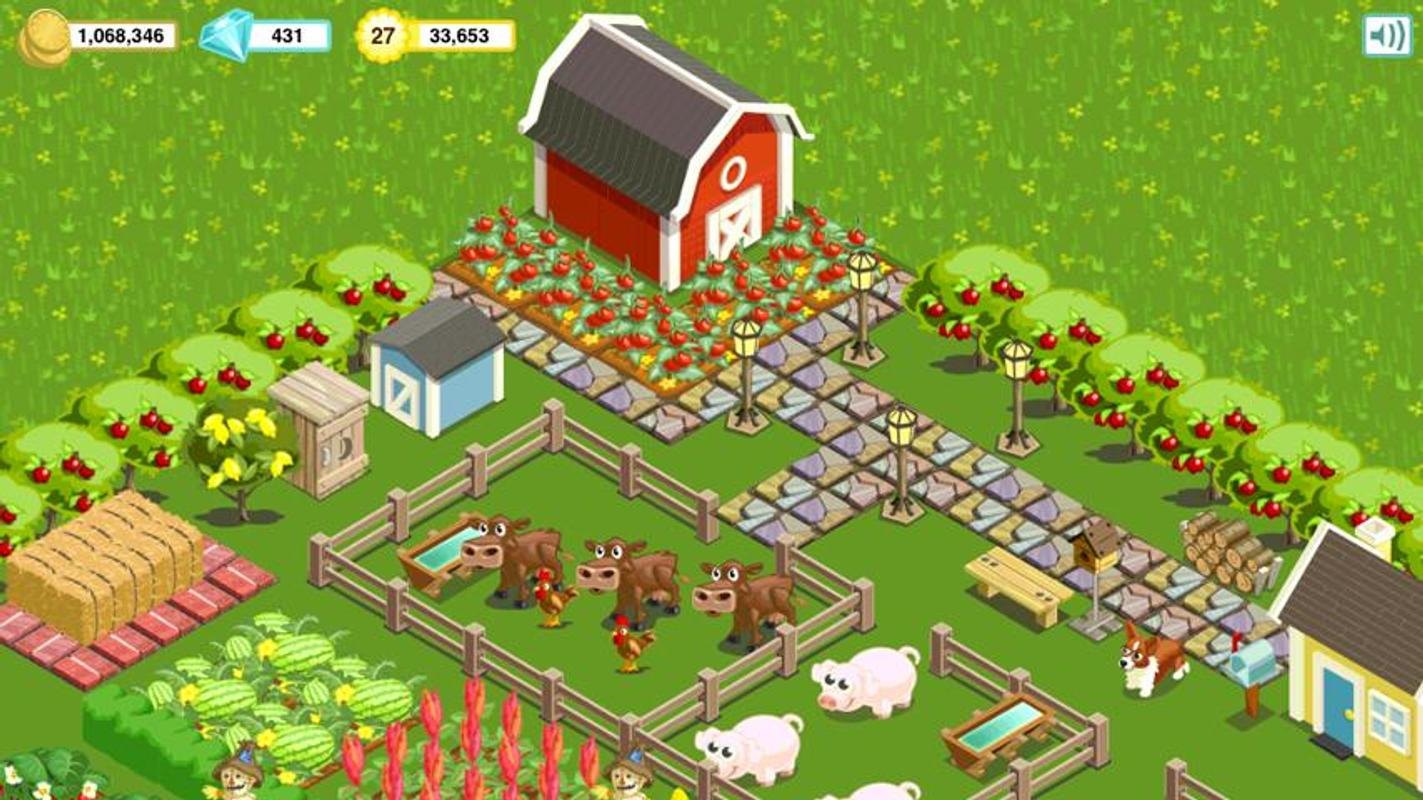 Farm Story is a Farmville clone that is almost a decade old, and despite its age, it boasts of a large number of players who login to play every day. Everyone tries to replicate the Farmville formula but does Farm Story succeed at offering something new? The game definitely has its highs, and despite the fact that there are several similarities between Farm Story and the other farming sims that we know about, the lack of multiplayer is what brings it down. But if you are someone who does not care about multiplayer and wants to enjoy a great farming sim, Farm Story is definitely one of the best games out there.
The simple mechanics make the title much more appealing than other more complex games out there. You simply buy land for plowing and farming, and as you sell your product, you keep earning money to expand your farm. Just like some of the other free-to-play titles with microtransactions, you have to invest either time or money to progress. If you do not like the long wait times between the completion of each activity, you can skip ahead by purchasing premium currency.
2. Stardew Valley (2016)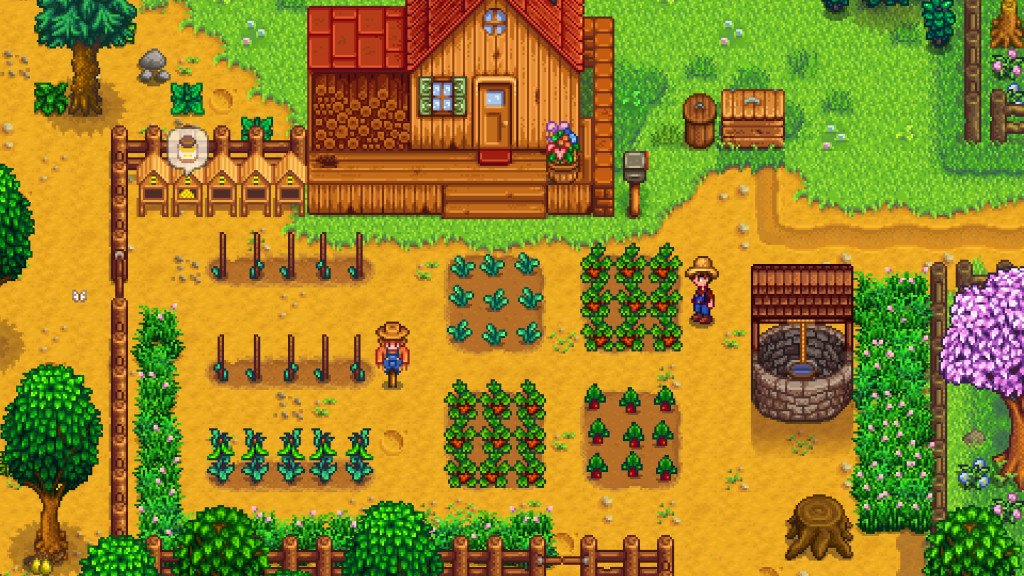 Stardew Valley might not have the same social features as Farmville, but the single-player experience does not make the game any less fun. You do not have to worry about microtransactions or invisible paywalls stopping you from having fun with the game. However, to retain a sense of interaction, Stardew Valley lets you interact with other NPCs, have relationships with them and more. Making friends with NPCs is definitely something you want to consider as it makes the farming process much simpler. Even though Stardew Valley presents itself in a farm setting, other NPCs definitely seem to be up to date with technology. You get in-game texts from other citizens, and it is a great way to communicate without needing to visit each NPC all the time physically.
Seasons do affect your gameplay a lot, and you need to be careful about what time of the year you decide to grow your crops in. The gameplay is wrapped up in a beautiful visual package, and your countryside adventures will never have a dull moment. You will love how much attention to detail there is when it comes to small visual cues to indicate the weather conditions or simply highlight the beauty of a location. Exploration plays a major part in the story as well, and you will often run into new locations even after spending hundreds of hours in-game.
Read More: Best War Games on PS4/Xbox One
1. Top Farm (2016)
Top Farm is one of the most visually stunning farming video games out there, and you will be surprised to see how much effort went into the aesthetics. Most games of the genre stick to pixel-style graphics, which turn a lot of players, who want to play games that are more visually appealing, away from them. The gameplay is top notch, and even though it borrows various mechanics from other titles, there is a certain degree of polish which makes it worth playing over most of the other farming sims out there.
There is no storyline to explore, and it's all about relaxing while growing crops and expanding your farm. You can trade with NPCs to make money for your future endeavors. The developers did a good job of making the game playable for both newcomers and veterans with the perfect balance in difficulty and mechanics. The resource farming and building mechanics are far more relaxed than most of the other titles in the genre. You do not have to wait a ludicrous amount of time for your projects to complete, which is what keeps a lot of players away from farming sims. There is enough content to last dozens of hours of gameplay, and if you are looking for a simple yet robust farming simulator, Top Farm is one of the best options out there.
Read More: Best Shooting Games on PS4/Xbox One