It seems like the Battle Royale genre just blew up out of nowhere and every major development company wanted a piece of it. Rust is Facepunch Studios's roll of die in this survival genre and boy they got two 6's or what—because rust has now become one the most popular game in this genre. It eventually began development as a clone of DayZ (another very popular survival game) but soon the developer decided not to have Zombies in it (like DayZ) because Garry Newman, the CEO of Facepunch Studios believed and I quote "We are too sick of fighting Zombies" (I personally don't believe we are, I believe we haven't fought them enough but let's move on).
Everything in the game wants you to die, collect food, shelter, and weapon before it's too late. Starting off with just a rock and a torch, you will need to find weapons and food or else you'll die soon. Although the game has animals like Wolves and Bears, but the primary threat to your life are the other players who are also thrown in the game with you. The battles are accomplished with the help of bows, melee weapons, and craftable guns. One of the more exciting features about rust is that it allows you to form an association with other players in between games but you need to be careful because at the end there can only be one winner.
Rust has everything you would want in a Battle Royale Survival game, the gameplay is raw, entertaining, and sharp. Since there are a lot of games in this survival/battle royal genre, finding a game similar to Rust may be a difficult job. But don't worry you have come to the right place. Here is the list of video games similar to Rust that are our recommendations. You can play these games like Rust for PS4, mac, Xbox 360, Xbox One, iphone and even online.
20. Wurm Online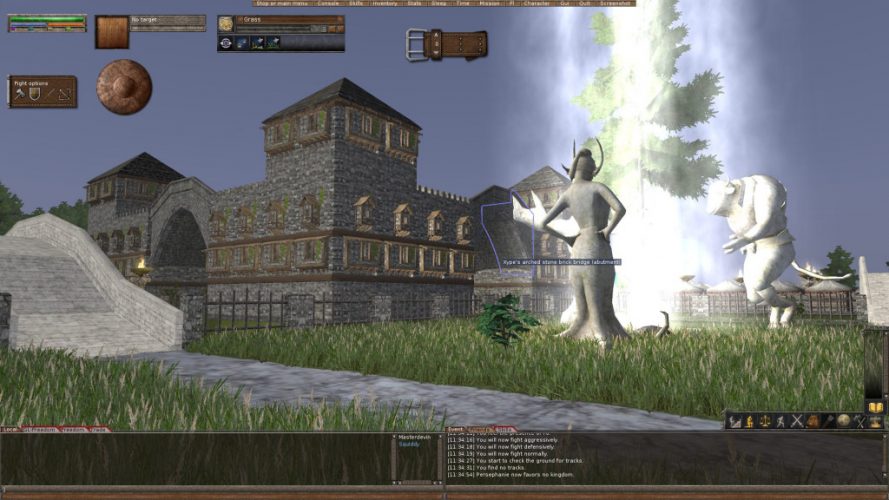 Wurm is a massively multiplayer online role playing game released in the 2006 for windows systems. The game was developed by the Swedish company Code Club AB went on to gather a cult status in the continent. At the time of release, there were three different types of servers available to players- player vs player servers, realm vs realm servers and servers that depended entirely on economy alone. The game allows the player to craft and build various items in order to survive in the world and whatever one player builds is accessible to all other players on that server. Everything within the game is entirely made by players alone except the environment. This makes it so that when a new server launched, it would be completely barren and the players can mould it to their liking. The game was one of the earliest titles that gave this much freedom to the individual player and hence makes it to this list.
19. Unturned
Unturned is a survival game developed and published by a single person, Nelson Sexton. The game stayed in early access and beta testing for three long years before being released to the public in 2013. The game was made free to play from the very beginning, a model that is seldom chosen by a single developer. Unturned drops the player in a hostile environment infested with zombies and laden with radiation. The player must collect and gather resources from the very beginning if he/she wants to survive in the game for long. Combat systems are pretty fluid and almost every type of weapons is available in the game, although it requires a bit of searching. Deadzones are present in the map and entering these areas requires appropriate hazmat protection, otherwise the radiation will kill you quickly. Other gameplay mechanics are quite similar to survival games but the variety of maps and playable modes make this game one of the most refined ones in the list. Also, we should take the time to thank and support the developer for his immense dedication and effort towards the game, all the while making the content free for all players.
18. Don't Starve
Don't Starve is a game unlike any on this list and would have ranked even higher if we weren't keeping it strictly to games that resemble Rust to its truest sense. But we still wanted this game to be brought to your notice since it deserves all the love it can get. Don't Starve is an open world roguelike survival game where the player needs to gather resources in order to craft items and survive. However, there is much more decision making involved than your average survival game. There are three bars that are present on top of your screen and they represent the basic conditions of your character. These three attributes are hunger, health and sanity and the inability to maintain either of them can spell disaster for your avatar. The game also relies heavily on a day and night cycle that can affect your character's sanity and the various challenges faced by your character. 'Don't starve' is a game that has been highly praised for its mechanics and gameplay and is definitely one survival game you should check out.
17. Scum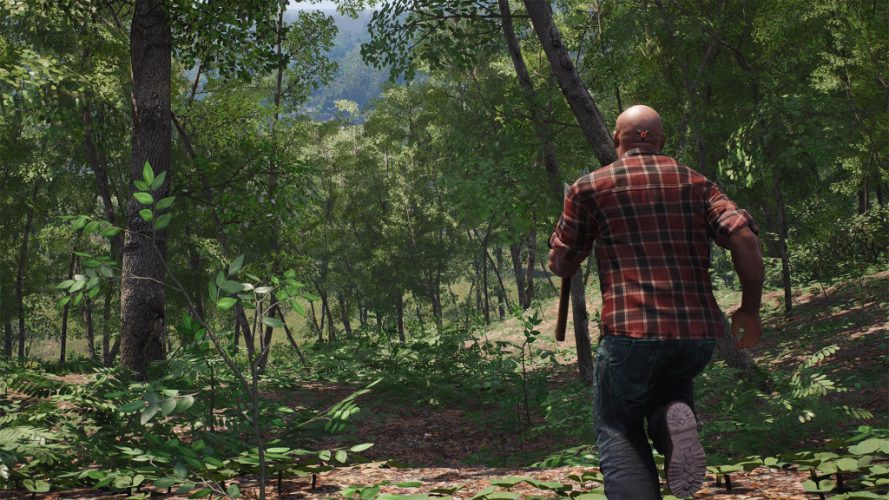 'Scum' is another survival game that you should check out, but keep in mind that Scum is not for the fainthearted. Right from the beginning of the game, you can get a taste of just how unforgiving this game is going to be. The character customization screen allows you to set the age of your character which greatly reflects on your character's ability, such as intelligence or dexterity. Make this choice carefully though as your resulting gameplay will depend heavily on it. You play the character of a prisoner who has escaped and now must survive in a harsh and hostile environment. The game contains a fair variety of monsters including zombies and mechs, so choose your weapons carefully. The game is presently in the early access stage and will be up for a full release sometime in 2019.
16. DayZ
What started out as a simple mod for the Arma 2 is now getting its full standalone release on all modern consoles. If you have not yet heard of DayZ, it was a mod developed by Dean Hall where players needed to craft items by gathering resources and using the same for survival. The main threats in the game came in the form of zombies and sometimes other NPCs but mostly zombies. It became extremely popular and as fan following for the mod kept growing steadily; Dean Hall announced that a full standalone game was in the making back in 2013. While the game did spend a long time in the early access stage, we now have a full working copy available for windows with support for the PS4 and Xbox One variations coming later this year. The game is being developed and published by Bohemia Interactive, the company behind the development of the Arma series, the game which this mod is based on.
15. Subnautica
Subnautica is a unique take on the survival genre where the players need to hunt and survive underwater in an alien planet known as 4546B. The world is completely submerged and this introduces several unique elements into the gameplay. First off, you need to traverse the world and to do this you require energy. However, food is scarce and you need to hunt in order to procure proper food. The world is infested by deadly creatures that will not think twice about turning you into snack, so watch out. As you progress further into the game, you have the option of crafting better gear by collecting resources and blueprints. This will allow you to create various equipments ranging from weapons to submersibles. There are four gameplay methods to choose from and each one of them has varying levels of difficulty. There is a freedom mode as well, where all the basic requirements are turned off and you are free to go anywhere you like and do anything you feel. This mode also unlocks all the blueprints and therefore is a good way to 'scout' the land before heading on to the more difficult challenges. An expansion for the game called Subnautica: Below Zero is also in the final stages of development and just moved on to Steam early access.
14. Minecraft
If you have not yet heard of Minecraft, you must have been living under a rock for the last five years. Minecraft is a survival sandbox style video game where the players can build structures according to their will using 3D building blocks. The game allows the player to free roam and collect resources which are then again used for fortifying the structures. It has also been praised for allowing the player to explore a procedurally generated 3D world and also rewards the player for exploration. Creativity is the bread and butter of this game and players have been able to recreate breathtaking digital versions of real life structures. It is not uncommon for you to scour the land and find structures such as Hogwarts or The Tower of Babel. The game also offers a survival mode for players who are a fan of Rust where you have limited resources and health. The idea is to collect resources in order to build fortified structures and then defend them from your enemies. The game also has a hardcore mode where respawns are blocked and you need to start all over again. But if you are looking to sit back and relax, the game offers a spectator mode as well where you can travel the world and look through the various structures built by players, but you won't be able to attack and destroy them.
The game was initially created by Markus Persson and later on further development processes were handled by the game development company, Mojang. It was released on 18th November, 2011 for windows PC, Linux and macOS to major critical acclaim with most game critics praising the game for its simplicity and addictiveness. It has managed to sell over 154 million copies worldwide making it the 2nd bestselling video game of all time right after Tetris. The game has around 91 million active players presently so you don't need to worry about unpopulated servers.
13. 7 Days to Die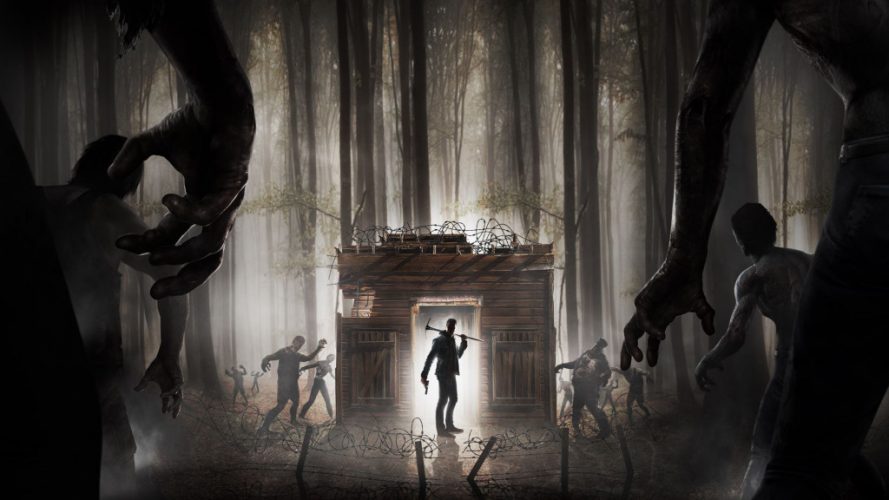 It seems like zombies are becoming a staple in every sandbox survival game out there and 7 Days to Die takes the whole zombie thing quite seriously. The game takes place in a post apocalyptic world where most of the population has been wiped out due to a global nuclear war. You, the player is stranded on a fictional city in Arizona equipped with nothing but your determination to survive. The environment is extremely hostile with various creatures (read: zombies) roaming around the city and will stop at nothing to devour you. The air is thick with radiation and it seems radioactive fallout is the reason behind such mutations but nothing is set in stone. The main aim of the game is to survive as long as possible with hordes of zombies on your tail, a truly terrifying experience if there ever was one. The game will constantly keep you on your toe with danger at every bend of the streets. Gathering and collecting resources is also an important aspect in the game requiring you to continuously craft newer structures or weapons in order to keep up with the attacks. Destruction of the playable environment is also possible with the resulting outcomes being calculated by a physics based engine. This game is a must play for all the Rust fans out there although keep in mind that this is not for the faint-hearted. Developed by The Fun Pimps, the game is presently in early access alpha and should release for all major consoles shortly.
12. Stranded Deep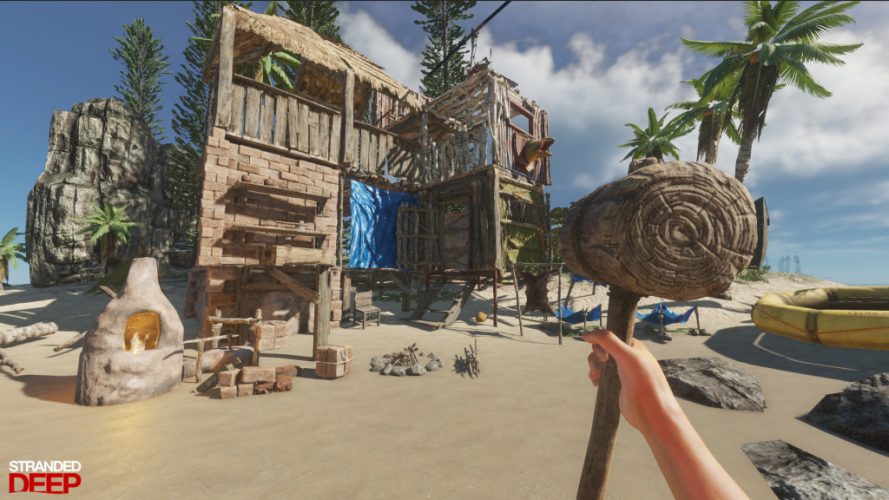 Ever had the fantasy of settling down in your own private island? Well, here's your chance to do so! In Stranded Deep, you are a survivor in a plane crash right by an island located somewhere in the Pacific. However, you are not on your own though as the island is inhabited by deadly creatures and the waters infested by killer whales and sharks. Not exactly the idea you had in mind but oh well, that's how survival works. You have several options to survive, each one as dire as the other but once you have a shelter up and running on the island, things get a little easier. Traverse the water carefully and it may serve you as a valuable resource, but one wrong step and you'd end up in the belly of a huge whale. Food is pretty scarce requiring you to fish or eat fruits to sustain yourself. The game also has an extensive day and night cycle that affects gameplay heavily. Stranded Deep was initially supposed to be published by TellTell games' publishing house but due to the company dissolving in 2018, Australian company Beam Team Games took up the challenge. The game is presently in early access on steam and we are all eagerly waiting for the full release which seems to be scheduled for sometime in 2019. All in all, the game looks promising and is definitely a fresh take on the survival games genre.
11. The Forest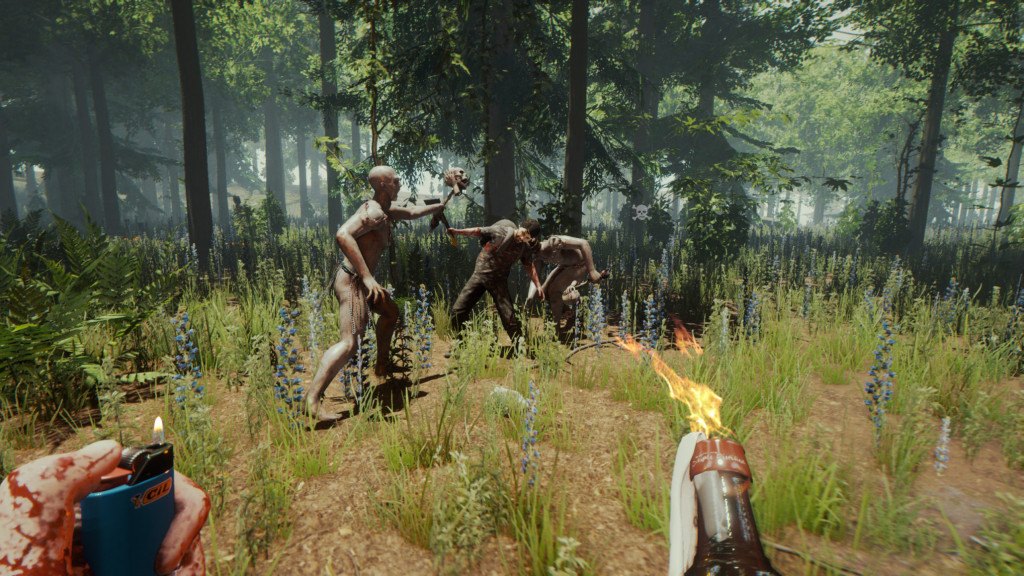 The Forest is one of the most awaited games in the survival genre of gaming having sold more than 5.3 million copies in its early access stage alone. The game takes place in a remote location, perhaps a highland or a peninsula where you are stranded after a plane crash. Right after you gather your senses, you see that a group of cannibals are leading your child away and now you must survive on your own in an attempt to find out what happened to him. The area is heavily populated by these 'cannibals' but they are not always aggressive towards the player. These people will leave you alone if you let them be giving the hint that the developer wants the players to question whether the cannibals are the threat or you are. It seems such a moralistic choice is lost in the urgency of survival but every action you take will make you question that notion some more. This is a game we highly recommend if you loved the vast expansive world of Rust and once it comes out of early access, it is sure to ruffle up some feathers in the industry.
10. The Culling
'The Culling' was developed by Xavient and it was released in October 2017. 16 players are dropped off in an arena where players can participate in teams, with a maximum of two players. The matches in 'The Culling' are fast-paced and exciting. If you prefer quick match-ups instead of running around large maps scavenging for resources, then 'The Culling' is my recommendation.
9. Rules of Survival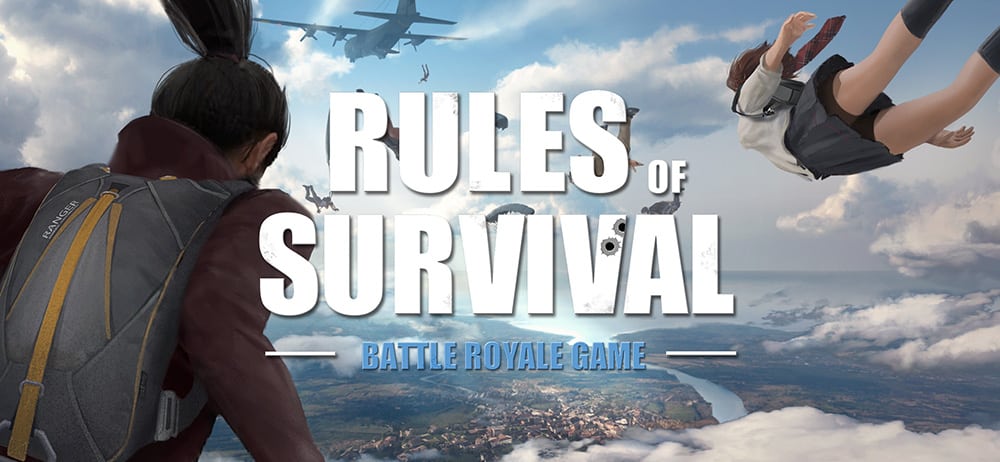 'Rules of Survival' is an absolute clone of PUBG (another very popular survival game)–very similar in terms of features but cannot match the performance of 'PUBG'. As many as 300 players are dropped off on a battleground where they must search for weapons and fight to be the last person alive.
8. Horizon Source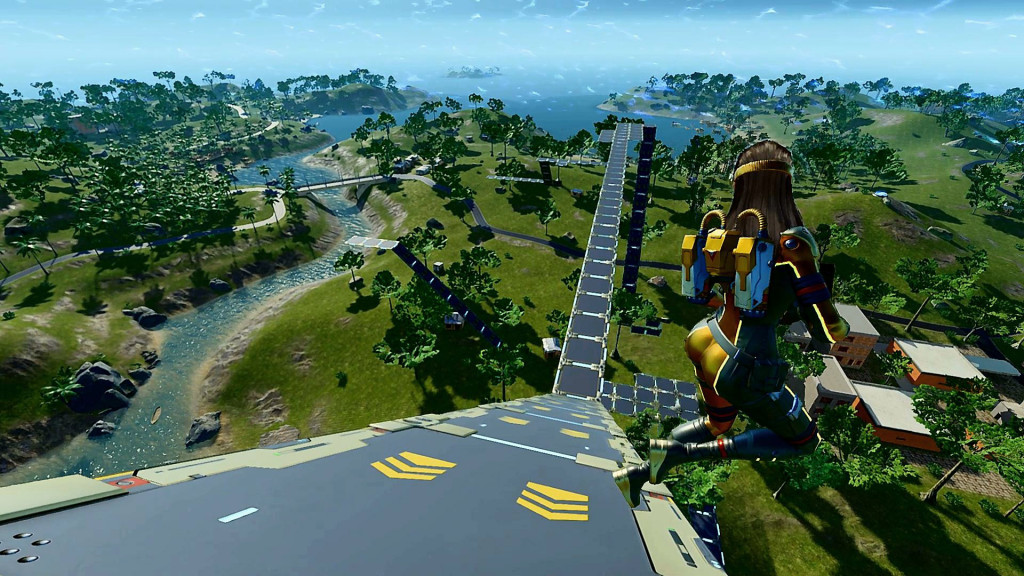 Horizon Source was Developed by a Chinese company, and it is also known as the love child of Overwatch and Fortnite(also features in this list). Yes, I think the game is a cheap ripoff of the mentioned two games but this doesn't change the fact that the game is highly entertaining. I enjoyed my overall experience with Horizon Source and I would recommend this game if you are new in this genre and have not played Fortnite yet.
7. Infestation: New Z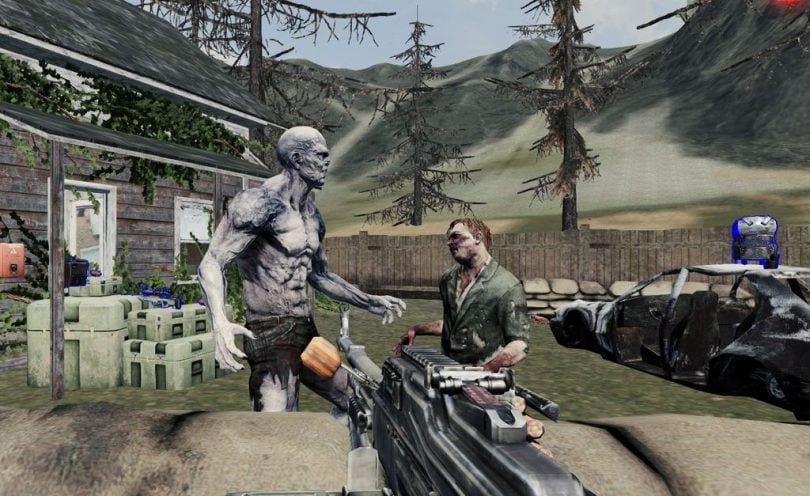 Of course, we are going to have a game based around Zombies on this list(I told you we haven't fought them enough). 'Infestation: New Z' is a survival game featuring Zombies, set in a post-apocalyptic world where survival is everything. Thirst and Hunger are the most important aspects of the game which needs to take care of by scavenging for food and water. Along with that keep an eye out for other players as their sole aim is to kill you to get your supplies.
6. Last Man Standing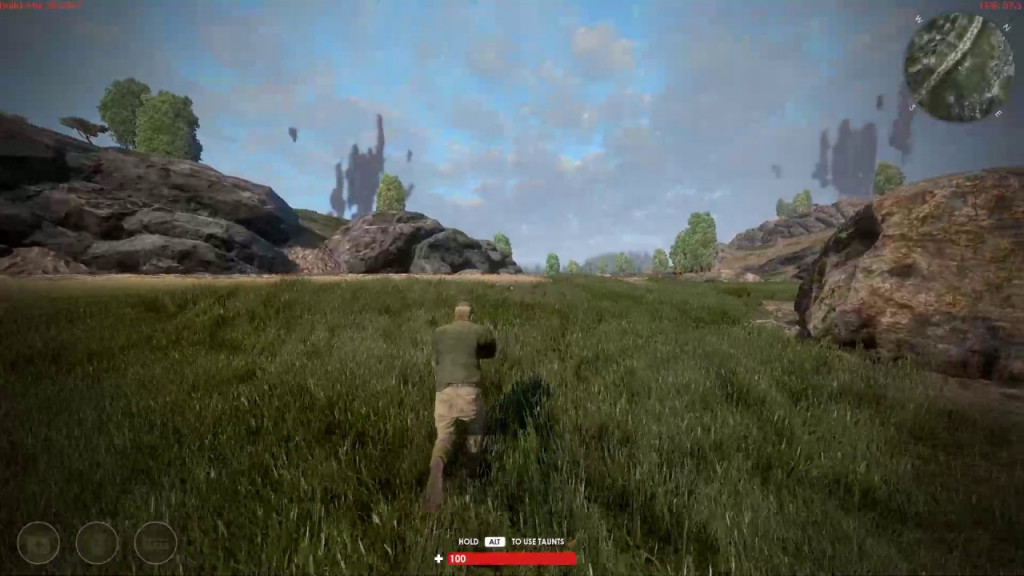 'Last Man Standing' is exactly what the title tells you, It is a survival game mixed with Battle Royale just like 'Rust'. This game is everything you would want in a battle Royale Game. The major difference which separates 'LMS' from the other is the number of times you are allowed to be respawned is limited in this game. All you need to do is Get in, Gear up, and kill everyone in sight before they kill you.
5. H1Z1
150 players land on a map. The players can play this game in a team of 2 or 5. Upon landing they need to do everything possible to survive.'H1Z1' has recently become a free-to-play battle royale game for Mircosoft windows and has caused a sensation ever since. Like in most battle royale games, As the game progresses the playing surface becomes smaller and smaller due to the compression of a toxic gas cloud–once you are caught in it, you are more or less dead. 'H1Z1' has also Launched an 'Auto Royale' mode which is basically a battle Royale featuring vehicles. This 'Auto Royale' mode has some technical difficulties but still, it provides something new from the traditional battle royale games.
Read More: Games Like Tetris
4. Arma 3: Battle Royale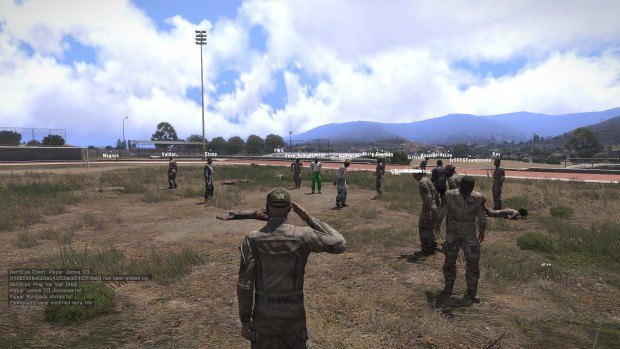 'Arma 3: Battle Royale' is one of the earliest games to have a battle royale mode, it throws you right into a battlefield where you have to fight every second for your survival. So if you are interested in playing the game which served as an inspiration upon which all the other battle royale games were built and you should definitely check out 'Arma 3: Battle Royale'.
3. Ark: Survival Evolved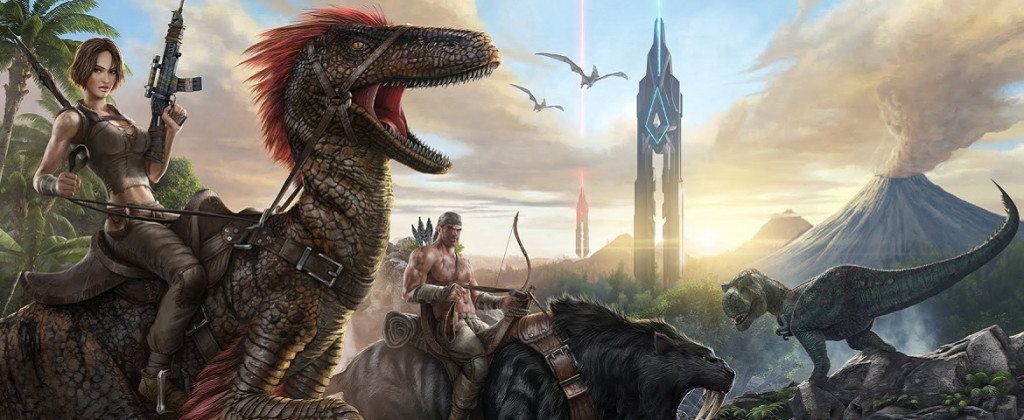 This is probably the most unconventional survival game we have picked for this list. 'Ark: Survival Evolved' takes you back in time, way back.It is set up in prehistoric time where you have to survive with the bare minimum and face a very harsh environment. The game features 99 species of dinosaurs and as many as 40 other creatures along with other potentially harmful human players. The most exciting feature of this game is the dinosaurs can be tamed and once they are tamed they can be used to defend a base or attack someone else base. Do you think riding a dinosaur is cool? or Do you think shooting other players is cool? or Do you think Shooting other players while riding a Dinosaur is cool?. If you answered 'yes' to any of the above questions,Then go ahead this is your game.
Read More: Games Like Ark
2. PUBG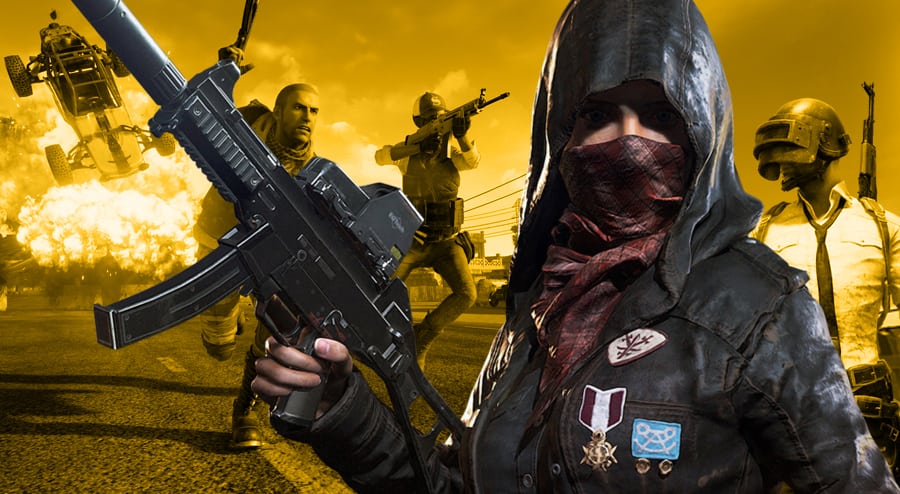 PUBG is probably the most popular Battle Royale game out there. It has been a major hit ever since it came out and has established its own place in the gaming community. 100 players are dropped off on an island and now they need to find weapons and shields in order to survive. As you keep playing it, the playing area gets smaller and smaller forcing everyone to come to the center of the island. If you are worried about playing this game alone or you simply prefer to play it as a team, you can also play this game in a team of two or four.
Read More: Games Like 'PUBG'
1. Fortnite Battle Royale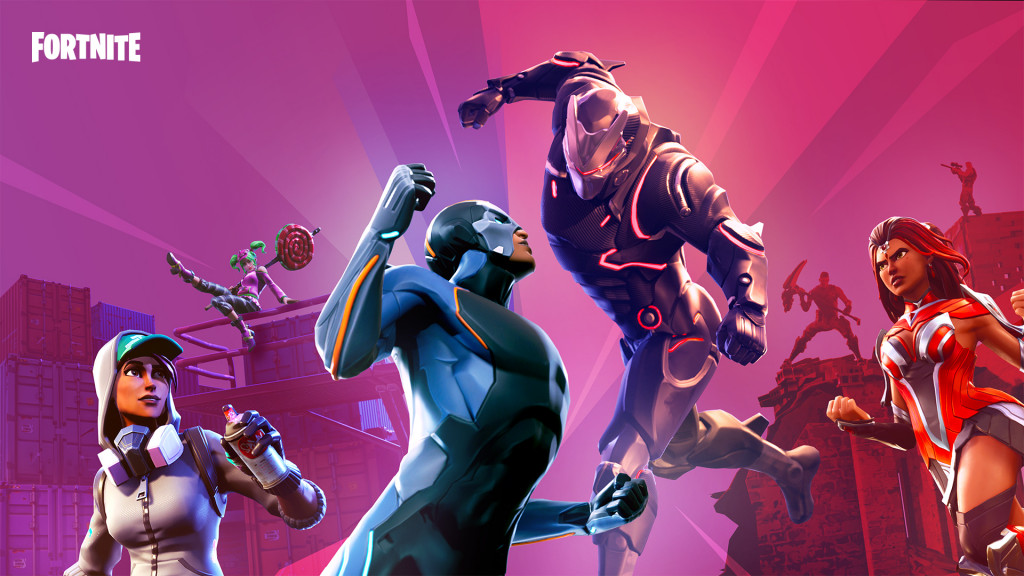 You must have been living in a cave, If you haven't heard about this game yet. 'Fortnite Battle Royal' is a Free-to-play Battle Royale game developed by Epic Games. It had over 125 million players within a year with 40 million of them playing it at least once a month. Fortnite's building feature is something which makes this game very different from any other entry on this list. Fornite also has a very cartoonish feel to it, a lot of dance celebrations and other cool stuff which appeals to a larger audience as compared to any other violent game. Epic Games has recently announced that they will be organizing a Fornite World Cup in 2019.
Read More: Games Like Clash Royale