We all have an inner desire to maintain collections. It just feels so… satisfying. It is perhaps because of this primal desire that 'collectible' games have always been so popular among gamers and since the evolution of the digital mobile gaming platforms, it has never had to looked back. Games like Summoners War became incredibly popular in the mobile gaming genre allowing players to collect a range of heroes and loads of game developers released games in an attempt to satisfy this desire, some reaching massive popularity and some less. Here's the list of games similar to Summoners War that are our recommendations. You can play these games like Summoner's War for ps4, mac, Xbox One, Xbox 360, android, iphone and even online.
15. Brave Frontier (2013)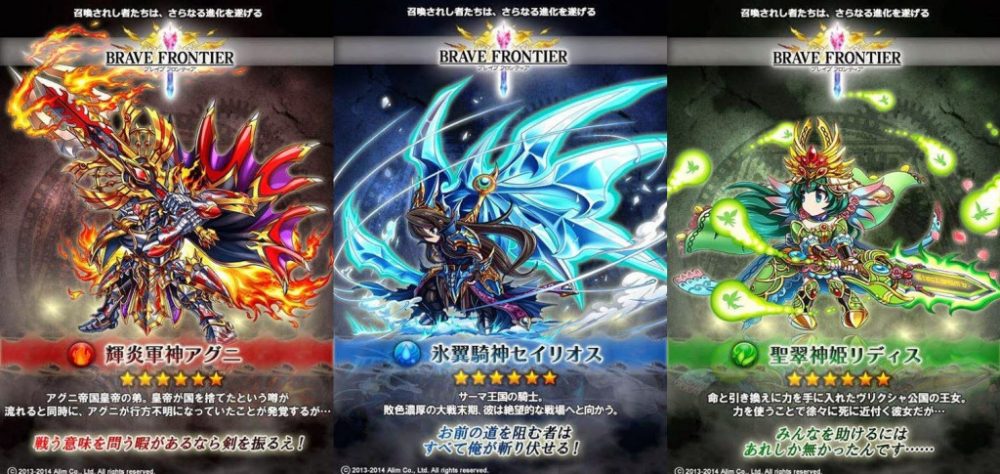 Brave Frontier is a game developed and published by A-Lim, a Japanese game development company. The game allows players to collect and control monsters that engage in combat with each other and are able to level up or evolve depending on the situation. Players need to complete every single stage in any given area in order to progress towards the next one. Each battle consists of 5 monsters and one 'friend' unit that help out during the course of battle. You can add friends in game through the friend request option and you can add recent players you battled with to your friendliest. The game was released to medium reviews and has received some flak from the community due to its dependence on micro-transactions.
14. Dragonsoul (2011)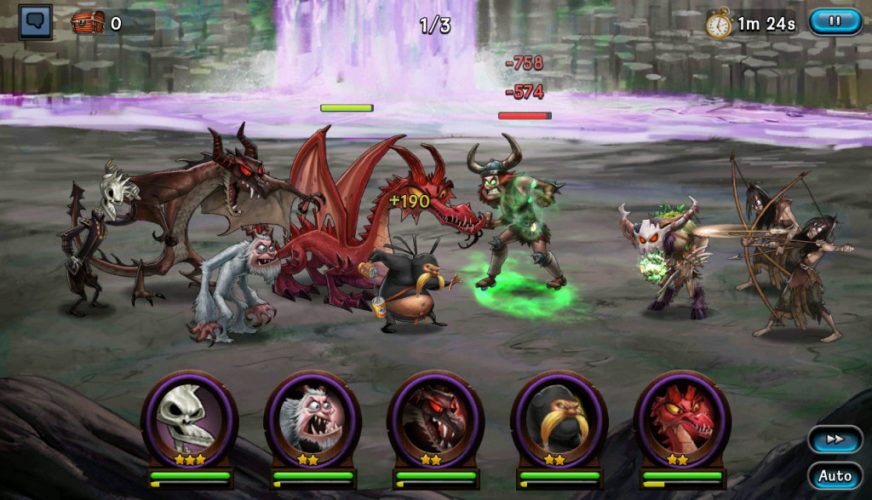 Dragonsoul is a rope playing game developed by Fantasy Legend Studios for mobile devices set in a fantasy world inhabited by dragons and magical monsters. Your friends have been stolen by a legendary dragon and it is up to you to rescue them by slaying the beast but the job is easier said than done. You must recruit and train heroes for the job and they will help you fight the monsters that dwell in this land while collecting loot. The game also has an extensive multiplayer mode that allows player vs player battles so you'd never run out of fights. Guilds are also present and are your central hub for communicating with your team members or discussing issues within the game or quest. Dragonsoul is a fun little RPG that you can try out if you liked Summoner's War but do not invest too much into the game as we have confirmation that the official servers will be shut down later this year.
13. Duelyst (2016)
Duelyst is a mash up of a DCCG (digital collectible card game) and a table top board game that draws influences from games like Summoner's War and Hearthstone. The game allows players to duel against each other by placing monsters on the battlefield and then powering them up or moving them by playing cards from their hands. The deck of cards allows the player to play spells and additional minions with the aim of defeating the opponent's general. Duelyst is one game we highly recommend to fans of digital CCGs and we urge players of Summoner's War to at least give this game a try. The game takes everything that's good about digital CCGs and slaps on a whole new game on top of it.
12. Blustone 2 (2018)
If you like casual clickers in the style of visual RPGs, then Blustone 2 is the game for you. The game is a massive update on the original one and provides the player with excellent anime styled graphics and voice acting. The game has been developed and published by VisualShower for android and iOS devices and has been praised for its simple gameplay mechanics. Idle clickers rarely get so addictive and hence Blustone 2 finds its way on to this list.
11. The Ouroboros Project (2018)
The Ouroboros Project is a game that we have been keeping our eyes on for quite some time now. Developed by Madhouse Limited, the game has some of the best anime-styled graphics that is sure to lure you in at first glance. The game is set in a world that is threatened by zombies and the council of humans has created AI robots that resemble mythic heroes in order to curb the mess. These robots are known as harbingers and the people controlling them are known as connectors. You take up the role of a talented connector and you must lead these mechs to the areas that are most affected.
10. Star Summoners (2018)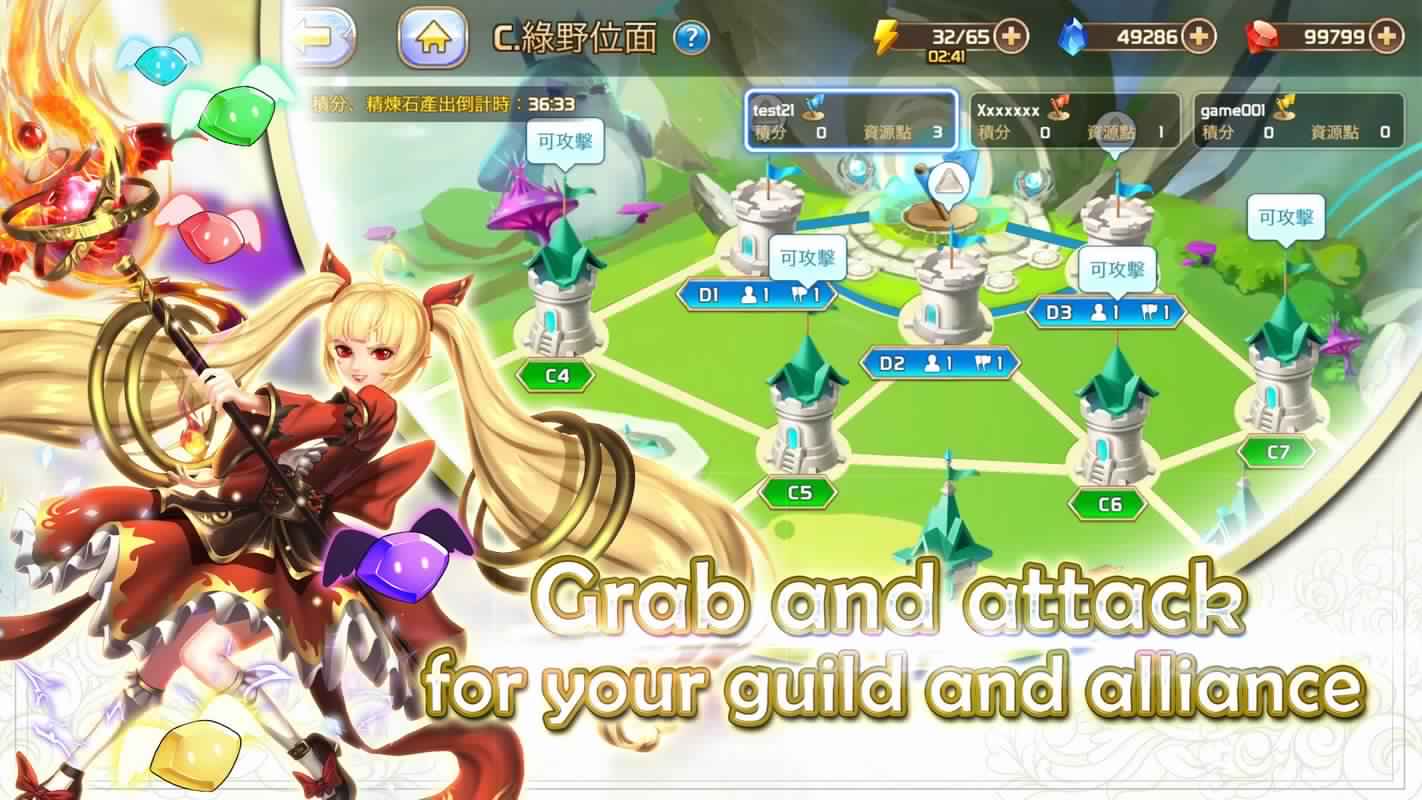 Star Summoners is a game that borrows most of its gameplay mechanics from Summoner's War. Developed by LongMing HK, the game has managed to draw in a lot of fans from the Summoner's War game due to the striking similarities and the perks provided to the new player upon opening a new account. The game requires you to collect and develop heroes and then power them up through the use of gems. It is mostly multiplayer but does contain a few single player modes as well. The game is free to play on both iOS and android, so feel free to check it out if you are looking for something similar to SW.
9. Knights Chronicle (2018)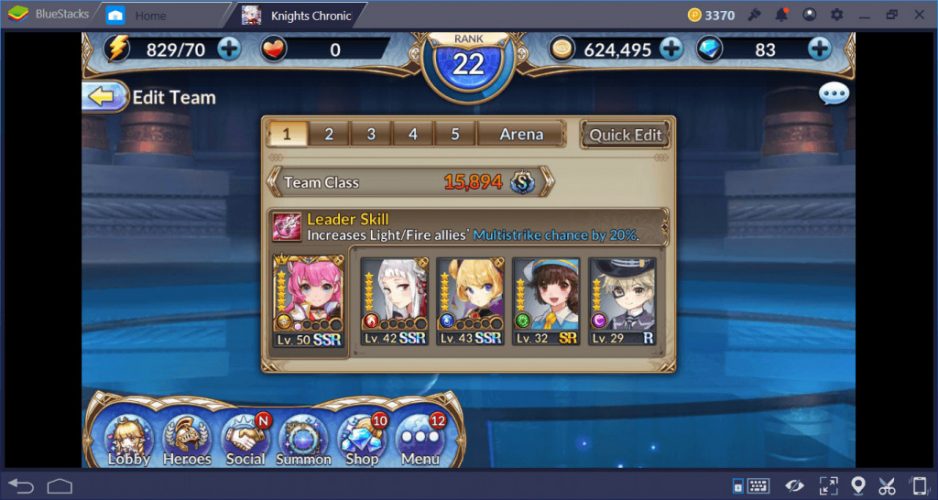 Kinghts Chronicle is another game that plays similar to Summoner's War. Developed by Netmarble, the game provides players with collectible heroes and outfits. The player needs to gather heroes which they can then deploy during battle against other players. Players of SW will find themselves right at home with this one. However, we don't recommend investing heavily in such clones due to the unreliability and longevity of the titles. The game does provide some good visual upgrades for the heroes, something that the games in this list is lacking.
8. Soul Ark: Brave and Fate (2018)
Soul Ark: Brave and Fate calls itself a collectible role playing game that allows its players to collect heroes in an alternate universe and use them in war against other players. The story has been written by Lee Myoung-Jin, the same name behind the novel 'Ragnarok', so you can expect a fair bit of storyline in this one. Community aspects of the game have been highlighted by the developers and they have stated that communication between the various players is necessary for completing various in-game events. The game has been developed by Bluestone Soft and was released in the year 2018 in the US. The game was released in South East Asia a few months earlier; however, the game at that point felt unpolished.
7. Marvel Strike Force (2018)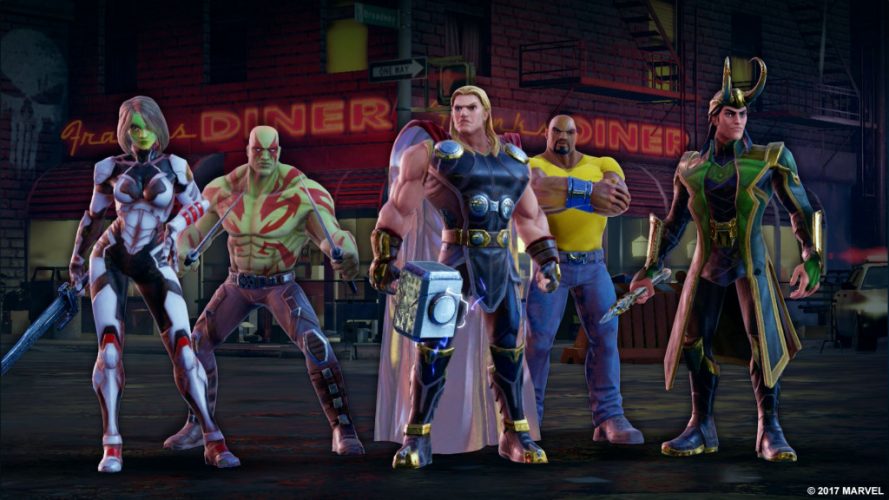 Marvel Strike Force allows players to collect well-known characters from the Marvel Universe and then compete with other players online. You are given a basic set of characters from the start and you can collect additional ones with shards, the in game currency. These shards can be won from battles and are also used to upgrade and promote your characters. Battles take place in a turn based format where each player brings a team of 5 characters each and the character with the fastest speed gets to attack first. The players need to put in a considerable amount of time in picking their team as certain characters when put in a team together gives a boost to the team. The game was developed and published by FoxNext for mobile gaming devices in the year 2018.
6. King's Raid (2017)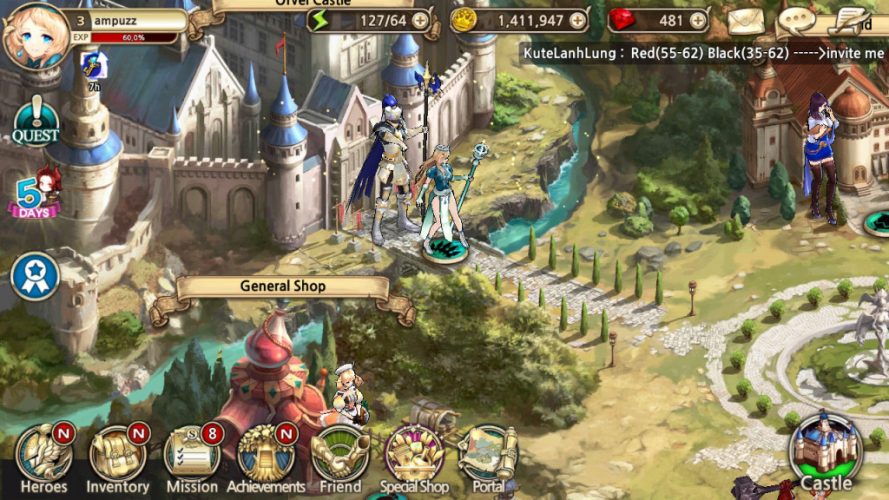 King's Raid takes a fresh spin on the 'collectible heroes' genre of games, where you need to collect heroes while on a side scrolling adventure. The game was developed by Vespa and published by GloHow, the former publishing front for the company and was quite well received by both gamers and critiques. King's Raid is a game that allows players to collect other heroes and characters but surprisingly does not contain the gacha mechanic, a feature that is common among games in this genre. There are several collectible heroes in the game each belonging to a class (7 in total) and having grades that can be improved. The game was released in 2017 for the android and the iOS devices.
5. Final Fantasy: Brave Exvius (2018)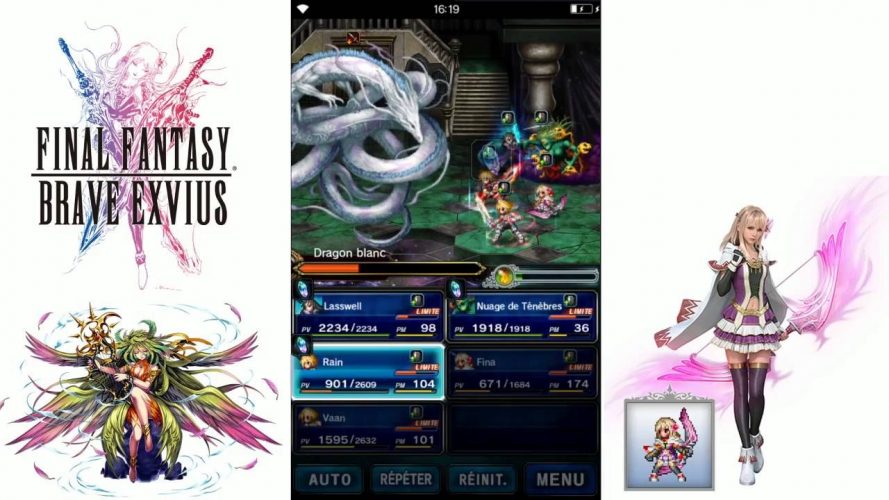 Final Fantasy: Brave Exvius is a spinoff title of the Final Fantasy series developed by Alim and published by Square Enix for the iOS, Android and Amazon Fire devices. The game was released in the year 2016 and was a major profit counter for Square for that year and according to some estimates the app managed to earn about 13 million dollars in April of 2018 alone. Any release related to the Final Fantasy series is bound to be a good title and Brave Exvius is not different. You are able to collect various characters from the epic gaming series and then make a team in order to fight and progress through the various stages in game. The player needs to defeat a boss character at the end of every level, which then provides the player with valuable loot. In addition, the game also contains exploration stages where the player needs to explore towns and cities in classic RPG format, controlling their characters through touch based commands. If you are a fan of the Final Fantasy series, we highly recommend you check out this game.
4. Lionheart: Dark Moon RPG (2017)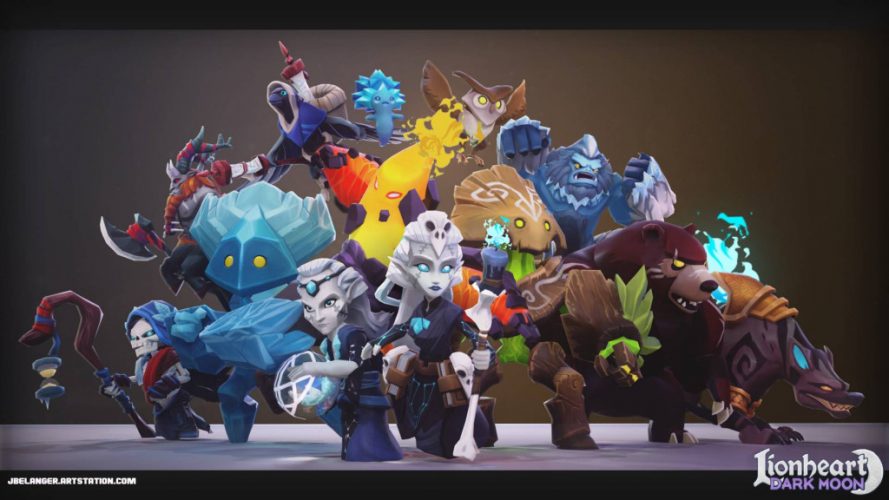 Lionheart: Dark Moon RPG is a role-playing game developed by Cheetah and published for Android and iOS devices. The game allows players to collect over 150 different heroes and then fight battles in order to traverse dungeons. The game has an arena mode as well where you can draft your own heroes and then fight against other players online. You can also join a guild that will allow you to choose a titan God and then power up that titan together with your guildies. The game also allows players to assign pets to their heroes, a cute little additional mechanic. Lionheart: Dark Moon RPG is a game that you might want to check out if you like playing games similar to Summoner's War.
3. Onmyoji (2018)
Onmyoji is an award-winning RPG game developed and published by Netease Games in the year 2018 for the android, iOS and Windows systems. The game contains some of the best visual arts and voice acting for the characters, making the game one of the most beautiful experiences on mobile gaming devices. The player is able to collect anime-styled heroes and then use them in fights in a pretty accurate depiction of Kyoto in the Heian period. Various legendary characters from Japanese folklore find their way into this game and we had a great time collecting each one of them. Also, the characters have additional abilities that allow for more diversified games. The game allows the players to take the place of Abe no Seimei, a former onmyoji. We highly recommend this game to anyone looking for an immersive experience on mobile devices.
Read More: Games Like Warframe
2. Star Wars: Galaxy of Heroes (2015)
Star Wars: Galaxy of Heroes lets fans of the Star Wars legacy to collect characters from the Star Wars universe and if you think that this sentence consists too much of Star Wars in it; then yes, we cannot get enough of 'Star Wars'. Galaxy of Heroes lets you collect and build a collection out of your favorite Star Wars characters and then using them to fight against other players. The game contains several game modes where you can participate in PvP battles and win shards which allow you to unlock additional characters. Developed and published by EA, the game has been a massive hit among fans of the universe.
Read More: Games Like Far Cry
1. Seven Knights (2015)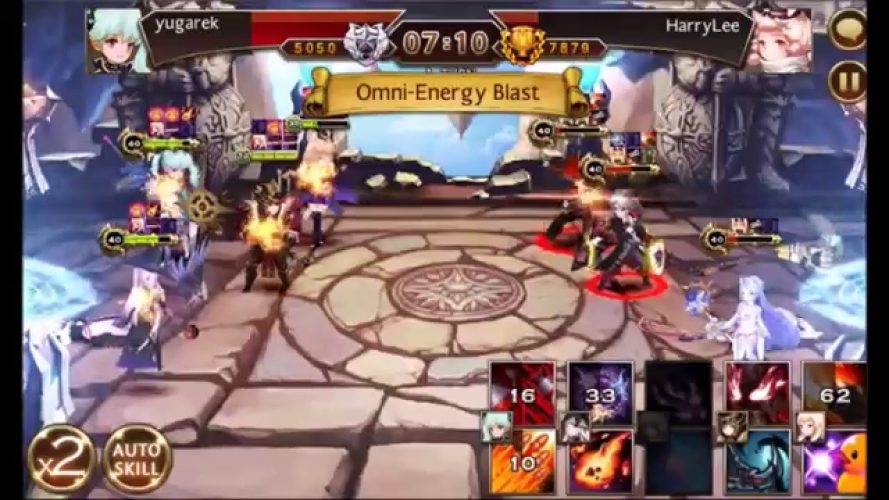 Seven Knights takes place in Asgar, a land ravaged by the god of war himself, and is in dire need of heroes to defend itself. The game is an epic RPG developed by Netmarble and has been massively popular among fans of the 'collectible heroes' genre of gaming. It has also generated a lot of positive reviews from critics due to its accessibility to new players. It is possible for one to grind and receive the best heroes present in the game since its very reward friendly. It doesn't matter whether you are a new player or a retuning one, this game will be up to speed within no time.
Read More: Games Like No Man's Sky