Created by Francesca Delbanco and Nicholas Stoller, the Apple TV+ series 'Platonic' revolves around Will (Seth Rogen) and Sylvia, two longtime friends who became estranged after Will got married. When Sylvia hears that Will is divorced now, she reaches out, and they rekindle their friendship, much to the surprise of the people around them. Portrayed by Emily Kimball, Peyton is a recurring character in 'Platonic.'
We are introduced to her early in episode 4 when Will accompanies her to her apartment. As they become intimate, they are interrupted by the sudden appearance of Peyton's roommate. Will leaves and begins spiraling downward after learning that his former wife and her current boyfriend are moving in together. By the end of the episode, Will calls Peyton, and they begin dating. If the events of episode 6 have made you wonder whether Emily Kimball is leaving 'Platonic,' we got you covered. SPOILERS AHEAD.
What Happened to Peyton?
In episode 6, when Will visits Peyton's apartment, the latter refuses to let him in, claiming that she has heard from her friend Omar (Vinny Thomas), who is also an employee at the brewery Will co-owns, that Will is reluctant to speak about her to his friends. On his way back, Will once again vents his anger at the e-scooters. He later calls Sylvia, begging her to come immediately and meet Peyton.
Although Sylvia initially declines as she has her own issues to resolve, especially with her going back to work and leaving her children in the care of her mother-in-law (whose babysitting will likely involve feeding the children too much sugar), she eventually agrees to come. Sylvia doesn't say anything explicitly but is clearly surprised by how young Peyton is. As they begin speaking, Peyton reveals that she is from Columbine, Colorado, and expresses disbelief when Sylvia says she has heard of the place.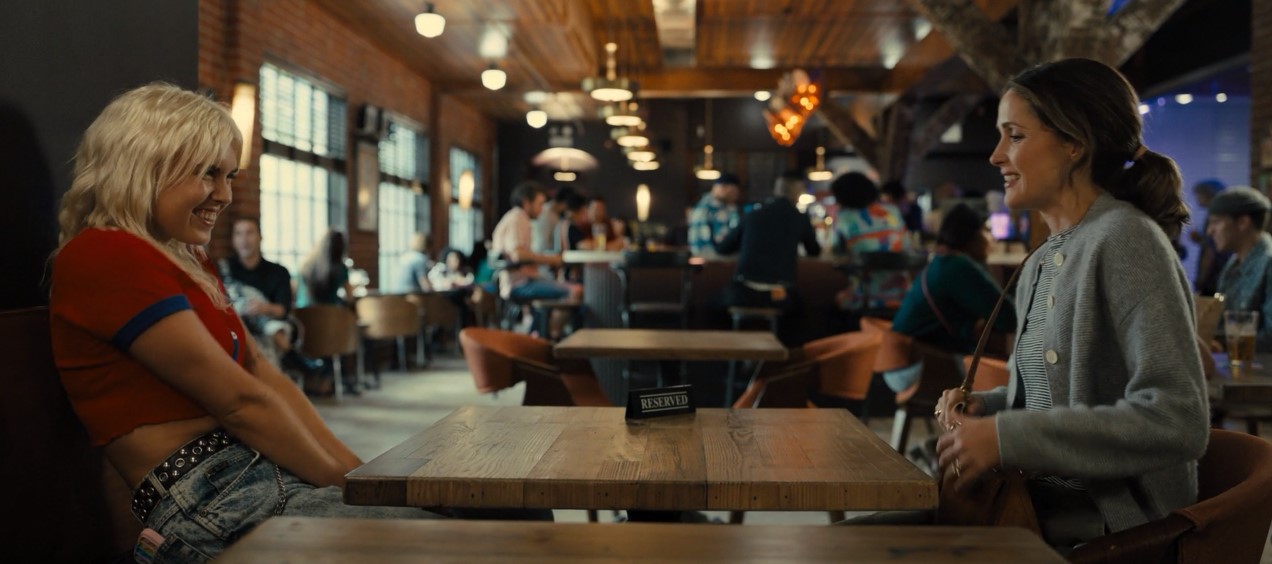 Sylvia ends up hiring Peyton as her babysitter to point out to Will how ridiculous his relationship with the girl is. On her first day at work, Peyton tries to speak candidly to Sylvia about Will. Although Sylvia says that Will might not be entirely ready for a relationship after his messy divorce, Peyton interprets this as a confirmation that Will is still in love with his former wife, Audrey. This causes a massive argument between Will and Sylvia, and the former gets hurt after running into a glass door.
Will also decides to host Peyton's 26th birthday party at Lucky Penny, much to the despair of his co-owners, who realize that they have to keep the brewery closed on a Saturday evening for this. During the party, just after Sylvia shows up, Will has an epiphany while watching Peyton and her friends dance to "Starships" by Nicki Minaj, a song from their middle school. He realizes that he has become a cliché and that he and Peyton are indeed unfit for each other. He decides to break up immediately and begs Sylvia to pretend they are having an affair, but she declines. Eventually, Will ends things between him and Peyton at the latter's apartment, and she shows how mature she is by reacting with a balanced response, despite the fact that he did this on her birthday.
Is Emily Kimball Leaving Platonic?
Peyton's anchor to the main narrative of the show is Will. With the dissolution of that relationship, we can presume that she has effectively been written out of the story, and Kimball has left the show. Despite her limited appearance, she holds her own against the likes of Rogen and Byrne, demonstrating immense potential. Perhaps, Peyton can still be part of the narrative if Sylvia decides to keep her as her babysitter.
Kimball debuted on screen in 2015 in an episode of 'Significant Mother.' Since then, she has appeared in films like 'Underserved,' 'Girlfriends of Christmas Past,' and 'Bad Samaritan' and shows like 'Shameless,' 'Wu-Tang: An American Saga,' and 'Daisy Jones & the Six.'