Apple TV+'s 'Ted Lasso' is a sports comedy series that follows the titular American football coach into the ruthless and competitive world of soccer or English football. In the series, several characters are forced to confront the harsh realities of their world and make sacrifices for the sake of success. One poignant storyline developing in the show's third season explores the lack of LGBTQ+ representation in football. The sixth episode makes some major revelations about the fan-favorite reporter turned sports writer Trent Crimm as he deals with a delicate situation while traveling with the AFC Richmond team to Amsterdam. If you are wondering whether Trent Crimm is gay in 'Ted Lasso,' here is everything you need to know! SPOILERS AHEAD!
Is James Lance's Trent Crimm Gay?
Trent Crimm is introduced in the first season of 'Ted Lasso,' and he is one of the most popular characters on the show. In the first season, Trent is a reporter for The Independent who is among the first people to believe in Ted Lasso's core philosophy. However, in the second season finale, Trent is fired after he reveals his anonymous source who told him about Ted's panic attack during an important match. In the third season, Trent becomes a part of the AFC Richmond dressing room as he writes a book on the team's new season in which they return to the Premier League.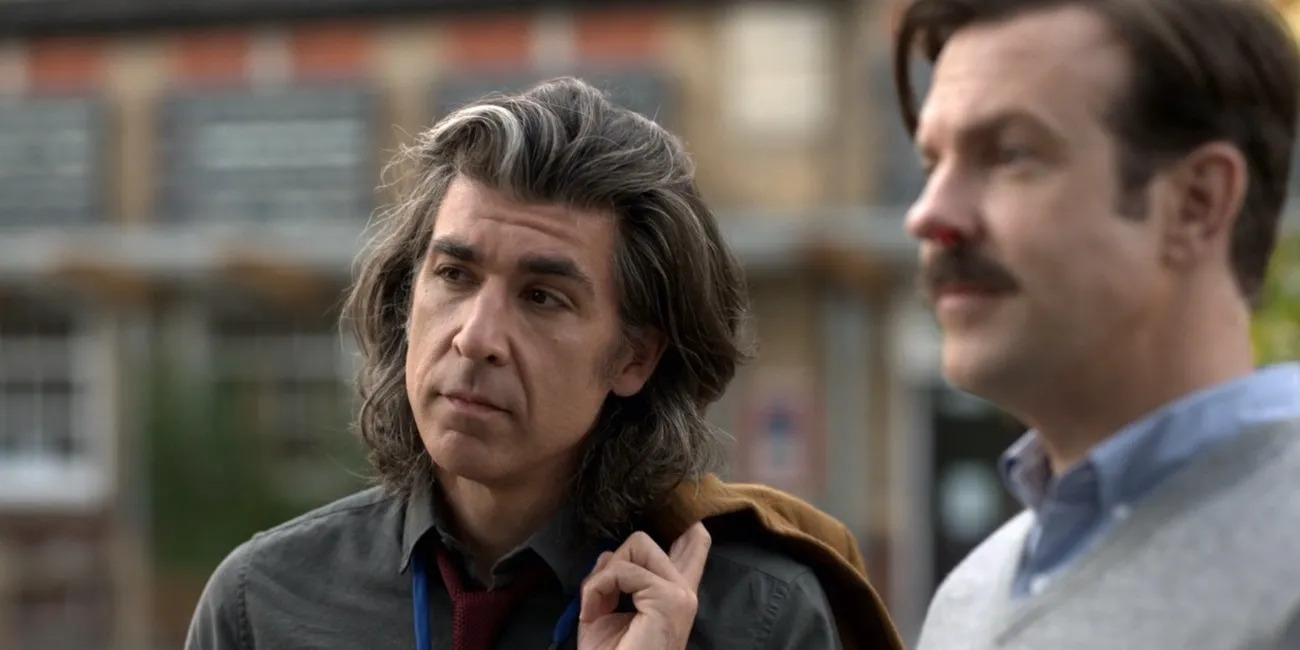 The third episode of season 3 sees Trent discovering that Colin Hughes, a talented young left-winger from Richmond, is gay. However, Trent keeps Colin's sexuality a secret from the others. However, in the sixth episode, titled 'Sunflowers,' Colin sneaks away from his teammates to visit a gay pub in Amsterdam, Netherlands. Trent follows Colin to the bar and confronts him about hiding his sexuality. Although Colin tries to dismiss Trent's insinuation about him being closeted, Trent comforts Colin. Later, Colin and Trent have a heart-to-heart conversation in which Trent narrates his coming out experience to Colin.
The episode sees Trent making a major revelation for the viewers as he explains to Colin that he was unhappily married for several years until he decided to come out as gay. Trent kept his sexuality a secret for years, even from his wife and daughter. However, he eventually decided to embrace it and appears to be openly gay. In the series, actor James Lance essays the role of Trent Crimm. Lance is not gay in real life, and he is married to television presenter Kate Quilton. ​The actor's performance as Trent in 'Ted Lasso' has received critical acclaim, and many fans speculated that Trent was gay years before the revelation.
Moreover, Lance refused to outright confirm or deny Trent's sexuality in an interview shortly before the third season premiered. Similarly, fans speculated about the possibility of Colin being gay based on several facets of his personality highlighted in earlier seasons. Hence, it seems like the show's makers had already planned the connect Colin and Trent's stories through their complex feelings about their sexuality. Trent talking about his coming-out experience encourages Colin to share his feelings about having to hide his sexuality. In the process, the episode delivers an empowering moment for both characters.
Read More: Who Is Rebecca's New Love Intrest in Ted Lasso, Explained