Apple TV+'s 'Ted Lasso' is a sports comedy that likes to dive under the surface-level qualities of its characters to deliver some heartwarming dramatic moments. In the series, the romantic life of AFC Richmond owner Rebecca Welton has been extremely tumultuous as the timing of her romance with any potential partners never seems right. However, in the third season, a chance encounter in an unexplored city leads to the introduction of a new and mysterious romantic interest for Rebecca. Naturally, viewers must be wondering if the mystery man is Rebecca's long-awaited and widely predicted soulmate. Let's find out whether Rebecca will end up with her new love interest in 'Ted Lasso' season 3! SPOILERS AHEAD!
Who Is Rebecca's New Love Interest?
Rebecca's dating life is a recurring subplot during the show's second season. The series starts with Rebecca separating from her ex-husband, Rupert Mannion after he cheated on her multiple times. After recovering from her divorce, Rebecca dips into the dating pool in the second season. She briefly dates John Wingsnight. However, Rebecca soon grows weary of John constantly discussing his celebrity encounters, leading to their break up. Rebecca's second major love interest in the show is the talented and upcoming AFC Richmond right winger Sam Obisanya. However, their relationship faces hurdles due to their age gap and Rebecca being Sam's boss.
Sam and Rebecca eventually break up towards the end of season 2. In the third season, a new love interest is introduced for Rebecca in the sixth episode, titled 'Sunflowers.' In the episode, Rebecca is in Amsterdam, Netherlands, for a friendly match between AFC Richmond and Ajax. After the game, Rebecca takes a stroll in the city only to fall into a canal as she is distracted by a gentleman on a boat. The charming Dutchman helps Rebecca get out of the water. He is extremely hospitable and invites Rebecca to stay for dinner.
Rebecca and the Dutchman share stories and food, and romantic sparks fly between the two. Before Rebecca leaves, she kisses the Dutchman but does not ask his name. The evidence in the Dutchman's boathouse implies that he was formerly a pilot and he has a daughter. The Dutchman also reveals that, like Rebecca, he is also divorced. In the series, Dutch actor Matteo van der Grijn ('Tribes of Europa') plays the role of Rebecca's love interest, but his character remains unnamed as of the sixth episode.
Will Rebecca and the Dutchman End Up Together?
Rebecca's romantic life is under the spotlight in 'Ted Lasso' season 3, especially since she receives some pretty concrete predictions about her future from a psychic. In the third episode, Rebecca visits Tish, a psychic who makes some predictions about Rebecca's romantic life and concludes that she will become a mother and have a family. So far, two of Tish's predictions have come true and seemingly reference Rebecca's past relationships. The "green matchbook" statement is about Sam, while the "shite in nining armor" references John. However, a third prediction says Rebecca will find herself drenched and upside down after lightning and thunder.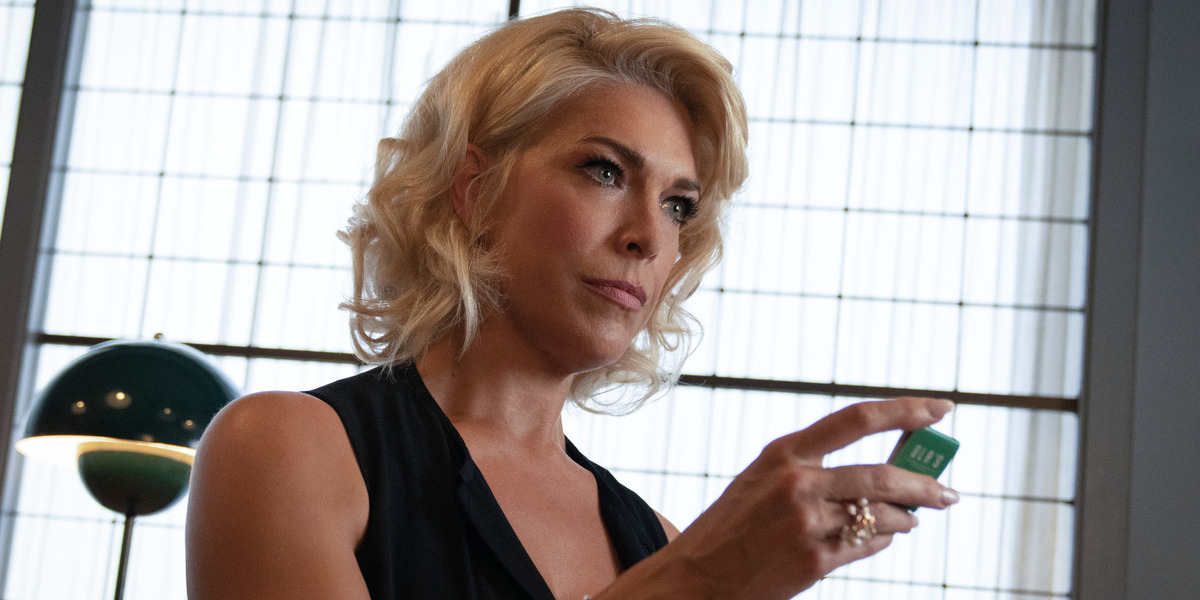 The third prediction seemingly references the Dutchman as Rebecca is drenched when she meets him and wakes up upside down in his boathouse. Hence, Tish's third prediction has come true. Moreover, Rebecca becoming a mother remains unaddressed, as the fifth episode confirms that Rebecca cannot biologically birth a child. However, it is implied that the Dutchman has a daughter. Therefore, Rebecca would become a stepmother if she and the Dutchman ended up together. So far, all of Tish's predictions seem to be a red herring, as the men they reference are the ones with whom things have not worked out for Rebecca. Moreover, the thunder and lightning part also remains unclear, leading us to believe that the Dutchman is another stop on Rebecca's journey to finding her true soulmate. All things considered, only time will tell if Rebecca and the Dutchman will end up together.
Read More: What is Total Football? Ted's New Tactic Explained