Directed by Vasan Bala, Netflix's 'Monica, O My Darling' (also titled 'Monica O My Darling') is an Indian crime comedy movie that revolves around Jayant Arkhedkar, a clever young robotics expert. He indulges in a passionate affair with a beautiful lady named Monica Machado, but when she sways away from the passion and resorts to blackmailing him, he attempts to make some allies. With their help, Jayant comes up with an elaborate plan to pull off Monica's perfect murder.
The comedy thriller movie features impressive performances from some of the biggest names in Bollywood, including Rajkummar Rao, Huma Qureshi, Radhika Apte, Sikandar Kher, and Akansha Ranjan Kapoor. Since the affair gone wrong between Monica and Jayant seems quite a realistic scenario, it is only natural for some of you to question if 'Monica, O My Darling' is based on actual events. Moreover, the use of some exciting locations throughout the movie makes you wonder where it was shot. Luckily, we have the answers to appease your curiosity about the same!
Is Monica, O My Darling a True Story?
No, 'Monica, O My Darling' is not based on a true story. However, it is adapted from the 1989 Japanese novel 'Burutasu No Shinzou' by Keigo Higashino. As for the title of the movie, it is inspired by the famous track of the same name from the 1971 Hindi movie 'Caravan.' The intriguing narrative was aptly modified and written for the screen by Yogesh Chandekar. Previously, he has worked on 'Andhadhun' and 'Maestro,' both of which fall under the same genre.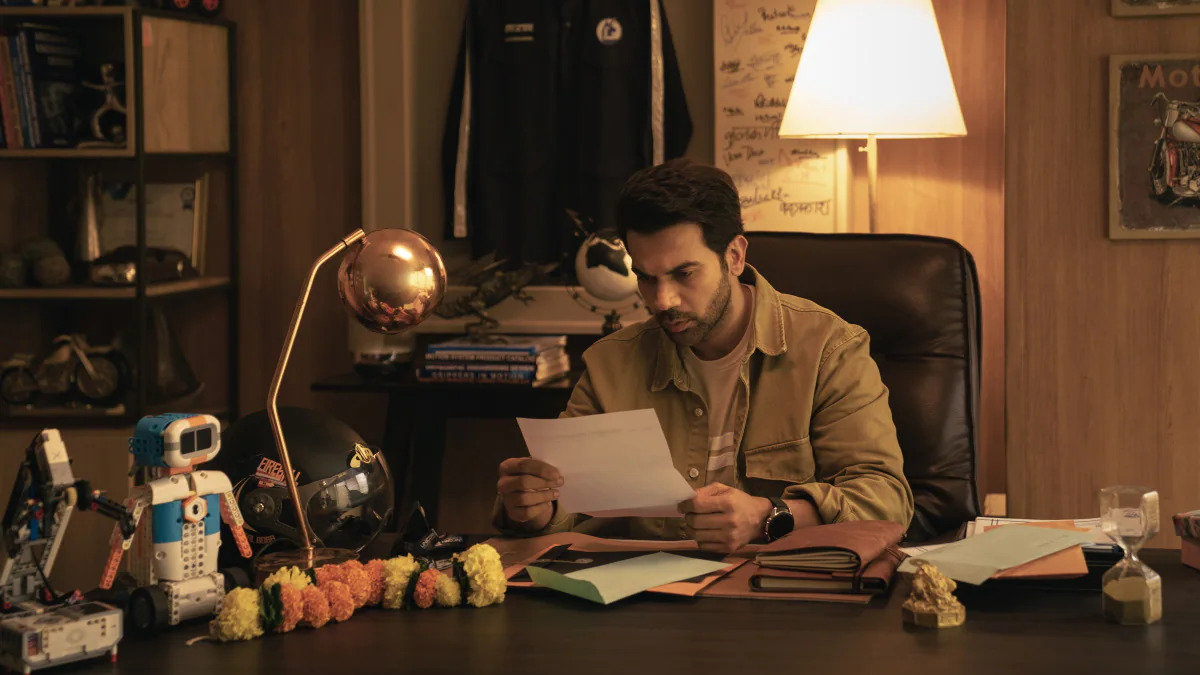 Given Chandekar's industry experience and unquestionable writing prowess, he crafted an entertaining screenplay for the Netflix movie. The movie explores several realistic themes and subjects, including a passionate affair, blackmail, and murder. Even wilder things have happened in real life, which is why some of you might wonder if it has anything to do with the truth. Another reason why the movie seems familiar is that these themes have been explored in various other films and TV shows.
One of the closest examples has to be that of the movie 'How to Murder Your Wife.' Even though 'Monica, O My Darling' is not about a married couple, the latter is similar in several other aspects, such as Alf Benning having the motive to kill his wife, Betty. While Jayant in 'Monica, O My Darling' is being blackmailed by Monica, Alf is threatened by his wife to get his beloved dog out of their house.
Moreover, the dark subject of murder and blackmail in both movies is lightened up by adding comedy into the mix. So, it would be safe to say that even though the Bollywood movie possesses some seemingly true-to-life elements, the fact that it is a work of fiction still holds.
Monica, O My Darling Filming Locations
'Monica, O My Darling' was filmed entirely in India, specifically in Maharashtra and Goa. As per reports, the principal photography for the Vasan Bala directorial commenced in July 2021 and seemingly wrapped up in late August of the same year. Let us take you through all the specific sites that appear in the Bollywood movie without further ado!
Maharashtra, India
Most of the pivotal sequences for 'Monica, O My Darling' were lensed in Maharashtra, India's second most populous state. The filming unit primarily set up camp at various sites across Mumbai to tape many scenes against suitable backdrops. The Esel Studio at Shahani Estate on VN Purav Road in Trombay, Saniya Film Studio in Chinchoti, Naigaon East, and Dadasaheb Phalke Chitranagari on Film City Road in Film City Complex, Goregaon, served as important production locations.
The former is a pioneer in outdoor locations, with around 35 sites within a 4.5-acre lot. On the other hand, Saniya Film Studio hosts the production of all kinds of Bollywood projects, as it meets almost every other production requirement. As for Dadasaheb Phalke Chitranagari, aka Film City, is home to 16 stages ranging from 5,500 to18,775 square feet, making it capable of handling several large film and TV projects.
Besides that, several other locations in and around Mumbai were utilized to shoot 'Monica, O My Darling.' They include one of the Vrindavan Bungalows in Juhu, Bonanza Industrial Estate in Kandivali East, R Hapi Brewing Co on Tarasingh Compound on Penkarpada Road West East Highway Dahisar Checknaka, MTNL Office in CETTM complex in Powai, WindFlower Banquets at Plot No. 59 in Vashi, Disha Studio in Kandivali, Powai Khadan, Villa Rashmi at 13 A & B on Manchubhai Road in Malad East, and Vashi Village.
Moreover, Parsik Hill in Belapur, Karam Kutir at 10, Swastik Plaza in Juhu (temporarily closed), the lobby of Fortune Select Exotica at 16, Palm Beach Road in Vashi, Lower Parel bridge, Nepean House on Nepeansea Road, Vandri Lake, and roads near B.P.T. and Cotton Green, were also utilized for lensing the Netflix movie. The cast and crew even traveled to Pune and Lonavala for shooting purposes; they recorded some key scenes on the Sable Farms in Pune and Bellagio Villa at Villa No. 143, Pristine Villas in Lonavala.
Goa, India
Additional portions for 'Monica, O My Darling' were taped in Goa, a state on the southwestern coast of India, just south of Maharashtra. The production team set up camp in various sites across the city, including Keri Toll Naka in Querim, Pirna Advalpale in North Goa, Karmali Railway Station, Madgaon Junction Railway Station, and the street behind Old Secretariat Building in Panjim.
Read More: Monica O My Darling Ending, Explained: Who Were the Killers?