Netflix's 'A Sunday Affair' is a Nigerian romantic comedy movie directed by Walter Taylaur. Starring Dakore Akande, Oris Erhuero, and Nse Ikpe-Etim, it follows a classic ménage à trois (threeway love affair) where two lifelong best friends, Uche and Toyin, unknowingly fall in love with the same man. The film creates a perfect atmosphere where the characters are tested for their loyalty and friendship. Sunday, the man in question, seems to be in love with both friends and must decide who his heart wants.
In a beautiful tale of love and friendship, the director has done an incredible job with character development and exploring real-life themes. The film tackles the theme of threeway romantic relationships and explores a hilarious yet feel-good take on the matter. So, if you wonder whether 'A Sunday Affair' takes inspiration from actual events or people, here's what you need to know!
Is A Sunday Affair a True Story?
No, 'A Sunday Affair' is not based on a true story. The romantic and wholesome narrative was penned by Mo Abudu, Darrel Bristow-Bovey, Biodun Stephen, Pearl Osibu, Heidi Uys, and Nnegest Likké. It is the original brainchild of Abudu, known for writing enthralling screenplays for rom-com movies and credited with launching EbonyLife TV. The narrative revolves around two best friends in love with the same man, who also seems to be in love with both women and has difficulty deciding whom to choose. While his deep emotional connections are growing steadily with each woman, he faces a grave dilemma where he must make a choice.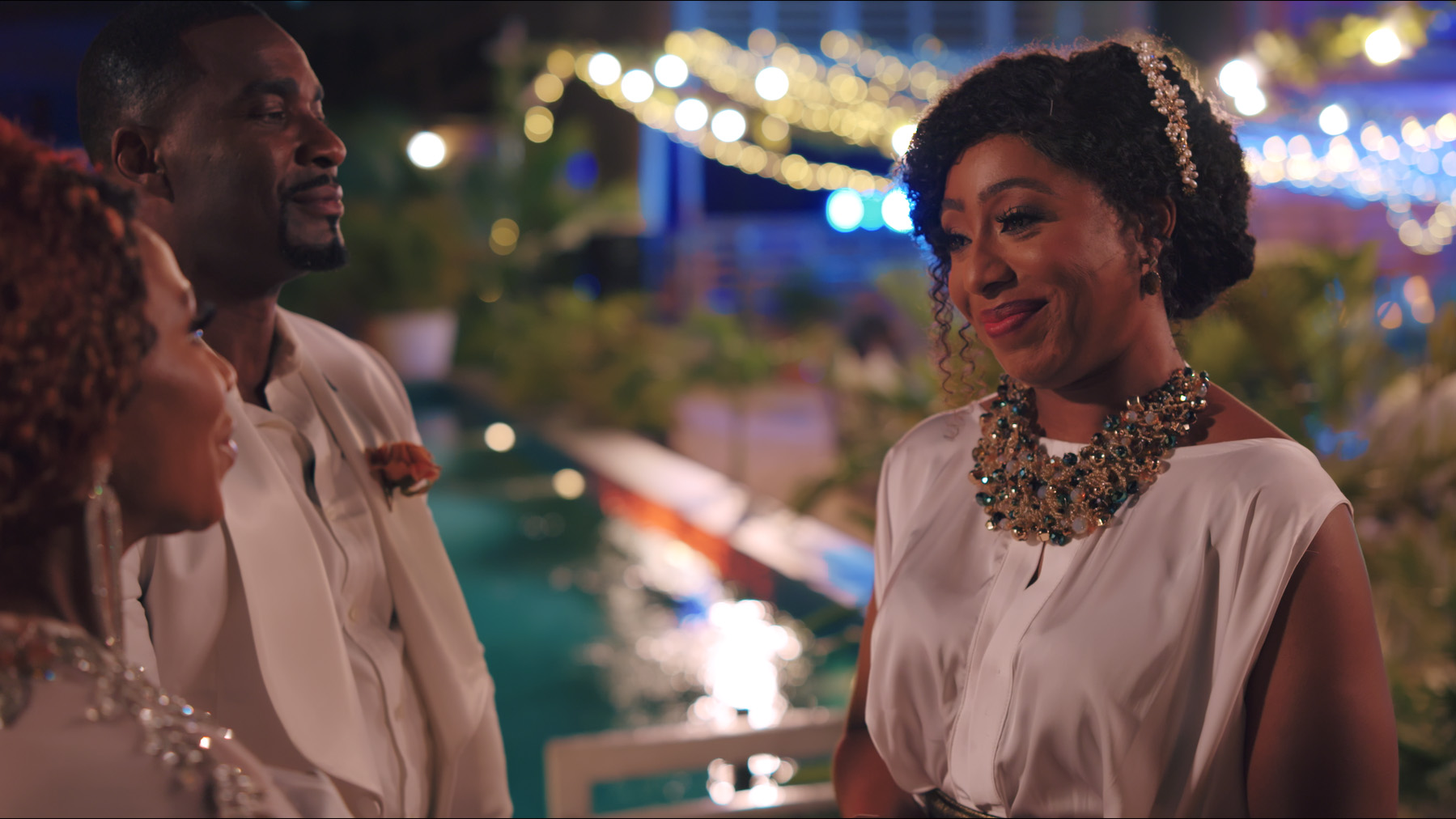 The theme of love is beautifully crafted in the film without overtly sexualizing the concept and "keeping it clean." The director has done a commendable job of showing the emotional whirlwind of the characters amidst a problematic situation where love and friendship are examined through the test of time. Most of us who have been in a committed relationship knows how difficult conversations of love can be and how it is different from what we watch on-screen. Besides, it is often normal to have feelings for two people at the same time.
The entertainment industry has brushed on the topic time and time again, where one person has deep romantic feelings for two people simultaneously. We find similar themes in other films, including 'Lovers of Hate,' where two brothers are in love with the same woman, and she must choose between them. Another apt example is 'Three Hearts,' which follows the story of two sisters being in love with the same man, and the list continues.
However, the concept is considered immoral in society and sometimes considered adultery. Furthermore, love triangles are either portrayed comically or seen as a negative thing where all parties are denoted as unconventional negatively or simply "doing something bad." Though the Netflix movie has not attempted to exalt the idea of cheating in any way, the makers have beautifully portrayed the concept of "love is love." Given its realism, it is understandable why you may think the narrative is based on actual events. Nevertheless, the truth is that 'A Sunday Affair' is just a work of fiction rooted in social settings.
Read More: Where was Netflix's A Sunday Affair Filmed?