Directed by Erika Wasserman, 'The Year I Started Masturbating' is a Swedish comedy film centering around a mid-life crisis-induced journey of self-exploration. The film stars Katia Winter as the protagonist Hanna, who wants to have a second baby as she approaches her 40th birthday. However, after her boyfriend, Morten, dumps her, Hanna finds her life spiraling out of control when she's left without a job and apartment. Peddled forward by this trainwreck of a situation, Hanna reevaluates her life and finds newfound confidence after discovering the wonders of self-pleasure.
The film presents a classic introspective story that delves into the struggles of contemporary life as depicted by a woman in her late thirties. Due to the film's relatable primary themes of self-love and actualization, viewers might wonder about the authenticity of Hanna's character and story. Therefore, here is everything you need to know about the origin of 'The Year I Started Masturbating.'
Is The Year I Started Masturbating a True Story?
No, 'The Year I Started Masturbating' is not based on a true story. The film is a work of fiction fabricated by writers Christin Magdu, Erika Wasserman, and Bahar Pars. Wasserman was previously known in the Nordic cinematic community for her work as a producer on movies like 2016s 'Under Pyramiden' and 2018s 'Border.' As such, 'The Year I Started Masturbating' marks Wasserman's feature-film debut as a director. She first started developing this film alongside writer Magdu and later decided to make it a comedy with an actor's help.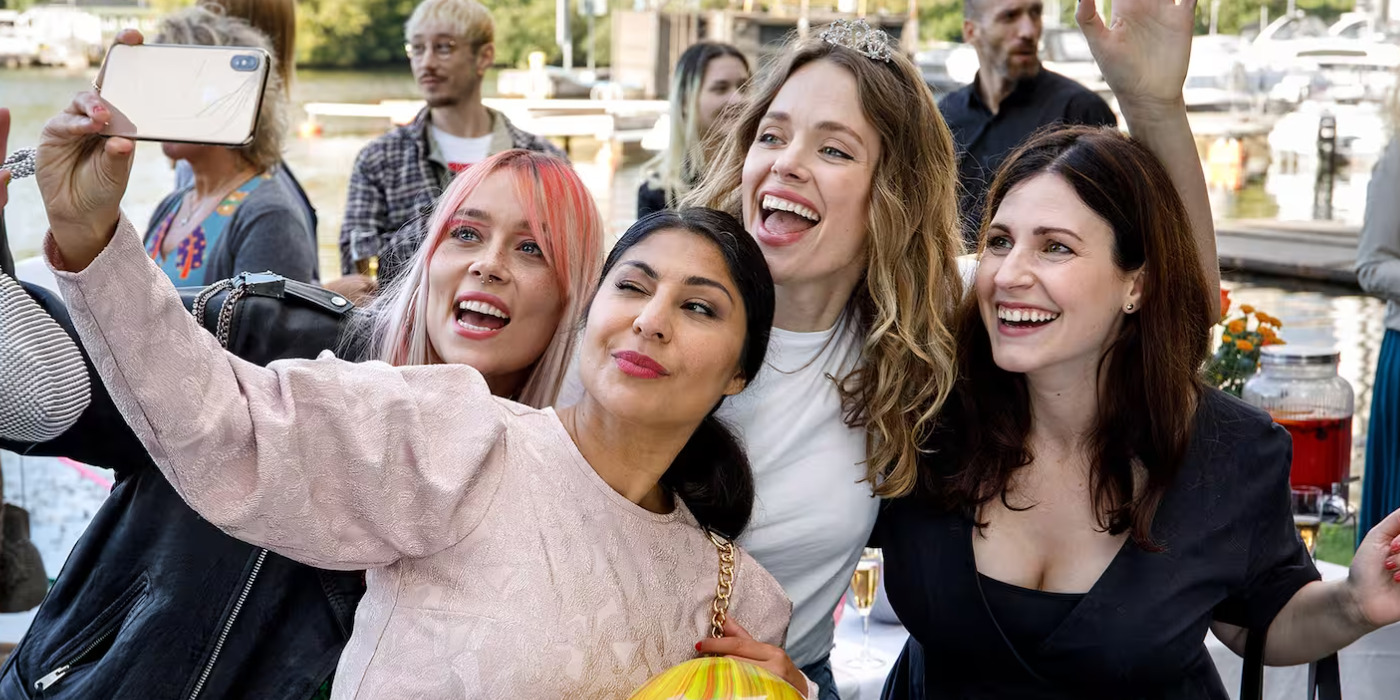 "The main character is one who people can relate to, the challenge of trying to be all of these roles as a woman all at once – there's a lot of humor in that," Wasserman said in an interview while discussing the film's social relevance. "When I was being brought up, it was in a time where the roles of men and women are changing, and we don't really have any role models for how to live in an equal relationship or marriage." She added. "We kind of think we do, and we try, but it's still all just different expectations."
As such, even though the story is not based on reality, it strives to reflect women's struggles and the gender-based double standards that exist within society in real life. Throughout the film, Hanna struggles to juggle her job and family life. Her partner, Morten, is sick of her high-demand profession and repeatedly advises her to quit her job for the sake of their relationship. Likewise, he also feels insecure that Hanna makes more money than him which factors into his eventual neglect and distaste for their relationship.
According to The Atlantic, 43% of professional working women leave their careers after having kids. Likewise, in another 2018 project commissioned by the Government, it was found that 17% of women leave employment entirely during the five years after having children. When compared to the stark contrast of the 4% of men who do the same, the gender gap in this phenomenon becomes obvious.
As such, many women may be able to relate their real-life experiences with Hanna's ill-fated decision to quit her promising job in an effort to save her relationship. Feminist commentary withstanding, the film also utilizes Hanna's career crisis to depict the real-life issue many workers find in today's workplace environment. Therefore audience, regardless of gender, can relate to Hanna's overworked position as an employee.
Additionally, the film's focus on masturbation strives to remove the stigma around the topic of female sexuality. The characters and the narrative encourage their female audience to find satisfaction within themselves and urge individuals to prioritize themselves. As such, even though the film is not based on a real-life event, it employs an intimate yet universal experience to pitch a story about self-fulfillment. In order to do so, it depicts a relatable fictional character and drops her into a chaotic situation reminiscent of reality.
Read More: Best Self-Discovery Movies of All Time