Directed by Roshan Sethi, 'World's Best' is a Disney+ musical family comedy film. The plot revolves around 12-year-old Prem Patel (Manny Magnus), a math genius preparing for the upcoming Mathlympics. Prem lives in New Jersey with his mother, Priya (Punam Patel). When he was young, his father, Suresh (Utkarsh Ambudkar), died of cancer. When Priya tells Prem his father used to be a legendary underground emcee that often performed at a club named Leopard Lounge in New York City, he sets out to follow in his father's footsteps to become a hip-hop artist.
'World's Best' is an unusual film. The competition and performance motifs make the audience believe that the narrative will head toward one way when, in reality, it ventures toward a completely different direction. Although 'World's best' has many of those coming-of-age tropes that make it a universal story, it is still ultimately a rare film about an Indian-American young boy's journey to self-discovery. If you are wondering whether 'World's Best' is inspired by actual events, we got you covered.
Is World's Best a True Story?
No, 'World's Best' is not based on a true story, but elements of reality are embedded into its narrative. Ambudkar, who shares writing credits for the film with Jamie King, heavily drew from the time when he was 12 while creating Prem. He is an accomplished stage and screen actor, having appeared in projects such as 'Pitch Perfect,' 'Free Guy,' and 'Tick, Tick… Boom!,' 'Ghosts,' 'The Me Nobody Knows,' and 'Freestyle Love Supreme.' He is also a rapper and singer who performs under the stage name UTK the INC.
In an interview with Laughing Place, Ambudkar explained that his younger self inspired him to write 'World's Best. "The point of my youth was breaking out of a box and jumping over boundaries and showing people that people who look like me could do different things," he explained. "But then, for today's generation, you have Manny [Magnus], who's been supported and encouraged by his mother since he was literally a toddler. And here he is now, this sort of supernova force, who's capable of so much more. So I think people are going to really connect to the music. And parents, kids, the family element has no gender, it has no culture, it has no race, or ethnicity. It's family. It's just love."
The tricky part was finding someone who could bring Ambudkar and his collaborators' vision of Prem to the screen. Ambudkar acknowledged that the film probably wouldn't have been made if they hadn't found Magnus. "It wouldn't have worked without Manny," he stated. " Finding him was such good fortune, because we have somebody who's an exceptional dancer, been dancing since he was four, singing since he was three, plays five different instruments, understands drama, the introversion of Prem, and also, when he picks up a microphone, you just see him blossom into this superstar/rockstar type of thing."
'World's Best' explores the experience of a 12-year-old Indian-American in the US. He knows almost nothing about his late father because his mother, who is still dealing with her grief, doesn't like to talk about her husband. When Prem hears that his father was this cool underground rapper, his imaginative mind manifests a version of Suresh that fits everything Prem has heard about him. Speaking to the same outlet, Magnus talked in detail about how he landed the role. "I just learned a lot from being the lead in a Disney movie," the young actor, who made his screen debut in a 2019 episode of 'Raising Dion,' said. "This is the biggest project I've done so far.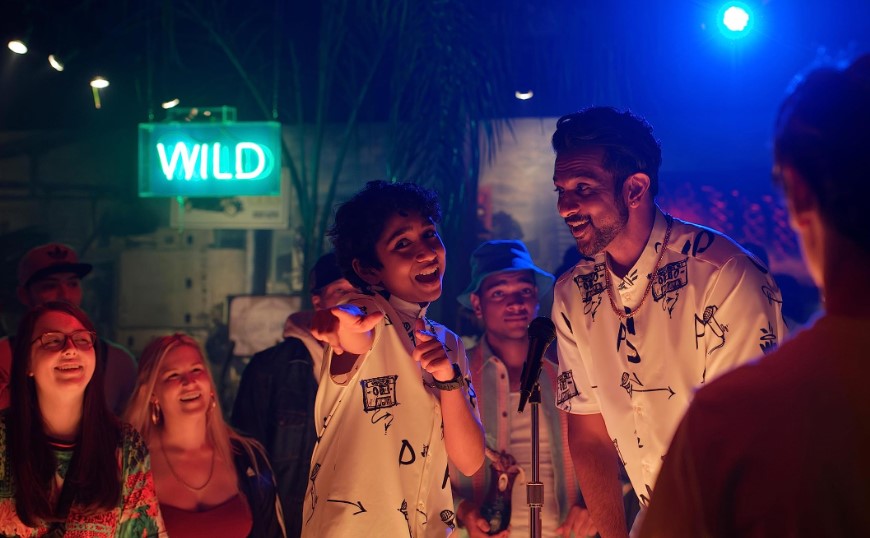 Magnus continued, "I read the script a bunch of times, as many times as I could with my mom. And I guess, both the introverted and extroverted sides of Prem are also kind of in me as well. I kind of just had to let them out at the right time." So, while Ambudkar used aspects of his youth to develop Prem as a character, the story depicted in 'World's Best' is fictional.
Read More: Where Was Disney+'s World's Best Filmed?