Adèle is a high school student who is beginning to explore herself as a woman. She dates men but finds no satisfaction. Then, she meets Emma and their relationship grows into more than just friends as she is the only person with whom she can express herself openly. Together, Adèle and Emma explore social acceptance, sexuality, and the emotional spectrum of their maturing relationship.
We have tried to come up with a list of some great films similar to Blue is the Warmest Color that are our recommendations. If you are interested, you might be able to stream some of these movies like Blue is the Warmest Color on Netflix or Amazon Prime or even Hulu.
14. Wetlands (2013)
Helen is an eccentric 18-year-old. In this film, she narrates the story of her life, including stories about her preferred sexual practices that involve vegetables, her attitude towards hygiene, drugs, her best friend Corinna and her challenging childhood. The story begins when she is in a hospital, where suddenly falls in love with the male nurse Robin. "Wetlands" is a film proud of being gross, and not for the faint of heart. However, it does that in such a fresh and original manner that also masquerades as an attempt at sensory overload. Starring Carla Juri, Marlen Kruse, Meret Becker, and Axel Milberg, "Wetlands" is directed by David Wnendt.
Read More: Movies Like Hunger Games
13. Mosquita y Mari (2012)
After being assigned as study partners, two Chicana high schoolers find a bond that confuses them at times. This is the plot of "Mosquita y Mari", a movie written and directed by Aurora Guerrero. Besides, perfectly depicting the confusion and desire of two teenage girls, it also tackles political themes like immigration. Therefore, it expands people's views living stereotypical thoughts behind. With the amazing use of music and good acting, "Mosquita y Mari" is an amazing portrayal of young love.
Read More: Movies Like Divergent
12. Below Her Mouth (2016)
"Below Her Mouth" is a bold drama that begins with a passionate weekend affair between two women. Dallas and Jasmine immediately share a powerful connection that ends up changing their lives forever. The chemistry between the two main actresses, Erika Linder and Natalie Krill, is incredible which enriches the story greatly. Both actresses are beautiful and versatile, portraying women fighting their feelings and desires. This Canadian independent movie is shot beautifully, its cinematography will certainly surprise you.
Read More: Movies Like Flipped
11. My Summer of Love (2004)
"My Summer of Love" tells a tale of obsession and deception, and the struggle for love and faith in a world where both seem impossible. In the Yorkshire countryside, tomboy Mona meets the exotic Tamsin. Over the course of the summer, both young women discover they have much to explore together. Firstly, the two main characters are really well developed and have a good character development. Additionally, the actresses that bring them to life do a terrific job. Although it has some flaws, this film is very sincere and has high artistic achievements.
Read More: Movies Like Harry Potter Films
10. Boys Don't Cry (1999)
Brandon Teena is the popular new guy in a tiny Nebraska town. Life is good for Brandon; however, he's forgotten to mention one important detail. He was actually born a woman named Teena Brandon. When his best friends make this discovery, his life falls apart. Based on true events, this emotional movie has an incredible performance by Hilary Swank that even granted her an Academy Award for "Best Actress". Despite the difficult subject, Kimberly Pierce manages to make a simple and honest movie. It not only tells a story about courage and lesbianism but also about obsession, pride, and prejudice. A must watch for all cinema lovers.
Read More: Movies Like Confessions of a Shopaholic
9. Laurence Anyways (2012)
In this movie, we follow ten years in the life of a literature teacher named Laurence who transforms himself into a woman. This makes her relationship with her family and significant other, Frédérique, even more, complicated and tremulous. Though others may not initially accept Laurence in her true form, those who knew her before still know her as Laurence, anyways. Xavier Dolan wrote an emotional drama where every scene is a work of art. The combination of brilliant acting, powerful music and mesmerizing cinematography make it completely breathtaking. "Laurence Anyways" is capable to create such empathy and to approach such familiar feelings, that is impossible not to love it. Besides that, it features fascinating performances, especially by Melvin Poupaud.
Read More: Movies Like The Lord of the Rings
8. With Every Heartbeat (2011)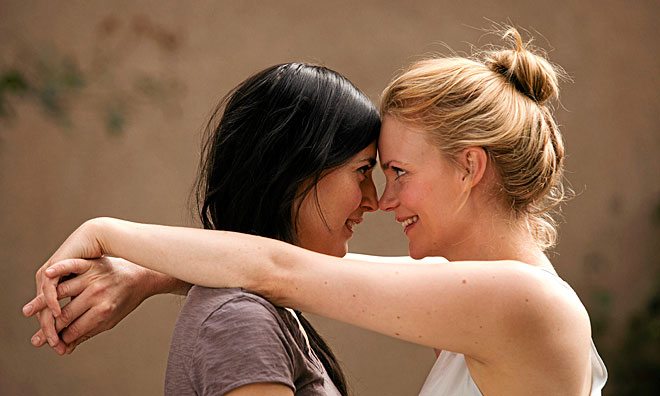 Mia (Ruth Vega Fernandez) and Frida (Liv Mjönes) meet each other at their parents' engagement party. Mia's father, Lasse (Krister Henriksson), is about to get married to Frida's mother, Elizabeth (Lena Endre), which will make Mia and Frida stepsisters. As Mia and Frida get to know one another, strong emotions begin to stir between them. That relationship will turn everything upside down. Besides being beautifully shot in the Scandinavian countries, "With Every Heartbeat" tells its story with grace and passion. This drama does not romanticize love, it shows good and painful parts of it without any shame. It is an instant classic in movies with a lesbian theme.