There are a very few movies that can make you laugh every time you watch it as if you were watching it for the first time. "The Dictator" is one such movie which you never get bored of. Sacha Baron Cohen is at his best in the movie and did a great job portraying Aladdin. The movie was as offensive as a movie can be and the inspiration of the character from a real dictator made it even better. A large number of comedies are made every year in Hollywood but only a few survive the test of time and are memorable and can be watched any number of times. So, following is the list of movies similar to The Dictator that are our recommendations. You can watch some of these movies like The Dictator on Netflix, Hulu or Amazon Prime.
12. The Hangover (2009)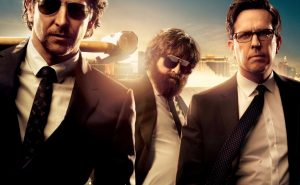 Three friends wake up from a bachelor party in Las Vegas, with no memory of the previous night and the bachelor missing. They make way around the city in order to find their friend before his wedding. And what follows is fascinating to watch and full of entertainment. The movie is a laugh riot and most of it can be credited to the amazing acting by Zach Galifianakis and Bradley Cooper. It was the first part of "The Hangover" trilogy.
Read More: Movies Like Dazed and Confused
11. Neighbors (2014)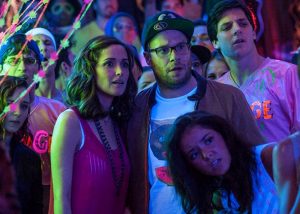 The life of a couple becomes miserable when a fraternity house moves in next door and they are forced to live like that. This makes them do whatever they can to take down their new neighbors. The film packs a few good punches and they hit perfectly at the right spot. The timing of Seth Rogen is next level. The movie was such a big hit that a sequel was made to it which too was a success.
Read More: Movies Like Blue Crush
10. American Pie (1999)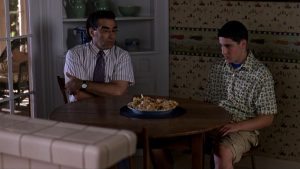 It is the first movie in the American Pie franchise which has a long list of movies under it. The franchise started due to the success of this movie and the sub-genre that it probably popularised. The movie follows four friends who are planning their prom and making pacts. The movie is great for watching with friends and is sure to leave you laughing.
Read More: Movies Like Contagion
9. Harold & Kumar Go To White Castle (2004)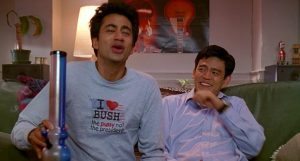 You might have had the craving for a particular food sometime in your life, but how far are you willing to go for it? In this hilarious comedy, a Korean-American office worker and his Indian-American stoner friend embark on a quest to satisfy their desire for White Castle burgers. The entertainment level of the movie will multiply when you watch it with your friends and it will give you a lot of references for your talks with your friends and make those conversations more fun. This movie too spawned into a franchise with great further additions but none can match its level.
Read More: Movies Like Van Helsing
8. Tropic Thunder (2008)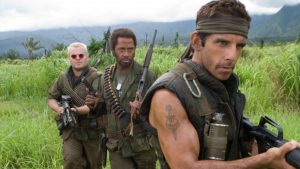 You must have seen movies in which real-life people are portrayed by actors, but what if actors had to become real-life heroes like the role they were portraying. This is what happens when a film crew shooting a big-budget war film are forced to become the soldiers they were portraying, when they are attacked by a gang of a poppy-growing local drug dealer, due to mistaken identities. Robert Downey Jr. will leave you in splits with his acting and the role that he plays.
Read More: Movies Like I Am Number Four
7. Ali G Indahouse (2002)
Sacha Baron Cohen plays the role of Ali G, one of his most loved alter egos, in this hilarious and politically charged movie. In Great Britain, Ali G unwittingly becomes a pawn in the Chancellor's plot to overthrow the Prime Minister. However, Ali is embraced by the nation as the voice of the youth, making the Prime Minister and the government more popular than ever. This movie besides being a comedy also focuses on how the media can change the perception of the people towards anything especially the government of the country.
Read More: Movies Like Mean Girls
6. EuroTrip (2004)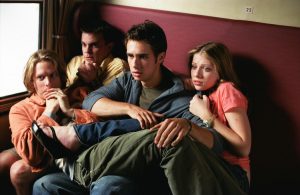 We all have some friends that we have met online and have never met them in person but plan to do it someday when you both are in the same city, but will you ever think of traveling across a continent to meet them? Your answer might be a big NO but it may not be the case for everyone. When a high school grad is dumped by his girlfriend, he decides to travel across Europe to Berlin, with his friends to meet a girl that he met online trying to learn German. The movie is very entertaining and is good for when you want to relax your brain and watch something that is hilarious and dumb at the same time.
Read More: Movies Like Belle
5. 21 Jump Street (2012)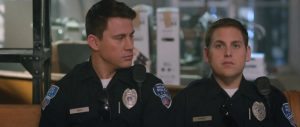 High school friends Schmidt (Jonah Hill) and Jenko (Channing Tatum) join the police force together and are total underachievers at their job. They are sent to a secret Jump Street unit, where they are assigned to bust a synthetic drug ring in a high school. So, they have to go undercover as high school students to complete their mission and to find the supplier of the synthetic drug. The movie is one of the best comedies of this decade and Hill and Tatum do an excellent job which is only topped by Ice Cube who is the head of the secret unit. The movie is based on the 80s TV show of the same name which brought Johnny Depp into the light.
Read More: Movies Like Bolt
4. The Brother Grimsby (2016)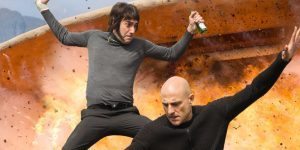 Another movie starring Sacha Baron Cohen, but there are more of his movies to come. This movie is a dumb play on the secret agents in the movies. Nobby (Sacha Baron Cohen), a dumb-witted English football hooligan, reunites with his brother Sebastian (Mark Strong), a deadly MI6 agent, after being separated in their childhood. Sebastian is on a mission to stop a global terror attack. But things go south and Sebastian is accused of a murder and has to hide from his own agency in order to stop the terrorist attack. He also enlists the help of his dumb brother to complete his job.
Read More: Movies Like Taken
3. Bruno (2009)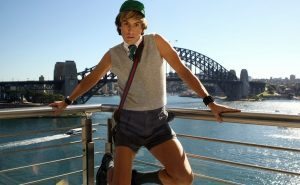 It is yet another outlandish and entertaining mockumentary from Sacha Baron Cohen. Bruno, an Austrian gay fashionmonger and the self-proclaimed "voice of Austrian youth TV" comes to America to live his dreams. The character of Bruno serves as a way to highlight the absurdities of the fashion industry by interviewing unsuspecting fashion icons and other haute couture hangers-on. The movie is crude and offensive but funny and full of cultural insights at the same time.
Read More: Movies Like Wild Child
2. The Interview (2014)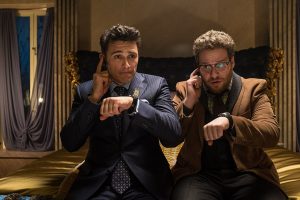 "Skylark Tonight", a celebrity tabloid show, run by Dave Skylark (James Franco) and Aaron Rapoport (Seth Rogen), lands an interview with the North Korean dictator Kim Jong-un, who is a fan of the show. Skylark and Rapoport are recruited by the CIA to turn their trip to Pyongyang into an assassination. This movie never made it to theatres and was released online, as Sony received threats from a Korean hacker group, that every theatre that plays this movie will be destroyed. The movie is filled with gut-busting laughs and will leave you in splits.
Read More: Movies Like Revenge of the Bridesmaids
1. Borat (2006)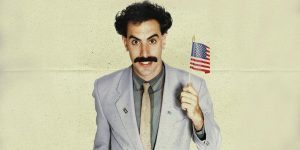 Journalist Borat Sagdiyev leaves his native Kazakhstan to travel to America to make a documentary. As he zigzags across the nation, Borat meets real people in real situations with hysterical consequences. His backward behavior generates strong reactions around him, exposing prejudices and hypocrisies in American culture. In some cases, Borat's interview subjects embrace his outrageous views on race and sex by agreeing with him, while others attempt to offer a patriotic lesson in Western values. The movie is offensive in the funniest way possible and is the best character created by Sacha Baron Cohen.
Read More: Movies Like Clueless