How could one forget the skills and courage of Gabriel Van Helsing in his fight against the iconic monsters of the fantasy world of evil? Initially inspired by Bram Stoker's character in the novel "Dracula", Hugh Jackman has turned this intelligent professor into a legendary hunter of wicked creatures. Through this action film that leaves no detail aside from the imaginary settings created through extensive CGI, we have an exciting and eventful story that takes us on a voyage upon dark imagination. This shadowy atmosphere where vampires awaken from their sleep, werewolves hide in the pitch-dark forest and monsters lure their victims into their spell is a world we can find in various other interpretations of horror classics.
Having that said, kill the light and dive into a world of darkness with this list of movies similar to Van Helsing that are our recommendations. You can watch some of these movies like Van Helsing on Netflix, Hulu, or Amazon Prime.
12. The Mummy (1999)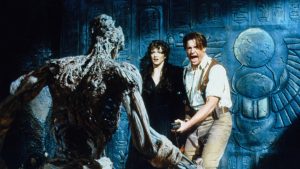 "The Mummy" is a famous one in the action fantasy drawer, although actually a remake of the 1932 original, that led into a whole franchise of various films. Although it doesn't involve any vampires of werewolves, a similar concept is taken as a central element, that is, the awakening of a cursed mummy. This disastrous event is triggered by three individuals : adventurer Rick O'Connell, Egyptologist Evelyn and her brother Jonathan. After this accidental discovery, the Mummy Imhotep begins killing the members of the expedition and leads the protagonists into a difficult quest to put the world back in order.
Read More: Movies Like Dunkirk
11. Brotherhood of The Wolf (2001)
With its great costume- and set design, "Brotherhood of The Wolf" takes us right into the middle of a fantastical 18th Century, in a mix of genres led by action and thrill. It encounters various characters in a burst of adventurous danger, where mystery engulfs the atmosphere and the plot we're following. It revolves around a knight, Grégoire de Fronsac, and his companion Mani, who are sent by the king to try and discover the truth behind the killings of various inhabitants of the Gevaudan province. It has been said that a beast is responsible for the mystery, however only a daring quest will lead them to what's behind the veil.
Read More: Movies Like Hacksaw Ridge
10. Hansel and Gretel: Witch Hunters (2013)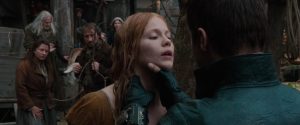 I believe the title pretty much reveals what this film's all about, as does the style of this straightforward action comedy, set in a fantasy world of witches and evil spirits. Taking the traditional folklore story of "Hansel and Gretel" into a new perspective, it follows up in an adaptation that recounts the adventurous happenings of the now-adult siblings. Hansel (Jeremy Renner) and Gretel (Gemma Arterton) arrive in the town of Augsburg, where young children have been taken away from their homes by witches, for a sacrifice they are planning to undertake. In the midst of choreographed stunts bringing the action to life, magical creatures of evil won't cease to occupy the screen, in which both characters must fight and triumph in their quest for good.
Read More: Movies Like The Shape of Water
9. Snow White and The Huntsman (2012)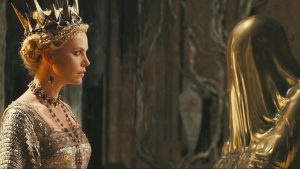 In a twist to the original tale of the Brothers Grimm's "Snow White", director Rupert Sanders has delivered a dark and obscure adaptation to the screen, in which the queen is more evil than she has ever been. Played by Charlize Theron, she drains the youth of off the young women of the kingdom in order to rejuvenate her beauty, that she considers her most precious power. While Snow White, played by Kristen Stewart, runs away from the castle, the queen orders a huntsman to capture her, only to find herself betrayed as the man now stands aside the young girl with skins as white as snow, in a quest to defeat the evil power ruling over a dying kingdom. With amazing special effects and costume designs, it's fantastical creatures and magic make their world seem a little more real, the longer you watch.
Read More: Movies Like Memento
8. Resident Evil (2002)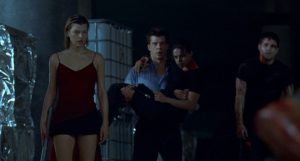 Based on the famous video games that started in 1996, "Resident Evil" takes on its story elements and projects it onto a big screen to widen your senses into a real adventure in between the walls of a world in chaos. Five other films succeeded this first box office success which stars Milla Jovovich as Alice, the amnesic protagonist. In here, she awakens to a catastrophic situation, where, together with a military team, she must fight a supercomputer and a crowd of zombies, after a terrible accident in a genetic research facility has turned everybody into killing monsters.
Read More: Movies Like Kill Bill
7. Blade (1998)
Wesley Snipes plays the role of Blade, a character inspired by the one of the same name from the Marvel Comics and who's success has turned this original into a series including two more sequels. In a world of dangerous vampires, Blade is with and against them all at once, as he only shares half of his blood with the neck-sucking-creatures after his mother was bitten while giving birth. This half-vampire fights a secret war against the vampires and protects the mortal humans with all his supernatural strength and power. Highly stylish in its visuals, "Blade" offers a superhero adventure through a world of shadows and speedy fights.
Read More: Movies Like Blade Runner
6. The Wolfman (2010)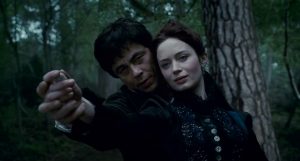 This horror remake of the 1941 film of the same name puts us right into the world of feared werewolves, meticulously created in a well-crafted setting that will derange the tempo of our heartbeat, as the escalating fear takes possession of the scene. It won Best Makeup at the 83rd Academy Awards, and through its convincing special effects and visual excellence, it can easily be understood why. Starring Benicio del Toro, Anthony Hopkins and Emily Blunt, it recounts the story of a man returning to his hometown after his brother has been savagely killed, only to find himself at the centre of the unsolved crime when bitten by an unknown werewolf.
Read More: Movies Like Mad Max
5. Resident Evil : Apocalypse (2004)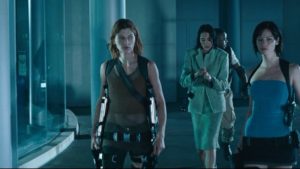 This one is the second film of the Resident Evil film franchise, based on the video games of the same name. After the first science-fiction adventure putting the characters and the protagonist Alice in danger from zombies locked in the scientific facility, we are introduced to the story's follow-up in another feature film where we can find Milla Jovovich once more, together with some new members which include Sienna Guillory and Oded Fehr. After Alice's escape from the facility, the Umbrella Corporation decides to re-open the facility in order to investigate what happened, however that leads to a zombie leak into the city's surroundings which threatens the whole population and the company's personnel.
Read More: Movies Like Me Before You
4. Bram Stoker's Dracula (1992)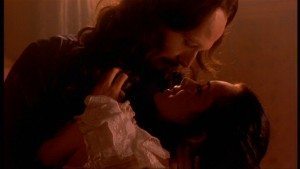 Coppola's interpretation of Bram Stoker's novel "Dracula" is a wonderful way to get to the core of the classic's fantasy tale. With some incredible performances and a slithering movement that infiltrates the spine-chilling atmosphere under your skin, it's a film that deserves the viewing of all vampire-fans. It recounts the traditional legend faithfully, in which Count Dracula decides to seduce his advocate's innocent fiancée in London while confining him in his Transylvanian castle with his diabolic vampire brides. In between the glorious performances of Gary Oldman, Winona Ryder and Keanu Reeves, we naturally also have the appearance of the helpful professor Abraham Van Helsing, played by Anthony Hopkins, who would become the inspiration for the movie inspiring this list.
Read More: Movies Like Devil Wears Prada
3. Dracula Untold (2014)
In "Dracula Untold" we aren't given the traditional story of Dracula, written by Bram Stoker in 1897. Instead, we are told a fictionalised backstory of the famous vampire character, universally known through the ages. It goes back to the initial origin for the character's inspiration, that is, Vlad Dracula, a Romanian prince of the 15th Century who's favourite way of executing was the method of impalement. Here, Luke Evans portrays Dracula in a story that narrates his transformation into a vampire, in order to protect his family and kingdom from invading forces. Expect a lot of action and a dark, dark setting where ghastly changes will occur.
Read More: Movies Like Prisoners
2. Van Helsing: The London Assignment (2004)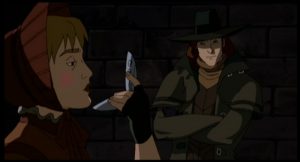 Yes, this animated story featuring Van Helsing came out on the exact same year as the movie we're focusing this list on, and although strange, what matters is that it is one more gift for the vampire-slashing-fans. It actually arrived right on time to explain the dangerous exploits of Van Helsing before he turned into Hugh Jackman. Well that's not exactly right, as in this film Jackman also plays a part, lending his voice to the character he then plays with his body in the live-action film. In this prequel, Van Helsing travels to the city of London in order to discover what's behind a series of terrible supernatural murders, apparently committed by an insane scientist linked to a beautiful woman.
Read More: Movies Like Superbad
1. Underworld (2003)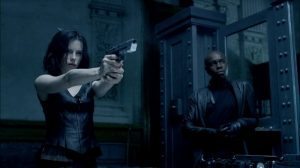 Vampires and werewolves are at the centre of the driving force of the story present in this film. Unique in its style and visual graphics, it offers that dark and sleek atmosphere of inhuman evil and supernatural creatures that we expect to get in a gothic action horror. Kate Beckinsale plays the role of Selene, the main protagonist who will lead us into a world divided in a war between vampires and lycans (a specie of werewolves). However a turn of events takes her into a difficult situation in which conspiracy and treason play a role, not to mention the emerging love that seems impossible to develop due to the rivaling clans.
Read More: Movies Like Signs