1964, 1972 and 1979 were three defining years in my movie-going youth that have embedded themselves on my psyche. Having already looked at 1979, and saving 1964 for another time, I'm looking back at 1972 because it's acknowledged as one of the great years in a golden period of film. From a personal standpoint, it was the start of movies that helped me grow up, figure out who I was and begin establishing a point of view on basically everything.
At the cusp of hitting my teen years in 1972, I was finally allowed to bypass the latest Disney offering for my first "grown up" movie – 'The Poseidon Adventure'. Although not a great movie, it is one that had a tremendous impact and demanded multiple viewings. I remember being engulfed in the drama, the special effects and suspense every time I watched it – I also remember being just a little shocked at the site of Shelley Winters' dress floating up and revealing her girdle during her underwater rescue of Gene Hackman, but I digress. I survived those viewings with no apparent trauma, so it was determined it was okay for me to go see 'Cabaret' and 'The Godfather' or the first time (not to mention watching 'Who's Afraid of Virginia Woolf?' on TV). My entry into the world of grown up cinema had started and there was no turning back. Compiling a list of the best of the year is relatively easy – it really was a great year for good movies. Every movie on the list had an impact on me when I first saw them (some a few years after their release) and they still resonate as an adult.
10. The Poseidon Adventure
Despite the implausibility of the whole scenario (an ocean liner gets hit by a tidal wave, turns upside down but manages to stay afloat while a group of intrepid passengers work their way "up" to the bottom of the boat to be rescued) it can still pull you in. Thanks to a combination of a plot that taps into a real fear for many, some interesting set design, state-of the-art special effects and a group of A and B list actors giving it their all, this kicked off the popular 70s disaster trend and it remains the best of the genre. Gene Hackman is the leader of the group – not one of his great performances, but he's certainly intense. Also onboard are Ernest Borgnine, Shelley Winters (Oscar nominated), Red Buttons, Stella Stevens and Roddy McDowall, all recognizable faces from the era.
Read More: Best Movies of 1973
9. Everything You Always Wanted to Know About Sex but Were Afraid to Ask
For me this is the best of Woody Allen's early films. It's a wildly uneven collection of vignettes based very loosely on a book that was a very big deal at the time. While a couple of segments fall flat, many others are flat out hysterical. Highlights include Gene Wilder as an everyday guy who loses his family when he happens to fall in love with a sheep (it's funnier than it reads), Burt Reynolds as a sperm board operator and Woody as a one of the many sperm getting ready for take-off, and Lynn Redgrave as an amorous Queen with Woody as her willing Court Jester.
Read More: Best Movies of 1974
8. Frenzy
This is Alfred Hitchcock's best film since Psycho in 1960 and his first true British film since the thirties. It represents a return to form and it's also the first time in decades that he doesn't rely on major stars to help with the heavy lifting. It tells of the story of a serial killer who rapes and then strangles his victims – and the killer's subsequent attempt to frame someone else. This doesn't feel like a film directed by director who's winding down – it's an entertaining, complex mystery and, thanks to the more relaxed environment of the early seventies, Hitchcock's most adult film. It also contains some technically complicated sequences including one amazing tracking shot that moves from the scene of a murder indoors and then outside to a busy market place.
Read More: Best Movies of 1979
7. The Heartbreak Kid
Pay no attention to the failed 2007 remake with Ben Stiller. The original is an incisive, dark comedy from off-beat director Elaine May with a script by Neil Simon that doesn't feel like typical Neil Simon (and that's a good thing). Well reviewed and a minor hit in 1972, it's not as well known today but it should be. It terms of capturing the urban narcissism of the day, it's a comedy on par with 1967's 'The Graduate'. Charles Grodin stars as a whiny, superficial sales rep who marries a girl (Jeannie Berlin) he doesn't love (or like) and immediately falls for another woman while still on his honeymoon – the bitchy, golden blonde of Cybill Shepherd. None of the characters are even remotely likable which adds to the comedy. Berlin (Elaine May's daughter) received a well-deserved supporting actress Oscar nomination, but she didn't do much after this. Also excellent is Eddie Albert ('Green Acres') as Shepherd's dad.
Read More: Best Movies of 1980
6. The Candidate
It's not in the same league as 1962's 'The Manchurian Candidate as far as films about American politics go, but this is a very strong film that captures the era and really shows how the political process works. Robert Redford stars as the idealistic son of a former Governor who's recruited to seek the Democratic nomination for the California Senate. He's not expected to win so he's able to express the values he believes in, but those values become more generic as he's pushed to appeal to a wider audience. When he wins the election it's a "Now what?" moment that still resonates in today's political climate where neophytes are quickly rising to the top. The lightly satirical tone of the script helped ensure its win the best original screenplay Oscar that year and director Michael Ritchie guides Redford to one of his best performances. There's also a nice cameo by Natalie Wood.
Read More: Best Movies of 1981
5. Sounder
Martin Ritt is not usually listed among the great directors, but he made some excellent films in the sixties and seventies. Foremost among them are 'Hud' from 1963, 'Norma Rae' from 1979 and this gem. Based on a best seller, Sounder is the name of the family dog and more central to the action in the book than in the film. There isn't a great deal of plot here – it's about a family of sharecroppers in Louisiana in the thirties dealing with the challenges of life. The father is sentenced to a labor camp for a petty crime, and the mother and her children are left to manage, with the oldest son going to look for his dad and experiencing a journey of self discovery. It's all told very matter-of-fact-ly and it's ultimately very moving. It's a quiet film with wonderful performances – chief among them Paul Winfield and Cicely Tyson, both Oscar nominated, as the parents. Tyson in particular garnered a lot of attention for this and followed it with one of the great performances of all time in the 1974 TV film 'The Autobiography of Miss Jane Pittman'.
Read More: Best Movies of 1982
4. What's Up Doc?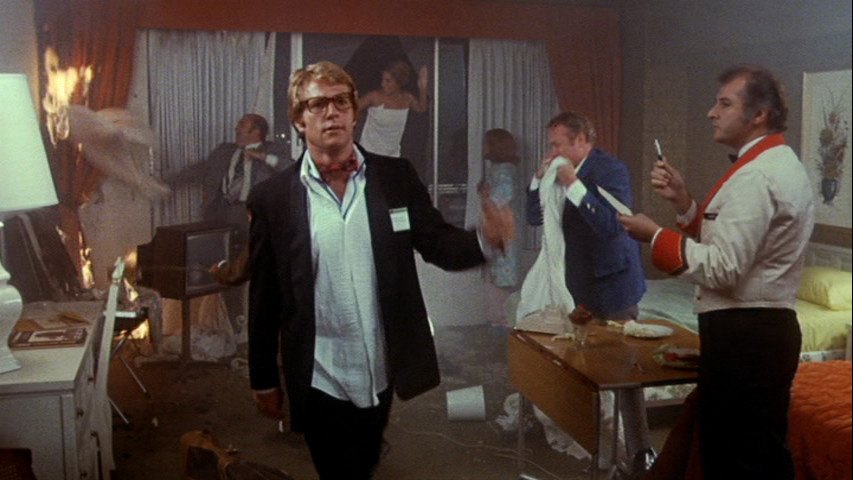 Along with 'Young Frankenstein' in 1974, this is one of the decade's best comedies. An homage to 1938's 'Bringing Up Baby', it's screwball comedy at its finest with a truly top notch cast. It's all about four identical suitcases and the confusion that follows as they're lost, stolen and switched. At the center of the craziness is a young woman (Barbra Streisand) who sets her sights on an academic (Ryan O'Neal). This was director Peter Bogdanovich's successful follow-up to 'The Last Picture Show' and it couldn't be more different. He keeps this film moving at a breakneck pace both in terms of the visual momentum and snappy repartee. Streisand is at her most relaxed and sexy here but the scene-stealer is Madeline Kahn in a wonderful film debut as the fiancé of O'Neal's character. The whiny voice she gives her character, along with the Sears catalog look and totally unexpected line readings, are perfect. It also features one of the best car chases ever filmed.
Read More: Best Movies of 1983
3. Deliverance
A tense, frightening and testosterone driven tale of four men on a canoe trip down a soon to be flooded river in backwoods Georgia that goes very, very wrong. With stunning rural visuals and evocative banjo music, director John Boorman gives everything a feeling of dread right from the start – you feel as if you've entered a very strange world and very quickly that feeling is confirmed. Jon Voight and Burt Reynolds lead the cast and both are excellent – particularly Reynolds in an early career role that shows the talent he squandered in later films. Offering strong support are Ned Beatty (who should have been Oscar nominated) and Ronny Cox. Many scenes in 'Deliverance' are iconic but it's the closing shot that's a true shocker – and one that's been imitated countless times since, but never to such good effect.
Read More: Best Movies of 1984
2. Cabaret
A near perfect musical, one of the decade's defining films and one that is still relevant in today's political climate. It's set in the early thirties and uses a seedy Berlin nightclub to tell the story of a group of decadent misfits, using the rise of Hitler and the Nazis as a backdrop. It reworks the Broadway show it's based on by setting all the musical numbers on the stage of the Kit Kat Club. It also eliminates some songs and characters, adds new ones and flips the nationalities of the two main characters – but it works. Director Bob Fosse totally rethought the property in cinematic terms without losing the impact that made the original show such a success. He is abetted with a crew working at the top of their game – the film looks and sounds sensational – and with a cast that couldn't be better. Both Liza Minnelli and Joel Grey won Oscars for career-best performances and Michael York established himself as strong leading man with a face that Fosse always said he could "photograph forever".
Read More: Best Movies of 1985
1. The Godfather
The best film of decade and championed by many as the best film of all time. It's a perfect collaboration of cast, story and filmmaker. Even after multiple viewings it continues to reveal new layers and never fails to have an impact. In telling the story of the Corleone family, director Francis Ford Coppola is telling the story of the American Dream – both the positive and the underbelly. Stunningly photographed by Gordon Willis, it's an incredibly rich and passionate looking film. Marlon Brando, after a long stretch of mediocre films and performances, is back in top form as the Godfather. It's a great performance that has tremendous power despite what is relatively limited screen time. But for me it's Al Pacino who dominates the film in a star-making turn as the Godfather's son. His character's growth from selectively objective bystander to active participant in the family business is superb. He shows all the all the conflicting emotions that make the character real and his journey believable. James Caan, Robert Duvall, Abe Vigoda and Talia Shire also do terrific work.
Read More: Best Movies of 1987