1980s is considered one of the weaker decades in the history of cinema. Distancing itself from 'Art House Cinema', movies, not just in India, but all over the world, were made with a view to titillate the audience and achieve commercial success.1985 was a year of overrated commercial hits and underrated obscure gems that awaited their discoveries. It was also a year of surprises that brought commercial success to some unconventional films in the midst of those made with staid formula recipes. Here is the list of top movies of 1985, irrespective of their box-office performance, that were released in the year 1985.
12. Aan Paavam (Tamil)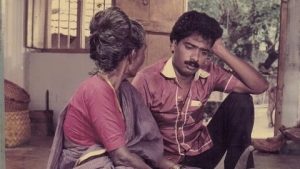 Two notorious sons (Pandiyan and Pandiyarajan) of a theatre owner go to 'see' a suitable girl for the elder one. Immediately smitten by her beauty, confusion ensues when they come to know that they are in a wrong house, when the real suitors of the girl arrive. This movie is known for its slapstick comedy, and elaborate and clever screenplay. It was quite surprising, that at a time when the audience couldn't do without semi-nudity and superhuman fantasies, this movie was skyrocketed to commercial success.
Read More: Best Movies of 1992
11. Saaheb (Hindi)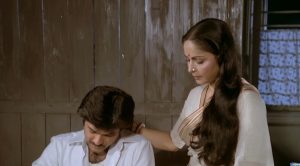 In the midst of raunchy or over-the-top alpha-male actioners of the 1980s, came a small relatable movie about a young man (Anil Kapoor) dreaming of becoming a footballer, restrained and neglected by the family membersbut, supported by his eldest sister-in-law (Rakhee). It aptly captured the patriarchal structure, emotional bond, and bridled nature of middle-class lifestyle, as a young, vivacious dreamer tries to break the glass ceiling. Directed by Anil Ganguly, this movie was a breath of fresh air with its close-to-life characterisation and realistic story-telling.
Read More: Best Movies of 1996
10. My Life as a Dog (Swedish)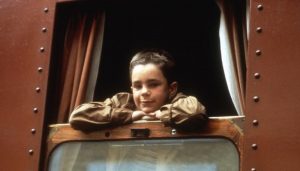 Set in the 1950s, this Swedish film is a story of a pubescent boy (Anton Glanzelius) is separated from his troublemaking brother and sent, by his ailing mother (Anki Liden), to live with his relatives in a rural town, as he meets eccentric people, explores his curiosity at an age of sexual awakening and copes up with his mother's death by thinking of those worse off, like the space-dog Laika, sent to the space by the Russians. Directed Lass Hallstorm, this good-natured coming of age film, is an adaptation of an autobiographical novel by Reidar Jonsson.
Read More: Best Movies of 1983
9. Irakal (Malayalam)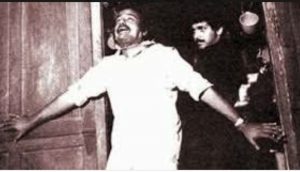 K.G. George is one of the most prominent filmmakers that propelled Indian New Cinema to commercial success. Therefore, his Malayalam movie, Irakal was one of the earliest Indian movies to explore the issue of psychoticism and channelled the post-emergency disillusionment and frustration of the youth in an eerily intense psychological thriller, instead of the larger than life, mainstream dramas of Bollywood.
Read More: Best Movies of 1982
8. Vagabond or Sans toit ni loi (French)
Directed by Agnes Varda, this movie starts with the death of the protagonist, Mona, an enigmatic young woman, who defies and drifts from the conventional way of living. The word-to-word translation of the French title of the movie is 'without roof or law'. Varda's work is important to French New Wave cinema as her way of filmmaking outlasted the decline of La Nouvelle Vague (post 1967). Even after almost two decades of the demise of its charm, with the help of pseudo-documentary style and on location shooting, Vagabond became a critically acclaimed film which retained the spirit of French New Wave.
Read More: Best Movies of 1990
7. Trikaal (Hindi)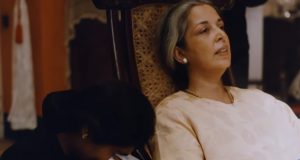 Shyam Benegal can never go wrong in his choice of subject matter and cast. Set in the last days of colonized Goa, the movie is a bittersweet tale of an influential Christian family that is forced to confront its past wrongdoings. Part reality part fantasy, this tragicomedy skillfully intertwines sub-plots relating to each family-member and taps into emotions of nostalgia, love and guilt. With stellar performances by actors Leela Naidu, Naseeruddin Shah, Neena Gupta and Om Puri and masterly work by cinematographer Ashok Mehta, this movie won Benegal a National Award for Best Director.
Read More: Best Movies of 1988
6. Out of Africa (American)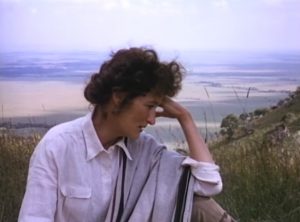 This Sydney Pollack masterpiece is a multi-Academy Award winning epic romantic tragedy starring The Queen, Meryl Streep and the smouldering Robert Redfort , which itself makes it a must watch. The movie is loosely based on the autobiographical book of the same name written by Danish author Karen Blixen. Set around the time of the First World War, the movie tells the extraordinary story of Karen, who goes on to establish a coffee plantation in the Kenya colony and falls in love with the aristocratic big-game hunter Denys. As opposed to the studio driven movies of 1985, the beautiful landscapes and soulful romance of this film will surely make you want to go to Kenya.
Read More: Best Movies of 2013
5. Ghare Baire (Bengali)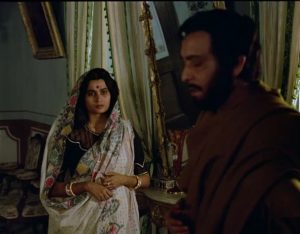 Set in the backdrop of Bengal Partition and Swadeshi Movement, this is the story of a woman (Swatilekha Sengupta) living happily with her aristocrat husband(Victor Ganguly ), enlightened and educated by him, until an idealist nationalist friend of her husband (Soumitra Chatterjee) comes into their lives and stirs things up. Satyajit Ray is known for his apt portrayal of complicated female leads in movies like Devi, Charulata and Mahanagar. This movie is also one of those, where the moral compass and the right to judge a woman are not in the hands of the audience, but is rested in the intellect and competence of the character.
Read More: Best Movies of the 60s
4. A Trip to Bountiful (American)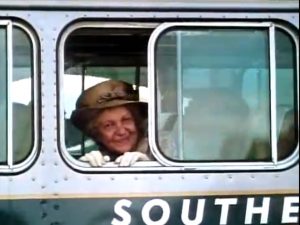 Forced by circumstances to live with her son and bossy daughter-in-law, old Mrs. Wattz wishes to go back to Bountiful, a small agricultural town near Texas Gulf where she grew up and now is completely ravaged and deserted due to the Great Depression. This movie, set in the post war 1940s, is not about a sweet little grandmother, as we expect her to be. Rather, the academy award winning actress Geraldine Page plays a stubborn, resolute and a mischievous old woman who would do anything to reach that town that ceases to exist.
Read More: Best Movies of the 2010s (2010-2018)
3. Pale Rider (American)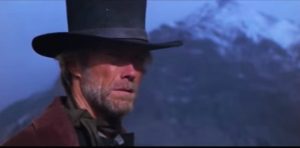 The Highest grossing Western of the 1980s, Pale Rider is a movie of a mysterious cowboy, The Preacher (Clint Eastwood), wearing a clerical collar, unites and mobilises the poor gold prospectors to fight the exploitation of big-time miner and baron LaHood. With all its high-noon antics and sights of fashionable Wild West, Clint Eastwood (as the director) also deploys religious motifs and mystical elements in the film with respect to the enigmatic presence and heroic feats of the Preacher. The Book of Revelation chapter 6, verse 8: "And I looked, and behold a pale horse: and his name that sat on him was Death, and Hell followed with Him."
Read More: Best Movies of the 21st Century
2. Ran (Japanese)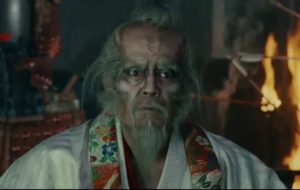 Loosely based on Shakespeare's King Lear, Ran is one of the most influential historical epics made by Akira Kurosawa. With the use of Western classics, heroic action sequences and bright colours, Kurosawa captured the imagination of Western audience. The story kicks off from the point when warlord Hidetora decides to turn his kingdom onto his three sons (unlike three daughters, in the original classic) while accepting a nominal position, as mayhem and bloodshed ensue.
Read More: Best Movies of 2015
1. After Hours (American)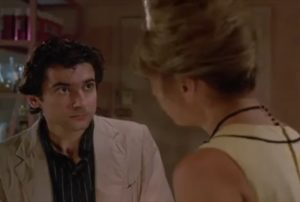 A regular New York office worker ventures into a late night date which becomes a comic, nightmare-ish night with series of misadventures. While watching this roller-coaster-ride-of-a-film, you will think how this cult classic went completely unnoticed by the audience. It is one of the most surrealist movies made by Martin Scorsese that adroitly draws similar story lines and motifs from The Wizard of Oz and Greek mythology of the underworld.
Read More: Best Movies of the 1990s