Netflix's 'Old Dads' is a comedy movie co-written and directed by Bill Burr, loosely inspired by his real-life experiences. It stars Burr as Jack Kelly, who runs Trifecta Classics, a vintage sports parallel business in Los Angeles, while raising a son and dealing with his anger issues. However, circumstances lead Jack and his friends to sell their business to new-age entrepreneur Aspen Bell. Since the film draws inspiration from reality, viewers must be curious to learn if Aspen Bell is based on a real businessperson and whether Trifecta Classics is a real sports parallel company. If you are looking for answers regarding the inspiration behind Aspen Bell and Trifecta Classics, here is everything we know! SPOILERS AHEAD!
The Truth About Aspen Bell and Trifecta Classics
In 'Old Dads,' Aspen Bell is a progressive new-age entrepreneur who purchases the business owned by lifelong best friends Jack, Mike, and Connor. In the film, actor Miles Robbins plays the role of Aspen Bell. Robbins is the son of Tim Robbins and Susan Sarandon and is known for his performances in shows such as 'Miracle Workers' and 'Mozart in the Jungle.' Robbins' Aspen Bell is almost certainly not directly based on any real entrepreneur. The film tells a primarily fictional story, implying all its characters are fictional.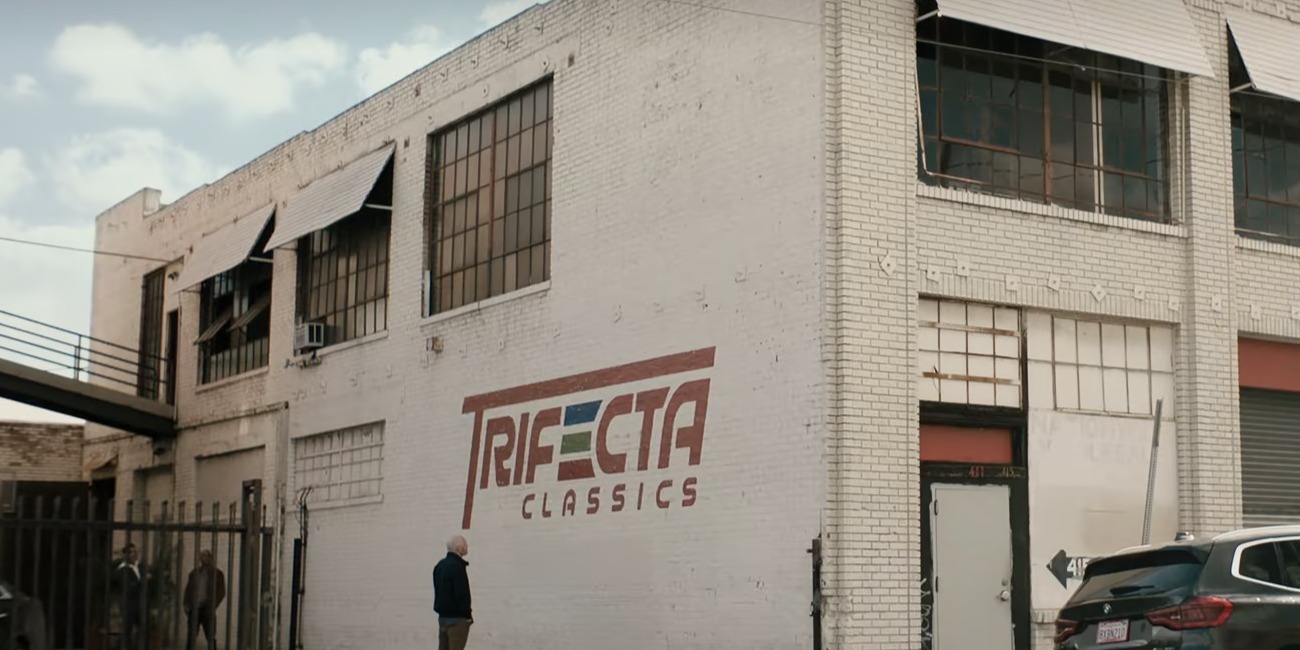 The movie was co-written by Bill Burr, who is known for his observational standup comedy. Through the movie, Burr explores how the world has changed and evolved in the last few years while the characters of Jack, Mike, and Connor have lost their touch. The trio represents the old age of business insight, ideas, and work ethic. As a result, the character of Aspen was likely written to be diametrically and ideologically opposite to the main characters to serve as a foil to them. Moreover, Aspen's character allows Burr's screenplay to highlight the Gen Z approach to business and corporate ethics, and Aspen is an embodiment of the same. Hence, it is safe to say Aspen Bell is a fictional character and not based on any real entrepreneur.
In the movie, Trifecta Classics is a vintage sports apparel business founded and owned by Jack, Mike, and Connor. Jack states that he and his friends founded the company nearly 23 years ago. However, Jack decides to sell his share in the company to raise funds for his son's private school. Trifecta Classics is not based on a real company; it is a fictional enterprise that exists only within the film's world. The company specializes in throwback/vintage sporting apparel, and its niches include baseball, basketball, and football jerseys. Based on the establishing shots appearing in the movie, the Trifecta Classics building is likely located someplace near Verdugo Road in Los Angeles.
In recent years, the vintage sporting apparel business segment has seen a boom in popularity and revenue. It appears to be a popular business in Los Angeles, and the city houses several stores that specialize in selling vintage jerseys from different sports. Therefore, it is likely that business and its growing popularity led to the creation of the fictional Trifecta Classics for the movie's story. The film depicts Jack, Mike, and Connor as three men who have failed to evolve with the ever-changing world, and Trifecta Classics, a retro-themed business, serves as a motif for the trio being stuck in the past. Moreover, director and co-writer Bill Burr is also a massive fan of sports such as baseball and football, which may have contributed to the idea of his character running a vintage sporting apparel business in the film.
Read More: Old Dads: Shooting Location Details