Since the release of 'Madoka Magica', anime shows of the "dark mode" genre have been nothing but mediocre. But even then, every time a new anime in this genre is out, you can't help but give it a shot in the hope that this might just be "the one". 'School Live' is one such show but I would say that it's slightly above the mediocre level. The problem with moe-horror is that more often than not, it sounds great on paper but when it comes to execution, most anime end up going overboard with either the moe or the horror. The two themes are completely the opposite and one must create some very smooth transitions to flip a show out of one contrasting theme to another. It's simple to pull off a typical slice-of-life anime that is full of emotions and "feels" but suddenly transforming that into horror is no piece of cake and that's exactly where most anime screw up.
The good thing about 'School-Live!' is that it is very well aware of its narrative and though it only has a short runtime of 12 episodes, it clearly makes an attempt to have some build up before it shifts from one genre to another. It also heavily relies on flashbacks to bring up certain plot points in the present. I believe this is a very smart move on the anime's part because it's always easier to introduce a new "threat" by relating it with an event that takes place before the story of the show. Even the relationships between the characters are multi-faceted, which allows them to swiftly shift from one extreme end of their personality to another in a short span. The writers of this anime clearly had a well-defined purpose behind everything they were trying to portray and they were very well aware of how their targeted audience will react to a particular event.
The animation, which is done by Lerche Studio, proves to be a disappointment because of its evident inconsistencies. The characters are often drawn very lazily with clearly misplaced features and often, even the backgrounds lack enough detailing. I have nothing against the typical moe art but the fact that 'School-Live!' clearly makes no attempts at rising above its cliches does bother me a little. But getting back to the positives of the anime: the opening videos of the show are always different, which is great. Even the background tracks are quite a blast and usually fit right in with the overall theme of the storyline.
In the end, 'School-Live!' does manage to stand out because it clearly tries to step out of the typical slice-of-genre where the cute protagonists of the anime don't always have a happy ending. It's the kind of show that can make you smile and scare you at the same time because of the balance that creates between two very different genres. And though it has some very apparent flaws, it is overall really enjoyable. If you have the slightest interest in either of the two genres, then you should definitely give this one a shot and since it only has 12 episodes, you don't really have anything to lose here.
School-Live! Season 2 Release Date: When will it premiere?
'School Live' season 1 released on July 9, 2015 and came to an end on September 24, 2015. The first season of the anime was so well received that the source material of the show, which was previously unknown, gained immense popularity after its release. It was recently revealed that the manga will come to an end with its 12th volume. Now the first season of the anime only covers 6 volumes which clearly implies that the number of volumes left for adaptation are just perfect for a whole new season.
So as of now, it seems very likely that there will be a season 2. But we can't guarantee anything unless there is a final confirmation from the Studio's end. Let's just hope that an official announcement will be made somewhere by the end of this year. Till then, make sure that you keep looking out for this section because we will be updating it as soon as we receive any confirmed news regarding 'School Live' season 2 release date.
School-Live! English Dub:
You can watch 'School-Live!' on Crunchyroll with its original Japanese audio and English subtitles.
School-Live! Plot:
Life is just perfect for Yuki Takeya at her school. It's so damn perfect that she does not ever want to leave the grounds of her amazing school. She is a member of the school's living club which also consists of other members like the president Yuuri Wakasa, the athlete Kurumi Ebizuzuwa, a mature young girl named Naoki, a supervising teacher known by the name of Megumi Sakura and also a club dog named Taroumaru. In the confinements of the Megurigaoka High School, Yuki takes immense pride in the fact that she is making the most of her school life.
Little does she know that she is living a short-sighted illusion that hides all the darkness that lurks around. The truth is that the members of the high school living club are the sole survivors of a zombie apocalypse and are just counting their last few days on the planet. They have no means of contacting anyone else who has survived and their entire school is surrounded by flesh-eating undead zombie girls who won't let them leave. With the limited resources they have, the girls must learn to survive in this extremely hostile environment and they must also pretend that everything is normal, just for the sake of Yuki's sanity.
School-Live! Characters:
Yuuri Wakasa
Yuuri Wakasa is one of the main characters of the series and like the other girls, she was once a student at the Megurigaoka High School. Being the eldest of all now, she serves as the president of the School Living Club and looks after everyone like a motherly figure. All the girls usually refer to her as "Rii-San". She has long brown hair that freely falls down to her hips. She has bright olive green eyes and there is a birthmark right under her left eye. Out of all the main characters stuck in the school, she is the tallest. She is more or less of a leader who usually stays calm and helps all the other girls survive their extreme conditions.
Yuki Takeya
Yuki Takeya is another member of the School Living Club who was a once a student at the Megurigaoka Private High School. She is a very cheerful girl and always keeps coming up with ideas for group activities. Though she is one of the oldest members of the group, she appears to be really petite and her bubblegum pink hair makes her look even younger. She is overly energetic and despite the conditions, she remains optimistic all the time. She also sees the best in everyone around her and often accepts people the way they are.
Miki Naoki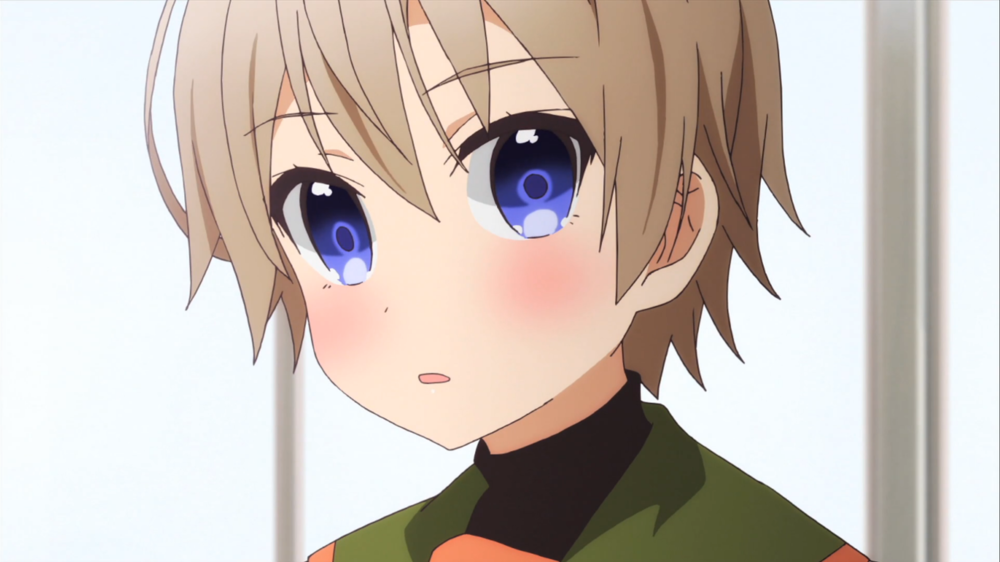 Miki Naoki is a girl who becomes a member of the Club much later after she is rescued by the group during one of their field trips to the mall. She's really thankful to all of them for rescuing her but she hates the fact that Yuuri and Kurumi play along with Yuki's delusions. She later realizes what everyone else is going through and comes to terms with all the other girls. She even starts smiling a little more and looks out for everyone, including Yuki.
Kurumi Ebizuzuwa
Kurumi is the primary zombie killer and strategist of the School Living Club. She looks really innocent but she is actually one of the most badass members of the group and is always willing to go out on the toughest missions. She also maintains a cheerful attitude most of the times and can always be seen with a smile on her face.
Read More in Anime Preview: Suisei no Gargantia Season 2 | Sankarea Season 2