Created by Tony Basgallop, Amazon Prime Video's 'The Consultant' is a thriller series which is based on Bentley Little's eponymous novel. It revolves around a mobile game company, CompWare, whose founder is murdered. The new replacement, Pastoff, is hellbent on reforming the company and turning it into a rat race. His odd demeanor makes employees dig up his past, and there's a possibility that he might not even be human! If you loved the uncanny aura of this series, brimming with dark humor, and are looking for similar shows to binge-watch over the weekend, we've compiled a list for you. You can watch most of these series, like 'The Consultant' on Netflix, Amazon Prime, and Hulu!
8. Boss (2011-2022)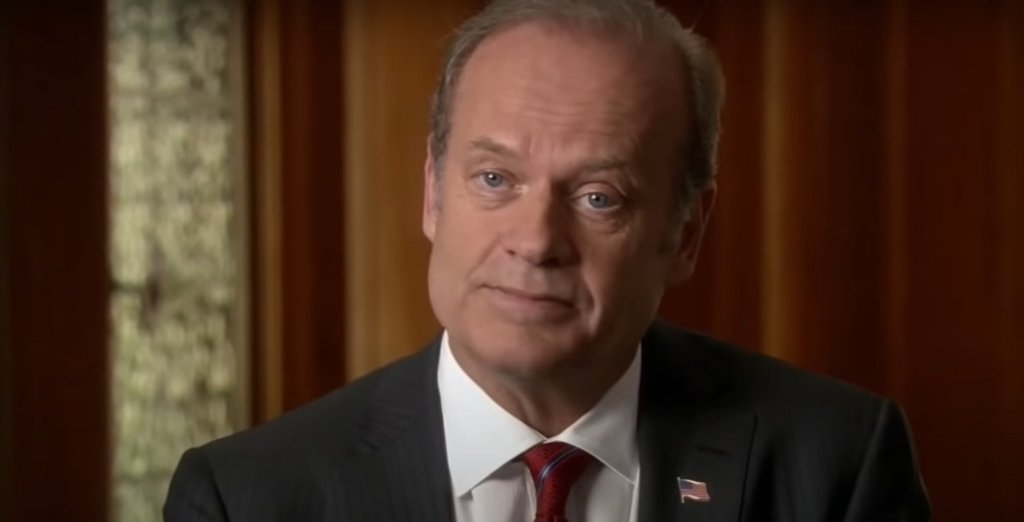 The mayor of Chicago, Tom Cane, is a cunning politician who knows the game and all the schemes of politics. Despite his successful career, Kane's personal life reeks of loneliness as he battles a neurodegenerative disorder. Kitty O'Neil, his chief of staff, senses something wrong, but Kane has no intention of flashing his weakness in the public eye. As time passes, his facade falls apart, and the world around him begins to crumble. 'Boss' is a crime drama created by Farhad Safinia, and similar to 'The Consultant, ' Kane hires a consultant who becomes so indulged in his company that he takes over as the CEO.
7. Rubicon (2010)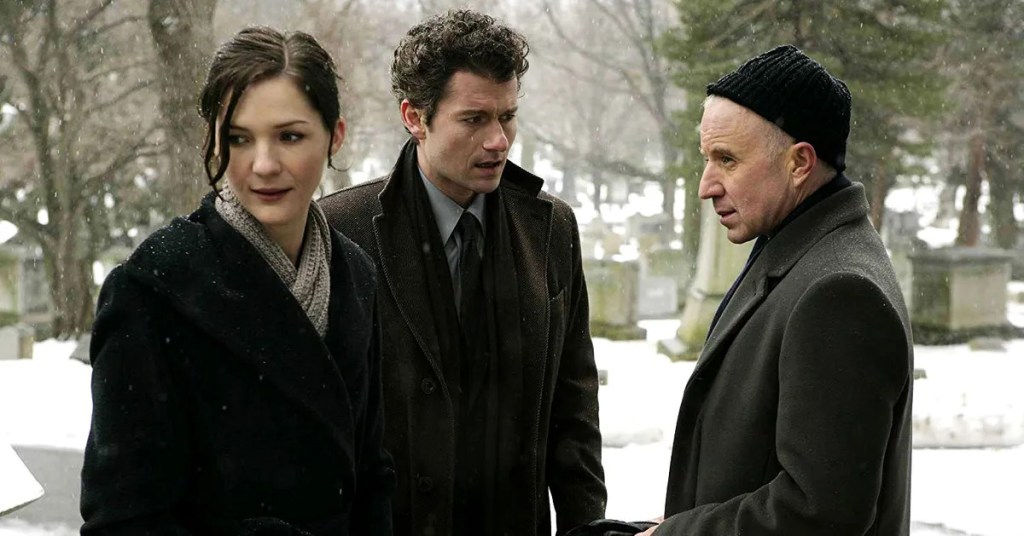 Will Travers is an analyst at the American Policy Institute, where a tragedy unravels. The reactions of his colleagues are oddly concerning and make him doubt their integrity. Eventually, he becomes paranoid as he starts to believe that everyone is a part of a conspiracy as they play pretend to be innocent. 'Rubicon' is a crime drama series created by Jason Horwitch and congruent to 'The Consultant,' the head of the agency is a mystery whose past is unknown to other workers, while Will tries to figure her out.
6. Counterpart (2017-2019)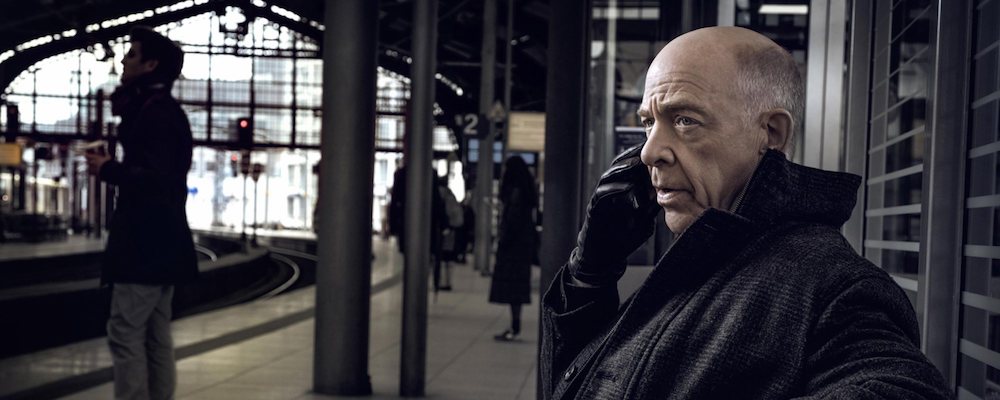 Howard Silk is a low-ranking employee of a U.N. spy agency in Berlin. He comes across a secret hidden world parallel to ours and embarks into an unknown dimension that is dangerous and deceitful. His doppelganger from the alternate universe is the sole trustworthy being in this whole fiasco. 'Counterpart' is a Sci-Fi thriller show created by Justin Marks, and it received a lot of critical acclamation. Like Pastoff in 'The Consultant,' the director is an uncanny presence who seems to be plotting something beyond Howard's understanding.
5. Industry (2020-)
A group of graduates must outdo each other to be hired full-time at a top investment bank. While managing workplace politics, they handle their personal struggles and try their best not to lose their footing in the world of finance. 'Industry' is a British drama series that portrays how the corporate world changes an individual and their motives. Creators Mickey Down and Konrad flawlessly encapsulate the complexities of a workplace. Much like 'The Consultant, ' the colleagues are pitted against each other and lose touch of any comradery between them.
4. Corporate (2018-2020)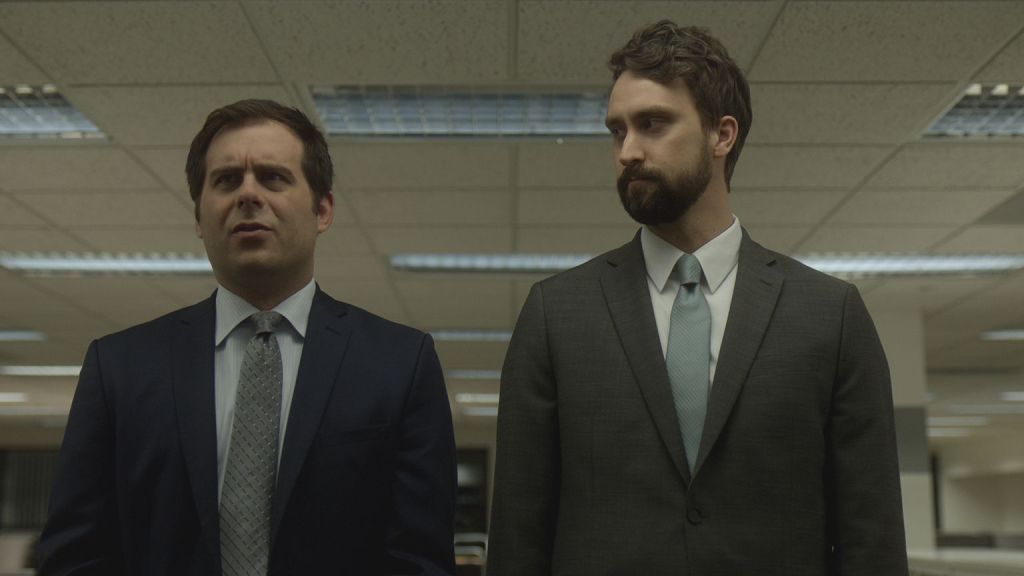 Matt and Jake are employees of a crippling and soulless MNC, and they are under the thumb of CEO Christian DeVille and his pack of domineering co-workers. The duo traverses through the sickening corporation, with their only ally being Grace from the Human Resources department. 'Corporate' is the brainchild of Pat Bishop, Matt Ingebretson, and Jake Weisman, who created this witty and dark comedy series. As seen in 'The Consultant,' the employees here are also suffocated by a work culture that pits people against each other and undermines creativity for their profits.
3. Westworld (2016-2022)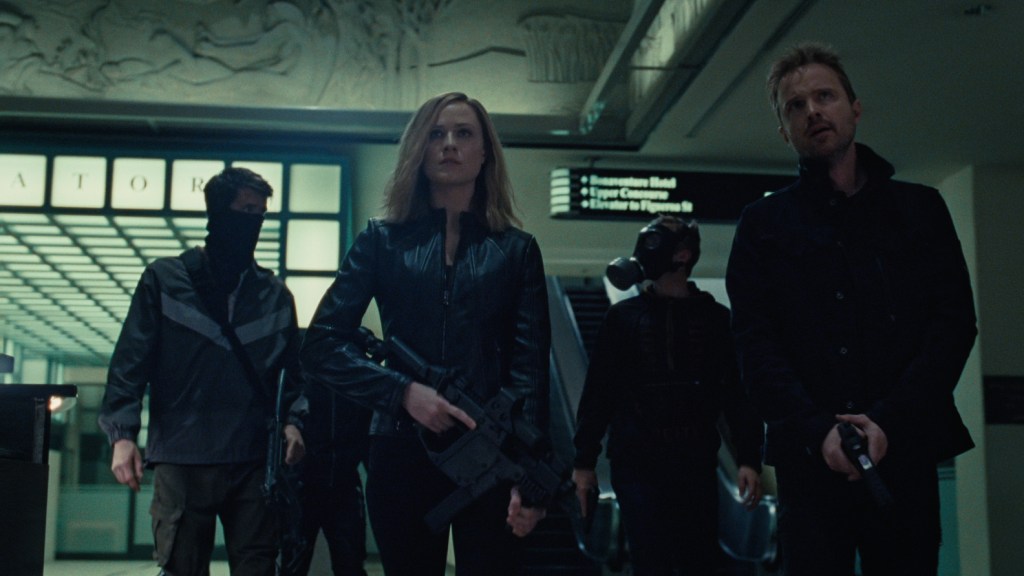 In the futuristic Westworld theme park, advanced androids known as hosts allow guests to indulge their fantasies. But when the hosts start to question their existence and rebel against their creators, the line between human and machine becomes blurred, and the consequences are dire. 'Westworld' is a sci-fi series created by Lisa Joy and Jonathan Nolan that explores the consequences of AI becoming sentient and examines themes of free will and morality. 'The Consultant' makes the protagonists question if the new invader is a human being or not, which is akin to how 'Westworld' also has a running confusion of whether a person is a human or an android.
2. Dopesick (2021)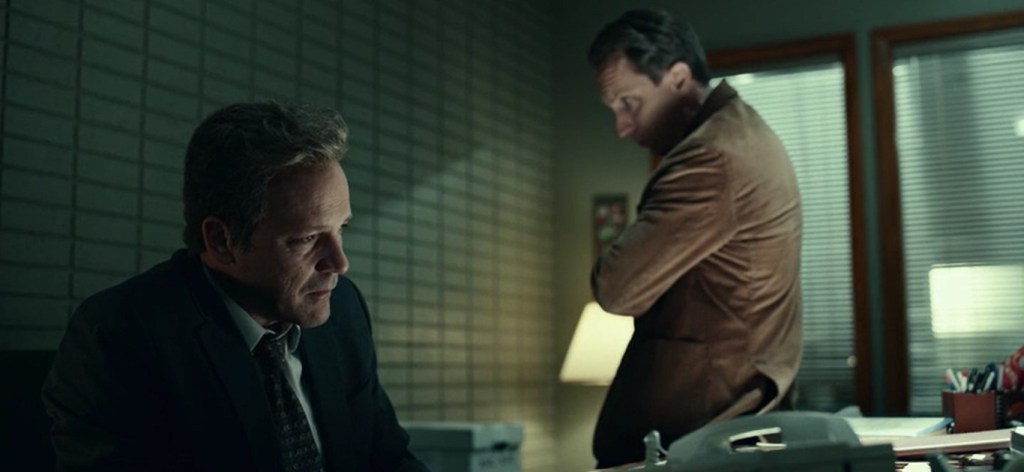 'Dopesick' is a miniseries based on Beth Macy's non-fiction novel titled ' Dopesick: Dealers, Doctors, and the Drug Company that Addicted America.' It showcases how America's most detrimental opioid addiction epidemic and the role of multinational corporations behind this catastrophe. Several innocent individuals and their families faced unfathomable consequences after the event, and eventually, a case was filed against Purdue Pharma regarding their drug OxyContin.
The drama show is the creation of Danny Strong, who does justice to the original source material. In 'The Consultant, ' the company builds a game that is addictive and harmful for humans and also indulges in cheap promotional tactics for their greed, which is also prominent in 'Dopesick.'
1. Severance (2022-)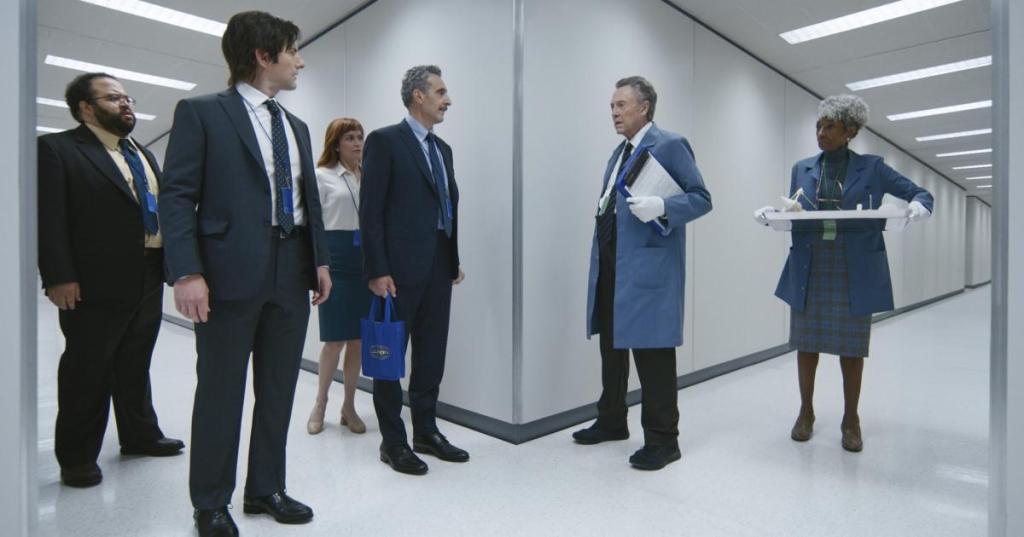 'Severance' chronicles the journey of Mark Scout, a Lumon Industries employee who is determined to uncover the truth behind the company's mysterious severance process and its impact on his colleagues. Mark and his Macro Data Refinement team stumble upon a clandestine procedure that offers a means to connect with the outside world.
However, this discovery poses new challenges for the team as they struggle to break free from their enslavement at Lumon and unveil the corrupt workings of the organization. The Sci-Fi mystery, 'Severance' is a show created by Dan Erickson, and similar to 'The Consultant' the employees in this show are exploited and manipulated by the large organization.
Read More: Where is The Consultant Filmed?