Brian Duffield's animated series 'Skull Island' is set to reportedly get renewed for season 2 at Netflix. Based on "Skull Island," the fictional island created by Edgar Wallace and Merian C. Cooper for the latter's 1933 film 'King Kong,' the series follows a group of explorers who venture out to the ocean to save Annie. Their lives are turned around when they end up on the namesake island following a shipwreck, only to encounter "large creatures and terrifying monsters," including the island's self-appointed guardian Kong.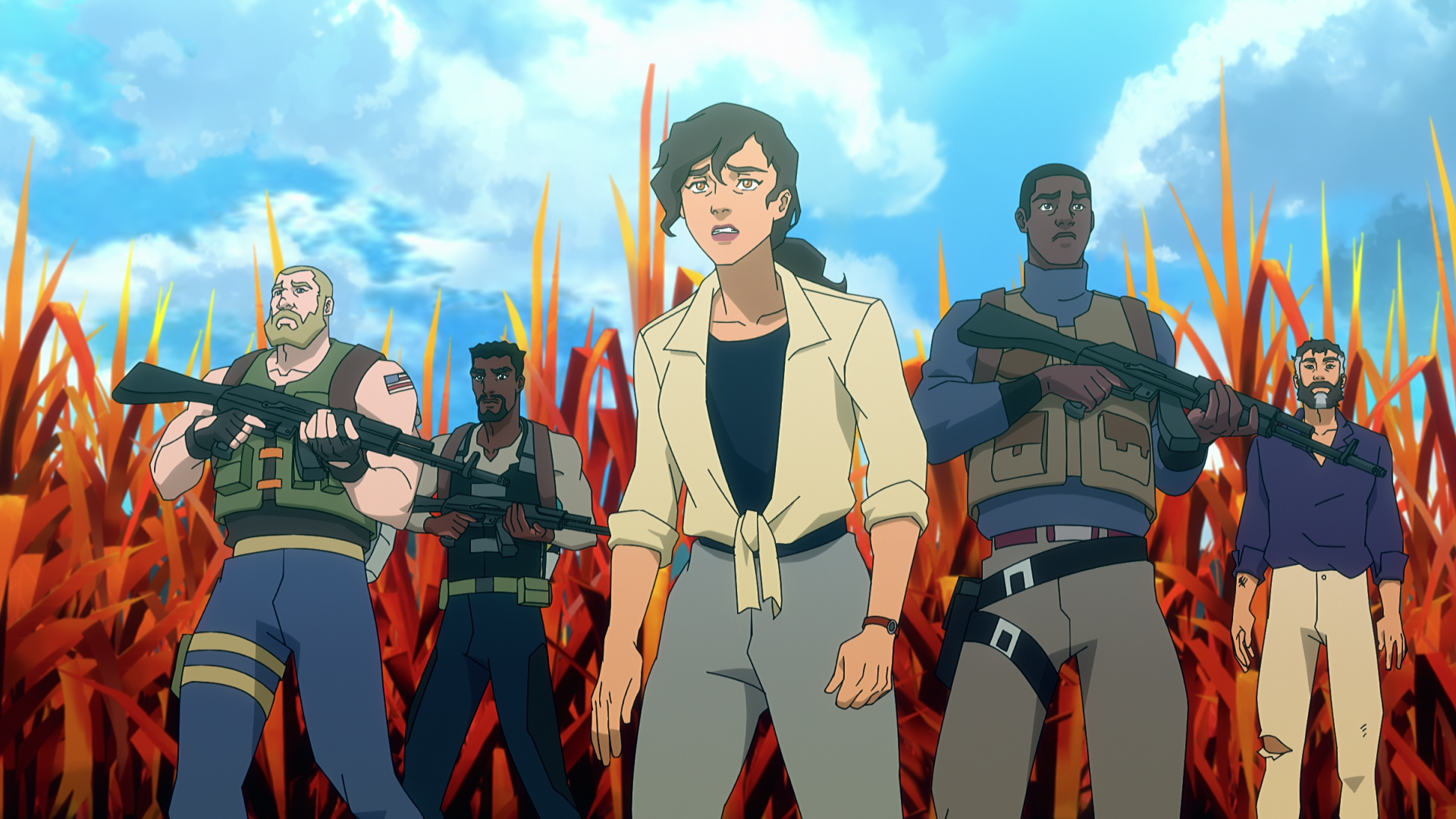 The first season of the series premiered in its entirety on Netflix on June 22, 2023. The same received favorable reviews from audiences and critics alike and got certified "Fresh" on Rotten Tomatoes. With a 69% audience score, it is clear that the first season performed well on the streaming platform, which justifies the potential renewal of the show for a sophomore round. In addition, the first season of the show ends with several loose ends, which guarantees ample scope for an engrossing second season.
The members of the main voice cast are expected to continue lending their voices for the second season. Nicolas Cantu, whose credits include Dak in 'Dragons Rescue Riders: Heroes of the Sky,' Hark in 'The Fabelmans,' and Elton Ortiz in 'The Walking Dead: World Beyond,' lends his voice to Charlie. Mae Whitman, who is known for her performances in 'The Duff,' 'One Fine Day,' 'Hope Floats,' and 'The Perks of Being a Wallflower,' lends her voice to Annie. Darren Barnet, who plays Paxton Hall-Yoshida in 'Never Have I Ever,' Wilfred "Freddy" Malick in 'Agents of S.H.I.E.L.D.,' etc., lends his voice to Mike.
The rest of the cast includes 'Traffic' fame Benjamin Bratt (Cap), 'GLOW' fame Betty Gilpin (Irene), 'Pulp Fiction' fame Phil LaMarr (Sam), 'Trolls: The Beat Goes On!' fame Fryda Wolff (Island Girl), Tania Gunadi (Islander), etc.
The series is produced by Powerhouse Animation, JP, and Legendary Television, making it the first television series of the MonsterVerse franchise. The production of the second series of the franchise, 'Godzilla and the Titans,' created by Chris Black for Apple TV+, is currently ongoing. Duffield and Jacob Robinson serve as showrunners. In addition to the duo, Brad Graeber, Jen Chambers, and Thomas Tull serve as executive producers.