Netflix's ice-skating drama 'Spinning Out' is about a figure skater Kat Baker, who suffers a career-ending fall and decides to quit the arena forever. However, her Olympics dream forces her to stay, even if it means participating in pair-skating, with a talented snob, as a partner. Her path to glory is ridden with family issues, sports politics, and battling her inner demons.
Created by Samantha Stratton, 'Spinning Out' features a talented ensemble, comprising 'The Maze Runner' fame Kaya Scodelario (Kat Baker), 'Arrow' actor Evan Roderick (Justin Davis), Mitchell Edwards (Marcus), Svetlana Efremova (Dasha Glushenko), among many others. Apart from being a high-octane drama, 'Spinning Out' is also known for being a visual feast. Read on to know about the filming locations for the show.
Spinning Out Filming Locations
The show is based in a high-class town of Hawkley, Idaho. However, Hawkley is a fictional town, and 'Spinning Out' was extensively filmed in Canada. It comes as no surprise that the makers of 'Spinning Out' chose the Great White North as the principal filming location for their figure-skating drama. After all, Canada is one of the most favored places for film making in the world.
In case you don't know, the moniker "Hollywood North" has been given to the cities of Vancouver and Toronto for being the prime production centers for film and TV projects. But where exactly, in Canada? You may ask. Well, here are the specific locations!
Blue Mountain Village Resort, Canada
Going by the title of the first episode, "Now Entering Sun Valley," it appears that the Pinecrest Ski Resort is framed after the Sun Valley Resort, situated in Idaho. However, all the Pine Ski Resort scenes were shot on set in Toronto, Ontario.
The exterior scenes of Pinecrest Ski Resort were filmed in the Blue Mountain Village Resort, which is also called "Ontario's largest mountain village resort." Situated near the feet of Southern Georgian Bay and extending across the scenic Niagara scarp face, Blue Mountain provides multiple activities like skiing, rejuvenation centers, golf course, and dining.
Kaya shared the picture of the snowy location on her Instagram along with the caption: "Today's location got me feeling like I need a pretzel & a warm cup of cocoa."
Orangeville, Canada
The skating rink is the second home of any figure skater. On 'Spinning Out,' most of the drama unfolds in Pinecrest Ice Arena. The action-packed competitions, qualifiers, training scenes were shot in an ice skating rink in Orangeville, Ontario.
Two-time Olympian Johnny Weir, who essays the role of Kat's rival Gabe on the show, took to his Instagram to share a chic picture, alongside his co-star Kaitlyn Leeb on location. He captioned the photo as, "Roll up to the rink like…"
Orangeville is an inviting destination for tourists because of its Art Walk of tree sculptures, historic art galleries, farmers' markets, and hiking trails. It also boasts a high-income rate and a low crime ratio.
Mississauga, Canada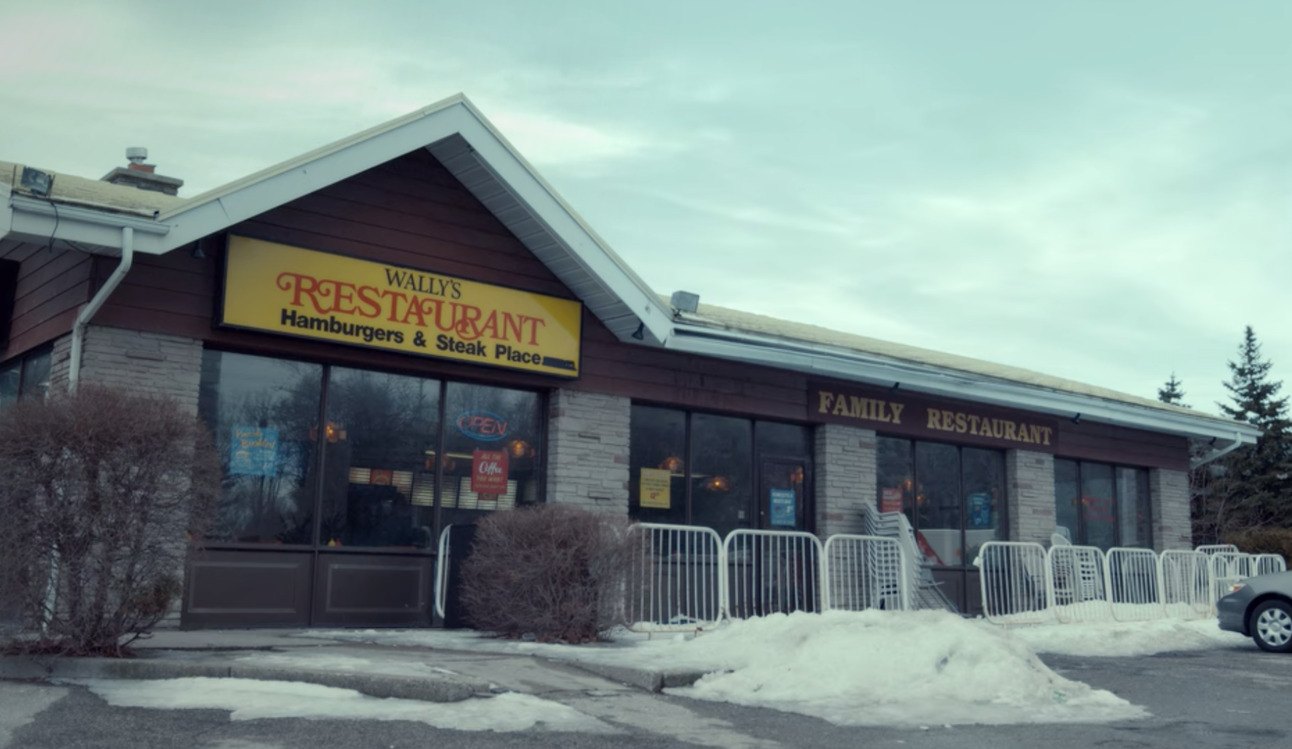 Wally's Restaurant in Mississauga did gain the honor of keeping its name, unlike other locations, the names of which were changed by the makers. I guess they were tired of renaming the sites and let this one slide, thinking no one would notice. Well, we did.
In Episode 3, Justin (Roderick) and Kat (Scodelario) visit a diner, where they have meatloaves and talk about how they need to strengthen their bond as partners. That diner is Wally's Restaurant, located in the Hurontario Street, Mississauga.
Although the locals complain that the diner has lost its charm after the original owners sold it, it still got to feature on a Netflix original. Well, that says something.
Mississauga has been a prime filming location for shows like 'The Umbrella Academy,' 'Black Mirror,' 'Hannibal,' 'Big Brother Canada,' 'Nikita' and 'Suits.' One of the many reasons why filmmakers choose Toronto is the tax incentives provided by the government, which in turn helps to save a lot of bucks.
So now that you know all the 'Spinning Out' filming locations, when are you booking your tickets to explore them?
Read More: Where Was Bird Box Filmed?