Apple TV+'s 'Ted Lasso' season 3 approaches its bittersweet conclusion, and the eleventh episode brings the characters one step closer to achieving the fairytale success of winning the Premier League. The eleventh episode sees Ted's mom arriving in town, forcing Ted to confront some uncomfortable feelings. Meanwhile, AFC Richmond faces Manchester City in a must-win game to keep their slim chances of winning the league alive. Jamie Tartt is asked to rise to the occasion against his boyhood club but faces his own personal emotional hell. On the other hand, Ted makes a life-changing decision while Nate inches closer to returning to Richmond. If you wish to learn about Ted's big choice, here is everything you need to know about the ending of 'Ted Lasso' season 3 episode 11! SPOILERS AHEAD!
Ted Lasso Season 3 Episode 11 Recap
The eleventh episode, titled 'Mom City,' opens with Ted walking to work only to run into his mother, Dottie. Meanwhile, Isaac, Colin, and Will visit Nate at Taste of Athens and ask him to return to AFC Richmond. However, Nate turns down the offer in favor of working as a waiter at the restaurant after learning that Ted hasn't invited him back. Ted takes Dottie to work with him and introduces her to Rebecca and the Richmond players. Sam, Roy, and Jamie attend a press conference before their big match against Manchester City on the penultimate Gameweek. However, Jamie mops and becomes overbearingly empathetic during the press conference.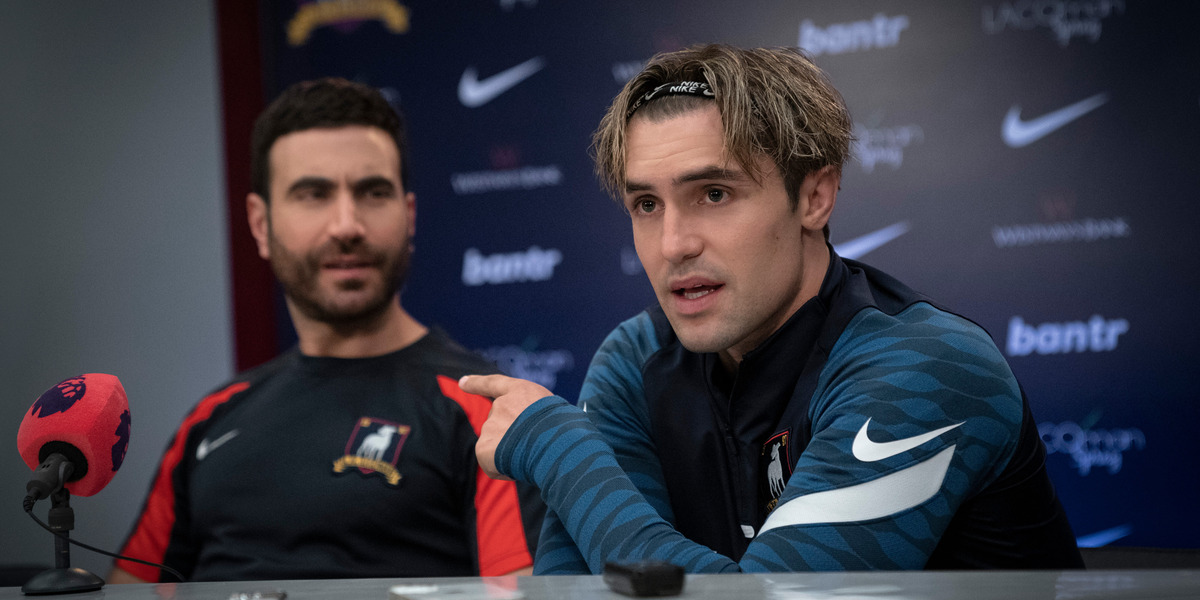 Dottie wins over the locker room with her stories from Ted's childhood. Leslie reveals that Nate will be willing to return to the club if invited. Roy agrees to let Nate come back, but Coach Beard is vehemently against the idea. Before training, Roy confronts Jamie, and the latter breaks into tears. Jamie explains that returning to his boyhood club, Manchester City, and facing his dad again affect his emotional and mental health. As a result, Roy turns to Keeley for help bringing Jamie up to his usual best before the big match. Ted takes Dottie to Mae's pub, and the latter encourages Ted to spend more time with his mom.
Dottie stays home while Ted and the team head to Manchester for their match. After a movie night, Jamie sneaks out of the hotel. Keeley and Roy follow Jamie, and the latter takes them to his childhood home, where the group meets Jamie's kind and supportive mother. Jamie talks to his mom and shares the unresolved feelings about his father stirred by his return to Manchester. However, Jamie's mother encourages him to move on from the past and seek happiness over success. With his spirits renewed, Jamie returns to the hotel while Roy and Keeley seemingly repair their relationship.
During the match, City fans boo Jamie for leaving the club for a reality show. However, Jamie proves his doubters wrong by setting up a fantastic goal for teammate Colin Hughes. AFC Richmond takes a goal lead in the game and maintains it because of Thierry Zoreaux, aka Van Damme's brilliant performance in the goal, making countless saves against the attacking City lineup. However, Jamie gets injured, but Ted avoids substituting him as the star striker wishes to continue playing. Ted motivates Jamie to forgive his father, thus completing his transformation from a selfish to a selfless person.
Jamie returns to the pitch and scores an amazing solo goal with just minutes left to play, sealing Richmond's first win over City at the latter's home. The victory puts Richmond within a point of City, and their chances of winning the league remain alive until the season's final match. Jamie receives a warm reception from the City fans, who accept him despite their complicated past when the latter refuses to celebrate a goal against them. Jamie's father watches the game from rehab, feeling proud of his son. After returning home, Ted has a heart-to-heart with Dottie. While Ted blames Dottie for pretending to be okay after his father's death, he also thanks her for all the selfless things she does for him.
Ted Lasso Season 3 Episode 11 Ending: Does Nate Return? What Does Ted Say to Rebecca?
At the episode's end, Ted shows Coach Beard the footage of Nate ripping apart the "Believe" sign. However, Ted makes Coach Beard watch the full video showing how Nate was stuck in their office for hours before reminding Coach Beard of the power of second chances. As a result, Coach Beard shows up outside Nate's apartment after the latter is fired from the restaurant. Coach Beard reveals how Ted gave him a second chance at life after he had become a thief and a convict. He extends the same courtesy to Nate by offering his job back and asking Nate to return to Richmond. As a result, Nate's true journey to redemption starts as he must make the most of his second chance.
In the episode's final moments, Ted walks to work in preparation for Richmond's final Gameweek. However, he finds Rebecca waiting in his office. Rebecca reminds Ted of their yearly conversations, as she usually drops a truth bomb on him this time of the year. However, Rebecca has nothing to say to Ted. Instead, Ted wants to tell Rebecca something, but the episode ends before we hear his words. Ted likely wants to resign from his job after the season ends. Ted will likely return to the USA to reunite with his son, Henry, especially after resolving his attachment issues by speaking with Dottie. Moreover, with Nate in the wings as an ideal replacement for Ted, the door is open for the American football coach to return to home.
Read More: Ted Lasso Season 3 Episode 10 Recap and Ending, Explained