In the movies we get all sorts of characters, all sorts of themes and all sorts of outcomes. When talking about gender identity we quickly arrive at the topic of transsexualism, one which has taken over a few excellent and award-winning films of the last decades. In it we find incredible characters, which portray in a way or another the reality of our world for the individuals who were born different as to what they feel. These transsexual characters are strong and to be admired, whether they overcome the societal incomprehension and dreadful pressure or not. Let these films be inspirational for the present and the future by taking a look at the list of most memorable transsexual characters in movies. You can watch many of these best transsexual movies on Netflix, Hulu or Amazon Prime.
10. Parinya Charoenphol in Beautiful Boxer (2004)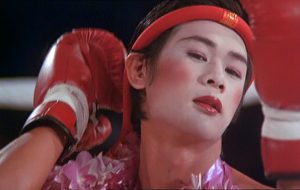 Parinya Charoenphol is a 36 year-old Thai boxer, actress and model whose story has been adapted to the screen into a beautiful and emotionally-grabbing film. She was born male yet felt a strong identification with the female gender already at a very young age. Accepting who she was, she turned to boxing in order to support her family and pay for a sex-reassignment surgery. An interesting contrast that is greatly presented in "Beautiful Boxer", where boxing gloves and polished nails eliminate all kinds of stereotypes and get together in a central character who's strength and determination is an inspiration to all.
Read More: Best Psychological Thrillers of All Time
9. Elvira Weishaupt in In a Year With 13 Moons (1978)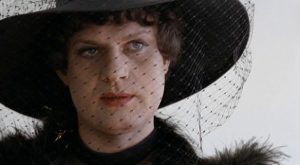 "In A Year With 13 Moons" is a German film by director Rainer Werner Fassbinder who's main character Elvira Weishaupt is perhaps the most different and intriguing character on this list. On an impulse lead by love, Erwin has changed his sexual identity and become a transsexual woman by the name of Elvira. Be prepared because here, we aren't told a story with a good ending, instead we follow the last few days before the death of Elvira, by suicide. On the way there, we fall into a depiction of sexual identity, of the character's feelings and emotions and of this world which sadly disregards the loneliness and desperation of the ones in need. A memorable performance by Volker Spengler and a strange and unusual cinematography.
Read More: Best Train Movies of All Time
8. Hedwig Robinson in Hedwig and The Angry Inch (2001)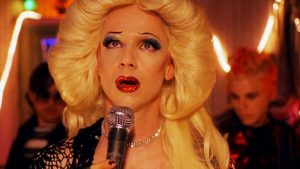 Hedwig is a transgender woman. A strong, confident and energetic German woman who takes her rock band and follows her former lover's US tour, a boy who stole her songs after she stood by him as a musical mentor and collaborator. Throughout her electric musical adventure, she narrates parts of her life and gives us an insight into her past and complicated gender identity change. Directed and acted by John Cameron Mitchell, Hedwig is truly one of a kind, and a character that will remain in one's memory for long. Go Hedwig!
Read More: Best School Shooting Movies
7. Ludovic in Ma vie En Rose (1997)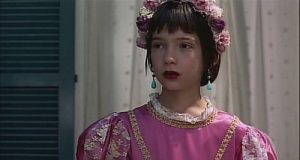 "My Life in Pink" is a Belgian production which takes a look at transsexualism and search of identity in the younger generation, that is, in a young boy who feels like a young girl. It's refreshing to see such certainty and confidence in this transsexual girl named Ludovic who does not understand why adults encounter a problem with her identity change. As much as she's right and as much as her family is close-minded, the reality she faces is harder than she should have to endure which makes this movie another great look at the change that is needed towards this subject. In a colourful and dynamic tone, Ludovic is a character that one will love, cherish, understand and that one will desperately want to help. Thankfully, this one won't suffer a drastic fate like some others in this list.
Read More: Best Buddy Cop Movies of All Time
6. Bernadette Bassinger in The Adventures of Priscilla, Queen of the Desert (1994)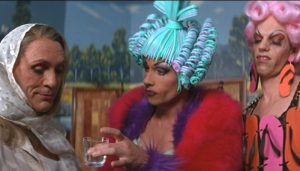 "The Adventures of Priscilla, Queen of The Desert" is a film most have already heard of, if not already seen, and just like its title suggests flamboyant scenery and crazy-like adventures, so does the film and all its characters. In it we have two drag-queens and one transgender, Bernadette Bassinger. Together they know who they are, what they're identity is and proudly live their lives according to their beliefs and values. Despite being outrageously funny and colourful to the eye, the movie still takes the time to portray the discrimination and violence towards the LGBT community. Through this exposure and having these characters as the centre of the story, it can therefore be considered a pioneer in its genre which influenced the topic to become more common in film and in the world's discussions in general.
Read More: Best Nerd Movies of All Time
5. Lili Elbe in The Danish Girl (2015)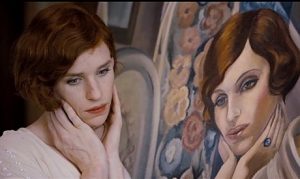 In the middle of all the incredible performances he has delivered, one will never forget the role of transsexual Lili Elbe that Eddie Redmayne gracefully portrayed in the romantic drama "The Danish Girl". Lili is a character we profoundly empathy with as we are invited in accompanying the process of enlightenment she goes through, and therefore fully understand the inner and outer difficulties that she must face, that come along with the change occurring within her. Inspired by the real Danish painter of the early 20th century, the character shows the intensity of what it is to be one of the first transsexuals to undergo sex reassignment surgery. A performance to praise forever.
Read More: Best A24 Movies of All Time
4. Sabrina "Bree" Osbourne in Transamerica (2005)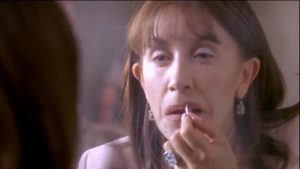 The role of transsexual Sabrina landed actress Felicity Huffman a Golden Globe. So, get ready for an incredible film that succeeds at developing its main character at all level and forms, just as any good character should be. Sabrina, a conservative trans ready to dive into her vaginoplasty finds herself on a road to self-discovery through the encounter with her 17-year-old son, who's existence she was not yet aware of up until that moment. This unexpected adventure that lands at her feet will lead her into new discoveries, and will lead us into the struggles and disapproval she faces daily by individuals as close as her family members.
Read More: Best Weinstein Movies of All Time
3. Brandon in Boys Don't Cry (1999)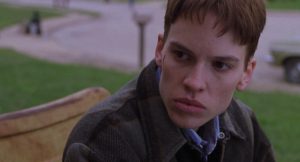 Brutally heartbreaking, "Boys Don't Cry" narrates the true story of Brandon Teena, a transsexual boy who was raped and murdered by violent and ignorant discriminators who gave no chances to the difference they saw in front of them. This character is portrayed by amazing Hilary Swank who impersonates Brandon with respect, dignity and beauty. Because of the struggles of this character being understood by others and also by himself, we can not but remember him as somebody who lived in a wrong and undeveloped world, one that we must push in becoming a better place for everyone's identity status and sexual orientation.
Read More: Best Navy Seal Movies of All Time
2. Agrado in All About My Mother (1999)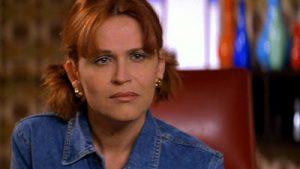 A spectacular film by Pedro Almodóvar that examines a set of societal complexities which include transsexualism, from man to woman, a topic that feels like a completely natural and logical theme considering the director's recurring interest and exploration in female characters. Agrado is the protagonist Manuela's old friend, a confident and witty transgender prostitute, a character who's strength we admire and who's kindness and honesty we love. The remarkable performance by Antonia San Juan, a transsexual herself, has made this Spanish character one to remember. Even with a beaten and bruised face, she empowers the beauty and dignity of transsexuals in the most raw and memorable form.
Read More: Best Exorcism Movies of All Time
1. Rayon in Dallas Buyers Club (2013)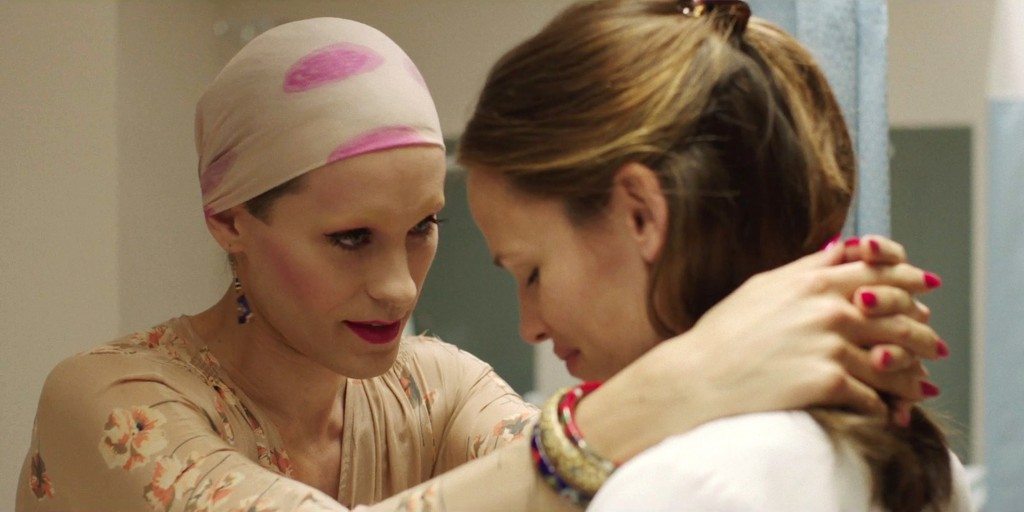 Apart from being an amazing film, it is also one that carries a big important message when telling the story of Ron Woodroof, who helped patients attained by AIDS receive the right medication, after being diagnosed and given 30 days to live in the 80's un-advanced medical world. Rayon is a drug-addicted transsexual woman with HIV who partners up with Ron and, although facing an unfortunate fate, changes the protagonist for the better as he slowly gains understanding and respect for her lifestyle, going up to defending her from other discriminators. That's the power that she spreads when expressing her true identity, even though deep down she still carries a broken soul damaged by her past. This beautiful and fragile character will linger in your heart, and for that, a huge applause and respect goes to Jared Leto, who has not and probably will never cease to impress.
Read More: Best Orphan Movies of All Time