AppleTV+'s 'Truth Be Told' is a crime drama series that follows Poppy Scoville (Octavia Spencer), a journalist turned true-crime podcaster. In the show's third season, Poppy investigates the disappearance of a young girl named Drea Spivey. However, after Drea is murdered and another girl goes missing, Poppy is forced to take matters into her own hands.
In the fifth episode, titled 'Freedom Is Never Given; It Is Won,' Markus and Zarina worry about their daughter, Trini, as her disappearance strains their relationship. Meanwhile, Poppy and Eva focus on finding Trini by tracking mayoral candidate Andrew Finney's actions. If you wish to catch up on the episode's events, here is everything you need to know about the ending of 'Truth Be Told' season 3 episode 5! SPOILERS AHEAD!
Truth Be Told Season 3 Episode 5 Recap
The fifth episode, titled 'Freedom Is Never Given; It Is Won,' opens with Markus and Poppy dealing with the aftermath of Trey's death. Markus believes that Trey was their best bet for finding his missing daughter, Trini, until his death. However, Poppy consoles him and reminds Markus that Andrew Finney might be behind the sex trafficking ring and could lead them to Trini. Meanwhile, the police closed the case of Drea Spivey's death, with Trey being reported as her killer.
Poppy tells Markus that she and Eva are tracing the gold chains and keeping tabs on Finney through his campaign manager, Alicia Rodriguez. However, Markus goes home to check up on Zarina. Poppy shows Eva the infinity symbol tattoo she found in Trey's hideout. Eva identifies the tattoo as a symbol of Finney's sex trafficking ring. Eva explains that the tattoo symbolizes Finney's personal brand, and girls with the tattoo are sent to the customers in Finney's intimate circle.
Poppy reveals that Drea's body did not have the tattoo. Hence, she suspects that Drea was killed while Trey tried to brand her. Poppy tells Eva to shadow Finney and sus out his inner circle. Meanwhile, Poppy decides to do some digging of her own. Markus returns home and tries to reconcile with Zarina after their fight. However, Zarina shuns Markus and remains focused on searching for Trini. Meanwhile, Eva meets Alicia and tells her about her suspicions about Finney. Although Alicia is shocked about Eva's claims, she decides to help Eva and gives her Finney's work schedule.
Eva follows Finney during his campaign visits to the local community. However, Markus arrives on the scene to confront Finney. However, Eva intervenes and convinces him to shadow Finney with her. Eva explains that if Finney learns that the group is on to him, they will lose any chance of finding Trini. As a result, Markus accompanies Eva as they keep tabs on Finney. However, Markus gets irked with Eva's calmness about the situation and questions her motives before leaving.
Elsewhere, Ames continues the search for Emily Mills. On the other hand, Lukather "Shreve" Scoville, Poppy's father, cannot continue the search for Trini after the OPD systematically arrests members of the Capstones. Poppy believes that Rochelle might have some answers about Trey's connection to the sex trafficking ring. However, Ames reveals that he was forced to release Rochelle after Drea's murder case was closed. As a result, Poppy directly confronts Rochelle at the diner. Poppy makes a surprising breakthrough after she receives a call from Aubrey, revealing Trini's location.
Truth Be Told Season 3 Episode 5 Ending: How Does Poppy Find Trini?
After receiving a call from Aubrey, Poppy realizes that he is trying to help her find Trini. Aubrey reached out to Trini after she dropped an episode of her podcast directed to the teenager. She implores Aubrey to redeem himself by bringing Trini home. It is possible that Aubrey realizes his mistake after Trey's death and learns how deep the sex trafficking ring runs. Therefore, he reaches out to Poppy and tells her about a private party attended by some of the richest and most influential people in Oakland, California.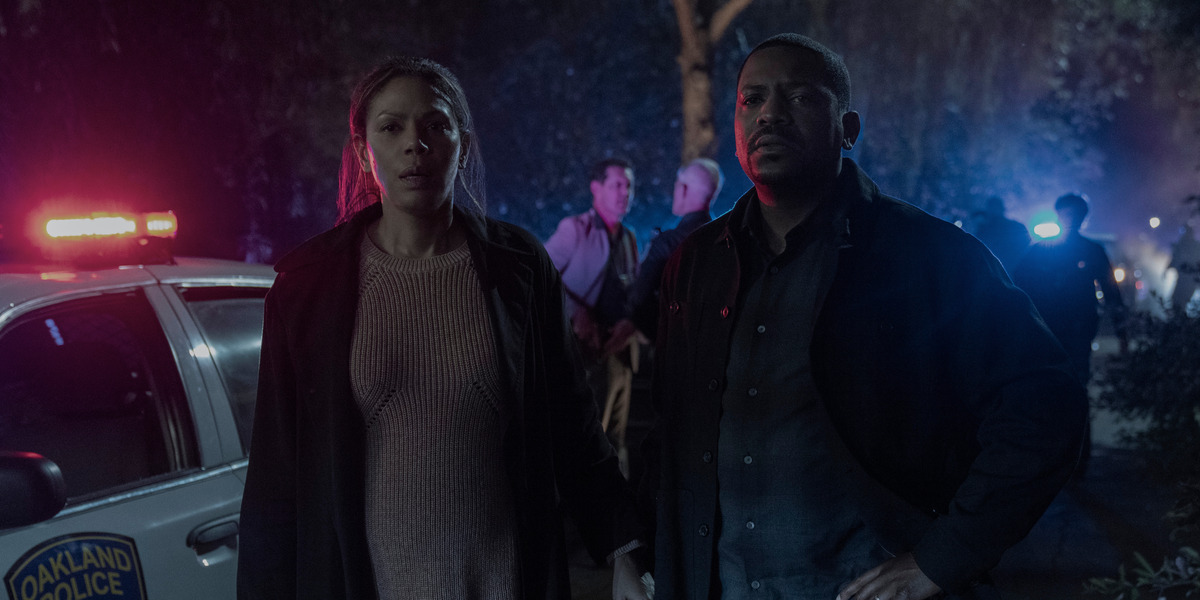 Although Poppy deduces the party's location, she faces trouble in organizing a search party. Poppy reaches out to Ames, who asks her to stand down until he can secure a search warrant. However, Ames fails to secure the warrant after the judge refuses to approve his request. On the other hand, the Capstones are reduced to mere three members due to the OPD's arrests. Hence, Poppy is forced to become creative with her choices. Poppy believes the police would help if it were Emilly Mills at the party instead of Trini.
Poppy considers using her podcast to bait the police by claiming Emily is present at the party. However, her choice could also jeopardize her entire career. With little choice, Poppy decides to go live on her podcast and implies that Emily is at the party. In the episode's final moments, Markus, Zarina, Poppy, Ames, and the police arrive at the party and conduct a raid. Consequently, the party is exposed as a ground for sex trafficking, and several guests are arrested. Poppy rescues Melanie Sanchez, another teenager who has been missing for months.
Ultimately, Trini is also rescued and reunites with her parents. However, it is implied that Trini was assaulted by a mysterious man and left scarred by her experience. Moreover, the episode's final scene sees a social worker taking Trini away from her parents as Markus and Zarina are investigated for child neglect. Meanwhile. Poppy could face the backlash for lying on her podcast and misleading the police. Thus, reducing Trini comes at a massive cost for Poppy and Markus, and the upcoming episodes could explore the repercussions of their actions.
Read More: Truth Be Told Season 3 Episode 4 Recap and Ending, Explained