The nineteenth season of ABC's medical series 'Grey's Anatomy' depicts the most appealing phase of Dr. Teddy Altman's career. After a series of fights with her husband Owen Hunt, Teddy manages to restore peace and compatibility in their relationship. When Meredith Grey leaves for Boston, she also becomes the Chief of Surgery. The nineteenth and twentieth episodes of the season depict Teddy running around Grey Sloan to fulfill several of her duties while dealing with the case of Sam Sutton. While preparing to operate on Sam, Teddy's life gets threatened, making the viewers alarmed about the character's future. Well, here's what we can share about the same! SPOILERS AHEAD.
What Happened to Teddy Altman?
The nineteenth and twentieth episodes of season 19 revolve around the Catherine Fox Award ceremony. As nominees, Winston Ndugu and Nick Marsh leave for Boston to attend the ceremony, only for Teddy to deal with the absence of two surgeons at Grey Sloan. As the Chief of Surgery, she runs around the hospital to fulfill the duties of not only hers but also the ones of Ndugu, all the while dealing with a toothache. Since she doesn't have any time to go and see a dentist, she tries to manage the pain and continue with her work. Teddy doesn't even eat food properly since she cannot chew, only for Owen to comfort her with a smoothie.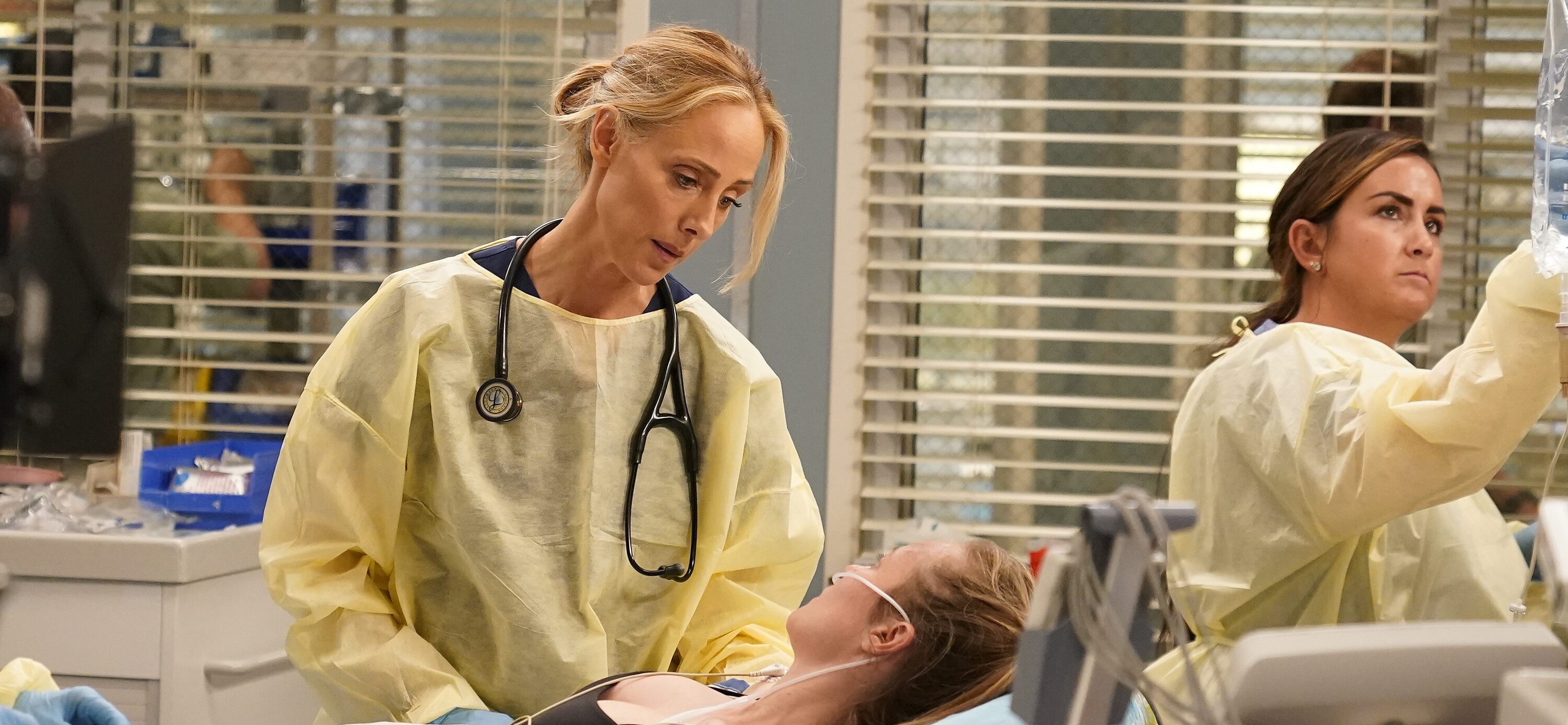 When Teddy realizes that she needs eyes on the aching tooth, she asks senior resident Levi Schmitt to take a look at the same. He does the same but stops himself from making a diagnosis since he isn't a dentist. Meanwhile, the condition of Sam Sutton, who has been recovering after a series of major surgeries, worsens as he loses an enormous amount of blood. Teddy takes him to the OR and as she prepares to operate on him, the surgeon passes out in no time. Although the interns give her CPR, she doesn't gain consciousness. After learning about what happened to his wife, Owen arrives in the OR in no time and tries to revive her using a defibrillator, only for her to remain unresponsive.
Since Teddy doesn't gain consciousness, the viewers must be concerned about her possible death and the same opening a gateway for Kim Raver to leave the show. Well, here's everything you need to know about the chances of Raver leaving the medical drama.
Is Kim Raver Leaving Grey's Anatomy?
No, Kim Raver is not leaving 'Grey's Anatomy.' Although the nineteenth season of the medical drama ends with uncertainty looming over Teddy Altman's fate, there's nothing uncertain about Raver's future in the show. The actress recently renewed her contract to appear in the twentieth season of the show as a series regular. Therefore, it is safe to say that Teddy Altman will not die in the medical drama unless the creative heads of the series would want her to loom around the corridors of Grey Sloan as a ghost, which has to be impossible.
Raver has always been vocal about the medical drama's longevity and how excited she is to be a part of such a project. "There feels something very momentous about a season 20. I just feel like there's [something] inherently in Grey's Anatomy and the amazing way to tell human stories and I feel like that just can keep going. We have all these new, young interns and there's so many stories to be told with them and I love them in contrast with the attendings," the actress told Entertainment Tonight. Raver is already looking forward to the next season as an artist.
"Because it's such an established show, I am able to have the opportunity to expand myself as an artist. For example, getting to direct. When you're just creating a new show and you're in the first season, there's so much going on trying to develop and establish that I feel very present the moment that we are in," Raver told TV Insider. "And I love that we're looking into Season 20 and I feel like I'm getting to expand as a creative and as an artist in the very place that I'm at," the actress added.
Furthermore, we may see Raver getting involved in season 20 not only as a main cast member but also as a director. "[…] I was so honored that Debbie Allen asked me to direct another episode. I'm thinking that it might be [in Season 20]," she said in the same TV Insider interview when asked about directing more episodes of the medical drama after directing the eleventh episode of the nineteenth season.
Read More: Who Does Amelia Shepherd End Up With in Grey's Anatomy?