A remake of the 1986 eponymous movie directed by Edward Zwick, which in itself is based on the 1974 play 'Sexual Perversity in Chicago' by David Mamet, 'About Last Night' is a 2014 romantic comedy movie helmed by Steve Pink. It follows Danny, who comes across a successful businesswoman named Debbie while he is out with his friend Bernie. Despite both being skeptical of relationships in general, Danny and Debbie can't help but feel attracted to each other, leading them to spend the first of many nights together. While they try to make their new relationship work, their respective friends, Bernie and Joan, try to warn them.
Meanwhile, Bernie and Joan start feeling some chemistry between themselves. Grossing $50 million at the box office, the movie was positively received by fans and critics as the performances of the star-studded cast of Kevin Hart, Michael Ealy, Regina Hall, and Joy Bryant were praised. The romantic movie unfolds in Los Angeles as the two couples put their respective relationships to the test in the real world in different settings. The ever so changing backdrops don't only symbolize the transition in the dynamics of the relationships, but they also make one wonder where 'About Last Night' was actually shot. Well, if you are one such curious soul, we have got you covered!
About Last Night Filming Locations
'About Last Night' was filmed in California, especially in Los Angeles. According to reports, the principal photography for the Kevin Hart starrer took place over seven weeks in late 2012. So, let's follow the couples and learn about all the specific locations where they get to know each other in the Steve Pink directorial!
Los Angeles, California
The production team decided to shoot most of 'About Last Night' on location in a 10-block radius around 6th and Main Streets in Los Angeles, and by doing so, managed to minimize transportation costs during the shooting. Two bars, Broadway Bar at 830 South Broadway and Casey's Irish Pub at 613 South Grand Avenue, were mainly used to lens the bar scenes for the comedy movie. Danny's apartment's exterior was shot at Santa Fe Lofts at 121 East 6th Street, while Bernie's apartment scenes were shot at the Pacific Electric Building, both in Los Angeles.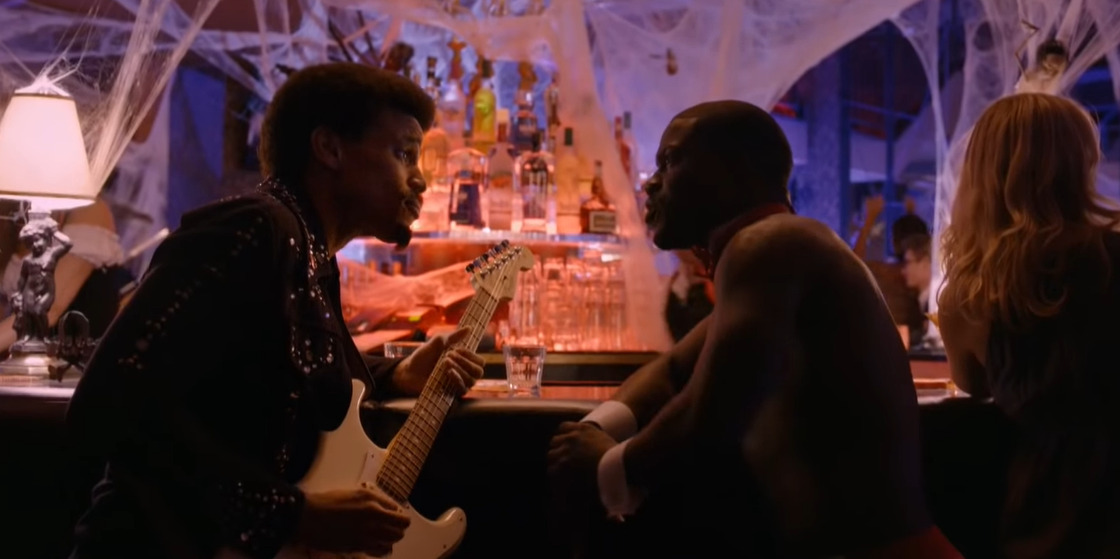 Regarding the swimming pool and park scenes, they were taped on location at Los Angeles Athletic Club at 431 West 7th Street and Grand Park at 200 North Grand Avenue, both in LA. The filming unit made one exception and went outside their radius to shoot the baseball stadium scenes in the Dodger Stadium at 1000 Vin Scully Avenue, Chavez Ravine in Los Angeles' Elysian Park. Furthermore, Cole's French Dip at 118 East 6th Street, Pussy & Pooch Pethouse and Pawbar at 564 South Main Street, and South Broadway Street served as some other prominent filming sites for 'About Last Night.'
In a September 2013 interview with Collider, one of the stars, Michael Ealy, was asked about his experience shooting in downtown LA. He replied, "Obviously, the original takes place in Chicago, which is definitely an urban environment that is a character within the play. What we tried to accomplish in this one was that, by keeping it in an urban area like Downtown L.A., there will be people in Chicago that can relate, and there will be people in D.C. that can relate."
"…If you're in an urban environment, in any other major city, you understand what it's like to live this life. I think that was one of the smartest things we did. If we had shot out in Santa Monica instead, people in Kansas City can't relate to that. There's no fucking ocean. It's just not happening. But, keeping it urban and keeping it in Downtown L.A., we've made it more accessible," the actor added.
Read More: Best Rom-Coms on Netflix