If the best way to spread Christmas cheer is singing loud for all to hear, then curling up with your family and rewatching 'Elf' will definitely be a close second. It is impossible to think of Christmas movies and not include Jon Favreau's charming Christmas feature 'Elf'. It is one of those rare holiday films that went on to become a full-fledged Christmas classic, one of the best at that, with its big heart, witty humour and heartwarming magic. Something to get everyone nostalgic and remember the simple joys of life.
The film centres around Buddy (Will Ferrell), a human baby who accidentally ends up at the North Pole one Christmas, and is raised by the Elves as one of their one. Of course, as he grows old and big (so big), he realises he doesn't really fit in. When Buddy learns to know that he is, in fact, human, he decides to go on a journey to New York City to find his biological father,who we learn is on Santa's naughty list.
'Elf' has all the wonderful elements required to make it a heartwarming holiday classic; it has its own version of a modern-day scrooge, and is a story about redemption, family, finding love, and most importantly, spreading the Christmas cheer. The film is magical enough to warm even a cynic's heart and spreads joy to whoever watches it. This gains significance especially because 'Elf' is, in a lot of ways, about New York City and spreading cheer to its people, who, at the time, were still healing from the city's biggest tragedy.
Elf Filming Locations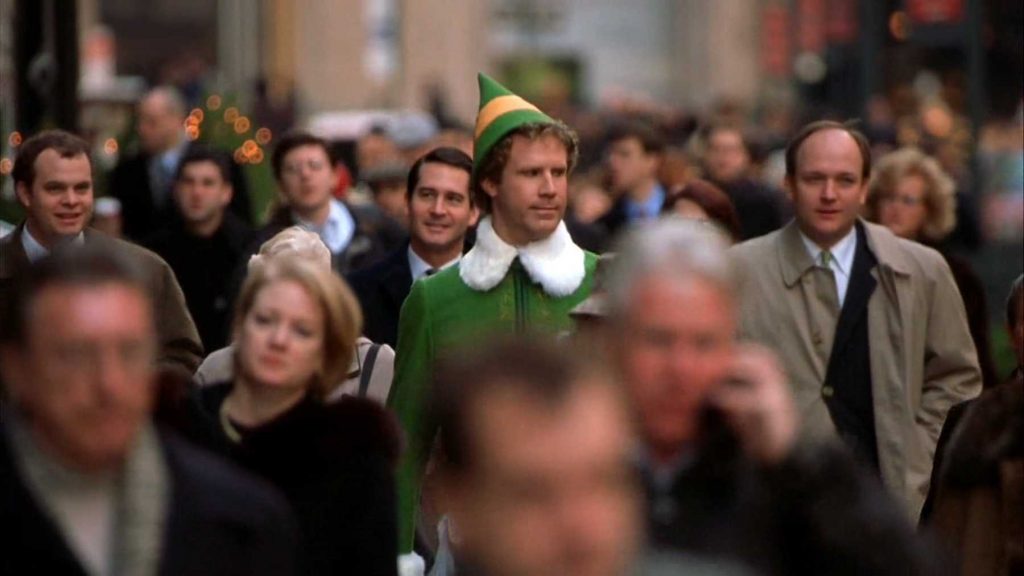 The principal photography of 'Elf' began in December 2002, and was wrapped up by March 2003. The initial bits of the film were shot in Vancouver, Canada. But from the time Buddy comes to New York City to find his father, the scenes were mostly shot on location, primarily in Manhattan. The city, at the time, was still in mourning and was filled with paranoia after the horrifying tragedy of 9/11. This ended up being a major challenge for 'Elf'. But Buddy's innocence and genuine determination to lift the Christmas spirit succeeded in spreading some much-needed cheer and warmth to the city that trying to heal itself.
Manhattan, New York, U.S.A.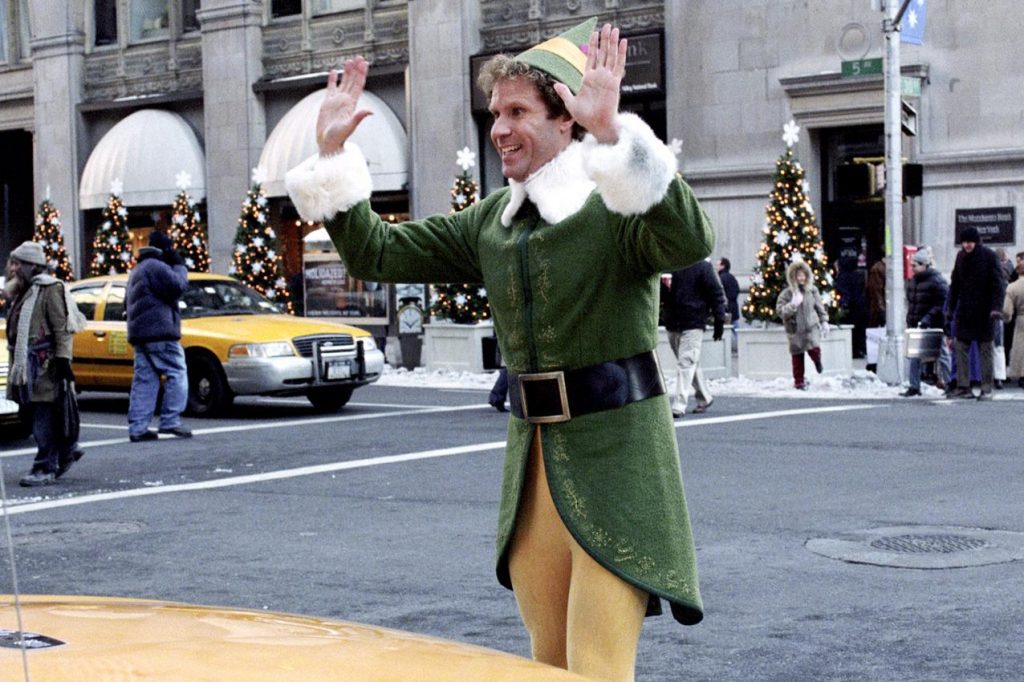 Manhattan plays a key role in Favreau's 'Elf' as it is in the city that Buddy learns and grows, finds both love and family, and also manages to teach some valuable lessons along the way. The movie makes use of a lot of exteriors shots in Manhattan, and ends up beautifully mapping out the city through Buddy's journey. It captures most of Manhattan through a hilarious montage of Buddy exploring the city by himself with Louis Prima's "Pennies from Heaven" playing in the background.
We all know how Buddy entered New York. He passed through seven levels of the Candy Cane forest, through the sea of swirly twirly gumdrops, and then walked he walked through the Lincoln Tunnel. The Tunnel under the Hudson River, connects Weehawken, New Jersey with Midtown Manhattan in New York City. Of course, in real life it would be illegal to walk through the tunnel. So, if you ever feel like giving yourself an 'Elf' tour of the city, we recommend a car.
It is in Park Avenue (at East 38th Street) that Buddy waves enthusiastically at the guy hailing a cab. The scene also has Grand Central Station in the background. Buddy gets his shoes shined at the Concourse of the station, where he gets a hilarious fit of laughter.
Buddy then passes through several places in 5th Avenue as he explores the city. It is here that he hops across the pedestrian crossing between East 22nd and East 23rd Streets, and also sees Santa around the area. The bit where Buddy eats the leftover chewing gums at a subway was filmed at the Uptown & Queens Subway Station. The revolving door bit in the montage was also in 5th Avenue.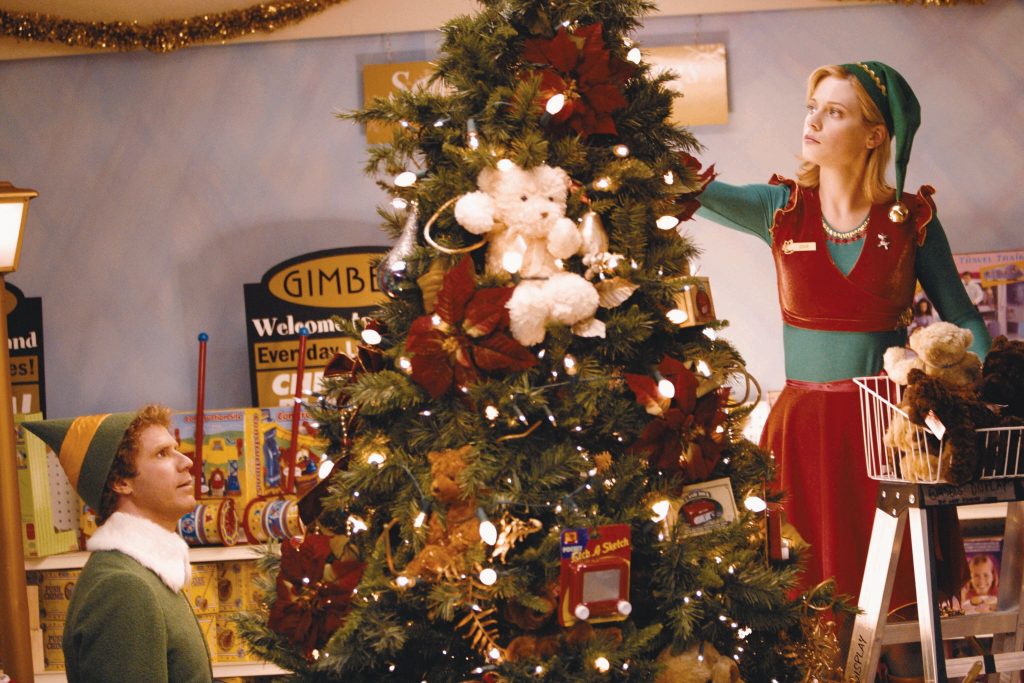 The Empire State Building plays an important role in the film as it was a place that Buddy only dreamed of from his snowball. He then eventually learns that his father, Walter Hobbs (James Caan). In an interview with Rolling Stone, Favreau spoke of how bringing this aspect of the film with the Empire State Building after the 9/11 tragedy felt "almost like reclaiming Manhattan."
Another significant location used in the film is Macy's on 34th Street which is actually digitally altered to say "Gimbels", a departmental store that shut back in the 80s. It is where Buddy first meets Jovie (Zooey Deschanel).
'Elf' also makes use of a lot spaces in and around Central Park and Central Park West. The Hobb's apartment building is located in Central Park West, and so is Michael's school. The movie shows Central Park in all of its glory, as it is where the iconic snowball fight happens. And of course, Central Park is where the film's heartwarming ending takes place, with all of New York coming together to carol in order to raise the Christmas spirit. This was also the scene where Ferrell teared up during the premiere. Given the context, with New York healing from the 9/11 tragedy, the scene becomes all the more heart-wrenching and wholesome.
British Columbia, Canada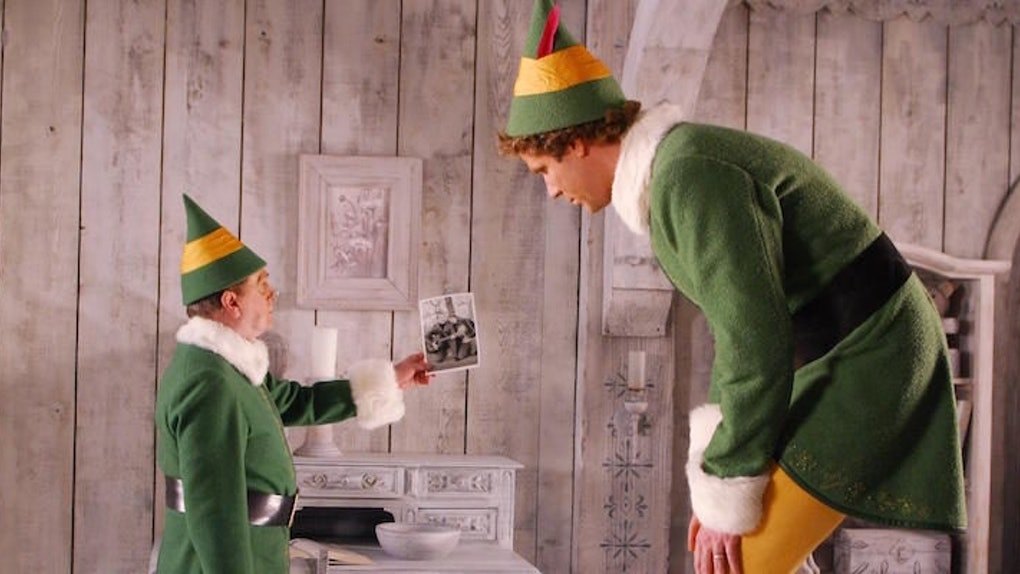 Several of the film's interior scenes were filmed in sound stages in Vancouver. For certain interior scenes, an abandoned mental hospital, Riverview Hospital was used. The production team constructed the interior sets for several scenes from 'Elf', including most of the North Pole scenes with the elves, Gimbel's marvelous toy department, the inside of Walter Hobb's apartment, and even the prison cell where Buddy finds himself after that unfortunate incident with the fake Santa at Gimbel.
'Elf' is hands down one of the best Christmas films out there. Make yourself some warm cup of cocoa, gather your loved ones and be prepared to sing along to "Santa Claus is Coming to Town", when you revisit this magical Christmas classic on Netflix this festive season.
Read More: Movies Like Elf