Hallmark's 'A Winning Team' revolves around Emily Chen, a professional soccer player who loses her job and visits her hometown to meet her widowed brother. Ian Vermette is her niece's soccer coach, and Emily accidentally injures him. To make sure her niece's team wins, she coaches them instead of Ian. However, the difference in their teaching styles and mindset worries him.
The Jason Furukawa directorial is a romance movie that showcases a beautiful relationship between individuals with distinct ideologies. The open fields, stadiums, and lively surroundings undoubtedly elevated the feel-good vibe of this film. If you wish to learn about all these places that were featured in 'A Winning Team,' here's all you need to know!
A Winning Team Filming Locations
As per reports, the principal photography of the movie occurred in New Jersey and British Columbia, particularly in Vancouver. Filming in New Jersey has several perks, such as profitable incentive programs and diversity bonuses. British Columbia also serves as a shooting site in several movies due to its varied landscape that ranges from mountains, beaches, and lakes to forests and inland deserts. The shooting of the wholesome romantic flick seemingly took place around December 2022. Here's an in-detailed look at the specific filming locations.
New Jersey
Several pivotal sequences of the film were lensed in New Jersey, known for its amusement parks, baseball, and untouched nature. The Garden State is preferred by filmmakers because of its casinos, serene beaches, and entertaining boardwalks. A few popular shooting locations in this northeastern state include The Great Falls of Paterson, Princeton University, Fort Lee Historic Park, and Leonard J. Buck Garden. 'Center Stage,' 'Something Wild,' and 'As Good As It Gets' are some romantic movies shot here.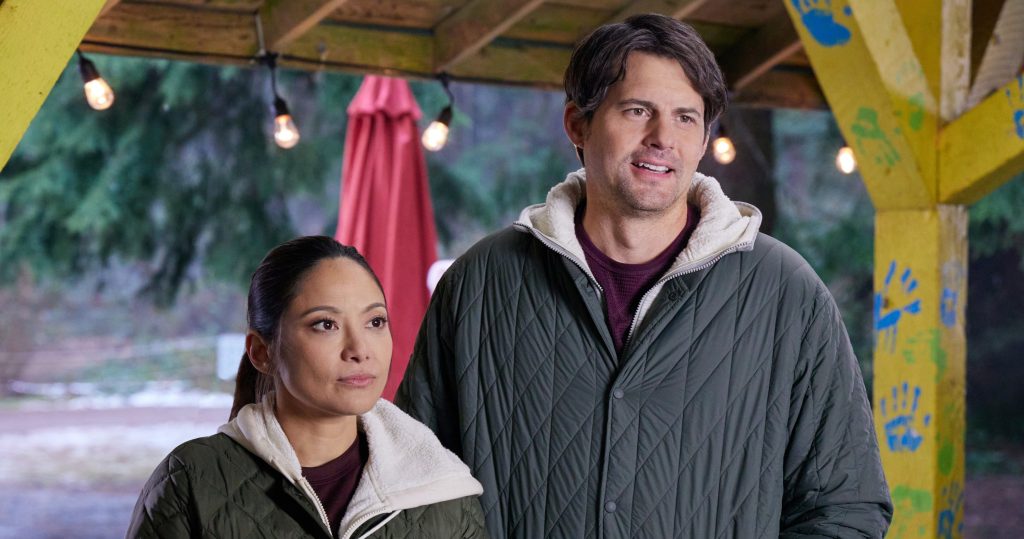 Vancouver, British Columbia
The crew also filmed in Vancouver, which is considered one of the best places to tape a film due to its picturesque views, favorable climate, and modern architecture. Known as the Hollywood of the North, it doubles for several places in the U.S.A., such as San Jose, Boston, and Seattle. The Rain City's most popular shooting sites include Granville Island, Vancouver Art Gallery, Marine Building, and Campbell River.
The crew lensed multiple segments at BC Place, a vast and multi-purpose stadium at 777 Pacific Boulevard, Vancouver. The giant stadium's construction cost is around $307 million, and it can contain up to 55k people. A few other Hallmark movies recorded in the most populated city of the province are 'Hope At Christmas,' 'Road To Christmas,' and 'The Perfect Bride: Wedding Bells.'
A Winning Team Cast
'A Winning Team' features Kristoffer Polaha as Ian, the injured coach. The actor is well-known for his portrayal of Wyatt in 'Jurassic World: Dominion' and Calvin in 'Where Hope Grows.' Jovanna Burke essays the character of Sheila; you may recognize her as Mary Worthington in 'Supernatural' and Coraline Jennings in '13 Miles.' Nadia Hatta stars as Emily, the lively soccer player turned coach. The actress can also be seen in other notable projects as Mei Chen in 'Away' and Agent Shiela in 'Head Above Water.'
Marci T. House also appears in the heartwarming romantic flick as Coach Avila. She is known for her performance as Warden Rosaline Henley in 'Fire Country' and Agent Harris in 'Sheltering Season.' The talented cast also ensembles of Morgana Wyllie as Noor, Tyson Dornn as Captain, Juliette Hawk as Izzy, and Niki Garcia as Izzy. Other notable actors also include Marcel Zadé as Matteo Morales and Mathew Yanagiya as Arlo.
Read More: Best Feel Good Movies of All Time