Season 10 of Hallmark's 'When Calls the Heart' witnesses several interesting new faces gracing Hope Valley, especially after the discovery of the hot springs. While some of them bring joy to the entire town, some are suspicious from the get-go, and it is unclear what their intentions are. One such new person we see is Harry Henning, whose entry in Hope Valley raises many eyebrows, yet one cannot help but empathize with his struggles for a moment. Naturally, Harry's character has made everyone curious, so here we are with all the relevant details you need to know! SPOILERS AHEAD.
Who is Harry Henning?
When Faith is on her doctor's rounds to neighboring towns, she is suddenly waylaid by a masked young bandit who attempts to rob her by brandishing a fake gun. However, her presence of mind and Nathan's sudden entry throw the youth off his guard, and he somehow evades arrest. While the Mountie is annoyed at being unable to arrest the bandit, Faith tells him to let it go, and they eventually forget the matter. Yet, just a few days later, she and Nathan notice an unidentified young man lurking around the Yosts' mercantile, who accidentally injures his hand.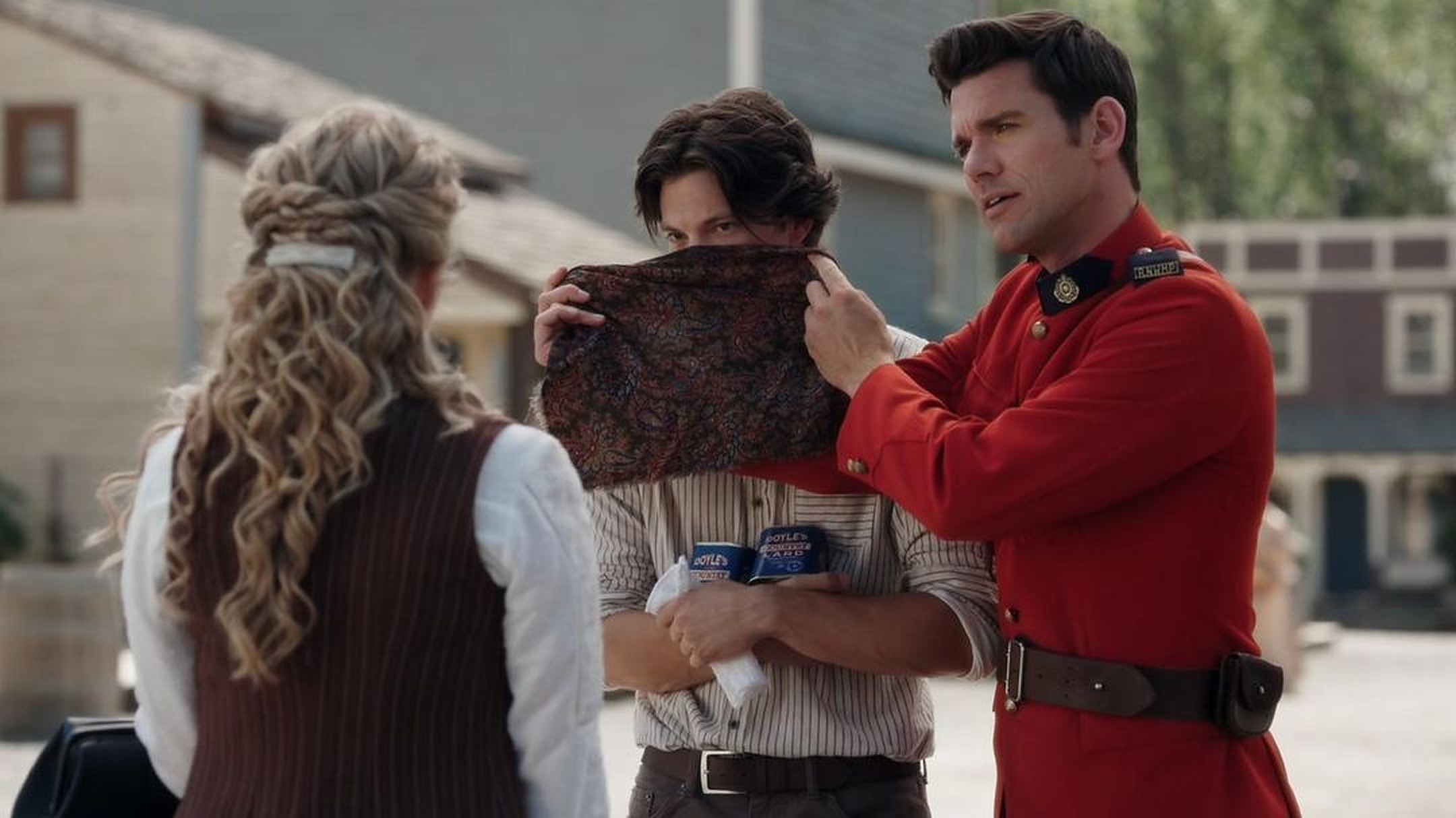 Faith offers to help the young lad and takes him to her clinic, but Nathan cannot shake off the feeling that he is up to something. His intuition proves absolutely correct, as the man tries to escape without getting treatment. Piecing two and two together, Nathan deduces that he is Harry Henning, the same bandit who tried robbing Faith earlier and has also stolen two tins of lard from Ned's shop. Thus, he takes the youth into custody and puts him in jail, but to his surprise, Scout seems to be overly friendly with him.
Eventually, Nathan confronts Harry and asks him why he became a bandit, to which the latter then shares his unfortunate story. A resident of the neighboring Eagle Creek, he is from a farming family with considerable land, which has all dried up recently and yielded no crop, resulting in a severe financial crisis for the town. Given the hands-to-mouth situation of his family and the lack of jobs, Harry is forced to become a bandit to source food and other necessities for them by robbing travelers and nearby towns.
Nathan realizes that Harry is not a bad person and that his unfortunate circumstances have pushed him down the path of crime. Feeling sympathetic for the young boy, he decides to give him a chance at redemption and takes him to the mercantile. There, Harry apologizes profusely to Ned and Florence for stealing from them, and they forgive him graciously on one condition — that he pay for the goods he stole by working for them at the mercantile. Amazed at the kindness shown by the Hope Valley residents, the young lad readily agrees.
Harry quickly adapts to life in town and gets along well with the Yosts, utilizing his second chance to turn his life around and earn a decent living for his family. Meanwhile, Nathan visits Eagle Creek and is shocked to see the deplorable plight of Harry's family and other residents. When he asks the latter about the same, he reveals that one day, some representatives of Union City Holdings mysteriously appeared at their doorstep and convinced his father to sell his farm to them.
Soon, the river that passed through the Hennings' farm and the town dried up, making the land barren and causing financial ruin for everyone. Nathan is intrigued hearing this from Harry and wonders who is the culprit behind all this and whether they will target Hope Valley next. Nevertheless, Harry ends up taking a liking to Nathan and is grateful for the graciousness the latter has shown him and his new life in Hope Valley.
Who Plays Harry Henning?
Brendan McRae plays the Bandit, AKA Harry Henning, in 'When Calls the Heart.' Though his career span is relatively short and new, the young actor has been part of some wonderful productions before the Hallmark show. You can catch Brendan as John Cusack in the rom-com 'Prom Pact' and Timmy Twyst in the hit TV series 'Riverdale.' In addition, he has briefly appeared in the comedy movie 'Honor Society.'
Besides his acting work, Brendan has also dabbled in technical jobs for film and TV production. He worked as a lamp operator in the movie 'Crawlspace' and was a lighting technician for the movie 'Secrets of a Marine's Wife.' While the actor prefers to keep his life away from the limelight, he seems close to his family, especially his mother. Furthermore, Brendan loves traveling and is a big fan of outdoor activities like surfing and fishing. Not only this, but the up-and-coming actor seems passionate about music and is always eager to spend time with loved ones.
Read More: Shows Like When Calls The Heart