In a short time since its inception, Apple TV+ has built a library of titles that present movies and TV shows of all genres to the audience. There is something for everyone, and the streaming service keeps adding to that collection every month. Still, there are very few films that take the audience on a journey that is enticing and seductive at the same time. Sometimes, we just want to watch a film for the simple fact that it looks good and stirs some interesting emotions. These films (sexy is the term we use) can range from everything from a feel-good movie to a crime thriller to a romance drama. The sexiness of the movie is just as much a hook as its plot and other things, and Apple TV+ offers several such films to cater to every audience.
7. The Sky is Everywhere (2022)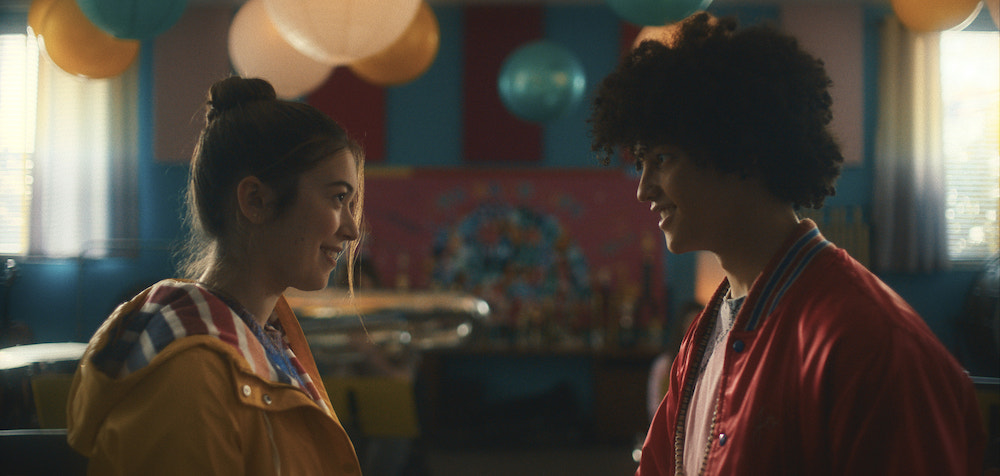 Based on the novel of the same name by Jandy Nelson, 'The Sky is Everywhere' follows the story of Lennie, who is trying to move forward while grieving her older sister, who died suddenly. Things change when she meets Joe Fontaine, the new guy at school who is as charismatic as he is good. Lennie is drawn to Joe, and he reciprocates her feelings. But while there might be a flicker of love between them, Lennie also feels connected to Toby, her sister's boyfriend, who is also going through a tough time since losing her. Lennie is torn between the two boys and must decide whom she wants to be with. You may watch 'The Sky is Everywhere' here.
6. Palmer (2021)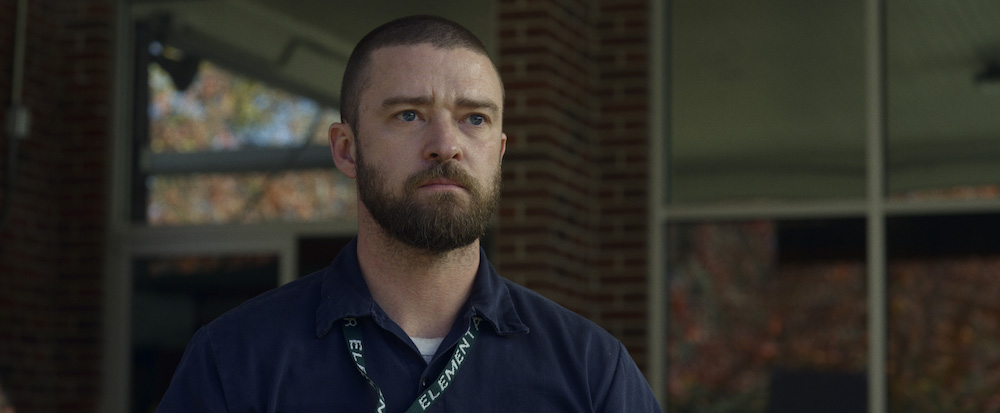 Starring Justin Timberlake in the lead role, 'Palmer' follows the titular character through a tumultuous time in his life. Eddie Palmer has been recently released on parole and is trying to change his life. He temporarily moves in with his grandmother, through whom he gets in touch with Shelly and her kid, Sam. Eddie also develops a relationship with Sam's teacher, Maggie.
The movie takes us through the difficult lives of Palmer and Sam as they try to be there for each other while going through tough times. While the film is mostly dedicated to exploring the adopted family situation between Palmer and Sam, we also see the budding romance between the protagonist and Maggie (played by Alisha Wainwright from 'Raising Dion'). You may watch it here.
5. Hala (2019)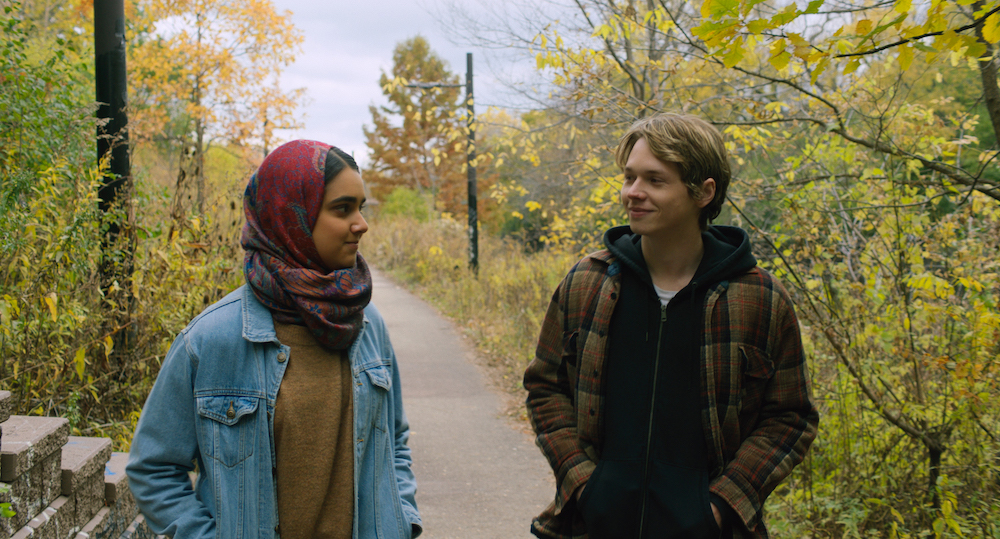 'Hala' follows the story of a 17-year-old Pakistani American girl who finds herself longing for freedom and self-exploration while being held back by her family, who are adamant about making every decision for her. Her interest in skateboarding is one of the things that worries her mother, apart from the concern that she might near boys and fall off the path set out for her. It is expected that when Hala grows up, her marriage will be arranged with a boy of her family's choice, but they don't know that Hala has a crush on a boy in her school, Jesse.
The movie takes us through the ups and downs in Hala's life as she tries to figure out what she wants and how to understand herself better while leaving the restraints of her family and society. She also acts on her attraction towards Jesse and pushes the boundaries of sexual exploration that were put up for her by her family. You can watch 'Hala' here.
4. Ghosted (2023)
Put Chris Evans and Ana de Armas in the same frame, and you have the recipe for a sexy film. These highly attractive actors were reunited (following their collaboration on Rian Johnson's 'Knives Out') in a movie that is a fun take on the spy romance genre. Evans plays the role of Cole Turner, who has a bad track record in relationships. He gets too attached too quickly. He becomes clingy and drives the person away before they can get to know him.
When he meets de Armas' Sadie Rhodes, they have instant chemistry. But then, when she doesn't reply to his million texts for three days, he decides to visit her in London, which is where she mentioned she was going. Once there, he discovers a shocking truth about her. To know what that is, you can check out the film here.
3. Cha Cha Real Smooth (2022)
Written and directed by Cooper Raiff, who also stars in the film alongside Dakota Johnson, 'Cha Cha Real Smooth' is about being in your 20s and having no idea what you want to do with your life. The protagonist is Andrew, whose girlfriend has recently moved to Barcelona, leaving him behind to figure out what to do next. He plans to make enough money to join her there and discovers his talent of being a party starter when he changes the mood at a bat mitzvah he attends with his 12-year-old brother. This is where he meets Domino, who is there with her daughter, Lola. Andrew forms a friendly connection with Lola, which surprises Domino and brings her and Andrew closer. To find out what happens next, feel free to check out the movie here.
2. Cherry (2021)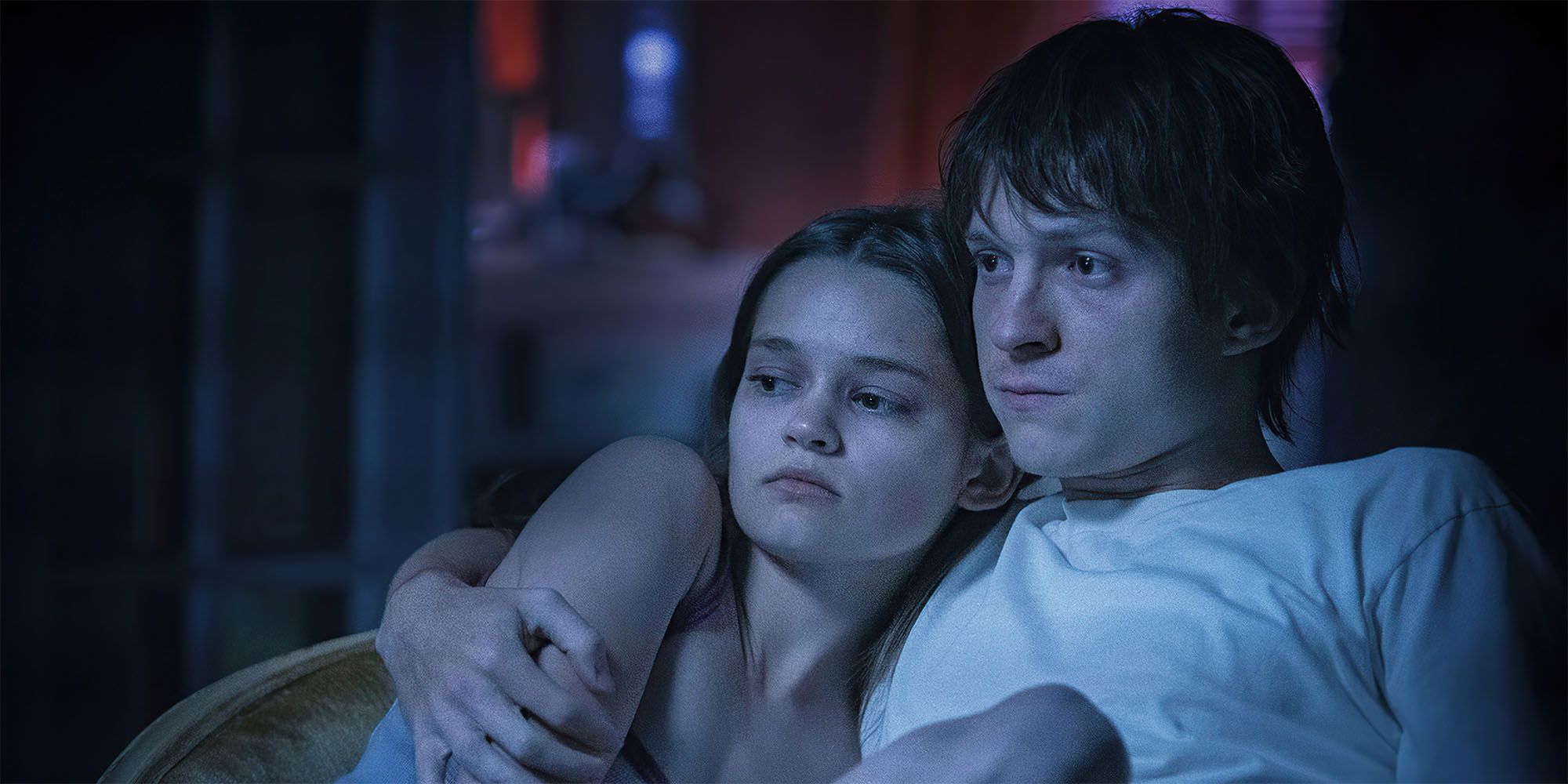 Based on the book of the same name by Nico Walker, 'Cherry' stars Tom Holland as the titular character and follows his story through the years as he goes from a college student living a carefree life and falling in love to a veteran with PTSD whose drug addiction leads him to do some very questionable things. The film focuses on Cherry's relationship with Emily, with whom he falls in love when they're in college. Over the years, their relationship goes through the test of time as they both indulge in drugs and other things. You may watch the film here and find out what happens eventually.
1. Sharper (2023)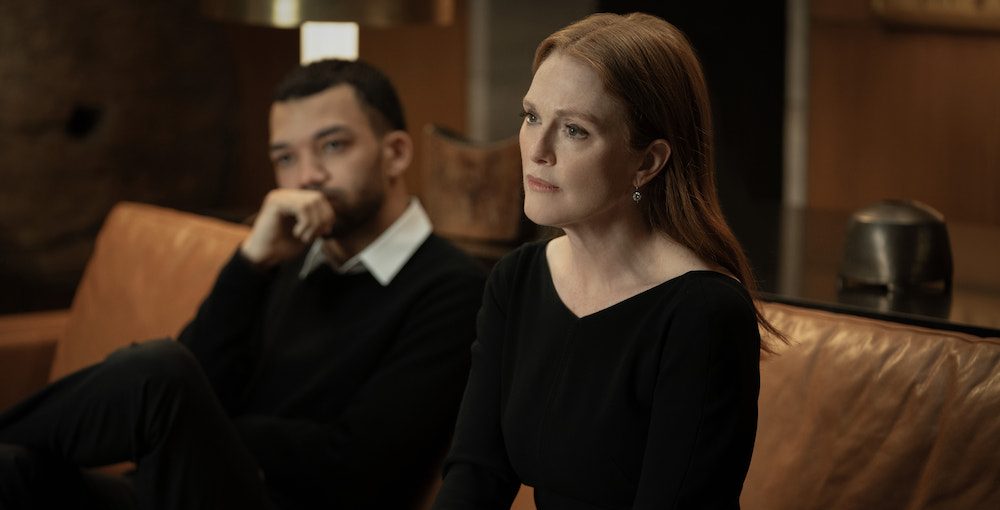 This crime thriller stars Julianne Moore, Sebastian Stan, Justice Smith, and Briana Middleton as Madeline, Max, Tom, and Sandra, whose lives are entangled with each other through a connection that reveals itself as the events unfold. The story is told in five parts, following the perspectives of the four characters, giving us an insight into their intentions and the reasons behind their action. Each one of them is trying to outsmart the other, and sex becomes an important tool to manipulate and control each other. The story also gets more convoluted with each revelation, making us wonder who is playing whom and why. With all this, 'Sharper' delivers an engaging story that is also easy on the eyes because of such great-looking actors. You can watch the movie here.
Read More: Sexiest Shows on Netflix