It's easy to say that 'Knives Out,' directed by Rian Johnson, is a stylized take on the mystery genre in a way that almost transcends it while complementing it. From the camera work to the visual techniques to the plot devices, every aspect of the movie adds to the excitement that is expected of a whodunnit. Daniel Craig's Detective Benoit Blanc crackles, surrounded by his suspects who further add to the charm and at the same time showcase distinct and equally peculiar personalities. Johnson makes complete use of the ensemble that includes Jamie Lee Curtis, Don Johnson, Michael Shannon, Riki Lindhome, Toni Collette, Chris Evans, Ana de Armas, Jaeden Martell, and Katherine Langford.
A short recap just for recap's sake – the basic premise deals with the conspiracy behind the mysterious death of millionaire writer Harlan Thrombey. Expert detective Blanc arrives at the former's mansion after receiving an envelope full of money from an anonymous person who wants him to find the killer. What follows is Blanc taking his time to analyze his new environment and its residents to figure out who killed Thrombey and how. But you already know this, don't you? So, if you are up for mystery movies that offer a similar experience, we bring you a list of movies like 'Knives Out' on Netflix.
8. In for a Murder (2021)

'In for a Murder' is a Polish crime mystery movie originally titled ''W Jak Morderstwo,' based on a book of the same name by Katarzyna Gacek. It is directed by Piotr Mularuk and tells the story of a housewife named Magda (Anna Smołowik), who loved to read Agatha Christie novels and hasn't moved on from her childhood best friend Weronika's mysterious disappearance. All these years later, she comes across a female corpse in a park. What's strange and shocking is that the woman has a W-shaped pendant on her neck, very similar to the one that Magda once gifted Weronika. What follows is Magda teaming up with Commissioner Jacek Sikora (Pawel Domagala), her school friend and former lover, to solve the mystery. With an engaging plot that has its own fill of humor, 'In for a Murder' can easily be called a love letter to 'Knives Out.'
7. In the Shadow of the Moon (2019)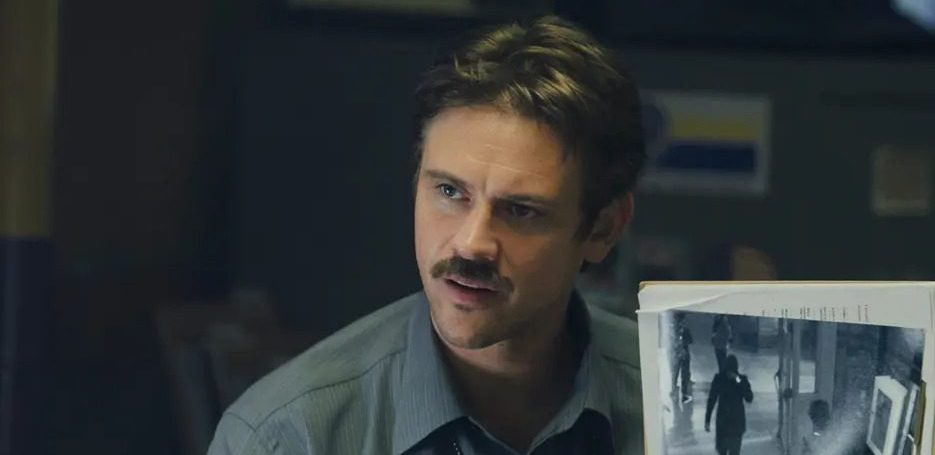 'Knives Out' does make one wonder what's going on and ask how the murder occurred. If you get a kick out of wondering what's going on and why what's happening is happening, 'In the Shadow of the Moon' is a detective thriller that is bound to spark the same inquisitiveness in you. Directed by Jim Mickle, the movie tells the story of a police officer who, after every 9 years post witnessing the death of a serial killer in 1988, realizes that the killer is back and on track to kill more. But how is this possible? We don't want to spoil it for you and suggest you watch it. The movie stars Cleopatra Coleman as a young woman named Rya, who is the serial killer, and Boyd Holbrook as Officer Locke. Like Benoit, Locke is someone obsessed with finding out the truth. To know more, you have to step into the "shadow of the moon."
6. Murder Mystery (2019)
Directed by Kyle Newacheck, 'Murder Mystery' takes Nick Spitz (Adam Sandler), a New York City cop, and his wife Audrey (Jennifer Aniston) on a Europe trip. The trip will serve as a 15-year-old wedding day promise as well as a means to reignite the spark in their marriage. A chance encounter with Charles Cavendish (Luke Evans), a British gentleman, lands the couple on a yacht touring the French Riviera. During their stay, the mysterious murder of Cavendish's uncle Malcolm Quince (Terence Stamp), who has invited his family to cut them out of his will which will go now to his new partner Suzi (Shioli Kutsuna), turns their trip into an investigation.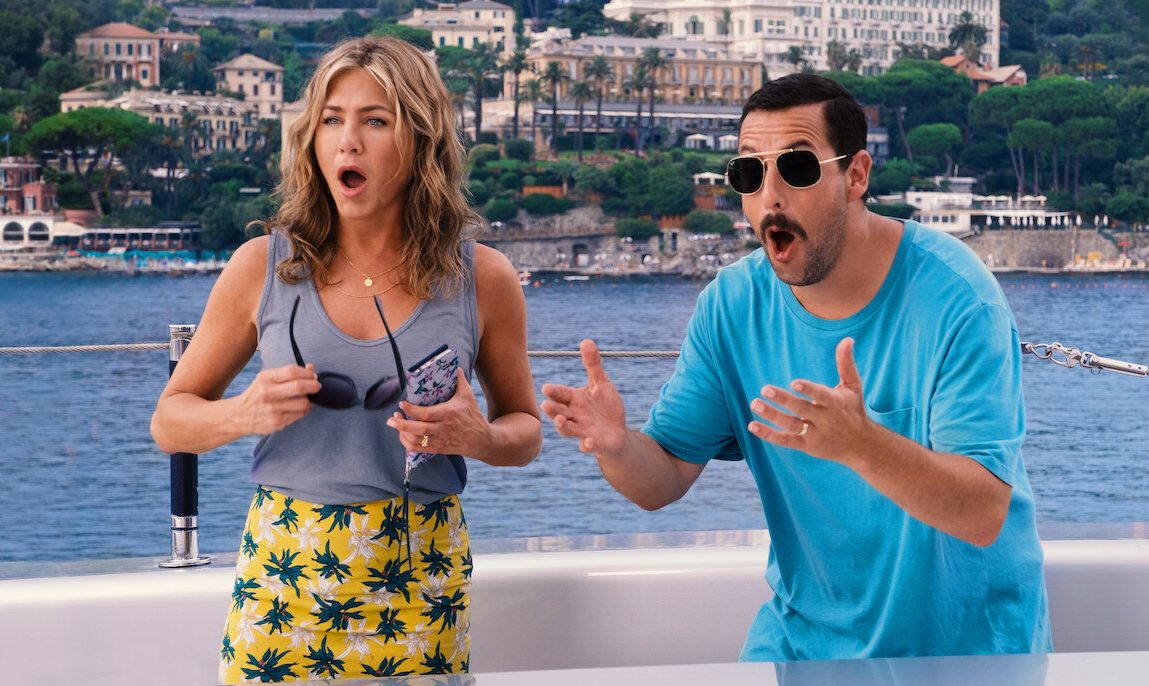 Pretty much like 'Knives Out,' there is an underlying humor in this movie that is more pronounced. However, in neither of them does the humor pull us away from the stories at hand. Furthermore, what makes the two movies similar is how the murders occur at a personal level for the victim, or in other words killed by someone very close. In this way, the two movies seem to underscore Shakespeare's words from Macbeth, "The near in blood, the nearer bloody."
5. 7 Women and a Murder (2021)
Directed by Alessandro Genovesi, '7 Women and a Murder' or '7 Donne e un Mistero' (original Italian title) offers vibes that are quite similar to 'Knives Out,' especially in terms of his visual appeal. When a wealthy businessman named Marcello (Luca Pastorelli), the family patriarch, is discovered dead with a knife in his chest, it is up to the women of the mansion (an all-female cast) to find out who the killer is. The phone lines are cut, someone has tampered with the car engine, and there is a blizzard outside; all this prevents them from leaving the mansion while giving them the assurance that someone among them is the culprit. What follows is how they find the trace back to the truth about what transpired.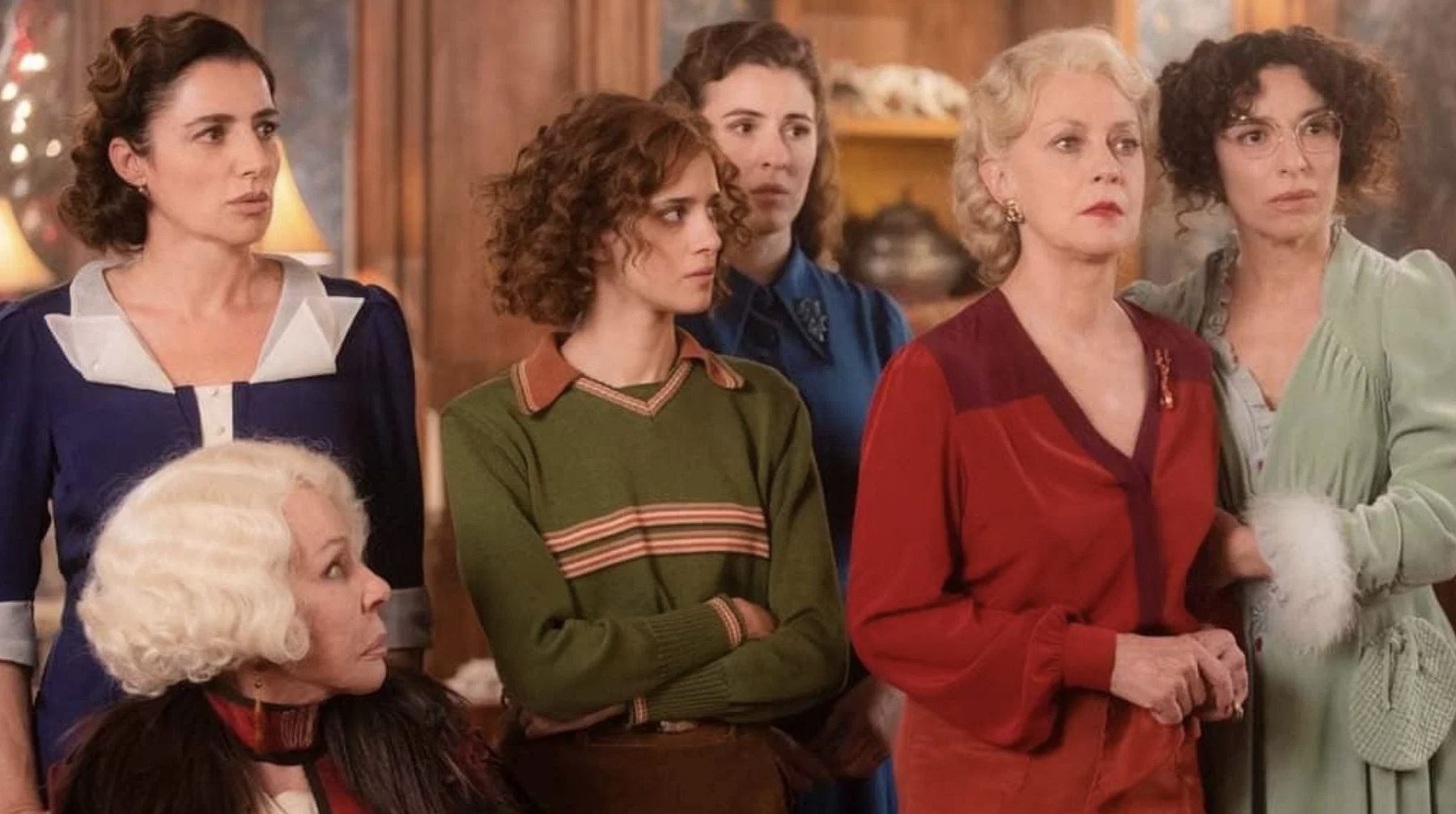 The women of the household include Diana Del Bufalo as Susanna (Marcello's daughter), Margherita Buy as Margherita (Susanna's mother), Sabrina Impacciatore as Agostina (Susanna's aunt), Benedetta Porcaroli as Caterina (Susanna's younger sister), Luisa Ranieri as Maria (the housemaid), Micaela Ramazzotti as Veronica, and Ornella Vanoni as Rachele (Susanna's nana). What makes this movie akin to 'Knives Out' is that the murder and the investigation both take place inside the house. However, in this one, there is no detective as such and the women themselves figure out the truth.
4. They Cloned Tyrone (2023)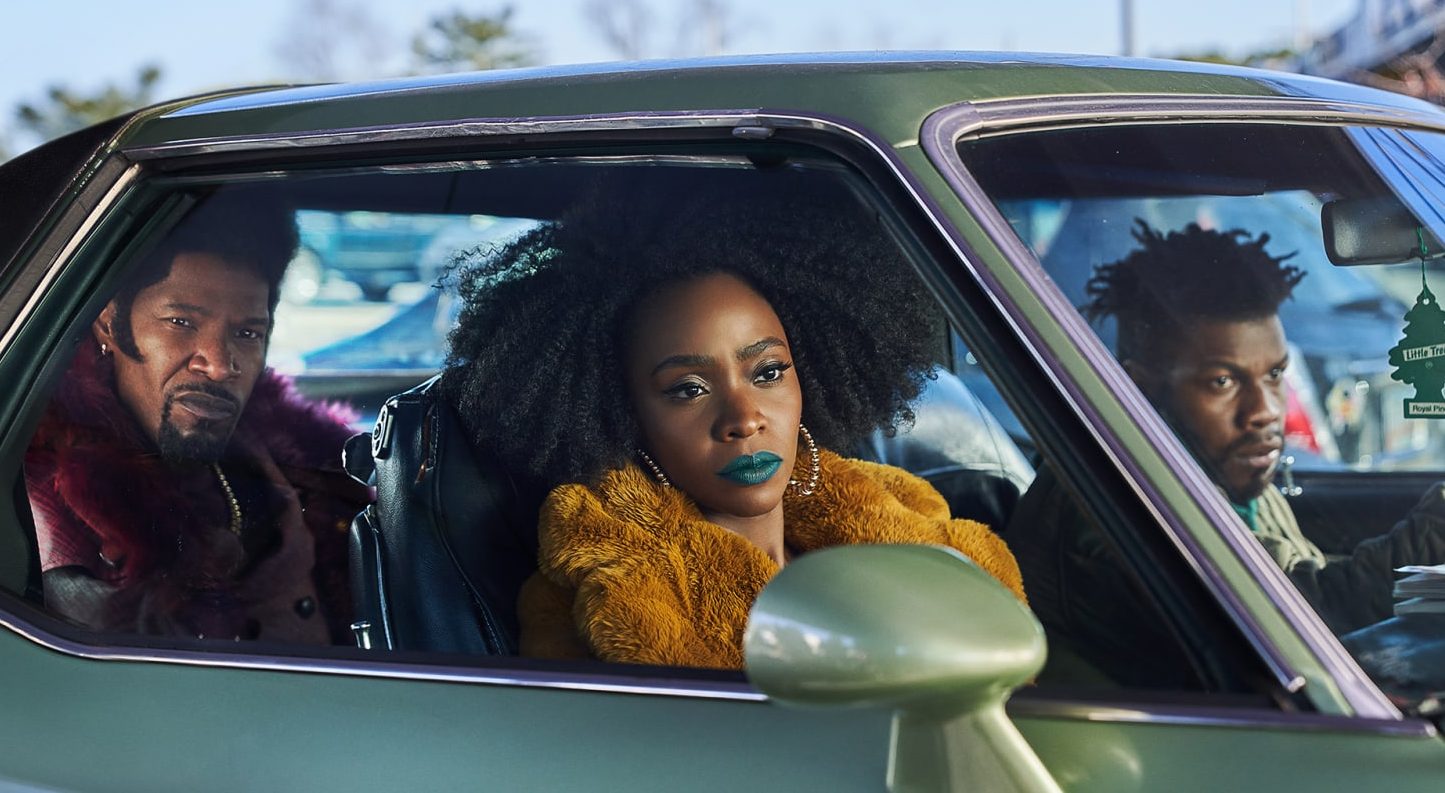 If we consider conspiracy as the bottom line which it more often is, 'They Cloned Tyrone' ups the ante big time. Directed by Juel Taylor who has co-written it along with Tony Rettenmaier, the movie tells the story of three people Fontaine (John Boyega), Yo-Yo (Teyonah Parris), and Slick Charles (Jamie Foxx) who find out about a government-backed conspiracy that invovles….no not killing people…but the opposite i.e. making clones of them, specifically the local black population. When Fontaine realizes that he too is a clone of himself who is controlled by the company that is manufacturing the clones, he decides to take action and dig up the truth, accompanied by his friends Yo-Yo and Slick. The movie is a strong take on Blaxploitation (a combination of the words "black" and "exploitation," which was coined in 1972) that is underscored by a dark conspiracy that keeps the viewers on the edge while offering its own fair share of humor, pretty much like 'Knives Out.'
3. Raat Akeli Hai (2020)
'Raat Akeli Hai' is a Hindi murder mystery movie directed by Honey Trehan. Consider this as a small-town counterpart of 'Knives Out' that contains all its ingredients in more-or-less amounts, be it as a mystery, thriller, romance, humor, or social commentary. The story deals with the mysterious death of Raghuveer Singh (Khalid Tyabji), an old aristocrat who used to live in his mansion with a rather grand family.

This includes his newlywed much-younger wife Radha (Radhika Apte), the maid of the house, Singh's son and daughter and her husband, and Singh's sister-in-law and her two children. Police Inspector Jatil Yadav (Nawazuddin Siddiqui) walks into the picture to investigate the murder and realizes that there's more to the family and its relations with the dead than meets the eye. If you want to understand what's going on, you have to keep your eyes and ears open, especially after the sun sets.
2. Monica, O My Darling (2022)
The thing about 'Knives Out' is that it makes us question reality. How did this happen? Where did he come from? Where was she then? All these questions when answered slowly and steadily, provide the perfect satisfying experience. Well, 'Monica, O My Darling,' directed by Vasan Bala, offers the same. It is a murder mystery and no, it doesn't have an official to look into the case but neither does '7 Women and a Murder.' What gives this murder mystery thriller the third position is how it tackles the truth.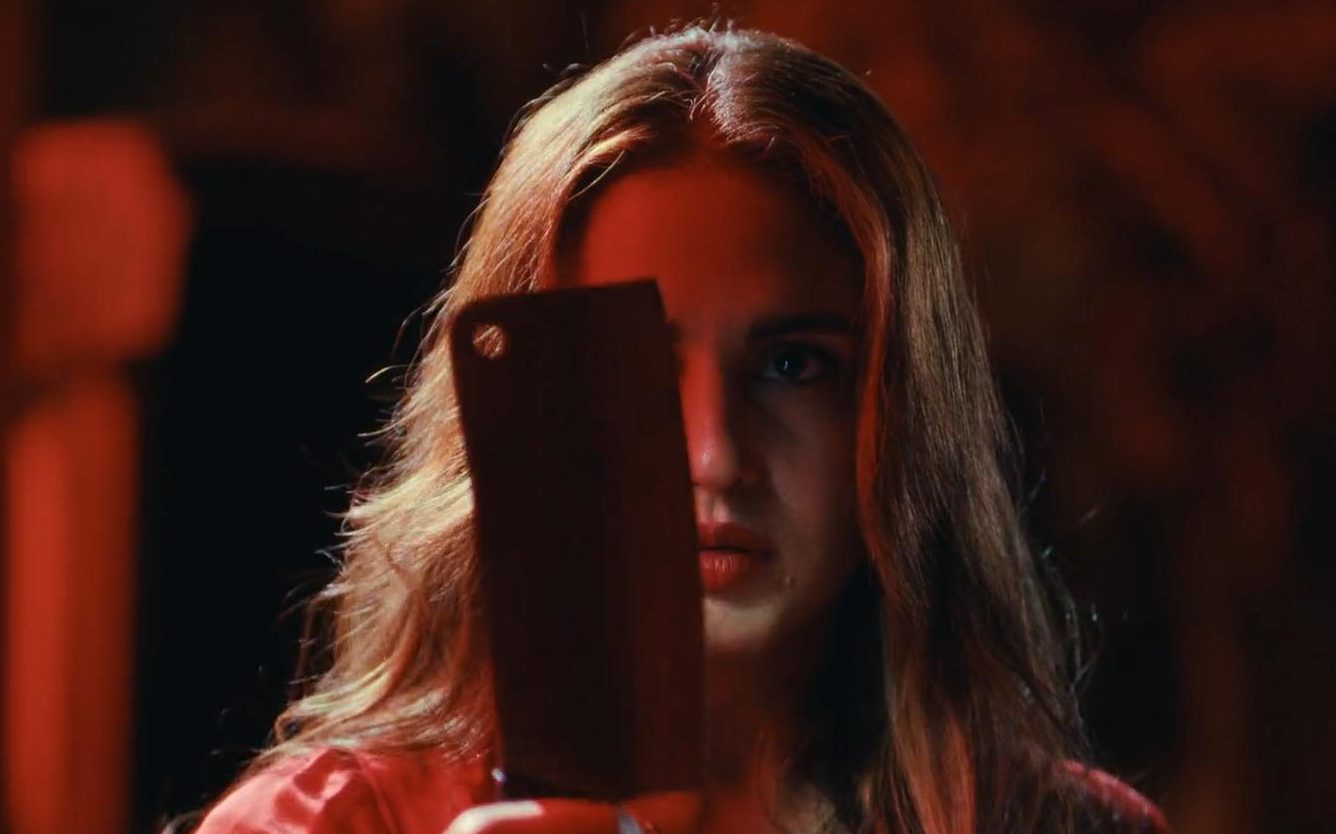 The movie tells the story of three guys, namely Jayant (Rajkummar Rao), Nishi (Sikandar Kher), and Arvind (Bagavathi Perumal). All three of them are being blackmailed by their boss Satyanarayan Adhikari's assistant Monica (Huma Qureshi). Apparently, one of them has got her pregnant. Afraid of losing their respective jobs, the three guys plan to kill her and dispose of her body. They pull off the plan and arrive at the office the following day, only to see that Monica too has come, all set for the board meeting. How is this possible? Does she have a twin? What kind of sorcery is this? Well, you will have to watch if you want the answers. 'Monica, O My Darling' is a treat to watch, especially with its retro-fitted scores that complement its visuals.
1. Enola Holmes (2020)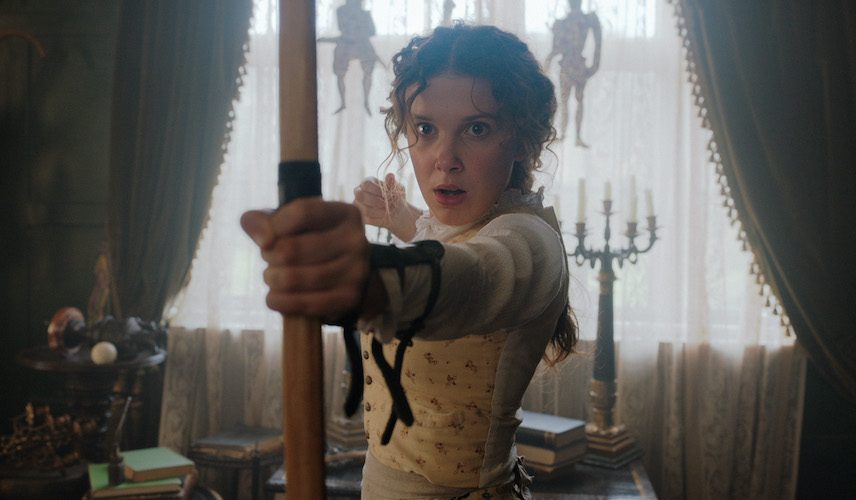 The first installment of the franchise, 'Enola Holmes,' directed by Harry Bradbeer, sends Enola on a quest to find her mother, Eudoria Holmes (Helena Bonham Carter), who disappeared on the former's 16th birthday, leaving behind only a set of clues. In the endeavor, Enola comes across the young Viscount Tewkesbury (Louis Partridge), who is also being followed by someone bent on killing him, a small part of a larger plot. How Enola maneuvers through these two cases and solves them is what the movie showcases. 'Enola Holmes' establishes the particular storytelling style that its sequel carries forward. Of course, it is suggested to watch this one before the second film, which is a sequel. However, this one serves as a better mystery thriller than its successor.
PS – Enola Holmes, the character, was not invented by Arthur Conan Doyle but by author Nancy Springer in 2006 in the first book of her novel series 'The Enola Holmes Mysteries.'
Read More: Is Knives Out's Benoit Blanc Based on a Real Detective?