Fans of Netflix's 'Perfect Match' are quite used to unexpected twists and turns as their favorite reality TV stars try and find love. Season 1 of the dating show saw many unexpected pairings who tried to find love among those who had also joined the exp[eriment. While few people expected Ines Tazi and Damian Powers to be a couple, it did not stop people from rooting for them. The circumstances leading to their pairing were nothing short of interesting and made the fans wonder if the duo is still with each other. Luckily, we are here to explore the same!
Ines and Damian's Perfect Match Journey
Damian Powers entered the star-studded Netflix show thanks to Francesca Farago, his friend from real life who wanted to see if the two had any romantic potential. Their relationship certainly blossomed into an enviable one, as they could often be seen being open about their affection for each other. For Francesca, it was apparently a nice change to be with someone with whom she had both an emotional and a physical connection as well.
However, things soon changed, and Francesca did not find herself as happy with Damian as she was before. This coincided with Ines Tazi deciding to send the 'Too Hot to Handle' star on a date with Abbey Humphreys from 'Twentysomethings: Austin.' Seeing Francesca's interest in Abbey disheartened Damian as he could not understand why his partner was suddenly eager to explore a new connection with someone else. Given how dedicated he had been to Francesca since he entered the show, he had not really formed a genuine connection with anyone else that could turn into something romantic.
Meanwhile, Ines Tazi was disappointed in her bad luck when it came to the matter of hearts and her confusion regarding her bond with Dom Gabriel. Ultimately, 'The Circle France' star and Damian had a frank conversation where they decided to match up. While both of them knew that they were not each other's first choices, they were open to exploring the bond that they did have. They did get to know each other very well and even had fun participating in the next compatibility challenge.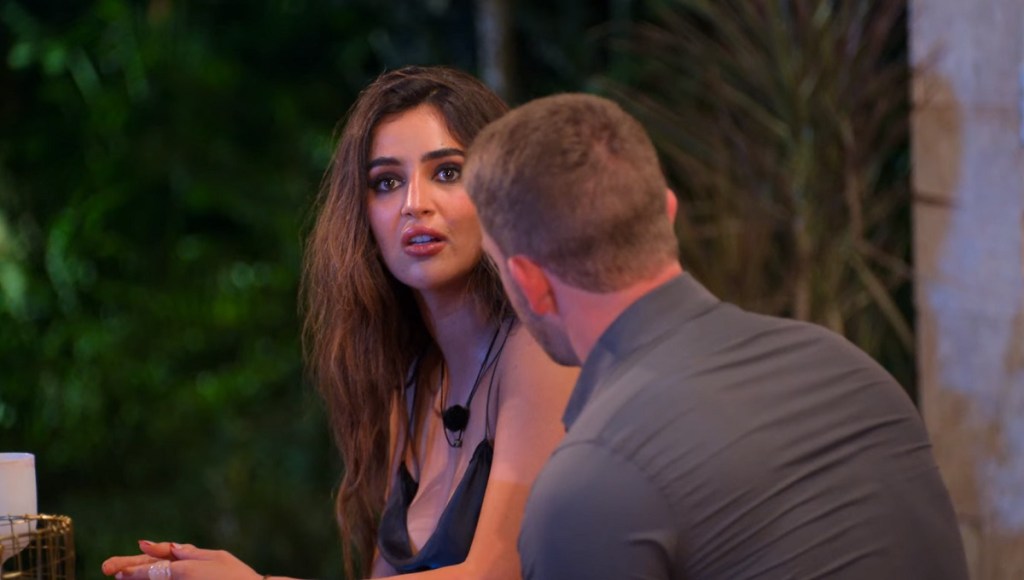 Despite being paired with Ines, it did seem like Damian had still not let go of his feelings for Francesca. His actions after this point seemed to be pointed toward impressing his old flame, and the 'Love is Blind' star even ended up stripping on the show. Almost every member of the house was convinced that Damian's actions were meant to incite feelings from Francesca. Ines herself became keenly aware of this and decided to have a conversation with him when host Nick Lachey told contestants that they could step out of the experiment if they did not think they would find a match through the show.
While Damian admitted to having some feelings for Ines and emphasized that he admired her greatly and thought very highly of her, he confessed that he had not been able to stop thinking about Francesca. 'The Circle France' cast member said that she was glad that he had come to this conclusion by himself. However, Ines also stated that he felt like Damian went after "bad love" in his life, and she did not want to be a part of that. She added that while she thought Damian was a good person and would always be there for him, Ines would never pursue a romantic connection with him. Ultimately, Ines decided to leave the show while Damian stayed in hopes of rekindling his romance with Francesca.
Are Ines and Damian Still Together?
As of writing, Ines and Damian are not with each other. Damian's pursuit of Francesca also ended in the show after the two decided that they were not meant to be. Presently, many believe that Damian might be dating fitness coach Maddie Gray, though there has been no official confirmation regarding the same. Meanwhile, 'The Circle France' star seems to focus on herself and is looking forward to what life brings next. Since Ines and Damian do follow each other on Instagram, we do believe that they at least share an amicable bond. Given the circumstances that the two have had to navigate while they were on the show, both reality TV stars have amassed quite many fans, who are eager to support their favorite contestants in any way possible.