Watching two people try and find love is always a treat. When Netflix's 'Perfect Match' provided viewers the opportunity to watch their favorite reality TV stars fall in love, it was hard to say no. While not every cast member is successful in their quest, they certainly get to know their potential partners well and form genuine connections. One of the most interesting couples from the show is Diamond Jack and William "Will" Richardson. Their recent appearance and relationship seen on the show have piqued the curiosity of the viewers, who cannot wait to learn more about the outcome of this particular pairing. Luckily, we are here to explore the same!
Diamond and Will's Perfect Match Journey
Will entered the Netflix dating series as a blind date for Ines Tazi, thanks to Francesca Farago and Damian Powers. The dating partners quickly hit it off and seemingly had a lot in common with each other when it came to their sense of humor. Entering back into the house, they kept gravitating towards each other, though Will made sure to integrate himself with other potential partners as well. In the end, 'The Circle France' star matched up with Will, and the two got to know each other even better.
Thanks to their victory in the next compatibility challenge, Ines and Will went on a date, though it was not the same as their previous one. The former realized that while she only wanted to find love, Will was also eager to win the competition. When the two went into the boardroom to invite new people, Will ended up choosing Diamond Jack as a blind date for Dom Gabriel, his fellow 'The Mole' star.
While Diamond and Dom did not start a romantic connection, the 'Love is Blind' participant was eager to find someone for herself in the house. Shortly after meeting the rest of the cast members, she was able to form a good connection with Will, who was also happy that he could see himself being with Diamond. Ultimately, the two decided to couple up and share a room in order to get to know each other better and explore their future together.
Are Diamond and Will Still Together?
It does seem like Diamond and Will are still together, though neither party has made any official announcements regarding the same. The fans are eager to see what the Netflix show will bring next, given just how quickly the tides turn when it comes to a long-term relationship. Given their status as a newly formed couple, Diamond and Will's status is likely to be tested in the yet-to-be-released episodes.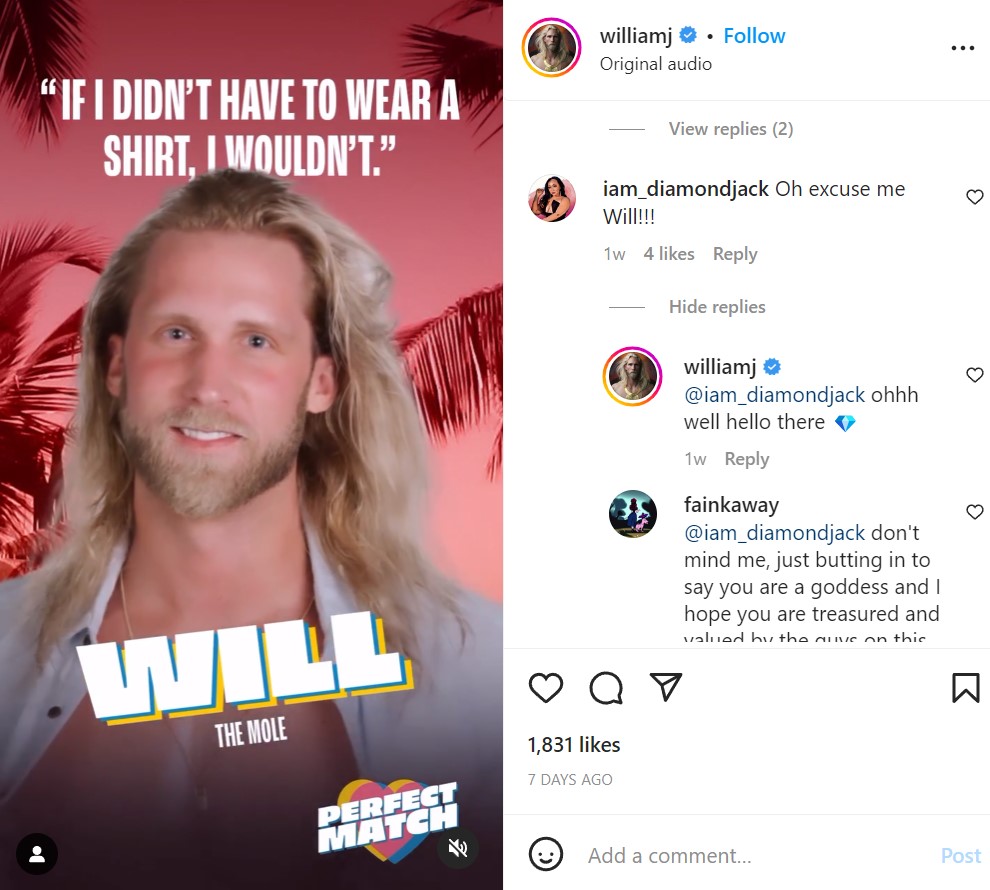 As of writing, the two reality TV stars do follow each other on Instagram and seem to have at least an amicable bond. Diamond and Jack are even known for commenting on each other's social media posts(as seen above) and often promote their appearance on the Netflix series through social media. Whether or not their relationship survives the trials of reality TV and the real world, we wish them both the best and hope they find the love they are looking for.
Read More: Are Ines and Damian Together in Perfect Match?