Given the various ups and downs that reality TV star Marshall Glaze went through during his time on Netflix's 'Love is Blind,' it is no wonder that fans of the show were delighted to see him in a happy relationship with Chay Barnes during the one-year update of the season 4 of the dating reality series. The sheer happiness emanating between the two has not only made fans eager to know more about their relationship but also if the two are still together. Well, here is what we know about the same!
Marshall and Chay's Love is Blind Journey
During his time on the Netflix show, Marshall Glaze actually got engaged to Jackelina "Jackie" Bonds. The two had gotten to know each other well during their time in the pods and chose each other over all else to get married to. However, this particular relationship did not last for a long time. Given their differing expectations for each other, it was not long before they decided to break off their engagement, and Jackie decided to pursue her connection with Joshua "Josh" Demas, whom she had also met in the pods.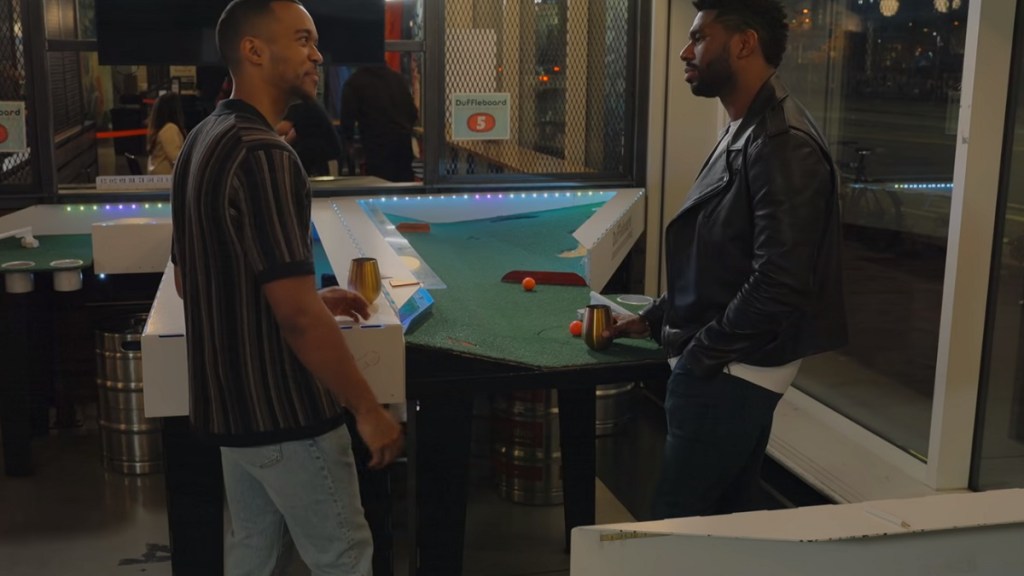 While it did not look like Marshall found his romantic match on the show, he did make a comeback in the 'After the Altar' episodes of 'Love is Blind' season 4. However, he was not alone and was actually in the company of Dr. Chay Barnes while on a double date with Tiffany Pennywell and Brett Brown, the four playing mini-shuffleboard (AKA duffleboard). Marshall revealed that the two had gotten into a relationship on July 15, 2022, and he has been enjoying his love life ever since.
During his talks with Brett, Marshall stated how he felt that Chay completed and complimented him. He confessed that she was always there for him, even during his self-confessed immature moments, and he could easily see himself beside her for the rest of his life. He went on to say that despite having been with her for less than a year, he was sure that Chay was the one for him. Brett certainly seemed happy for Marshall, who was certainly ready to build a new life besides his new girlfriend.
Are Marshall and Chay Still Together?
Yes, we are happy to share that Marshall Glaze and Chay Barnes are indeed still together. The latter is a Doctor of Nursing Practice and a Nurse Practitioner/Nurse Midwife. She is also behind The Wellness Series, an organization dedicated to self-care. The couple actually completed the first year of their relationship on July 15, 2023, and were more than happy to celebrate the occasion. Their relationship has also garnered much love from their friends, family, and fans.
"One year of laughing, crying, adjusting, communicating, healing… Our journey to where we are today is a testament of resilience and unconditional love for one another. Cheers to Year One, and cheers to many more," Marshall and Glaze stated in the caption of the shared post on Instagram while sharing a glimpse into their celebrations for their first anniversary. Given Marshall's contentment with this particular relationship, his admirers are certainly eager to see how things will go between them from this point on.
Read More: Are Jackie and Josh From Love is Blind Still Together?