Seldom is the case when we don't find thriller movies among the best of the year. With consistency at par with Christopher Nolan, 2017 was no lesser and produced some memorable movies. The only noticeable absentee was David Fincher, with the mercurial paragon releasing no films (but hey, he gave us arguably the best TV Show of 2017). Guillermo Del Toro came back with a bang in the shape of 'Shape of Water', while Nolan reinforced his credentials and status as a visionary filmmaker with 'Dunkirk'. So which best suspense movies of 2017 made it to the list? Read ahead to find out. Here is the list top thriller movies of 2017. Happy reading!
Honorable mentions: 'Mother!', 'Thelma', 'It Comes at Night', 'Killing of a Sacred Deer', 'Detriot'.
10. John Wick: Chapter 2
Wick negotiates peace with the Russians, thereby getting pardoned for killing Viggo and his son. As he retreats to an idyllic and domesticated life, Santino D'Antonio, the head of the Camaro, visits Wick and enforces his marker. Despite being bound by a blood oath, WIck refuses. Santino replies by burning his house down. He eventually accepts the contract, which is to kill Gianna D'Antonio, Santino's sister, who currently lays claim to the seat at High Table. After he has done so, Santino orders to get him killed, giving an open contract of $7 million. Wick is successful in killing Santino, but does so on Continental territory, thereby breaking Rule 1. As a result, Winston declares him an excommunicado, affording him an hour to run. WIck's last words set the tone for the third and concluding chapter: "I'll kill them all." Chapter 2 is almost a facsimile of the first installment. With no discernable difference, the end result is altogether similar: cinematic brilliance. Reeves mesmerizes with an assured display, effortlessly slipping into the shoes of the rogue assassin. Fashionable, slick, and aesthetically violent, 'John WIck: Chapter 2' doesn't disappoint and emerges as one of thr best thriller movies of 2017.
Read More: Movies Like John Wick
9. It
There have been few horror films as terrifyingly haunting as 'It'. Sudden disappearances of young children in the town of Derry reignite Bill's lost hope of solving the mystery of his own brother. A group of seven friends bands together to effectively finish the drama. Little do they know in their way stands an ancient shape-shifter, whose brief interval from his hibernation, which happens every 27 years, feeds on fear and targets young children. Pennywise is the life of the story and triumphantly comes out as its greatest attraction. Scary as hell with the creepy smile and weird dance steps, this thing will probably be remembered for years to come as one of the scariest ghosts ever to don the screen.
Read More: Movies Like It
8. War For the Planet of the Apes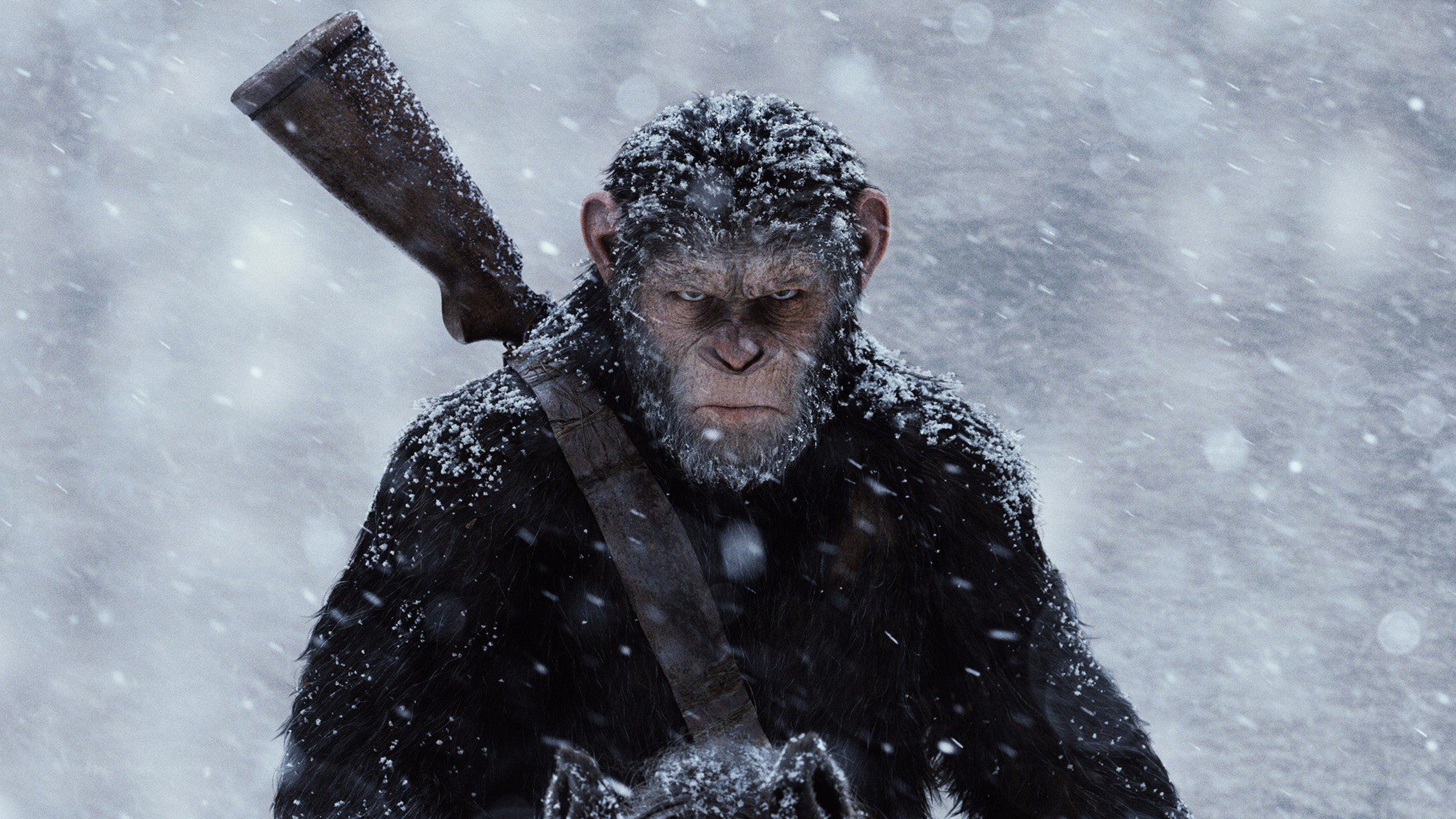 As the battle between the apes and the humans continue, Caesar seeks peace and sends a message. But, with the relentless Colonel refusing to give in, and killing Caesar's son and wife in a covert operation, the latter decides to take revenge. His son and Rocket return from their exploration expedition and discover a place beyond the desert, an oasis, urging Caesar to relocate, who duly obliges. Humans are themselves struggling, with the Simian virus wiping the species, devolving them into their primitve state. Caesar is eventually captured and brought to the Colonel. He discovers all the other apes in captivity, working to build a wall. The Alpha-ape decides to escape and save his fellow mates. Andy Serkis, the man behind Caesar, is truly phenomenal and gives a tour-de-France performance that ranks among the very best of the year. Intense and engaging, 'War for the Planet of the Apes' delivers and is a fitting finale to the franchise.
Read More: All Planet of the Apes Movies, Ranked
7. You Were Never Really Here
A conscious contractor saves the life of a young girl from the clasp of prostitution. Retaliation awaits the cognizant contractor, who is ready to fight until his last breath. The film boasts traces of immaculate and intelligent editing. With soulful music fueling the engaging narrative, the incisive psychological-thriller slows burns and breaks into your reverie, charmingly disarming you of your conscientious inhibitions. Phoenix is absolutely brilliant as the disillusioned protagonist who is tormented by his past and now hits back at the cruel and violent world that haunted him. An Oscar nomination beckons. Dark, atmospheric, and radically precise, 'You Were Never Really Here' is wholesomely enough, amiss, though, of Ramsay's inimitable poetry.
Read More: Upcoming Thriller Movies
6. Atomic Blonde
Lorraine Broughton, a Mi6 agent is assigned the task to recover 'The List', a powerful document inked with the name of all clandestine officers undercover in Berlin. Her contact in the brutal city is David Percival, a feral and rogue officer, whose dubious intentions are unfounded. Bakhtin, a KGB operative has the list, killing a Mi6 agent Gascoigne for it. I'll just go ahead and say it: 'Atomic Blonde' is the years best action movie. I have never seen the sequences and stunts performed with such brutal reality and incisive perfection. Lorraine is a perfect metaphorical representation of 'hiding in plain sight', which is a recurring motif in the film. David Leitch, the director of the film, is himself a stuntman and certainly brings his skill set to the fore to make it a memorable watch. Riding on its stylish action-sequences and a flawless performance from its magnetic star Charlize Theron, 'Atomic Blonde' could have been one of the best movie of the year for a better script. A shout-out for the lighting of the film, something very vague, but that stands out in the visual. The last twist though was certainly clever.
Read More: Best Adult Movies of 2017
5. Baby Driver
Baby is an expert driver, contracted by his boss Doc, whose fancy car he drove to a mess when a child. With the repayment of the car almost finished, Baby seeks to start a new life. An accident, which also took away his parents from him, took away his ability to hear properly. Using music as his amplifier of life's devious whispers, he finally meets the perfect girl who loves driving, the road, and the car. However, the Doc doesn't release him from his pledge and instead employs him for another job. Now exhausted from the ordeal, Baby decides to end it all, and hit that West road with nothing but music, himself, and Debora. Edgar Wright's prodigal mind separates 'Baby Driver' from other quotidian thriller films. Using exceptional music to fuel and intensify the narrative, Wright's poetic way of de-spiraling and deconstructing what he so meticulously created is truly stunning. Like all his other films, 'Baby Driver' oozes style and represents an ironic tale of morality and pragmatism sieving through like rubble and dust.
Read More: Movies Like Baby Driver
4. The Shape of Water
An image speaks a thousand words, and rightly so. 'The Shape of Water' is a mesmerizing fairytale love story that takes its two outcasts and brings them together in the most unbelievable fashion. Elisa is a mute, isolated woman who works as a cleaning lady in a hidden, high-security government laboratory in 1962 Baltimore. Her life changes forever when she discovers the lab's classified secret- a mysterious, scaled creature from South America that lives in a water tank. As Elisa develops a unique bond with her new friend, she soon learns that its fate and very survival lies in the hands of a hostile government agent and a marine biologist. Guillermo Del Toro reinforces his status as a true 'amigo' of films and cinema, presenting us with a harrowing love story that knows no bounds and transcends spatial restrictions.
Read More: Movies Like The Shape of Water
3. Get Out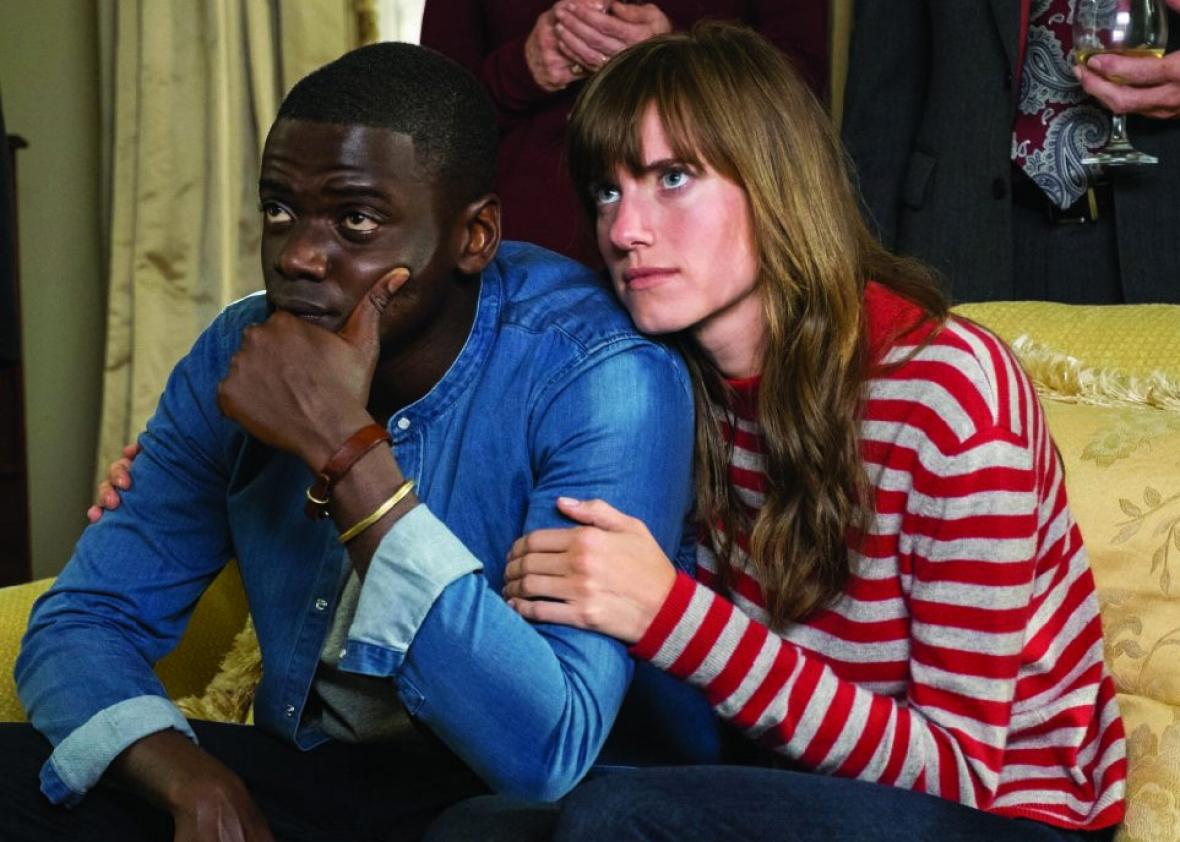 Chris, a young and talented photographer is invited to his girlfriend's parents' house by her for the weekend. Despite his friend's consistent and muffled protests, owing to racial disparities, Chris and Rose make the journey. On arrival, the incongruous behavior of the domestic help and the gardener catch his gaze, momentarily though, as Rose's parents make him feel welcomed. A wild and intense hypnosis session with Rose's mother the same night seemingly makes Chris quit smoking, but is a masked ploy to something unfathomably more sinister. Jordan Peele's emphatic social commentary on racism and stereotypical gender roles is pleasantly surprising. Powered by charismatic and worthy performances by Daniel Kayuula and Allison Williams, 'Get Out' triumphs in an utmost vague and distinct fashion.
Read More: Movies Like Get Out
2. Dunkirk
As the German army closes in, the Allied forces retreat at Dunkirk. The process is initiated, with PM Churchill hoping for 30,000 men to be saved. Amidst constant bombings from U-boats and enemy aircrafts, more than 300,000 soldiers are evacuated, riding home in destroyers and motor boats. Nolan's films are always narrative-driven, aiming to centralize and embellish the plot and the story rather than divesting time and energy on characters. They are mere vessels to further the narrative, which Nolan yet again does masterfully. Hans Zimmer is a champion, with his intense and enchantingly beautiful musical score reigning supreme and giving us a chilling retelling of one of the biggest evacuation and rescue process in history. The scene where Farriers' plane meets its demise, out of fuel, silently glides over the beach in utter silence is stunningly thought and shot. 'Dunkirk' definitely emerges as Nolan's best work, and eclipses war movies in recent memories. The two different camera lengths used for sea and air is a smart move from Nolan, the effects of which are quite evident in the final cut. The cinematography is stunning, as always in Nolan movies. Two thumbs up for the jarred ensemble, which really didn't have a lot to do.
Read More: Movies Like Dunkirk
1. Wind River
Cory Lambert is an expert tracker, who discovers the body of his best friend's daughter, Natalie, frozen while hunting for lions when called upon by his in-laws in the secluded and vast town of Wind River. FBI Agent Jane Banner reports on the scene to investigate the crime. Cory finds himself emotionally fueled to find the perpetrators, with Natalie's death mimicking that of her own daughter's. 'Wind River' can assuredly boast of featuring the best opening scene of the year. The moving prologue and the despairing sight of a helpless girl running barefoot in subzero temperature set the tone for the film. Jeremy Renner certainly proves his worth as an actor with a stunning and transiently vociferous performance, with his comrade Elisabeth Olsen, whom I mistook for Maggie Gyllenhaal the entire movie, complimenting him well. On the first viewing, the mind instantly started constructing comparisons with the Coens' '96 masterpiece 'Fargo'. While inherently different in tone and ambition, the glaring similarities are there for all to see and admire even more the prodigal talents of Taylor Sheridan. The silences and the empowering musical score make 'Wind River' the best thriller movie of 2017.
Read More: Movies Like Wind River